This is the blog of Ian Rosales Casocot. Filipino writer. Sometime academic. Former backpacker. Twink bait. Hamster lover.
Bibliography
Wednesday, September 19, 2012
Labels: life, photography
[0] This is Where You Bite the Sandwich
---
Saturday, September 15, 2012
4:32 PM | Semester's End
It's almost the end of another semester here in Silliman University, and I have to say I enjoyed most, if not all, of my classes this term. The kids in my classes have been quite responsive, to some degree; and I think I have somehow managed to give them all the full range of my dream syllabus -- miracle of miracles -- with some creative manipulation of time in my part. (Given the busy semester I have, this was a feat.) In the end, it boils down to this: I think equal to the knowledge we impart as teachers is the enthusiasm we teach our students over the things we teach about. A bored teacher is an ineffective teacher. I had fun this term, and thank God for that.
Labels: life, silliman, teaching
[2] This is Where You Bite the Sandwich
---
Wednesday, September 12, 2012
10:35 AM | The World Will Open
"Don't wait for it. Create a world, your world. Alone. Stand alone. And then the love will come to you, then it comes to you. It was only when I wrote my first book that the world I wanted to live in opened to me."
~ Anais Nin
[0] This is Where You Bite the Sandwich
---
10:30 AM | Before and After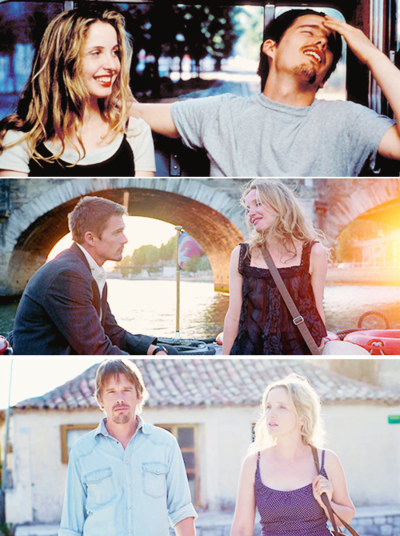 When I was in college -- coming off the angst-ridden books by Alex Garland, Brett Easton Ellis, Douglas Coupland, and Jay McInerney -- I thought the movie that best described my generation was Ben Stiller's
Reality Bites
[1994]. But it turned out to be Richard Linklater's series of conversation movies with Ethan Hawke and Julien Delpy. I saw
Before Sunrise
[1995] and
Before Sunset
[2004] again recently, and I'm both amused (and reflective) at how arrogant about our youth and what we "know" about the world we were in the first film (and in our late teens and early twenties); then how resigned yet still hopeful we were in the second film (and in our late twenties and early thirties). I wonder where
Before Midnight
[2013] will take us. I wonder what kind of mirror that will be.
[2] This is Where You Bite the Sandwich
---