When I first heard about Race Across Dumaguete, it was through Facebook, and it was a little too late for me to do anything about it. There, plastered on my Facebook wall late last year, were pictures of many of my friends—Angeline Dy, Zara Dy, John Philip Uy, among others—in various poses of sweaty deliriousness, running like mad all over the streets of Dumaguete, in what was the first staging of our very own version of the
.
And I thought: didn't we always want to be part of something like this, a gripping test of physical endurance and mental work, in what is essentially a grown-up version of a treasure hunt? The versions we see played out in television promise adventure (bungee jumping! exotic places!)—but, in the final analysis, they also promise something else: a chance to gauge oneself in a series of trials. Finishing the test becomes a kind of affirmation akin to a rite of passage. Eons ago, the young of Sparta and other ancient societies were sent out to the wilderness where they must learn survival and fight off the encroachment of beasts and all manners of evil—and then they come back after the ordeal to be proclaimed adults worthy of a place in their world. These days, we don't do that anymore: instead, we join beauty pageants, go to war, or take the board exam.
Or run races.
It had been Gelo de la Cruz's idea to transfer the concept of the race to Dumaguete, and on 29 November 2009, the first ever Race Across Dumaguete was held, concentrated mainly around the downtown area. According to the official site, "ten teams signed up [and] seven teams showed up," and by the end of the day the team of Aryan and Cris Carlo won.
Ram planting a tree in Valencia.
I was amazed, and immediately wanted to join the next event.
"When?
When?
" I pestered Angeline all throughout the new year, until finally, by February, she had gathered the necessary group of people together to organize an entirely new race, sans Gelo, who was by then working in Germany.
This time around, they built the event around Earth Day—with clues and tasks that had something to do with conservation, ecology, and what-not. And so, last Sunday, April 18, fifteen teams gathered around Ninoy Aquino's bust in Freedom Park at around 8:30 in the morning, ready to race.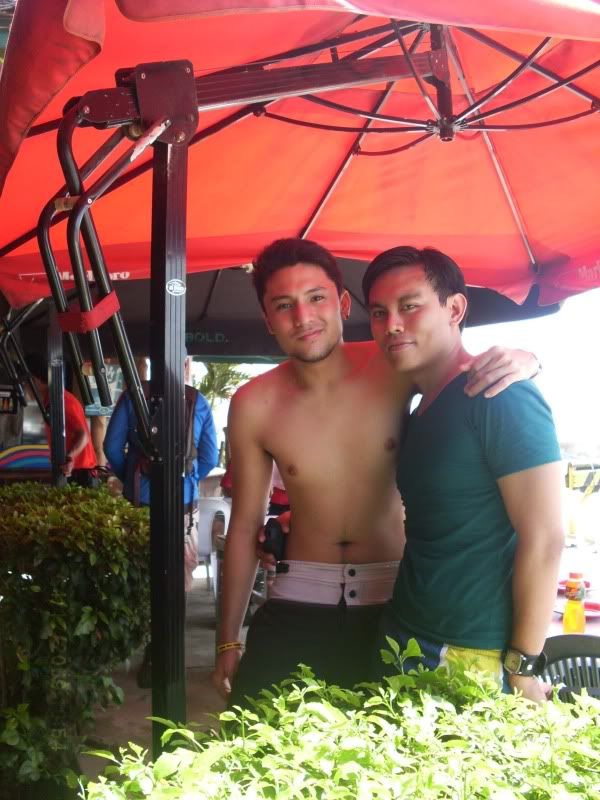 Relaxing for a bit in Hayahay during our lunch pit stop.
I partnered with friend and student Ramuel Reambonanza Jr., and we called ourselves
The Hive
—after the name of the group of friends that we shared. The rest that pumped thigh muscles with us on that starting line included the
Koreans
Hyunsung Kim and Yeong Ho Kim,
Team Gammans
Karl Raciene Coyoca and Marvin Luther Tan,
Team Song
Lawrence Nodado and Sarah Jane Sibala,
Team Flowrsie
Arsie Cris Duran and Flowr Therese Bana,
Negros Tri Team
Dennis Lagahit Jr. and Welbert Laurecio,
Team Baka Baki
Alf Campos and Anthro Kadipunan,
Team Amagaeru
Kemuel Lazalita and Cheri Mae Amistoso,
Team Eco Warriors
Felix Araula II and [son] Sean Philip Araula,
Team Swallow
Rex Oliver Tan and John Philip Sanchez,
Team Bang
Lyndon Lorence Borromeo and Lea Therese Marino,
Team Diveworx
Glenn John Carballo and [son] John Thomas Carballo,
Team Tachycardia
Chantal Mae Diao and Jerry Ortaliz, and
Team Green Acers
Michelle Alcantara and Eve Queennie May Balbon.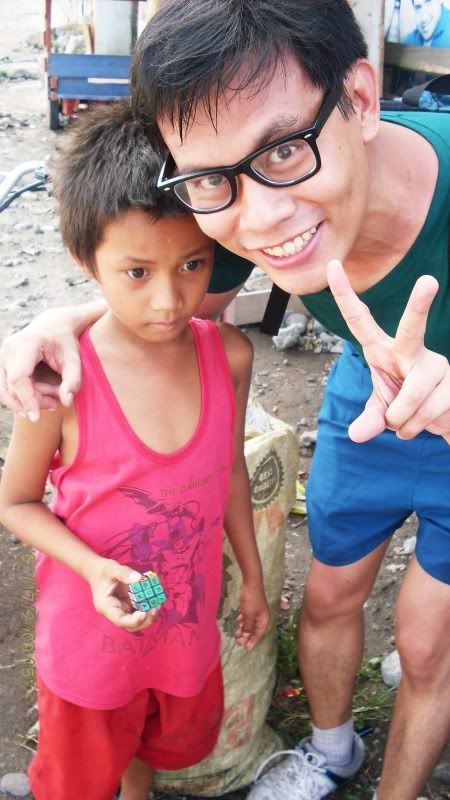 With a Lo-oc kid with a solved Rubik Cube puzzle.
We were told we could not bring wallets or coins or cellphones. We were told to bring a windbreaker or umbrella, just in case it would rain. We were told to bring our own drinking water or energy drinks, and some snacks, in case we got hungry before we could reach any of the checkpoints. We were told to bring a digital camera, a ball pen, some paper, and a hand sanitizer or alcohol—which soon proved essential. We were told to be in our most comfortable sportswear as we would be active throughout the day. We were told to put on sunblock. We were told to practice good sportsmanship, and told that we were not allowed to seek help from anyone, unless clearly specified.
And then, on that early Sunday morning, past 9 a.m., our grueling day began with that shout of "Go!" The moment I started running, the thought came to me: "Oh, dear God. This is for
real
."
We went on an impromptu sack race across Freedom Park, then carefully counted 637 kernels of rice [miscounting meant doing the entire thing all over again], then raced
on foot
to the public market 3 kilometers away to find Manang Lolit's stall in the middle of the market's maze, then ate five big cubes of ice in less than 90 seconds [my mouth was soon numb, and the inside of my cheeks were bleeding…], then, given only P24, raced to Valencia town after haggling with a jeepney driver who was determined to wait for more passengers while we were determined to just go [which meant us going around, cajoling people to ride,
now na!
], then we planted a tree sapling in the mayor's brother's yard where we also collected non-biodegradable garbage in a black bag, then we took a quiz about composting, then we dug into a huge pot full of earthworms, then we solved another clue using cellphone codes which gave us instructions on where to go next, then we begged a
habal-habal
driver for a P24 ride to Hayahay [which is worth P100 on ordinary days], then we ate pizza for lunch, then we made wind chimes out of the Tanduay of bottles we gathered in Valencia, then we solved an intricate pictorial puzzle about garbage disposal, then we raced to Mercury Drug and then I ran [while Ram rode the
potpot
] for more than 10 kilometers to the city dumpsite while picking up garbage along the way [this could be said to be the leg of the race that was invented in Hell], then we threw said garbage to the city dumpsite, then we raced back to the city on the same backbreaking route, then we went shopping and haggled for P30-worth of children's clothes at the
ukay
, then we ran another 3 kilometers to a specific basketball court in Lo-oc to give said
ukay
to a poor kid, then we were told to solve a Rubiks cube which contained the next clue, then we ran to the Boulevard, and then, for our final task, garnered twenty signed petitions from total strangers promising to do something good for the environment.
Ram and I learned to beg and haggle that day. We learned to knock on strangers' doors that day, begging for a drink of cold water. We learned to go around the metro for the entire day with only P24 in our pockets. We learned strategy. We learned to go beyond body pain and the unfortunate instance of a potpot tumbling over along the highway.
We have never ran as much and walked as much from all our lives. But we did all these with humor and so much good will. We laughed a lot, and we had each other's back. That's what mattered most. And at the end of the day, our bodies were tired and broken and achy. We were red from the sun. But it was all worth it.
So, how was your day last Sunday?