Monday, August 25, 2014
7:13 PM | Hipster Rizal
Labels: graphics, history, people
[0] This is Where You Bite the Sandwich
---
Friday, August 22, 2014
2:21 PM | Broadway Bound
I have no idea what got into my head last summer when, before the start of the current cultural season of Silliman University—we're now enjoying our 52nd year—I told our Cultural Officer, Prof.
Diomar Abrio
, about my dream for this year's Silliman Performs, which is our annual revue featuring the best performing talents in campus.
"I want Broadway," I think I must have said. "I want the lights, I want the sass, I want the tunes that wash over like no other kind of popular music can—it gets your body moving with drama. And I want to direct the segment on
Rent
!"
"I like that," fellow Cultural Affairs Committee member
Leo Mamicpic
chimed in. "And why don't we feature songs from musicals that don't readily get performed in showcases like this?"
Like how it usually happens when we do our "mugna" about things cultural, the dream of a Broadway revue eventually started rolling out into slow fruition, and it fell on
Mark Ian Caballes
to become the overall director of the show, putting together what pieces to perform, and painstakingly finding, arranging, and transcribing with a group of musicians from the College of Performing and Visual Arts the Broadway tunes we wanted to finally perform.
Angelo Sayson
choreographs the dance numbers of the show.
And so finally, on August 22 and then 26, we will pay tribute to the music of the stage and film, in time for the 113th Founders Day celebration of Silliman University.
And why Broadway for this show? Our show's writer,
Warlito Caturay Jr.,
mused over that question as well, and he wrote: "Since the 19th century, Broadway musicals have been an integral part of the American cultural life. Trips to New York would not be complete if one did not see the bright lights of Broadway, or watch and experience stories come alive on stage, or suspend disbelief just to accept for a brief moment that life could happen in between musical numbers. The whole world has embraced Broadway, but a question must be asked: why do we, Filipinos, living in a country geographically removed from Broadway, have also fallen head over heels in love with musicals, be it on stage or films?
Silliman Performs Broadway
attempts to answer this question."
The show will feature excerpts from such beloved musicals as
The Sound of Music, Porgy and Bess, West Side Story, Jesus Christ Superstar, La Cage Aux Folles, Chicago, The King and I, Showboat, Wicked, Dreamgirls, Rent, The Fantasticks, Les Miserables
, and
Carousel
.
Its performers include both veterans of the Luce stage, as well as newly-discovered talents set to soon make names for themselves, hopefully, in local theatre.
There's
Caleb Santos
ostensibly counselling (and yet really flirting with)
Jessa Cabading
about the intricacies of love at a tender age in the courtship song from
The Sound of Music
. From the same musical, there's
Cheryl Lyn Sitoy-Antonio
as Maria, essaying its iconic musical education song. There's
Katrina Tiongson Saga
, now with the Philippine Madrigal Singers, who returns to Dumaguete to sing the gorgeous ballad from
Porgy and Bess
. There's
Dessa Quesada-Palm
as
West Side Story
's Anita, grappling with
Melody Enero
's about the tumultuous demands of first love that defy social expectation. There's
Manolito Saldivar
and
Maria Elcon Cabasag
ruminating about love in the excerpt from
The Fantasticks
. There's
Warlito Caturay Jr.
coming to terms with a fabulous identity in
La Cage aux Folles
. There're the Alphabet City bohemians from 1989 New York -- composed of
Earnest Hope Tinambacan, Louise Remata-Villanueva, Onna Rhea Quizo, Jia de la Cruz, Manuel Jarabe Jr., Ian Lester Gue, Yeshhua Quizo, James Milan, Shamah Bulangis, James Alkene Lamuna, Anna Katrina Espino
, and
yours truly
-- singing about the measures of a life in
Rent
. There's
Japheth Babanto
and
Renna Dedal
's duet about highs and lows of friendship in
Wicked
. There's
Glenn Magdura
's anguished Jesus contemplating the gathering darkness from
Jesus Christ Superstar
. There's
Elana Joy Bartlett
getting to know her charge in
The King and I
with the
Silliman University Dance Trope
. There's
Nierru Cabilao
leading the carnal and jazzy charge in dance with selected students from the Speech and Theatre Department in
Chicago
. There's
Lemoine Poligrates
bemoaning love and its consequences in
Show Boat
. There's
Fritz Figueras
belting out a song about transformation in
Dreamgirls
. And then there're
Rigel Suarez, Frankie Cardona, Cristiani Rebada, Novie Lyne Flores, Calvin Klein Galbinez, James Alkene Lamuna, Japheth Babanto
, and Renna Dedal in their electrifying chorus with the
Silliman University Campus Choristers
singing of a hopeful tomorrow from
Les Miserables
.
I love show tunes. They're a different breed of musical expression that seems to transcend culture. I love the spectacle of light and sound, and the idea that there is a way for ordinary people to just break into song and dance. Silliman University has had a rich tradition of staging musical plays in campus, and this revue promises to be a distillation of that long line of theatrical productions. And hopefully, maybe one of these segments will translate into a full-blown musical after 2011's
Godspell
and 2012's
Into the Woods
. Who knows, maybe we can do
Jesus Christ Superstar
soon? Or perhaps
Rent
? Such promises, such possibilities…
Silliman Performs Broadway
is a special Founders Day presentation of the Cultural Affairs Committee, and no season passes will be honored. Tickets are available at P200, P300, and P500. All tickets and season passes for Luce Auditorium shows are available for sale at the CAC Office at the College of Performing and Visual Arts Building II, and at the theater lobby before the show begins. For ticket reservations and other inquiries, call (035) 422-4365 or 0917-513-3312.
Labels: art and culture, life, music, people, silliman, theater
[0] This is Where You Bite the Sandwich
---
1:16 PM | A Life of Service, Perseverance -- and Art
Dr. Romeo P. Ariniego, the 2010 Outstanding Sillimanian Awardee for Medicine, started collecting art in 1979 while doing medical training in Sydney, Australia. The painting—an abstract work that seems to be that of a fowl with a paintbrush—was by an Australian artist, and what drew Dr. Ariniego in to the artwork was its essential "difference." It spoke to him then, and that painting has since become the cornerstone of an outstanding collection of fine art, which includes paintings, sculptures, masks, and religious icons, which he has intuitively collected over thirty years.
That taste for the fine arts was nurtured, Dr. Ariniego admitted, while reading art books at the Silliman Library while still a working student in the university, and from the pages of these books, he came to admire the works of Monet and Degas.
Ultimately, that burgeoning love for art led him to his collection of local works, which began in 1984 when he bought a series of paintings by Jose T. Joya for just P7,000. Since then, he has collected almost a hundred works by Jose T. Joya, Hernando R. Ocampo, Ernie Verroya, Solomon Saprid, Emmanuel Garibay, and other painters.
And now he has bequeathed his current collection to Silliman University.
Dr. Ariniego graduated from Silliman University with a degree of Bachelor of Science in 1967. He has served the De La Salle-Health Sciences Campus (DLS-HSC) University Medical Center in various capacities, including Chief of the Cardiovascular Division. A well-known practitioner in his field, he has authored and co-authored several scholarly publications, and has received several awards from 1972 to 2009, including the Distinguished Service Award from the Philippine Heart Association, the National Lorenzo M. Tañada CHIMES Award from De La Salle Philippines, and the International Health Professional Distinction, which he received in Cambridge, England.
But he started from humble origins. An incident in childhood proved vital in his later success. In a monograph published to celebrate Dr. Ariniego's life and taste for the arts, we learn that he was in fifth grade in his hometown of Vigan, Ilocos Sur when he saw how his family, frantic over the conditions of a sick uncle, decided to call for the family doctor. "It proved to be a life-changing experience," the book says. "The boy was awed at how the doctor was able to calm down and reassure the family that he decided then and there that he would become a doctor when he grew up. It seemed to be an impossible dream. Sending a child to medical school was impossible for Romy's parents who had to raise eight other children from their meager earnings as laundrywoman and market helper.
"With two siblings still in high school, Romy had to stop schooling after graduating from grade school. Fate intervened through a classmate, the son of an American missionary assigned in Vigan. The American family invited Romy to work as part of the household staff, and helped him finish high school."
But he could not finance himself to go through a preparatory medical education. And so he decided to forego the dream for a while, and enrolled in a business course at the University of the East. He worked during the day at a cigarette factory, and delved into zealous study at night. But his dream of becoming a medical doctor did not abate him.
"One day," the book continues, "Romy chanced upon an advertisement by Silliman University offering a free work-and-study program. He immediately resigned from the factory, and to his surprise, his boss and fellow workers all pitched-in to raise the money he needed for his transportation to Dumaguete City, and for a semester's tuition at Silliman. At Silliman, he worked at various jobs—messenger, gardener, dormitory assistant—and soon finished his pre-med course in three years.
"On his last year in college, Romy was able to get a grant for his medical education through the help of a American missionary faculty at Silliman. Having enough money for tuition, Romy was able to concentrate on his studies at the College of Medicine of the University of the Philippines. He continued his residency training and fellowship at the Philippine General Hospital. His appointment as Chief Resident was a recognition of his hard work and excellence as a physician. He underwent further training in cardiology in Sweden, and in geriatric cardiology in Australia.
"In spite of the tempting job offers in Sweden and Australia, Romy chose to return to the Philippines. Since his residency, Romy wisely used a part of his salary to buy stocks in private hospitals where he planned to set-up his practice. This tipped off the legendary Dr. Paulo Campos who had a keen sense for people with great potential. As soon as Romy returned from Australia, Dr. Campos promptly invited him to be the cardiologist in his new hospital in Dasmariñas. Thinking that it was in a plush village in Makati, Romy quickly accepted his invitation. To this day, Romy does not know whether the astute businessman intentionally forgot to mention that he was referring to a town in Cavite. Being the gentleman that he is, Romy kept his word and practiced in what was then a very rural Cavite.
"It did not take long for Dr. Ariniego's practice to flourish. The Caviteños, especially the elderly, quickly developed a deep trust for the new doctor. The long line of patients who continue to wait patiently outside Romy's clinic attest to the kind of doctor that this once struggling student had become."
He has translated much of this success to helping many students achieve their dreams of becoming medical professionals with generous scholarships—so generous that for many of these students, Dr. Ariniego is not only just a benefactor, he has also become family.
He has already donated his house in Dasmariñas to De La Salle University, for it to become the future house of medical scholars of that school. That, plus a medical library he has built for the school, is part of his medical legacy.
For Silliman, the legacy he wants to leave behind is this other side of him: the art lover. And through this, he hopes some other student—reminiscent of his own student days poring over art books in the library—would gain a similar glimpse of joy in art, and follow the path he found himself treading. And for that, Silliman University is grateful.
Part of Dr. Ariniego's art collection will be exhibited at the Claire Isabel McGill Luce Auditorium Foyer Gallery in a show titled
Gasa sa Kakugi
from August 19 to September 29.
Labels: art and culture, painting, people, silliman
[0] This is Where You Bite the Sandwich
---
Thursday, August 21, 2014
12:25 PM | A Pedro Almodovar Completist's Checklist
I have always loved the colourful idiosyncrasy of Spanish filmmaker Pedro Almodovar, with his labyrinthine plots, comic hijinks, campy female characters, and curiously subversive themes that seem to gel together with a dash of lipstick, carnal energy, and a boundless embrace of film's Technicolor heritage. And yet I have to really see all of Pedro's movies.
His brand of filmmaking is not to everyone's taste, and he does make some unfortunate misses, like his latest airline comedy that seemed to be headed nowhere. But when his films work, they work with gusto. What have I missed?
☑ I'm So Excited! (2011)
☐ The Skin I Live In (2009)
☐ Broken Embraces (2009)
☑ Volver (2004)
☑ Bad Education (2002)
☑ Talk to Her (1999)
☑ All About My Mother (1997)
☑ Live Flesh (1995)
☑ The Flower of My Secret (1993)
☑ Kika (1991)
☐ High Heels (1989)
☑ Tie Me Up! Tie Me Down! (1988)
☑ Women on the Verge of a Nervous Breakdown (1987)
☑ Law of Desire (1986)
☐ Matador (1985)
☐ What Have I Done to Deserve This? (1983)
☐ Dark Habits (1982)
☐ Labyrinth of Passion (1980)
☐ Pepi, Luci, Bom and Other Girls Like Mom (1978)
[0] This is Where You Bite the Sandwich
---
Sunday, August 17, 2014
12:12 PM | Birthday Boy Selfie
Here's a selfie for the purposes of personal study. I've been documenting my face this week for a peculiar reason. Because I've been through a lot the past few days: sickness, depression, stress -- all things beyond the radar of bright and merry. But I think I have always been a creature of silver linings. I believe always in the light at the end of the tunnel, the diamond that comes from the rough. So here's taking a deep breath to begin again.
Hello, 39.
Labels: life
[0] This is Where You Bite the Sandwich
---
Saturday, August 16, 2014
11:30 AM | A Woody Allen Completist's Checklist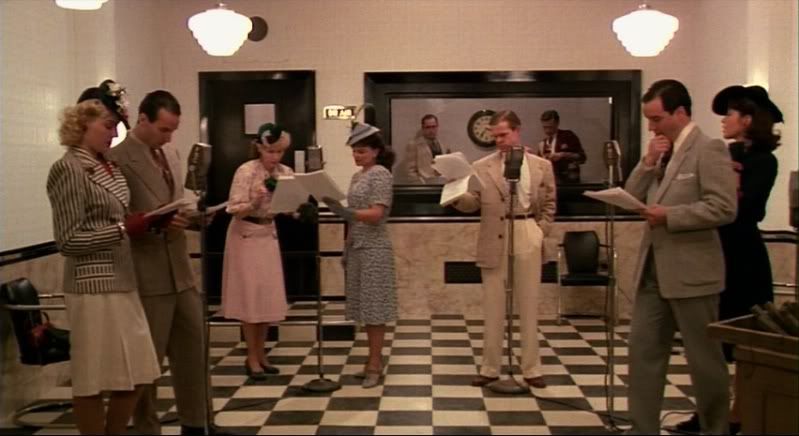 CONSTANTLY UPDATED. FIRST POSTED 6 JANUARY 2011.
I just finished watching Woody Allen's lovely
Radio Days
[1987], one of the few remaining titles in the director's filmmography I have not seen. It took a while, considering it's a film that's rarely available anywhere. And now that I have seen it, it ranks without doubt among the top contenders of my personal Woody Allen favorites. I know why: it's a film about the romance of nostalgia, and although I did not grow up with radio, the film's heart and intentions are universal. It tells the fragmented story of a Jewish family in New York, tidbits woven together by the 1940s radio shows they listened to. It's funny and light and emotional and deep all at the same time, an Allen film that has much in common with his
Everyone Says I Love You
[1996].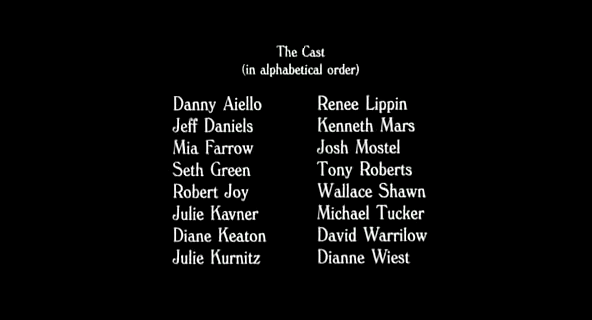 Radio Days
is distinctive of perhaps being the only Allen film that collects most of his regular troupe of actors, from Mia Farrow to Julie Kavner, from Dianne Wiest to Diane Keaton, from Jeff Daniels to Wallace Shawn. It's a great film to start the week with, but now I'm wondering: what else have I missed out on?
Indulge this film geek as he goes about finding exactly that...
☐ Magic in the Moonlight [2014]
☑ Blue Jasmine [2013]
☑ To Rome With Love [2012]
☑ Midnight in Paris [2011]
☑ You Will Meet a Tall Dark Stranger [2009]
☑ Whatever Works [2008]
☑ Vicky Cristina Barcelona [2007]
☐ Cassandra's Dream [2006]
☑ Scoop [2005]
☑ Match Point [2004]
☑ Melinda and Melinda [2003]
☐ Anything Else [2002]
☑ Hollywood Ending [2001]
☑ The Curse of the Jade Scorpion [2000]
☑ Small Time Crooks [1999]
☑ Sweet and Lowdown [1998]
☑ Celebrity [1997]
☑ Deconstructing Harry [1996]
☑ Everyone Says I Love You [1995]
☑ Mighty Aphrodite [1994]
☐ Don't Drink the Water [1994]
☑ Bullets Over Broadway [1993]
☑ Manhattan Murder Mystery [1992]
☑ Husbands and Wives [1991]
☑ Shadows and Fog [1990]
☑ Alice [1989]
☑ Crimes and Misdemeanors [1989]
☑ New York Stories (segment "Oedipus Wrecks") [1988]
☑ Another Woman [1987]
☑ September [1987]
☑ Radio Days [1986]
☑ Hannah and Her Sisters [1985]
☑ The Purple Rose of Cairo [1984]
☑ Broadway Danny Rose [1983]
☑ Zelig [1982]
☑ A Midsummer Night's Sex Comedy [1980]
☑ Stardust Memories [1979]
☑ Manhattan [1978]
☑ Interiors [1977]
☑ Annie Hall [1975]
☑ Love and Death [1973]
☑ Sleeper [1972]
☑ Every Thing You Always Wanted to Know About Sex * But Were Afraid to Ask [1971]
☑ Bananas [1971]
☑ Take the Money and Run [1966]
☑ What's Up, Tiger Lily? [1966]
I think I'm gonna look for
Stardust Memories
next...
Labels: directors, film, life, memories
[0] This is Where You Bite the Sandwich
---
10:00 AM | A Studio Ghibli's Completist List
The first Studio Ghibli film I saw was Isao Takahata's
Grave of the Fireflies
, and I've been hooked to the wonderful films of this Japanese animation studio ever since. Here is a rundown of what I have seen, and what I have yet to see...
[✓]
Nausicaä of the Valley of the Wind
(1984), directed by Hayao Miyazaki
[✓]
Castle in the Sky
(1986), directed by Hayao Miyazaki
[✓]
Grave of the Fireflies
(1988), directed by Isao Takahata
[✓]
My Neighbor Totoro
(1988), directed by Hayao Miyazaki
[✓]
Kiki's Delivery Service
(1989), directed by Hayao Miyazaki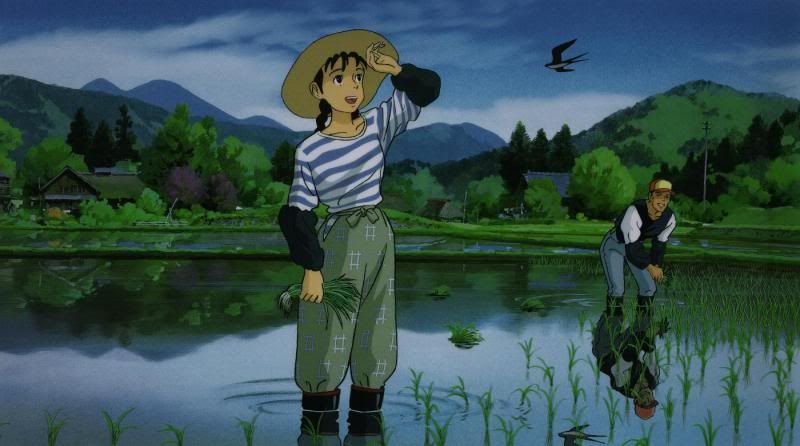 [✓]
Only Yesterday
(1991), directed by Isao Takahata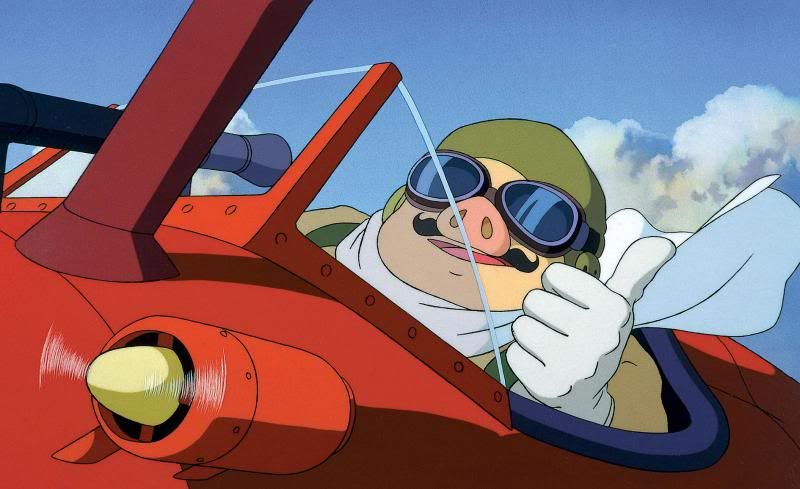 [✓]
Porco Rosso
(1992), directed by Hayao Miyazaki
[✓]
Pom Poko
(1994), directed by Isao Takahata
[✓]
Whisper of the Heart
(1995), directed by Yoshifumi Kondō
[✓]
Princess Mononoke
(1997), directed by Hayao Miyazaki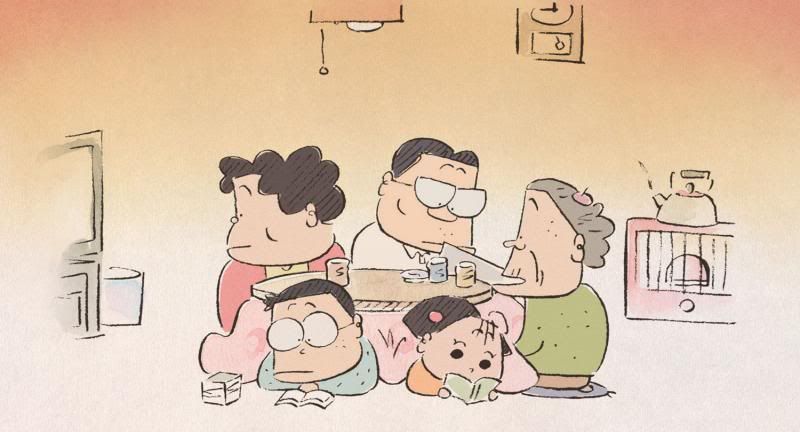 [ ]
My Neighbors the Yamadas
(1999), directed by Isao Takahata
[✓]
Spirited Away
(2001), directed by Hayao Miyazaki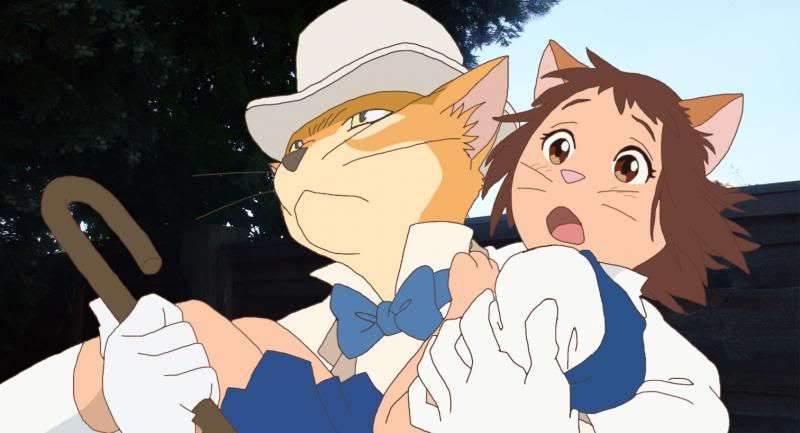 [✓]
The Cat Returns
(2002), directed by Hiroyuki Morita
[✓]
Howl's Moving Castle
(2004), directed by Hayao Miyazaki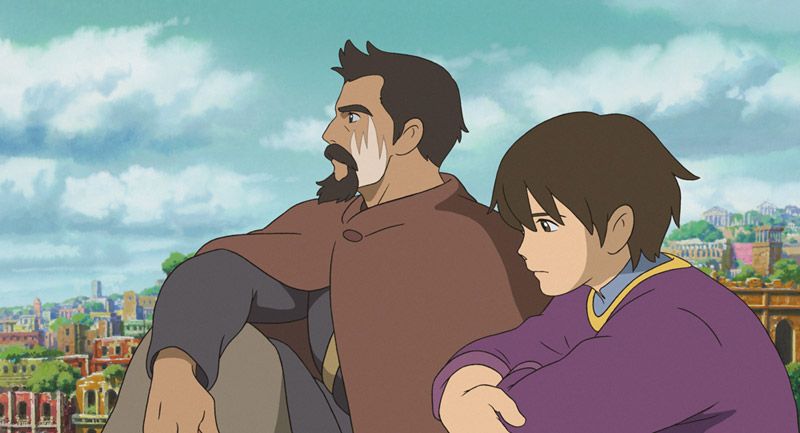 [✓]
Tales From Earthsea
(2006), directed by Gorō Miyazaki
[✓]
Ponyo
(2008), directed by Hayao Miyazaki
[✓]
Arriety
(2010), directed by Hiromasa Yonebayashi
[✓]
From Up on Poppy Hill
(2011), directed by Gorō Miyazaki
[✓]
The Wind Rises
(2013), directed by Hayao Miyazaki
[ ]
The Tale of Princess Kaguya
(2013), directed by Isao Takahata
[ ]
When Marnie Was There
(2014), directed by Hiromasa Yonebayashi
[0] This is Where You Bite the Sandwich
---
Tuesday, August 12, 2014
7:24 AM | Robin Williams, 63
I guess it is true that sometimes we take the brightest of masks to hide the starkest of darkness. He made us laugh like he was an unstoppable fun machine -- but I could always limn a hint of desperation behind the antics. Nevertheless, all those movies.
Good Morning, Vietnam. Dead Poets Society. Good Will Hunting. The World According to Garp. Aladdin. The Fisher King. Awakenings. Popeye. The Birdcage
. What a run, what a life. Thank you, Mr. Williams, and may you find the peace you've been so desperately seeking.
Labels: film, obituary, people
[0] This is Where You Bite the Sandwich
---
Friday, August 01, 2014
10:35 PM | Film Blues and B-Movies
In the
Philippine Daily Inquirer
today, the actress Eugene Domingo—known to most people as a comedienne of the first rank—
spilled some heartbreaking news in an interview
about her latest film,
Barber's Tales
, hemmed by Jun Lana: she was taking a break from the movies.
The impetus comes, it seems, from her feeling much too-tired about having to sell, often without much success, the films she makes that are decidedly unformulaic but beautifully made. She has made many commercial films—but the films she makes for love of her craft? Crickets, and it was breaking her heart.
Eugene tells the newspaper that she is "more terrified" about having to consider the fates of internationally-acclaimed films in local theaters, with all that quality barely enough to even garner the most lukewarm response from local audiences. "
Sabi ko nga kay direk
Jun, 'Why am I more terrified in my own country than in anywhere in the world?' Maybe because
alam niyong 'Komedyante iyan, ano bang tema niyan?' Nakaka-
insecure.
Pero hindi naman basura ang ipinapakita mo di ba? Pero kinakabahan ka
," she said. "I am terrified to the bones. Please give us a chance.
Kahit lima lang ang nasa sinehan pero lalabas na kumpleto, masaya na ako
."
I remember meeting Eugene for the first time in Dumaguete in 2008. She had just made a splash as a supporting actor of delightful gravity in Chris Martinez's debut film,
100
. That year, we thought of bringing the Cinemalaya Independent Film Festival to Dumaguete, to bask in the reflected glory of a festival that was fast earning a reputation in film circles all over the world. And so we brought in 100, plus its director and star, to screen at the Luce Auditorium in Silliman University, along with other films we programmed to last a week, in an event we called
Cinemalaya Goes to Silliman
. We had a great time—and it was heartwarming to see Eugene's star grow after that year, from
Kimmy Dora
to
Zombadings
.
And so, truth to tell then, this is what I used to do all the time: I used to organize film festivals in Dumaguete just so I could see the independent films everybody's talking about, but I know will never get to see the light of day in local cineplexes. Truth to tell, I engineered the whole Cinemalaya Goes to Silliman back in 2008 just so I could watch 100 and other films. In 2012, I also remember organizing the ActiveVista Film Festival here in Dumaguete just because I really wanted to see Alvin Yapan's
Ang Sayaw ng Dalawang Kaliwang Paa
and John Sayles'
Amigo
. That's like moving mountains to satisfy a cinematic itch—and you can only do so much and for so long.
I wish there was better distribution for Filipino films, to be honest. Chances are, most of these films will only get a Manila or a festival run—and that's it. There must be an audience hungry for films like this in the so-called "provinces," but nobody's willing to try and we don't really matter. Up to now, I have not seen films like
Bwakaw
or
Ang Nawawala
and so many others—and as a cineaste, it pains me to admit that I've given up on ever seeing these films and championing them.
And yet the question also remains, even with better distribution, will people still flock to see these films? My friend Hendri Go said: "I don't think audiences in the provinces will flock to a screening the way they do Cinemalaya at the CCP. I saw
Bwakaw
here in Cebu and there was just one of me in a 600-seat theater. You have to build the excitement or you do a pay per view screening perhaps." And from Davao, Nino de Veyra muses: "If ABS-CBN/Philippine Star/Star Cinema and GMA/Inquirer/Viva actively market (guest interviews, reviews, even "scandals") these movies on TV and print media, would they be box-office hits like
She's Dating a Gangster
?"
The possible answers terrify me. And so, we are left with devising ways to see the films we need to see.
This Monday,
August 4
, for example, we are bringing in the Australian film director
Andrew Leavold
to screen his documentary
The Search for Weng Weng
as part of the
Eddie Romero Film Series
at 10 AM at the Audio-Visual Theater. Later that day, he is going to do a lecture on "The Art of B-Movies" for the
Albert Faurot Lecture Series
at 2 PM, also at the same venue. All this for free, courtesy of the Silliman University Cultural Affairs Committee.
Mr. Leavold has incredible B-movie credentials. He owned and managed Trash Video, the largest cult video rental store in Australia, from 1995 to 2010, and aside from being a filmmaker, he is also published author, researcher, film festival curator (Brisbane International Film Festival, Melbourne Underground Film Festival), musician, TV presenter, and—above all—unrepentant and voracious fan of the pulpier aspects of genre cinema. He directed the long form short
Bluebirds of Peace and Destruction
(2006), a hyper real reconstruction of a famous Brisbane vampire slaying.
Mr. Leavold's latest film project, the feature length documentary
The Search for Weng Weng
(2013), chronicles his quest to find the truth behind the midget Filipino James Bond. His ten years of research on genre filmmaking in the Philippines formed the basis of Mark Hartley's documentary
Machete Maidens Unleashed!
(released internationally in 2010), on which Mr. Leavold is also Associate Producer, and he has since been recognized both in the Philippines and abroad as the foremost authority in his area of expertise, teaching Philippine film history at university level in Australia, the United States, and throughout the Philippines. A Ph.D. graduate from Brisbane's Griffith University, Leavold's thesis is soon to be published as a book entitled
Bamboo Gods and Bionic Boys: A History of Pulp Filmmaking in the Philippines
.
I can't help but ask: if other people from other countries could love our cinema—even our B-movie offerings—why can't we? If you truly love Filipino cinema, see you on Monday for the screening and the lecture.
Labels: art and culture, dumaguete, film, friends, negros, people, silliman
[0] This is Where You Bite the Sandwich
---
Monday, July 21, 2014
12:05 PM | Everything About This Girl
Everything About This Girl
is Jana Jumalon-Alano's first solo exhibit in Dumaguete. Its eclectic selection of styles mirrors the artist's predilection of collecting random objects and photographs of whatever catches her eye. One such notable series of works in the exhibit –
Mirrors
, she tags them – makes use of her fascination for the forms of old, found objects by incorporating them to the work, establishing new relationships for them, and infusing them with life long after the objects have been discarded by its previous owners.
Other representative works include self-portraits and portraits of children. Her female forms evoke masculine strength and her paintings of children suggest an overwhelming empathy where her subjects' emotions are powerful enough to warp the reality around them.
In
Everything About This Girl
, all of Jana Jumalon-Alano's travels and passions, her ups and downs have built up to a collection of works where we get a glimpse of mortality with all its scars and triumphs.
Jana Jumalon-Alano (b. 1980) is a visual artist and a singer-songwriter. She was born and raised in Zamboanga City where she finished AB Communications. In 2001, she launched her solo music concert at the Ateneo de Zamboanga University. She has also been consistently active as a visual artist and has been awarded as one of the Top 10 Finalists for Visayas in the 2011 Philippine Art Awards. Her works have been featured in several international and local exhibitions, the most recent ones being
Bae Mindanaw
(Italy, 2011),
Habagatan
(Altromondo Gallery, 2012),
All Together Now
(Yuchengco Museum, 2012), and
50 Ilonggo Artists
(Ayala Museum, 2013). With the support of Ateneo de Zamboanga University, she is currently writing the songs for an all-Chavacano musical to be launched this year. Jana Jumalon-Alano lives in Dumaguete City.
Jana belongs to the Jumalon family of artists and has been a part of many family exhibits in Zamboanga City, Baguio, Metro Manila, Dumaguete, Cagayan de Oro, Bacolod, Davao, and Dipolog. She moved to Dumaguete eight years ago—a city which has witnessed her various passions in painting, terra cotta artmaking, and music.
The exhibit, slated to open today,
JULY 21
, Monday at 5:30 PM at the Claire Isabel McGill Luce Auditorium Foyer Gallery, runs until August 15. It is sponsored by the Silliman University Cultural Affairs Committee. It is open for free to the public.
Labels: art and culture, dumaguete, negros, painting, silliman
[0] This is Where You Bite the Sandwich
---
Friday, July 18, 2014
10:21 PM | The Second Literatura Festival: A Writers' Summit on July 26!
Eight years have passed since the first Literatura Festival was held in Dumaguete City. Originally staged in May 2006 at Silliman University, the literary fest—which featured visiting writers Dean Francis Alfar, Susan S. Lara, Marjorie Evasco, DM Reyes, among others—was meant to showcase Filipino writers for the benefit of local students, and to introduce them to the best of Philippine literature.
The literary fest is back, this time presented by the Edilberto and Edith Tiempo Creative Writing Center and the American Studies Resource Center of the Robert and Metta Silliman Library. It is slated to unfold with a series of talks and panels on
26 July 2014
, starting at 10 AM, at the American Corner of the Silliman Library.
Dubbed as the "Writers' Summit," it features acclaimed Filipino-American writers
Lara Stapleton, Ricco Siasoco, Sarah Gambito, R.A. Villanueva, M. Evelina Galang, Fidelito Cortes
, and
Nerissa Balce
. It also features Cebu-based writer
Lawrence Ypil
, and Dumaguete-based writers
Ian Rosales Casocot, Cesar Ruiz Aquino
, and
Myrna Peña-Reyes
.
The
Second Literature Festival
officially opens on July 25, Friday at 7 PM at Byblos in Oriental Hall, with a poetry reading by Sillimanian students and a concert of Ian Gue's The Heartbreak Symphony.
The festival is co-presented by Silliman University's Department of English and Literature and Cultural Affairs Committee, MetroPost, and N4 Van Services.
SCHEDULE OF ACTIVITIES
Opening Ceremony
July 25, Friday. Starts at 7 PM, Byblos at Oriental Hall, Silliman University
With readings by campus personalities Niña Sung, Zairo Lapore, Renz Christian Torres, Elana Bartlett, Hanz Denzil Villahermosa, Bella Piccioli, Malka Shaver, Nikko Paolo Calledo, Edgar Allan Ocampo, Alfonso Alvarez, and Veronica Vega. Featuring "The Heartbreak Symphony," composed and conducted by Ian Gue.
The Summit
July 26, Saturday. Starts at 10 AM, American Studies Resource Center of the Robert and Metta Silliman Library.
10:00 AM
Opening Prayer
| Ronelaine Picardal
10:15 AM
Welcome Remarks
| Festival Director Ian Rosales Casocot
10:15 AM—11:00 AM
"Inspiration and the Writer's Life"
| Keynote Lecture by Fidelito Cortes
11:15 AM—12:00 NN
Moderated Conversation I:
Reading as a Village
. Can the reading group become a model for fostering a love of literature in the community? This panel explores reading groups in Dumaguete City and the passion it takes to run—and attend—them.
Panelists:
Simon Stack, Bron Teves, Paulina Española, Joanna Bulova, Annabelle Lee-Adriano, Aaron James Jalalon, Leo Mamicpic.
Moderated by
Joel Llaban.
12:00 NN—1:30 PM
Lunch Break
1:30 PM—2:15 PM
Moderated Conversation II:
The Writing Craft
. This panel explores writing with the influence of Philippine languages both in the Philippines and in the diaspora, landscape, memory, developing character, the influence of culture on writers' works.
Panelists:
Myrna Peña-Reyes, Ricco Siasoco, Sarah Gambito, R.A. Villanueva, Evelina Galang.
Moderated by
Nerissa Balce.
2:30 PM—3:15 PM
Moderated Conversation III
:
The Young and the Restless
. This panel explores the expectations and practices of budding writers in Dumaguete, and what they take to make literature interesting to young people.
Panelists:
Anna Katrina Espino, RV Escatron, Christian Renz Torres, Arkay Timonera, Michael Aaron Gomez, Sonia SyGaco.
Moderated by
Alana Cabrera-Narciso.
3:30 PM—4:15 PM
"From the Highest Hiding Place"
| A talk/reading by Lawrence Ypil
4:30 PM—5:15 PM
Moderated Conversation IV
:
What's Going On?
This panel explores the local and the Filipino-American literary scene. What are writers excited about? What are the various scenes? What are the current challenges that writers face? How can Filipino and Filipino-American writers continue to connect?
Panelists:
Lara Stapleton, Ian Rosales Casocot, Cesar Ruiz Aquino, Fidelito Cortes, Lawrence Ypil.
Moderated by
Lady Flor Partosa.
5:15 PM—5:30 PM
Closing Remarks
| Deputy Festival Director Warlito Caturay Jr.
7:00 PM
Dinner and Reading Salon
at the University House
Labels: art and culture, dumaguete, literature, negros, philippine literature, silliman, writers, writing
[0] This is Where You Bite the Sandwich
---