Friday, September 23, 2016
I promised a review and I finally tried out the new concierge service in town because it was a lazy Sunday yesterday, and my spirit was not exactly willing to leave the comforts of the bed in search for something to eat. So I called up
InstaSugo
[Facebook
here
| Mobile: 09274223901 | Landline: 522 1872 / 419 5887] who promised in their page that they can deliver anything in less than 45 minutes. They have a variety of services, including Food Delivery, and for PHP18/km, you can "name the food you want as long as it can be found anywhere in Negros Oriental and we deliver it to you in less than 45 minutes." Sounded good to me. For the same sum per distance, they also do your gasoline needs, your document errands, your personal gifts/flower delivery services, and your grocery needs. They can also do your medicine delivery for PHP70 per 1k worth of meds, and your utilities/bills payment, free for the first month and then P150/month for 5 bills/utilities. (All rates from their page.) I called them and a polite lady answered. I told them I wanted some food from Neva's -- my test site since it's nearest to me. I couldn't give them my address because my pad has no distinct landmarks around it, so we decided to chat over Facebook. I gave them a sketch with directions to where I lived, and they gave me several snapshots of Neva's menu. I asked for Hawaiian kuripot pizza and herbed pork chop. They calculated the sum, and gave me a courier charge of P40. I said okay. "It will take Neva's some time to prepare your order though," she said. "Can you give us 40 minutes?" I said sure. I waited. They got lost, and so they called me. I waited by the sidewalk. Soon, there was a nice man alighting from a nice car bearing my order. It was all so strange. But it's very much good service for anyone like me who live very independently, and sometimes wants a courier service to do their bidding—like when you're feeling sick or lazy on a Sunday. I'd very much recommend the service. I wish they gave me a receipt from Neva's though. And I still can't figure out how they billed me P40 for a distance that's not really even a kilometre. But I can't wait for another lazy Sunday. I've already paid my bills this month.
From InstaSugo:
"Thank you for your honest review and thank you for your recommendation. We at InstaSugo are very happy to see someone like you appreciate our service. We would just like to inform you that our minimum callout fee is P40 for 2km and below. We are very open for suggestions to help us improve our services as we are the first in Dumaguete to offer this kind of business. Next time, we will make sure to provide you with a receipt which we forgot to give you yesterday. Our goal is to help people connect with local businesses around the City and also let the community experience what is available in big cities all over the world in the advancement of technology. We are working hard to make it as easy as possible for our customers to access what they need in less than 45 minutes. Once again, thank you, sir!"
Labels: business, dumaguete, services
[0] This is Where You Bite the Sandwich
---
Thursday, September 22, 2016
12:31 AM | Curtis Hanson, 71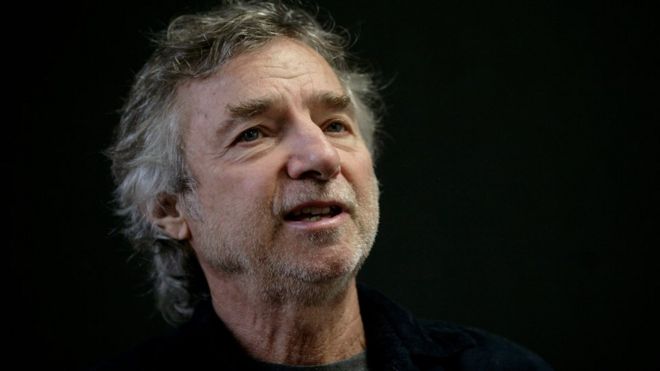 Curtis Hanson's passing today
breaks my heart.
Wonder Boys
is probably the best film ever made about writers, and was one of the best films of 2000. I love, love, love that film, which contains Michael Douglas's best performance ever. I also loved how Hanson transcended genre, directing with such panache a gritty hiphop musical in
8 Mile
, the film noir in
L.A. Confidential
, psychological horror in
The Hand That Rocks the Cradle
, outdoorsy action thriller in
The River Wild
, sexy thriller in
Bad Influence
, and the chick flick in
In Her Shoes
. That output
is
awesome,
is
underrated. Rest in peace, Mr. Hanson.
Labels: directors, film, obituary, people
[0] This is Where You Bite the Sandwich
---
Tuesday, September 20, 2016
8:39 PM | The Fate of 'Bias' Media, Courtesy of Hugo Chavez
All this talk about media being biased, being "dilaw," being a force of destabilization may have a purpose after all. They set the grounds and the mind-set for a possible eventual erasure, or at least diminishment, of freedom of speech -- and the formula may be old. It is Hugo Chavez's Venezuelan media adventure. In the book
The Dictator's Learning Curve: Inside the Global Battle for Democracy
by William J. Dobson, we first get a glimpse of the Televison Chavez, a man with a rambling TV show where he rants and lambasts and make bold pronouncements... We don't have a current national equivalent for that yet, but it pays to remember that Davao would know of a similar TV show for years, something called
Gikan sa Masa, Para sa Masa.
Now there's talk of making that a nationwide show.
Is Venezuela's past our future?
Read the excerpt from the book:
The centerpiece of Chavez's media universe is his unscripted Sunday afternoon television show,
Aló, Presidente (Hello, President)
. Here, each week, Chavez sings, dances, rams, raves, shouts, jokes, questions, reports, prays, and — sometimes — calls Fidel Castro on the telephone. The show has no precise running time, although it averages a little less than five hours. It is a rambling program that resembles a telethon with a heavy dose of politics — a cross between Jerry Lewis and Glenn Beck but with an emphasis on "the socialism of the twenty-first century." (For the show's tenth anniversary, he aired a four-day special episode.) Chavez will often use the show to visit government projects, lambaste his opponents, or denounce the United States. As he downs one cup of coffee after another, he unveils new policies and makes bold announcements. Famously, during one episode, he ordered the head of the military to send ten tank battalions to the Venezuelan-Colombian border. Special guests have included Danny Glover, Diego Maradona, and, of course, Fidel.
Although the showman never acts like a head of state, one of the program's more important elements is the picture it gives of Chavez governing. Amid his monologues and impromptu tirades, Chavez will quiz his ministers — whose attendance is mandatory — often berating them for their failings. The Comandante has even been known to fire a minister live on television. The whole lot of them sit among the audience, wearing socialist red, their heads tilted down, praying that they are not called out on a whim. Chavez dressing down a hapless minister for the pleasure of the viewing audience on national television is what passes for accountability in Venezuela today. It is also a vital part of the image making that keeps him blameless for the country's mounting troubles. The message is clear: if the incompetent ministers and bureaucrats would only do what Chavez told them to do, everything would be fine.
If Chavez's antics are unrehearsed, his creation of a media state is anything but spontaneous. It began in the wake of the April 2002 coup. When Chavez came to power, the Venezuelan government operated one state television channel and two radio stations, and Chavez had done surprisingly little to change that in the early years of his presidency. After the coup, Chavez saw the crucial role the media played in shaping events and, in his view, encouraging his ouster. He referred to the four private television channels as the Four Horsemen of the Apocalypse. "[Chavez's government] saw how weak they were after April 11, 2002," says Canizalez, referring to the short-lived coup. "They realized they were a communication minority, so they developed a strategy to create a strong media infrastructure."
In 2004, the National Assembly provided the government with the legal framework to control the media. The government was given broad discretionary powers to punish slander and disrespect of public officials. Defamation of the president can lead to thirty months in prison, and the government has the right to impose hefty fines on any media company for "offending" public authorities. Two of the major television channels — Venevision and Televen — soon changed their editorial stance to fall in line with the government's wishes. Politically objectionable shows were canceled, and the channels' focus shifted to entertainment. In one telling example, a popular political talk show was replaced with a program on astrology and tarot readings. A third channel, RCTV, was closed, and the fourth, Globovision, remains in a bitter struggle with the government, always under the threat of sanctions. (In October 2011, for example, Globovision was fined $2 million for reporting on deadly prison riots a few months earlier.) Meanwhile, Chavez has poured millions into creating his own pro-government media conglomerate. Today, there are six government television channels, two national radio stations, three thousand community radio stations, three print media companies, and a growing presence on the Internet. "These channels are clearly a propaganda machine of the state," Cañizález told me. "It is sort of what you would think of the official state TV of Cuba."
Perhaps the regime's most sophisticated tool has simply been uncertainty. In August 2009, Chavez shuttered 34 radio stations for alleged "administrative infractions." At the same time, the government announced that it was investigating 240 other stations for similar violations. However, it never specified which stations were under its microscope, nor did it intend to notify them. With the threat of closure already made real, the government knew the stations would do its censorship for it. In such an environment, any story that comes too close to the edge is either watered down or killed. "Their strategy is to keep them on their heels," says Cañizález. "This is a way that media critical of the government can exist, but always under threat and at a high cost. Because the government doesn't give a clear set of rules, it puts independent media in a constant state of uncertainty."
Get the book here.
Labels: books, dictatorships, issues, media, politics
[0] This is Where You Bite the Sandwich
---
Sunday, September 18, 2016
6:46 PM | A Singleton Finds a Good Ending
I watched Sharon Maguire's
Bridget Jones's Baby
(2016) because I thought it was going to be nostalgia fodder, and nothing more, for my 20s. Has it been that long? Yes. But the film proved to be funny and witty, and also a gentle reassurance, especially for people my age, that life deepens and starts, really, in your 40s. It is a worthy successor to the 2001 original and the 1996 Helen Fielding novel, and makes the brilliant choice to wilfully forget the 2004 sequel (that one helmed by Beeban Kidron) and the last two Fielding novels (where she kills off Darcy). There is great satisfaction watching Renée Zellweger return to an iconic role with cheerful humility and gusto, and flaunting the wrinkly truths about getting older with comic panache. All the hijinks of the original -- the earnest chronicling of a singleton's shenanigans, the bumbling presentation that derails Bridget's professional life, the mischief of good friends and the quirkiness of parents, the comical duel of the men in Bridget's life -- return but sharpened with 40-something reality: people are having babies, the biological clock is ticking, life is unsensational beyond the glowing ending of a romance story, and Emma Thompson makes for a great gynaecologist. The titular baby itself -- with the question of whether Colin Firth's Mark Darcy or Patrick Dempsey's Jack Qwant is the father being the plot's driving conflict -- serves more or less as a device for this eternal truth: the heart wants what it wants. I hope people get to watch this movie. It's not everyday we get romantic comedy this good. It's a difficult genre to pull off, and most directors muck it up, plus it doesn't get the same critical consideration of manlier subject matters. I laughed so hard from beginning to end. It was more than worth it.
[0] This is Where You Bite the Sandwich
---
6:33 PM | Searching for Silence
My missives of late have been, invariably, a plea for silence beyond the noise of the online world.
On September 13, Monday at 5:46 PM, I began it by posting in Facebook: "My body and my soul are aching for silence. A silence that begets productivity. Have deleted three apps so far in my phone." Alas, there are certainly apps out there that demand our earnest, if haphazard and occasional attention, and yet bring us nothing concrete really to the business of life. Like Tinder. Why do we even have Tinder? Deleted.
I was longing for productivity. I was longing to create, and yet every ounce of me is being seduced by the eternal lure of the Internet. Life has become a business of trying to temper this lure, and find an offline reality that finally sates, because tangible. Every day is a battle to do the right thing, offline. And so, with all the irony that this line can muster, I report that on September 14, Tuesday at 10:34 AM, I posted again on Facebook: "Trying to do and start this day right by getting a proper breakfast at Le Chalet." And then at 8:44 PM, I posted on Twitter: "Eyes on the ball"—as I found myself in a café where the wifi had conked out, and in the bliss of that disconnection, I found myself writing a story, and finishing certain things I had been meaning to accomplish. And then later that night, at 1:09 AM, finally back home in my apartment, I wrote in Facebook: "One major dragon tamed. Finally. Now, to rest for the meantime. More battles ahead."
On September 15, I Instagrammed a page from Austin Kleon's book
Steal Like an Artist,
which I have been trying to read again. The photo bore the following text: "Quick picking fights and go make something." Later that day, I posted: "I'm trying to ease myself into meditative quiet via
Fantasia on a Theme by Thomas Tallis.
Exhaling the world, inhaling sweet surrender."
It has been a battle to find the best terms of that surrender.
It didn't use to be so alarming. Only a few years ago, our online lives were representations of the personal, if curated. People talked about the travels they did, the books they read, the movies they watched. They food-porned their dinners for Instagram. They quarreled over dresses that looked white-and-gold for some, and blue-and-black for others. Now it is all political noise and murders and suspicions, not just in the Philippines, but also Europe (Brexit), and America (the Trump machine)—making 2016 the most contentious year, ever, since social media took over the world.
And there is no winning any of these arguments at all. I've realized that the best argument I can give against EJKs for otherwise good people who cheer for it is to tell them this: "The only way you can convince me about its rightness is when you can honestly see your own hand picking up a gun and shooting these people yourself, without any qualms. Don't let some anonymous 'vigilante' do it for you, if you have conviction for it. I'll give you a name. Can you pick up that gun? Can you shoot this 'cancerous' element of society yourself? And if not, why?" It's meant to bring the issue to the realm of the personal, away from the abstraction that arises from media reports and Facebook debates.
I can only wish it ends the argument.
It doesn't.
Sometimes I blame September. It is the month, after all, that catches Dumaguete's hangover after the festivities of August—and augurs bitterly for students who suddenly find an accelerated return to academic demands after a long, party-filled vacation. September also brings with it the shock of realization that the year is soon ending. It is the official beginning of the Christmas season for the country, and the Christmas songs blaring everywhere does not bring tidings of good cheer at all but a taunt that says: "It's almost the end of the year. Time flies by so fast. What have you done with your year?"
And September finally brings with it the memory of two historical horrors: Martial Law and 9/11. September 11, also Marcos' birthday, is still a day I can never forget. It was the day I first got the surge of feeling of much foreboding, that the future was going to be bleak and more people were going to die. (And I'm feeling this now about our country, frankly speaking.) I was 26 when the towers of the World Trade Center fell, and that was the day the last vestiges of my innocence faded away.
In the Philippines, this month is also when the shadows of a bitter past give us some reckoning again. I traipsed through the literature of the Period of the Republic (roughly 1946-1966) in my Philippine literature classes last Friday—using poems and stories by Rogelio Sicat, Nick Joaquin, Rolando Tinio, and Edith Tiempo as samples to explore post-American colonial literary concerns and developments, especially in the early years of the Republic—but I knew full well that I would have to steel myself for a heady lecture on Martial Law literature by the next week. Which was also perfect, if morbid, timing.
The Martial Law years needed remembering.
The plan for Martial Law, now known as Oplan Sagittarius, was leaked on September 13, 44 years ago. But Marcos was smart enough to provide the mechanism for identifying the leak. Here's an excerpts from the book
The Conjugal Dictatorship
by Primitivo Mijares [who was later killed by Marcos]: "One of the best kept secrets of the martial law planning of Marcos was that, when he had finalized the plan and he had come to a decision to impose it, he distributed the copies of the plan in sealed envelopes to the military officials and leaders of the intelligence community. He took great care and caution to assign different Zodiac code-names to the copies he handed out to the would-be martial law enforcers. The first letter of each code-name corresponded to the first letter of the surname of the recipient. The copy that code-named 'Sagittarius' went to Gen. Marcos Soliman, a Pampango who was the chief of the National Intelligence Coordinating Agency (NICA). It was so easy and convenient then to pinpoint Soliman as the source of Aquino. Thus, ranking officers of the armed forces did not have to commit mental dishonesty when they denied the existence of 'Oplan Sagittarius.' They were not aware of any game plan by that code-name. However, they did acknowledge to newsmen that the contingency plan was the martial law plan itself."
Soliman himself died shortly after the leak, ostensibly of a heart attack.
TV4's InterAksyon has a good archive online that gives us testimonies of some of the people during Martial Law, which lasted from 1972 until 1983—but really continued in an unofficial form even much later. Of Etta Rosales, they wrote: "There was nothing safe about the 'safehouse' in Pasig where during the early Martial Law years, then teacher Loretta Ann Rosales and her five companions were brought to. It was in this place where Rosales, who would later head the Commission on Human Rights, was interrogated and tortured for a month by her captors—military agents who turned out to be her students at the Jose Rizal College. Rosales was electrocuted and sexually abused. Hot candle wax was also poured on her skin and a wet cloth was used to suffocate her. Despite her anguish, Rosales says she never thought that it would already be her end: 'I wasn't thinking of dying, I was fighting for life.'"
Of Domiciano Amparo, they wrote: "Amparo was one of five persons arrested by government troops in the Mountain Province town of Sagada in 1984. Buried up to his chest in the ground, his captors stomped on him, kicked his face until he lost all feeling there, rode him like a horse, made ashtrays of his shoulders until, feeling he would no longer make it, he was advised to 'pray, pray all the prayers you know, your time has come…'"
And yet, also last week, we had Imee Marcos pronouncing the unexpected. In some forum, she spoke about how her father may have done things that were wrong, but that he was only human, and he should be forgiven. It shocked me. But somehow, I could actually take that in good faith. It's not yet enough, but this could be the start of a dialogue. I remember the South African Truth and Reconciliation Commission in the 1990s, which was a successful experiment in dealing with historical atrocities (and in South Africa's case, the long years of the apartheid). It was based on this premise: admit your sin, confront your legacy of bloodshed with everything put on record ... and you will be given amnesty. "Forgive my father," a Marcos family member finally told us. That's a kind of admittance that he did do something wrong. It's a start. Let's begin.
September is full of noise.
In Maria Popova's wonderful blog,
Brain Pickings
,
I came across a reminder
: "'There are many fine things which we cannot say if we have to shout,' Henry David Thoreau observed in contemplating how silence ennobles speech. A year earlier, he had written in his journal: 'I wish to hear the silence of the night, for the silence is something positive and to be heard.' It's a sentiment of almost unbearable bittersweetness today, a century and a half later, as we find ourselves immersed in a culture that increasingly mistakes loudness for authority, vociferousness for voice, screaming for substance. We seem to have forgotten what Susan Sontag reminded us half a century ago—that 'silence remains, inescapably, a form of speech,' that it has its own aesthetic, and that learning to wield it is among the great arts of living."
I am still searching for it, this silence. I hope in the bowels of September, a semblance of it can somehow be found.
Art by Julia Kuo
Labels: books, issues, life, politics
[0] This is Where You Bite the Sandwich
---
Saturday, September 10, 2016
3:12 PM | The Ides of the Retrograde
Late night conversations with cat.
"Meow."
"No, I'm not letting you out."
"Meowwwwwrrr."
"No, no, no. Plus it rained a while ago—"
"Mewrrrr."
"—I know but I let you out last night. I can't have you out every night."
"Meowwwwwww."
"Oh, come on. Don't tell me that. No."
"Mewrrrrhhhhmrrr."
"Nope."
"Meow."
"Like I said, no."
* * *
I read somewhere that a cat's meow is singularly tailored to its human; every sound that a cat makes evolves to a pattern that corresponds to particularities of meaning, which, over time, a cat owner absorbs, learns, and understands. There's a meow for
I'm hungry
. There's a meow for
Stop caressing me now, I want to be alone.
There's a meow for
Open the door, and let me out, I need to see my beau
. And the human perfectly gets each one, apparently. Cat owners know exactly what their cats are saying. But it is a non-transferable privilege. A cat's meow apparently will never be understood by another human.
I think of this sometimes whenever I want to marvel at the bond that happens when communication between people is pure, unhindered, and clear. To have the need to pour out your soul, and to find someone willing to listen, that is a measure of a blessed life. But it is not always easy to listen, even if we seem to find ourselves to be a well-spring of expressiveness. We gossip, we use our electronic devices for an endlessness of chat, we throw our unsolicited opinions to the air where they land as explosive posts in our social media. Facebook, Twitter, Instagram are a morass of so much talking—and people hear without really listening.
The world has become a model of iron-clad irony: in an age of so much information at out fingertips, we have learned to be suspicious of facts; in an age of so much interconnection, we have learned to be distrustful of our friends; and in an age where the means of communicating with each other have become ubiquitous, miscommunication often seems to be the rule rather than the exception. Read YouTube comments and Facebook posts, and feel the ragged viciousness that has come to define our humanity. They are enough to make anyone recoil.
* * *
It doesn't help either that sometimes the stars are in cahoots with the demons of miscommunication, disrupting our efforts at being perfectly understood. This year, there are three instances of Mercury going into retrograde, and we are currently living through the final one, between August 30 and September 22. The Old Farmer's Almanac explains that "sometimes the planets appear to be traveling backward through the zodiac; this is an illusion. We call this illusion retrograde motion." When the planet Mercury goes into retrograde, communication apparently goes haywire. This is because Mercury rules communication, clear thinking, truthfulness, and travel, and so when the planet goes into this spin, all these things go backwards, they get tangled up. Your travel plans go kaput. Truth becomes obscured. Confusion reigns. And miscommunication happens: your cellphone dies on you, your important email goes into the bulk folder, your letters get lost in the post office.
My friend, the eminent writer Krip Yuson, experienced his retrograde quite early on. Even before August came to an end, his iPhone sputtered to death—which didn't stop him from ranting about the retrograde in Facebook.
But it pays to be extra careful these days about the things we say and announce. The Duterte government—if this can be an excuse—has been, thus far, a veritable victim of the retrograde devils: every pronouncement of the President has been broadcast, interpreted, and quarreled over. More recently, even before landing in Laos for the ASEAN Summit, his words, always "colorful," have ignited diplomatic firebombs—particularly the "putang ina" he allegedly lobbied at President Obama. It was unfortunate dirty language that was heard around the world, the perfect soundbyte for a scandal-hungry world. Some people say he has been very disrespectful, unstatesmanlike. Some people say he was grossly misunderstood—"It wasn't a personal attack!" Reports later came that President Duterte had expressed regret for his choice of words. But later reports also came that his speech during the summit again managed to insult Obama. And even much later reports say Obama did not take any of it personally. And while Philippine traditional media and social media tossed and turned over the nuances of words, Stephen Colbert and other American TV comics suddenly made "Duterte" a familiar name in their comedy routines. The uproar continues.
Welcome to the crazier side of the retrograde.
It doesn't have to be political, too. The retrograde can be personal, and it is best to anticipate it. We were having a birthday party at one of the swankier night spots in town for one of our American friends. Nalingaw ko sa minor cultural debate namo that night:
"Amerikano bertdey ni or Pinoy bertdey?"
"Amerikano bertdey ni."
"Hala, sige, bayad ta."
But you don't have to take the retrograde seriously. For most people, it is astrological mumbo-jumbo that has no bearing on anyone's lives at all. Phones die all the time. Emails get unread all the time. Fights flare out all the time. And this: after two months of refusing to turn on, my iPad suddenly whirred back to life today. On the fourth day of the retrograde. Which is not bad at all.
* * *
One cause for misunderstanding is, of course, the opinions we hurl at each other in the nonstop debate chambers of Facebook. I was reading
The Guardian
online, and I came across this quote by the playwright David Hare: "In an internet age it is, at first glance, democratic to say that everyone is entitled to their own opinion. That is surely true. It is however a fatal step to then claim that all opinions are equal. Some opinions are backed by fact. Others are not. And those that are not backed by fact are worth considerably less than those that are."
Hare is apparently writing the screenplay of the film about the 2000 litigation brought about by historian David Irving against author Deborah Lipstadt for her description of him as a Holocaust denier. In this
article for The Guardian
, Hare evokes the timeliness of the subject matter in an age where historical revisionism is everywhere.
And I'm thinking, if anyone can historically revise the horrors of the Holocaust and make an interpretation of history that is sympathetic to Hitler, what more the Marcoses and Martial Law? The revisionism began on that some time ago, and many Filipinos have drank the Kool-Aid. Hare writes: "We are entering, in politics especially, a post-factual era in which it is apparently permissible for public figures to assert things without evidence, and then to justify their assertions by adding 'Well, that's my opinion' – as though that in itself was some kind of justification. It isn't. And such charlatans need to learn it isn't." The people who We are entering, in politics especially, a post-factual era in which it is apparently permissible for public figures to assert things without evidence, and then to justify their assertions by adding "Well, that's my opinion" – as though that in itself was some kind of justification. It isn't. And such charlatans need to learn it isn't."
These are precarious times indeed. The people who speak for Marcos are charlatans. Let them know it.
* * *
I have been grappling about what to do with my Facebook lately. It has become the most unhealthy of things: the venom that spews from it every second is foul, and it has poisoned, generally-speaking, my relationship with many friends, which is spilling out to real life. Every day I'm tempted to deactivate, but much of my work as a writer and as a teacher is bundled with the platform, and so I cannot. But I know I have to somehow find a compromise.
RACHEL LAW EMERY: I hope you can find a happy medium. I've seen snippets of the negativity and it is sometimes surprising to me to see the sources.
LORD ALLEN HERNANDEZ (
computer programmer
): You can start by fighting the urge to log in.
ME: My compromise now involves just parking on my profile page, and never going into the homepage.
SHAKIRA SISON (
writer
): Wow, this is my struggle now too. Really tempted to delete my mobile social media apps. I might give it a shot.
MAIA RAYMUNDO (
biologist
): That's why I made this new one. For exactly that reason. My home feed is so refreshingly positive. #facebookdetox
JAMES NEISH (
artist
): I struggle with this issue a lot. I hope you don't mind my two cents: block or unfollow people who just complain and post upsetting things; limit people's access to your personal stuff; never 'post to public' unless you expect a couple of trolls; and limit your usage to just twice a day, 15 minutes at a time, maximum. Oh, and don't use Facebook as a news source or a place to have intellectual discourse unless it's with very good friends.
* * *
I came across this
article about Facebook freakout and envy
at the NPR. The writer Jon Brooks gives his own freakout as an example: "I experienced an emotional flip-flop myself around Thanksgiving of 2008, when I first joined up. For a week or so, I marveled at Facebook's ability to connect me to people who had long ago faded into the remotest recesses of memory. But by Christmas, I was in the midst of a full-fledged metaphysical breakdown. Those scrolls [sic] down memory lane were killing me... It was the collapse of that natural partition between past and present that I found upsetting, and a few months in, after noting the male-pattern baldness of yet another long-lost pal, I figured out why: Facebook punctured the intransigently juvenile aspect of my personality that had refused to recognize the passage of time. And that, of course, provided yet another piece of evidence for the harshest reality of life: We are all going to die. OK, that was my Facebook freak-out — how about yours?"
Mine is this: some of my friends, and many of them I still love, are "monsters."
* * *
The apocalypse doesn't come with mountains trembling and hordes trampling the streets in a spectacle. It comes with sly slowness, baring its fangs intermittently you'd mistake it for a regular smile.
The people of Pompeii were going about an ordinary day with the earth slightly trembling now and then, thinking it was just one of those ordinary murmurs—and then the hot ashes came.
The Jews of Europe dutifully lined up to register when the Nazis took power in the early 1930s, hoping that obeying the anti-Semitic edicts would spare them future indignities. (The list of names would eventually be used systematically to obliterate them in the Holocaust.)
When the Bolsheviks finally seized power in Russia in October 1917, it was through a very quiet coup. The revolution that had gotten rid of the czar was actually begun by other people and had occurred early that year in February, leading to an interim government. But people tried to go about as usual, ignoring the signs of the coming systematic and wholesale bloodletting that would last from Lenin in 1917, to Stalin in the 1940s. "On the evening of October 25 [in 1917], Princess Meshchervsky went to the opera in Petrograd," Douglas Smith writes in
Former People: The Final Days of the Russian Aristocracy
. "She noticed some trouble with the lights and a strange atmosphere in the theatre, but nothing out of the ordinary. Her experiences accord with most others in the city that night, for whom life, though chaotic and unpredictable, was uneventful."
That made me pause. People went to the opera when the apocalypse came.
FLOY QUINTOS (
playwright
): Thank you for this. A quiet warning. The princess going to the opera...
ME: She refused to leave Russia, Floy. She even castigated her son who managed to escape.
BEN S. MALAYANG III (
Silliman President
): Facts. Disturbing. Truth. Now and always?
ME: Now and always, Sir Ben. It really pays to study—and remember—history.
MALAYANG: … And perchance not to repeat its evils.
ME: Pero, sir, nobody believes in history repeating. One begins to feel like a Cassandra in Greek mythology.
MALAYANG: History itself is not a repeating recurrence. It is its edifying and evil moments that are, crafted by its repeating confluence of virtues and vices.
ANA CENIZA MONTEBON (
designer
): As I read your post, this popped into my head and thus I share, from John Donne: "No man is an island, entire of itself; every man is a piece of the continent, a part of the main. If a clod be washed away by the sea, Europe is the less, as well as if a promontory were, as well as if a manor of thy friend's or of thine own were: any man's death diminishes me, because I am involved in mankind, and therefore never send to know for whom the bells tolls; it tolls for thee."
MALAYANG: Very nice, An!
MONTEBON: Thanks, Ben. Actually here also is the first line na wala na apil diay nako na apil copy.
MALAYANG: Bitaw. Thank you.
MONTEBON: Ako lang pud ni i-share kay so significant for our present times. [Here's] the accompanying write up to the verse: "In the Catholic tradition, all humanity is connected in the Body of Christ, and all are equal before God; in the Afterlife, there is no more male or female, Jew or Greek. The Bible states that 'we are many parts, but we are all part of one body in Christ' and that 'there should be no schism in the body; but that the members should have the same care one for another. And whether one member suffer, all the members suffer with it; or one member be honored, all the members rejoice with it. Now ye are the body of Christ, and members in particular." The implication for the individual living on Earth is that he is part of a greater whole, such that the death-bell has deep and significant meaning for everyone who hears it. We are all in this life together and part of the same divine plan, so the bell does toll for the sake of all who have ears to hear it.
MALAYANG: Creatures with life—however they differ in form, vices or virtues—have one thing in common: it is their having the phenomenon of life (the "thing" called life) and life—in whichever creature it resides or occurs—is the breath of God. Snuffing out life, it seems to me, is akin to snuffing out God.
SOL CORONG (
cultural worker
): That's why nakakatakot din ang listahan ngayon sa atin. Baka gamitin sa masama.
* * *
I have been mulling over Department of Transportation Secretary Arthur Tugade's statement for hours now. "A state of mind adds to the problem of traffic. Let's stop blaming traffic. If you're late, that's that." I still don't know what it means. It's a sentence so opaquely constructed, it's practically begging for misinterpretation.
What does it mean? "A state of mind." That refers to individual psychology, right? Hence, the individual? Hence, you? So you and your mindset adds to the problem of traffic. "Let's stop blaming traffic." That means, traffic is not at fault. "If you're late, that's that." That means, it's your fault. Hence: the traffic is fine, you're the problem.
Still doesn't sound right in many levels.
MACKY CALO (
businessman
): Tumpak! Tagalog na lang kaya!
ORLANDO RONCESVALLES (
economist
): I think [Tugade] understands that traffic is a Tragedy of the Commons, which is a problem of unrealized expectations. In the classic tragedy, every farmer (motorist) thinks he can fatten his cow (drive fast), but, since everyone else has the same state of mind, the cows get thin (traffic grinds). Of course, the solution is to make the "victims" behave better. For the commons, it is to give or sell to individual farmers their own land. For traffic, it would be to charge motorists a fair price to drive, i.e. tolls and higher car registration fees. Singapore, Hong Kong, London, the greater L.A. area have already implemented this, with varying success. ERIKA PERALTA (writer): State of mind... Hmm, let's say we shift our thinking/belief and turn to the opposite, which is "traffic" is not a problem. What would a person with this kind of belief do? He will leave [home] as usual, use the usual routes, get a job even if it's relatively far from his residence, does not blame train delays, road works, etc. He takes responsibility and adjusts. Even so, he will observe that his external reality would [only] still get in the way: hours wasted on the road, pollution, commitments compromised, and so on. The individual could always adjust. But again, it can only do so much. This state of mind "works" on some levels by making us more aware of how much control we have, e.g., not giving in to road rage, making ways to travel more conveniently. But the immense beauty of good transportation system should never be reduced to a far-off "national wish."
MONTEBON: Alicia Keys. We should perhaps ask her.
MALAYANG: Interesting read on this: Mr.
Boo Chanco's column
in today's
Star
.
TINA CUYUGAN (
writer
): I would take Tugade's words in a better spirit if the Duterte propaganda machine had not spewed millions of tweets blaming Aquino and Roxas for the traffic and claiming that Great God Duterte would wave a magic wand and all would be well on the highways and byways.
JUSTINE CAMACHO TAJONERA (
writer
): You're right. His bottom line was: it's the commuter's fault that he's late. If you allotted 2.5 hours to make it to work and traffic got you there in 3 hours, you must adjust your life. Clearly, Tugade has no empathy for the Filipino commuter. CUYUGAN: Possibly because he now has a government car assigned for his use.
RONCESVALLES: But that car would also suffer traffic.
CUYUGAN: He doesn't have to line up, though.
RONCESVALLES: Just wait till they make personal drones. We can buy them using intel funds.
CORONG: May sayad 'ata.
Labels: facebook, issues, life, politics, social media
[0] This is Where You Bite the Sandwich
---
Thursday, September 08, 2016
8:55 AM | The Apocalypse is Molasses
The apocalypse doesn't come with mountains trembling and hordes trampling the streets in a spectacle. It comes with sly slowness, baring its fangs intermittently you'd mistake it for a regular smile. The people of Pompeii were going about an ordinary day with the earth slightly trembling now and then, thinking it was just one of those ordinary murmurs -- and then the hot ashes came. The Jews of Europe dutifully lined up to register when the Nazis took power in the early 1930s, hoping that obeying the anti-Semitic edicts would spare them future indignities. (The list of names would eventually be used systematically to obliterate them in the Holocaust.) When the Bolsheviks finally seized power in Russia in October 1917, it was through a very quiet coup. The revolution that had gotten rid of the czar was actually begun by other people and had occurred early that year in February, leading to an interim government. But people tried to go about as usual, ignoring the signs of the coming systematic and wholesale bloodletting that would last from Lenin in 1917, to Stalin in the 1940s. "On the evening of October 25 [in 1917], Princess Meshchervsky went to the opera in Petrograd," Douglas Smith writes in
Former People: The Final Days of the Russian Aristocracy.
"She noticed some trouble with the lights and a strange atmosphere in the theatre, but nothing out of the ordinary. Her experiences accord with most others in the city that night, for whom life, though chaotic and unpredictable, was uneventful." That made me pause. People went to the opera when the apocalypse came.
[0] This is Where You Bite the Sandwich
---
Tuesday, September 06, 2016
9:14 PM | "I Feel Nothing"
Artists can be vampires, and writers most of all. And sometimes the surging ego of genius dictates that people in their lives must be consumed, and then discarded. (This was a running theme in Dean Alfar's novel
Salamanca
.) I know some writers who are exactly like this. In
Genius
(2016), Michael Grandage's respectable -- if plodding -- exploration of the relationship between the writer Thomas Wolfe and the editor Maxwell Perkins, we see the illustration of such a man. Not only does Wolfe treat Perkins, the man who championed his work when no one else would, with such vampiric discard, he did the same with other people who dared to love him -- most especially the artist and writer Aline Bernstein, who took care of him while he wrote
Look Homeward, Angel
. In this scene, Aline finally closes the door between them, in what for me is the most resonant scene in the film.
Labels: film, love, writers, writing
[0] This is Where You Bite the Sandwich
---
Thursday, September 01, 2016
9:11 PM | David Villalva's 3 Ways to Create a Villain Who Audiences Want and Heroes Need
Maybe Marvel Studios should take note of this, because their villains regularly suck.
Labels: books, comics, film, popular culture, writing
[0] This is Where You Bite the Sandwich
---
Monday, August 29, 2016
7:37 PM | Archiving and Preservation
This [
"The Race to Save the Films We Love"
] is a fantastic, if sobering, article by Manohla Dargis for
The New York Times
on film archiving and preservation. The article tackles for the most part the race to save old silent American films, a significant percentage of which are now gone or lost -- often destroyed by their own creators who never found value in storing them. That rejoinder is also something the article touches on, and provokes a look at our very own present circumstances. What are the things you are throwing away now that might in fact have historical value in the future?
The article reads: "The studios can afford to safeguard their new and old titles, but an estimated 75 percent of movies in American theaters are made by independents. A few years ago, the Library of Congress and the academy released 'Digital Dilemma 2,' a report on the digital preservation issues facing independent filmmakers and nonprofit audiovisual archives. 'Most of the filmmakers surveyed for this report have given little thought to what happens to their work once it is completed,' the study found. Most were also not aware of 'the perishable nature of digital content.'"
My own awakening regarding the value of archiving happened in 2013 during a consolidated research to chronicle the history of the culture and the arts in Silliman University. We found the subject sorely unchronicled, with many of the relevant documents and materials lost, thrown away, or destroyed. It became for the most part a chronicling of oral history, because that was what was left -- although we were also aware that many of the principals have died. (We interviewed Eddie Romero only a few months before he passed away.) The one bright spot in our search was the archival collection of Rudy Juan who made an effort to collect every single program of university shows since 1975. In a sense, a well-organised "pack rat" saved us and gave us invaluable material for our research. In my current research on Negros Oriental literature, I am dismayed to find out for example that the entire collection of The Sillimanian from the 1930s -- a decade that saw the editorships of Edilberto K. Tiempo and Ricardo Demetillo -- is missing, perhaps destroyed by World War II. I shudder at the idea of what we've lost.
Labels: archiving, film, history, life, research
[0] This is Where You Bite the Sandwich
---
Thursday, August 25, 2016
9:36 PM | Leaving Omelas
I've been quiet of late about everything happening in the news. Because I've realised there really is no discourse anymore, no debate -- only vitriol and guys named Warren. My high school best friend who died recently was already on her death bed, and she had always been critical of the things that were happening, but even then a former classmate had been berating her so hard about being "unsupportive," that classmate had to be blocked ultimately in FB. "
Mao pa ning gasakit na 'ta, awayon pa jud ko
," was my best friend's lament amidst tears. The incivility has risen to that level: even the sick are not spared the vitriol. I realised some time ago that we are debating with people -- many of them our friends -- who have more or less crossed the moral line Ursula K. Le Guin illustrated with such sadness in "
The Ones Who Walk Away From Omelas
." I hear it in the refrain, "It's a necessary evil" and its various permutations. I do see where they're coming from, and I see their point, and it's really all about middle class frustrations over systems
na
forever
bulok
-- but in the long run, I cannot participate in the crossing of that line, because once I do, I think that's it for me. I'll just be one of those
na lang
who will walk away.
Labels: current events, fiction, issues, life
[0] This is Where You Bite the Sandwich
---
Monday, August 22, 2016
6:25 PM | The Aftermath of Shopping
I think it's very much like shopping and a denial of buyer's remorse.
"I swear this shirt is cool. I didn't actually really notice these prints were animal prints -- but you know, be an environmentalist and stuff, right?"
"It's not
that
tight. [Catches breath.]"
"Let's just say na lang this pair of pants will motivate me to go to gym. It's, ummm, cool."
"The children who made this sweater in that Cambodian sweatshop are at least earning for their family.
You know
."
I've come to realise this: let people wear what they want to wear. But do Instagram it, and make that your Throwback Thursday years from now.
Labels: fashion, issues, life, politics, psychology
[0] This is Where You Bite the Sandwich
---
Friday, August 19, 2016
11:22 PM | Beautiful Words for a Birthday
It's endlessly fascinating when the audience/demographic you're specifically writing for in a story you've written
actually gets to read
your story -- and sends you feedback about it. But a friend of mine from college, Tintin, asked me a few months ago if I had any YA story she could share to her high school class, and I said I did. It's titled "Unsent Letters," and it's a story I finished in commission for Cyan Abad-Jugo's YA anthology,
Friends Zone
, forthcoming from Ateneo de Manila University Press.
"But it has a
lesbian
subject matter," I told my friend.
["Unsent Letters" is the story of a high school girl named Kia who has a crush on another girl named Roz. They are assigned to do a project together for English class, and Kia suggests they do something about words and their meanings, especially foreign words --
see illustration above
-- that have no direct translation in English. Through this project, Kia nurtures an understanding for why she can't truly express her love for her beautiful classmate. There's something about Facebook in the story as well -- but I don't want to give away everything away before the anthology gets published.]
"Please me read it!" Tintin told me, excitedly.
I did send the story to her -- and then promptly forgot about it.
Apparently, she has
really
been teaching the story to her high school class, and today she sent me an email telling me everyone had enjoyed the story, which made my heart stout and humbled.
(Actually kids reading my YA story!)
Tintin wrote: "[I'm sending you] my class' notes on the story. They were so nervous about sharing their thoughts when I told them that I'd be sharing their ideas with you, the author! Big deal for them. Needless to say, they loved the story, save for one eleventh grade boy who thought it was 'too sentimental' for him. [
Hahaha, I love this boy. And yes, it is meant to be sentimental. - Ian
] Here, I hope you wouldn't find them rambling. Not lit crit, of course, just initial thoughts that nonetheless express how much the story resonated [with] them... They didn't want to stop discussing it! Thank you for sharing it with us! We'll wait for the anthology..."
This is what they wrote:
I liked the story. On the surface it was fun, light, and relatable, although when examined closely it had more layers and was actually something to think about.

I also really liked the treatment of LGBT. It wasn't an issue/problem for the characters. I felt that the whole point of the story wasn't even someone's sexuality. It was treated just like it should be -- equal to the way boy-girl couples are treated. Without fuss. And that was something different.

The theme of language, of words -- beautifully executed. Loved the incorporation of untranslatable words into the story. They helped illustrate Kia's character, and at the same time gave the story more depth.

The story explored how words are unique to the culture and identity of every region/place, and that these words, though sometimes untranslatable, can still be beautiful in the way they just exist for themselves. As Kia says, "We're trying to say it doesn't matter whether these words ... cannot find their exact translation in English. That's their value."

Looking at this broad concept on a smaller scale, it led me to think that who we are -- our emotions, our passions, our truest selves -- is in itself a language. And yes, that language may be untranslatable. We can't always put that into English. Maybe, maybe we ourselves are made up of unsent letters, of all our unexpressed feelings, of all the things we don't know how to put into words. Because the human being is complex, and to accurately express every part of who we are is close to impossible.

Now there is beauty in just letting that "language" of who we are exist in itself. To just feel. To just be our truest selves.

But but but just as people of different countries attempt to communicate, translate, and get past language barriers, there are also times when we want to reach out to others and translate our innermost sentiments in the best way we know. It is still necessary to be connected. That connection can even mean the world for some of us as it did for Kia to let Roz know how she feels. And so we talk, we tell stories, we have words, we have literature, we have art.
There's more, and I love the part where they ask very philosophical questions raised by the story -- but I can't include that here because they dealt invariably with spoilers. But the questions were smart and surprising.
Thank you, Tin! This is a birthday gift that means so much more than a thousand birthday cakes. Please tell your class my heart overflows with gratitude.
Art by Cyan Abad-Jugo, who did this right after finishing her edit on the story.
Labels: art and culture, fiction, friends, life, literature, queer, writing
[0] This is Where You Bite the Sandwich
---
1:00 PM | Still Memories, in Ten Shots
"Photography is the only 'language' understood in all parts of the world, and bridging all nations and cultures, it links the family of man. Independent of political influence—where people are free—it reflects truthfully life and events, allows us to share in the hopes and despair of others, and illuminates political and social conditions. We become the eye-witnesses of the humanity and inhumanity of mankind…"
~ HELMUT GERNSHEIM, Creative Photography (1962)
"The camera is my tool. Through it I give reason to everything around me."
~ ANDRÉ KERTÉSZ
I.
Sometimes I still catch myself looking at life through an imaginary lens, to see how a particular world—or an experience—looks like as a snapshot. In a life that thrives on the ubiquity of images, perhaps doing that is not so strange anymore. We have come to accept pictures—photographs—as something that is almost an extension of human existence. They mark us as having lived, as having been through verifiable experience. And life, as it is, has been profoundly changed by photography as well. The very expression "Kodak moments" defines this influence of photography on our existence. In the frail biology of our memories thus, photographs have become the lasting reminders of everything.
My first encounter with photography was an accident of almost primal surprise, of discovery. The camera for a very long time held no interest for me: I saw it only as a boxy contraption with complex buttons and pins and revolving dials. It was the very paradigm of technological difficulty, especially for someone like me who was not particularly drawn to gizmos or to anything remotely technical. An Instamatic model, with its auto-focus function and point-and-click ease, was enough to sustain a need for documenting moments from my life on the go. Other than that, there was no need really—or so I thought—to take photography very seriously.
But one weekend, a friend—a burly bohemian named Krevo—had brought along his Lyca camera while we traversed the hilly town of Valencia, right near the edges of Cuernos de Negros, on foot.
It was a beautiful day, some time in the summer of 1995. I was younger then, still in college, and thought earnestly of myself as an "artist" seeking a medium to break into, and waiting for some spark of creative drive. I had already spurned painting, and was starting to dabble in writing. Yet for a very long time, inspiration proved elusive.
That day in the hills, there were only the mountains, clouds, trees, flowers, and the occasional passersby to consider in our little trek. Krevo was happily snapping at everything with the gusto of a little boy with a prized toy.
In the midst of his snapping frenzy, he stopped and—putting down carefully his Lyca against his chest, its strap carefully laced loosely around his neck—he told me: "I've always loved seeing the world through the lens of my camera." He went on to say that it offered me something else that one could not readily see with the naked eye. That simple declaration struck a chord in me.
Krevo motioned for me to come nearer, and when I did, he handed over his camera which was already ready for the clicking. "This is what you turn to focus, and this is what you turn to zoom in or out," he said, carefully pointing out the dials I'd need.
"Now," he said, "take a shot of that frog on the rock."
With some hesitation, I cradled the camera with my hands, and squinting, looked through the viewfinder.
There it was: a frog within a world all its own—framed, isolated, angled—the sole focus of my photographic intentions. It surprised me that this image cropped from a larger, unbounded reality was more interesting to consider and ponder over just because I had blocked away the rest of the world by my focusing on this image that mattered to me at the moment.
Photographs, I realized, was an instrument of focus, blocking away the visual noise of everything else.
All pictures have a self-contained story, captured by the four sides of the camera's viewfinder. Photography is a different grammar of seeing the world.
Snapshots, in other words, are witnesses to living. They galvanize moments to a kind of immediacy that even when each photo has faded to an overwash of time and sepia, they still seem to be always in the present tense.
II.
HERE'S THIS one snapshot, for example, of deep, excruciating pain: my friend Donnie's photograph of me one quick afternoon, in a government office—after the discovery of the sadness of wooden floors and gravity.
That day, I had carelessly slipped on the strap of my Canon T70 camera over my right shoulder, as if it was an ordinary slingbag. I was on the way to the city mayor's office. One wrong turn, and I found my camera clattering down to the floor with a few fatal bumps, each thudding sound a tightening vise-grip around my heart.
I remember holding my breath. Like an instance of death, my life with my camera flashed before my eyes in cinematic sensurround, quick but brutal, and comprehensive: I remembered, all too quickly and briefly, many honeymoons with my camera, clicking at this and that. How many moons and mountains and people had I captured with those lenses? Too many images to count and catalogue, and so much scrapbook fodder: smiling faces, contemplative looks, silly poses, erotic montages, and off-guard indiscretions, all caught by my camera's sheer truth, each click a slice of life, a captured detail the way we could not capture real moments and put them in a jar.
That tragic afternoon, I stayed frozen for a moment or so, and then soon the panic began. What happened? Will my camera still work? Have I damaged it beyond repair? Can I afford another camera?
Donnie's picture of me that afternoon is a caricature of shock.
After clicking, he shook his head in mute but shared commiseration: "Remember to always place your strap around your neck," he told me.
I learned this: one could never know the value of something until it disappeared from sight—like a fragile print of a lover's face on untreated photographic paper, dissolving into chemical blackness if bright light accidentally stole into the red-tinted cocoon of the dark room.
This was several years ago. No photography for me since then. But I missed my camera. I missed most the stories it told.
III.
HERE'S ANOTHER SNAPSHOT.
A picture of Mother after the accident. (Months earlier, she had slipped across the kitchen's tiled floor which was wet with soapsuds from an overflowing washing machine. She had not noticed the danger; her mind was preoccupied with the romances and indiscretions of her latest Sidney Sheldon heroine. Slipping, she broke and fractured her shoulder bone, and went through three months of intensive physical therapy.) I took it one afternoon sometime after that unfortunate fall. She had fallen asleep for siesta, but the quiet of our old neighborhood in Villarosa was too seductive for me to resist making a pictorial document. I had four more shots left of my black-and-white film—the rest of the roll being a pictorial essay I had taken of an early morning tabô in Dumaguete.
One called these extra exposures "waste shots"—which are unplanned shots taken just to finish the roll and to set the camera's rewind mechanism running. I decided that the sooner I could finish the roll, the sooner I could get my photos back from the print shop, and the sooner I could breathe easy and see how the pictures turned out.
So I woke Mother up from her nap. "What is it?" she asked, still sleepy.
"I need you to pose for me, for a while, outside the house," I said.
"Okay," she said. (Mother was always game to my shenanigans. I was, after all, her youngest son.)
I set her small, brown frame to contrast against our house's whitewashed outside walls, with only a French light post and our front door's arch to provide accents to the plain architectural texture. I snapped the picture, and I clicked the lock.
That was it. A waste shot, nothing else.
The rewind button whirred.
But that "waste shot" turned out to be the most beautiful and dramatic shot in the roll.
The photo I took was of a woman in sepia—done with a tinge of brown, endearing and classic in its vocabulary of hue and meaning. Mother in that picture looks up the sky as if in search for meaning in the middle of an afternoon. There is a play of light on her cheeks, which makes her look more vulnerable, too human.
I realized then that photography was a kind of instinct. It was an epiphany captured on magic paper. It was fleeting beauty seized by chance, the way one saw God suddenly in the pictorial details of a flower blooming.
IV.
THIS ONE IS A SERIES OF PICTURES, taken by my brother Edwin, of a New Year's Eve celebration. We are having dinner with Uncle James. There's also a salsa-dancing bartender gyrating to a wild Latin beat. The pictures, too, show me on my second glass of white wine, my own digital camera in my hands. All of us are toeing the invisible line between past and future years, wondering what it will be like, this New Year that is suddenly facing us, with gyrating bartender and all.
The photos also show me in a contemplative mood: I am thinking that it is difficult to have deep thoughts about time in the middle of a cacophony of gunpowder exploding, shrill horns tooting, cars blaring, and what suspiciously sound like empty kitchen skillets being pounded against the wall—so much noise gathering up towards the stroke of midnight. We are in CocoAmigos Restaurant. Uncle James sits beside me and looks at me with a hint of concern. "The noise…it's an ancient Chinese custom," I remember him telling me, smiling, "and the noise is supposed to drive off all the evil spirits of the previous year."
"Yes," I remember replying, "but we did the same thing last year, and it never quite worked. It's been, on the whole, a bad year for everybody."
Uncle James laughs a while later. "Sometimes we do certain things because of the comfort the routine gives us, like an old blanket," he says. I, too, have snapped hundreds of photos with my camera as a curious habit of seeking comfort. Perhaps I feel the world is a much better place when seen through the camera's lens, with everything captured in a wide-angle perspective, everything boxed and rational, everything clickable and storable like a cache for memory kept in a box. Or a tattered album.
But what the pictures did not show was how things in the restaurant were becoming much too noisy for comfort, compounded by the shrill sounds of plastic horns some of the customers are tooting. From some distance, unseen, the fireworks pulled at my cynical heart with their bright streams of red, blue, and yellow flowering briefly against the dark of the sky. I looked pensive in the photo.
I realized then that fireworks, like photography, might make men smile, but their pleasures were often too brief, too expensive.
What happens between the moments of explosion, of picture-taking, between the collective ohhs and ahhs or "Say cheese!", and then the quick disintegration of light into the surrounding blackness? There is a rising of spirits, briefly, and then the rush to nothingness: the feeling of emptiness after the orgasm.
I remember us taking more photographs of people dancing. Also photographs of the white wine and the food. Of my brother Edwin and Uncle James in the table with me. Of the bartender gyrating some more.
Each photograph becomes an accounting of things past—and a resolution for things in the future. Each click is an invitation to a quick parade of questions about life and nothingness.
The next day, I plug the camera into my computer to download the jpeg files, but everything is blurry, like life itself.
V.
THIS GRAINY SHOT WAS TAKEN in Manila with a Nokia cellphone camera sometime in 2003. Nobody believed me when I texted from the MRT halfway near Quezon Ave., on the way to Shangri-La Plaza, that the celebrity/model Marc Nelson was sitting across from me. There was an ocean between our distance of about a meterstick, and for a moment there was sudden clarity to clichés.
So near, so far.
My thumb fumbled quickly with my cellphone keys. (Everybody becomes a champion texter when the need arises.)
"Marc Nelson? In an MRT?" Tessa texted back from her condominium in Makati, her incredulity as ashen-white as the backlight of her Nokia phone. From Dumaguete, Gerard texted back as well, his message equally doubtful—accusations hanging in the air like knives for liars: "Naks, I don't believe you. You're like Joey." (Our friend Joey has a famous story about being very close friends with the singer Regine Velasquez. We all smile when he tells the tale: "How wonderful for you," we all say in patronizing tones, conspirational smiles etched on each one of our faces.)
Unlike Pinocchio, however, my nose did not grow long. "Jesus Christ, nobody believes me," I whispered to Eric, who was sitting beside me to my left, his eyes equally giddy with concealed star-struck glee. We both tried to avert our eyes, with difficulty. I peeked from my pretend nonchalance, but still careful not to gawk. I took in the man, the celebrity in cognito: he wore a blue baseball cap which carefully obscured his eyes in shades; also a dark blue muscle shirt immaculately and stylishly untucked from his faded blue jeans—all sartorial ensemble dotted by metallic-blue sneakers. He had a gray knapsack mixed with shades of blue—and there were those trademark biceps, all too familiar now from their having graced too many magazine pages and TV shows.
It is the man, I told myself, unbelieving friends be damned.
Marc Nelson was Dressed All in Blue. Like all creations of the small screen, he appeared surprisingly smaller, and leaner than in our imaginations.
Save for Eric and I, nobody else in the MRT noticed the celebrity in our midst—people in Manila, I quickly thought, have perfected the typical metropolitan blindness to other people, a syndrome one develops as a protective bubble from brushing against too much humanity in one's traffic-laden ordinary day. No one really looks at anyone, and all places around are empty and vacant in one's eyes, in a metropolis otherwise teeming with three million people.
But Eric and I were not regular city folks; we were both promdis newly landed in the great metropolis, and our eyes were still forever searching and observing, hungry for the sight of new things. My skin breathed in the unfamiliar, the strangeness, the bigness of it all. In Manila, I whispered a prayer of contentment, of suddenly finding myself without the constant view of my little Visayan city's boulevard, its small streets, Scooby's, Silliman Avenue Café. All things Dumaguete and blah. Manila was a stranger's home, a welcome foulness in place of small city pristineness.
"I read once in MEGA magazine," Eric whispered, "that Marc often takes the MRT on the way to ABS-CBN."
"And now we're in the same train car with him!" I whispered back.
We quickly dismissed plans of asking for autographs. We are not jologs, we told ourselves.
Marc Nelson held a Tagalog paperback romance. I raised my eyebrows. Tacky, I thought, but the book managed to hide his head effectively. His anonymity became a shield.
I couldn't stand any more of the suspense.
Then I remembered that my phone had a built-in camera. I clicked furtively at Marc Nelson while pretending to text. Hastily, I sent the picture to unbelieving friends to confirm my Truth.
Pictures, I realized, had that magnificent power to reinforce the sense of what was truthful and real, perhaps even more than words could. On the middle of the MRT ride to Shangri-La, I decided it was a perfect day.
VI.
HERE'S ANOTHER PHOTO, of an old friend's obscured face, in sepia, showing only three-quarters of his whole visage: one can only sees his eyes, ears, curly hair, Gaelic nose in blurry details.
But to blur is often not a mistake in photos. To blur lends meaning to one's subject—the way one intends to convey a certain fastness, or a certain unreality.
This is how I remember my friend Quddus: as a dream in my head. Quddus has gone far and away—I do not know where he is at the moment. Is he in Miami looking at the stars? In Palawan finding the perfect beach?
He was the one who taught me how to cradle a camera like one would a woman, or a comfortable lover: to place between the loving spaces of palms and fingers something sacred, the camera's bottom placed squarely on top of one's left upturned palm, with left fingers turning the lens like one would touch a lover's skin, while one's right hand secures the right side of the camera, with right pointer finger gently pressing the click button.
To photograph is to make love with the contraption, and with the image in the viewfinder.
In college, I took pictures of frogs, of cats, of flowers, of people rushing about in an existence of motorcycles, restaurants, and parties. Quddus was the technical one in our duo: he devoured photography books and knew the technical nuances of backlight, shutter speed, apertures (f/16, f/32, f/27…), exposure compensation, filters, peak sensitivity. He knew well the photography dark room and its procedures like the back of his hand: the steps in the intricate wounding of unexposed negative round the roller, the careful exposure of light and negative onto sensitive photographic paper, the right amounts of fixing and washing solutions.
I, on the other hand, had the creative "eye": the language of images.
Once, Quddus kept vigil outside Silliman Church one night. He had his camera on a tripod, and on a timer. For the whole night, he kept his camera and one shot open to the night sky. By morning, he had his shot printed.
And there it was on print: a bright geography of stars moving across the photographic paper—streaks of mesmerizing light the way you can never see stars with your naked eye.
I knew at once why I took pictures: it was for revealing moments like this, to be able to see stars as fireflies dancing in the dark.
VII.
HERE'S ONE PICTURE my photographer friend Donnie took some years ago, and gave to me—framed—as a birthday gift.
Donnie likes taking pictures of people. Portraits. When I see him around town, he is always sporting hair like Jesus Christ's, and wears his constant backpack. Inside it, there is always a camera. He likes taking "fashion pictures," he says—and he doesn't know why: his portfolio is littered with beautiful women (and men) in exotic locations, on the beach, in some café, in private verandas, in gardens, in the private darkness of bedrooms.
This time, however, he gives me a picture of two country men passing through rural landscape, each astride mobile means which are perfect opposites of each other: one man is on a cow, another man is on a bike. I like the paradox of the subject matter: it is poetry at work, drenched in irony.
See how young the cow rider is? A boy in puberty. And the bicycle rider? An older man with an abundance of wrinkles. A portrait of generations passing and continuing, and contrasting, and evolving. Old and new as they are, and old being new, and new being old—elements of post-modernism contained in a panorama such as this.
See how the color complements the subject? The blue of the sky bleeds into the deep yellow of the cornfield in the background, and of the brownish skin of the men and the cow. A swath of pastoral colors—the photo borders on the magic of oil paintings.
And here's my other photographer friend Razceljan's photo of Siquijor in the twilight. Skies red, and the beach blue and empty in the low tide—only the stumps of occasional mangrove indicate any presence of life. He took this photo while we—all three of us—were on vacation during Holy Week, the day Rico Yan died.
I remember there was only a pervasive silence that day—a quiet beach, a quiet day. Each of us—Donnie, Razcel, and I—were armed with our vacation books and probing cameras. We all whiled away the Siquijodnon afternoons chasing after surf, and chasing after images. Siquijor was magical that week. Razcel perhaps best captured that magic in his photo: a place tinged with blood red, presupposing a psychology of place and witchcraft.
VIII.
SOMETIMES, THOUGH, too much of our lives happen quickly, and passions are often set aside, often for years. Accidents claim your stake. Or sometimes you just lose focus.
I have said I haven't done photography for a number of years now. Such a long separation from the photographic bent can make rusty one's sense of photographic proportion, frame, and vision. Always, and everyday, I ask myself, Do I still have the 'eye'?
Because once smitten with the artistic possibilities of the camera—both still and moving—one cannot help but continually appreciate the photographic possibilities of the world all around us. My bible in better days was Susan Sontag's seminal book On Photography, which was in many ways a condemnation of photography as moral influence, but which also made the singular claim of photography as an art form that mattered.
Sontag wrote in that book: "In teaching us a new visual code, photographs alter and enlarge our notions of what is worth looking at and what we have the right to observe. They are a grammar and, even more importantly, an ethics of seeing. Finally, the most grandiose result of the photographic enterprise is to give us the sense that we can hold the whole world in our heads—as an anthology of images…. To collect photographs is to collect the world."
When you're young, the thing to do is just that: to collect a world of sensation and experiences. Photography thus was, for me, the perfect escape into that occupation. I also made a short film in those days titled "Trahedya sa Kabila ng Liwanag," which was done in collaboration with a bunch of friends for several courses in filmmaking in Silliman University's School of Communication. It was an experience which distilled all that I knew from all those years studying the shots and mise en scene of Hitchcock and Ozu and Welles. But I never did another film again after that.
Still photography, however, was a bug that bit me harder than moving pictures. The love for it grew when I was editor-in-chief of Silliman's student paper, when I was often driven to madness with what I considered the lazy ineptness of my staff photographers. "Photography is more than just capturing a moment in time," I used to tell them in-between the pressing deadlines, "it must also be a story, a narrative." Give me an angle that frames the story better, I'd tell them. And when they couldn't deliver, I'd take the camera and do the snapping myself.
But something has struck me anew in the light of current trends: photographic film as we know it is dead. Everybody has gone digital, and even for those who can't afford the new digital cameras, they have their camera phones now handy to take a shot at anything, and everything. This is a testament to the prescience of Robert Frank, who once, perhaps wearily, claimed, "You can photography anything now."
Those who can't afford cellphones with cameras instead go to Internet cafes where they pose, often without shame, in front of webcameras all too ready for posing, then posting and emailing the photographic evidence of themselves for the rest of the cyber world to see.
When the idea of such photographic democracy was still in its infancy, the possibilities promised all the bright things. Imagine! we told ourselves, we could be on top of a mountain, or in front of a waterfall, and we would be able to take photos of ourselves—with our phones! It took a year or two for all of us to also find out cellphone camera culture was not all roses. It also brought out the inner porno star in all of us. Who would not be amazed by the sheer amount of personal porn coming out of the woodwork these days as new gizmos increasingly become more affordable and readily available in the market? All sorts of sex scandals—known mostly by their places of misdeeds, from Dumaguete to Bacolod, and from Mindoro to Cebu—have been passed on from cellphone to cellphone through MMS and regurgitated by the VCD pirates in our midst. Who hasn't seen the TV midgets Mahal or Mura doing their striptease? Or the comedian Terry Aunor urinating? Or the TV personality Ethel Booba playing with herself with her boyfriend behind the camera? Or the news reporter JV Villar baring everything for his Bluetooth phone camera to record? Or the model Cedric Carreon letting his body be gazed from head to foot? Or the actor Troy Montero "playing around" with some of his buddies? And now, an alleged buggering of the actor Piolo Pascual? Forget Reality TV. The real thing -- sleazier, but more exciting because more real -- is going on beneath our noses. It's like everybody has become their own porn star—the ultimate penance for the ubiquity of image-making, in a culture drowning in it.
I doubt anyone can say camera phones are evil. But camera phones have indeed awakened "something" in many of us, and we can piece the puzzle as thus: there is now the ease of recordability in the modern age, revealing to us the illusory promise of privacy, the universal and perverted wish to "perform," the subtle pornographic influence of pop culture, with all moves learned from Deep Throat onwards to Playboy Videos, and to the gyrations of the Viva Hot Babes (and Men) all for a buck or two on DVD.
Images can be deadly.
IX.
BUT IMAGES CAN also be inspiring. I remember it was the renowned photographer Eduardo Masferré who finally cemented my love affair with photography. In particular, it was his famous photograph of a beautiful, young Kalinga woman which first made me pause, and which made me first consider the politics and aesthetics of image-making.
In Masferré's picture, the Kalinga girl is bare-chested, a necklace adorning her throat. Her arms are covered with tattoos, and a cigarette hangs down a smiling mouth. Her eyes are alive.
Seeing that for the first time, I was instantly smitten with the possibilities of photography as something that familiarized what was for me alien, but also something beautiful. It was the first time I knew for sure that photography had something to say.
My first encounter with Masferré began with rumination, edging on studious devotion, over his picture book, People of the Philippine Cordillera. I had accidentally stumbled upon it in the library while researching for a theme in my political science class. As I slowly fingered through every page, every Masferré photograph seemed to drip with quiet importance, each declaring itself to be a masterpiece of the late Father of Philippine Photography, as he was often called. I felt myself wishing I had taken those photographs. I wished I had his "eye." It was not only that the photographs he took—no matter the subject—were beautiful, but that they also aimed to teach us about the ways of a forgotten people—an advocacy not always to be found in art. As Jill Gale de la Villa once wrote, "Eduardo Masferré's legacy is irreplaceable. To read about the mountain people's culture is one thing. To really feel that culture one needs to see Masferré's photographs. He has left a body of work that will show the ancestral life and ways of the people of the Central Cordillera, so that we may visualize how the Cordillera forebears lived and worked, painstakingly carving vast areas of rice terraces into steep mountainsides, using rudimentary tools to fit billions of rocks neatly together to make thousands of kilometers of walls; know that they discovered and used highly advanced principles of hydraulics to accomplish the job; realize that they had intricate cultures that provided appropriate activities for all stages of life, from prebirth to beyond the transition to the next world."
I knew the biography of the master well. Masferré had exhibits of his photographs virtually everywhere—Manila in 1982, Copenhagen in 1984, and Tokyo in 1986. In 1989, he became the only Filipino to be given the honor of having his work exhibited at the prestigious Les Rencontres Internationale de la Photographie in Arles, France. Later, in 1990, some 120 of his prints were purchased by the Smithsonian Institution for a six-month exhibit at the National Museum of Natural History in Washington, D.C.
In my thoughts, I had sworn that someday, I would meet the man who created a statement of beauty from a simple snapshot.
A journey to the mountain would be that chance.
I remember Friday, the 24th of March, 1995, quite well. It was the beginning of summer. School had ended for the term, and there was that sudden sweet acknowledgment of freedom from all that academic wrangling. It took some planning and a little strategy to decide what to do and how to spend my upcoming days under the sweltering summer sun. A trip to Luzon, I finally decided. To Sagada. And so it was. My boat ticket for Manila was dated March 25, a Saturday. I was to leave at 10 o'clock the next morning.
With Satuday came sudden spring as I started on my journey to the mountains. The boat was late. Above the chaos and the sweat, people hustled to get on the vessel that would take us far north to a place I'd never been to. Finally, amidst the noise of the throng of loud porters, Dumaguete seemed suddenly so far away. Through my camera's lens, Dumaguete's shores was a panorama of goodbye to what was, for me, familiar. But the unfamiliar north beckoned, and I had my camera in hand.
Several days later, and on that mountain in Sagada, I finally saw Masferré's pink house. It was quiet. And then I knocked on the door.
"Would you like to meet my husband?" the Manang who opened the door asked me as I stood in the living room of the pink house. The place was small, but there was certain coziness to the house: it felt warm and uncannily familiar. Here and there, black and white prints hung on every wall, like testaments to an artist's greatness. I stood mute before the mounted pictures of people of the mountains, the Kalingas. The pictures were expressive, and often playful in their depiction of simple lives. There was a man clad in a bahag looks forlornly over his village from atop a hill as the sun sets behind the mountains beyond. There were toothless women smiling, clad in intricately woven clothing, stripped in the festal colors of their tribes. There was an old pensive man sitting in his dap-ay. There were frenzied dancing, and complex rituals before the backdrop of sweeping rice terraces.
The Manang repeated her question. I quickly nodded in answer. She smiled, and then left the room. The realization that I was to meet the man—the legend I have heard about for so long, and read about so much—finally hit me. I prepared to document the moment with a ready camera.
I waited for him. I wandered through the house. In one room, I saw how the great photographer had fashioned his own natural light source in one huge space of a "dark room." The light was from the ceiling, where the sunlight could pass through a well-fashioned box. The rays went straight to the developing table, and I could see what his intentions were: to be able to make large prints of his photographs. It was ingenious.
Then I heard some noise, and Manang was back, pushing a man in a wheelchair. It was Masferré. He did not talk. He could not walk. He was, to my silent and surprising dismay, somehow wasting away in old age. But I could see there was still life and genius in those old eyes.
"You can shake his hand," Manang told me. "But he has to rest soon."
I went to him, and shook his hand. "It is a great honor, sir, to have finally met you," I said, with a catch in my throat. Did he nod? I was not sure, but I was happy to meet the man.
"Do you want me to take a photo of you together?" Manang asked me. "I see you have a camera with you."
I thought about it quickly. And then I shook my head, No.
After coffee, I bade them farewell, and went home.
X.
It is best to take photographs in the "magic hours" of the day: very early in the morning, or at sunset—at that precise time when the sun is horizontal in the east, or in the west.
The light then becomes parallel to the ground, and there are no downcast shadows to overwhelm the subject in front of your camera. Natural lighting becomes perfect, and the sun's light becomes more diffused in the atmosphere, perfect for pictures that come out more ethereal, more… "magical."
But "magic hours" are too short. Soon, noon and slanting sunlight threaten, or night's darkness looms—and you have to fold your tripods and put away your cameras in your bags, and you have to wait for the next magic session to begin, or for the next photogenic image to unfold in your sight, ready for the clicking.
I miss Masferré's genius. And I miss my Canon T70 camera. It still lies crippled in my camera bag, perhaps ruing the day it met the reality of wooden floors and gravity.
I have realized that even photography has its sense of mortality—like life, like an old picture curling to gray as time moves on, and even memory becomes a memory of itself, like a snapshot suddenly turned dark, turned to a nothingness.
Labels: life, photography
[0] This is Where You Bite the Sandwich
---
1:38 AM | The Beginning of Happiness
I often go back to this scene in Stephen Daldry's adaptation of Michael Cunningham's
The Hours
(2002), my favourite scene in the whole film. Here, Clarissa Vaughn (Meryl Streep) and her daughter Julia (Claire Danes) discuss intimately the instance of happiness -- and Julia has the insight that perhaps what we remember most as the happiest times of our lives are really just our memories of being young. There are no beginnings of happiness, Clarissa realizes. Every instance is its own start and end, and the trick is to embrace its singular arc, and never to think of it as a portal to more happiness. There is no such thing. Life bewilders, saddens; happiness is the occasional respite.
Related post:
The Moments in The Hours
.
Labels: books, film, happiness, life
[0] This is Where You Bite the Sandwich
---
Thursday, August 18, 2016
11:00 PM | Life and Good Art
Surrounded myself with good art today -- good music [The Bolipata Trio, Philip Glass], good books [Tony Kushner's
Angels in America
, parts of Virginia Woolf's
Mrs. Dalloway
, parts of Michael Cunningham's
The Hours
], good films [Joe Wright's 2005 adaptation of Jane Austen's
Pride and Prejudice
, Mike Nichol's 2003 adaptation of Kushner's play], even watched both the documentary
The Rape of Europa
(2006) and George Clooney's
The Monuments Men
[an underwhelming, if well-meaning, 2014 film based on a fantastic 2007 book by Robert M. Edsel, which I read last year] to see a bunch of good people racing against time to save thousands of priceless Western art from the machinations of Hitler and the destruction of war.
It made the world infinitely better, bearable, at least for the day.
This line from the fictional Frank Stokes in Clooney's film underlined for me why art mattered, and why it needed saving, especially in a time of great crises: "You can wipe out an entire generation, you can burn their homes to the ground and somehow they'll still find their way back. But if you destroy their history, you destroy their achievements and it's as if they never existed. That's what Hitler wants and that's exactly what we are fighting for."
Labels: art and culture, books, documentaries, film, issues, life, music, painting
[0] This is Where You Bite the Sandwich
---
Wednesday, August 17, 2016
5:44 AM | You Will Never Know How Much I Love You
"Ang tanong ... ay kung may lubos tayong kakayahan na ipaalam sa iba kung gaano natin sila kamahal. Ang daling sabihin na, siyempre naman, sabihin mo lang. Pero kung iisipin mo, wala namang pag-ibig na may tamang sukat at nakukulong ng panahon. Paano nga ba? Sapat na ba iyong, o, ngayong alas kuwatro y medya ng hapon, mahal kita hanggang dulo ng kalawakan? Kahit baliktarin mo. Maaari mo bang malaman kung gaano ka kamahal ng isang tao? Alam siguro natin na tayo ay minamahal, and we can have assumptions. Ngunit kung paano at hanggang saan parang ang hirap isipin. Meron pa bang mas bibigat sa katagang, kung alam lang nila? Kung alam mo lang... For how can we measure something that is greater than us?"
~ Wilfredo Pascual
[0] This is Where You Bite the Sandwich
---
Monday, August 15, 2016
7:41 PM | Blood on the Silver Screen
I wish some Pinoy filmmaker would take a cue from that bloody wish fulfilment in that final movie theatre scene in Quentin Tarantino's
Inglorious Basterds
, and do to the Marcoses what Tarantino did to Hitler. It would feel sooooo good. I'd be watching that, and I'd be grinning like shit. (
Pero hanggang movies lang, ha
.)
When you study popular culture, you learn that movies, books, etc. can be, as Soledad Reyes once said of komiks, "a release of deeply suppressed emotions—such as anger, hostility, and hatred—without inflicting damage to society." She goes on to say that the komiks [and I think most of popular culture] can be "a site where the battle between good and evil are played out systematically with the forces of light eventually gaining victory over the forces of darkness." I'm pondering on these because I'm trying to understand the spike in real-life bloodlust by many Filipinos. And it dawns on me that in Filipino cinema, the action movie is virtually extinct, and we are in fact inundated by mostly bad romantic comedies not just in film, but also in television and Wattpad. Is this why we're acting out, because the violent fantasies of our id have not been sated by the Pinoy popular culture we currently devour?
Bring back Ronnie Ricketts, quick!
Labels: current events, film, popular culture, psychology, violence
[0] This is Where You Bite the Sandwich
---
7:00 PM | Before I Turn 41
I turn 41 in two days, and there are times when I look back at my twenties and think about the things I used to do (in half the time) -- that old speed and sharpness now seemingly nearing impossibility. My body is no longer the same, and I have admitted to myself that I cannot be "superman" anymore. But lately I've also been thinking about Oksana Chusovitina. And now every time I give myself a task that seems to take all of me, I cannot help but ask myself: "What would Oksana Chusovitina do?"
[0] This is Where You Bite the Sandwich
---
Thursday, August 11, 2016
5:19 PM | A Cultural Mapping of Dumaguete
A number of us cultural workers in Dumaguete were invited by the National Commission for Culture and the Arts and the City Tourism Office, spearheaded by YATTA, to do an initial cultural mapping summit of the city this afternoon. I wasn't prepared to be overwhelmed by so many things I didn't even know about the culture of the city -- I had no idea, for example, that there is a ritual called "san jose" in traditional homes all over the city. But I was mostly overwhelmed by the prospect that there is still so much to do with regards identifying, researching, documenting, and preserving many of our natural, movable, built, and intangible heritage as well as strengthening many of our creative industries. We graded what we have identified so far and while a good number is still alive and existing, most are deteriorating or dead. For a city that thrives on a literary reputation, for example, we don't really have publishing houses or bookstores that sell books by local authors -- and our public library has been largely neglected. This is only our first session, and there's more work to do, and we hope other cultural workers can join us in the future.
I don't really know why this has never been done before.
Labels: art and culture, dumaguete, negros, tourism
[0] This is Where You Bite the Sandwich
---