Saturday, April 30, 2016
5:34 PM | A Long, Dark Corridor Without an End
What we see of Eva Green's Vanessa Ives and her character arc in the first episode of the new and very promising season of
Penny Dreadful
is a perfect portrait of depression -- and of a depressive aching for a reprieve. "All has not gone well with me here. I've been low and sedentary, unwilling to go outside, sunk into a kind of an unhealthy lethargy, sunk into something like my own sadness," she writes Sir Malcolm. "... Perhaps that is the root of what has been troubling me. I have left my faith. Or it has left me. Thus, my prospects seemed only a long, dark corridor without an end. I have done things in my life for reasons that seemed right and even moral in their violent immorality. And now I stand without that God upon whom I have always depended. But please do not fear for me. I have no fear myself. The old monsters are gone. The old curses have echoed to silence. And if my immortal soul is lost to me, something yet remains. I remain. So I sign off now with hope, and, as ever, with love... Vanessa."
Labels: life, poetry, psychology, television
[0] This is Where You Bite the Sandwich
---
Wednesday, April 27, 2016
5:22 PM | Tropical Edelweiss
Why is there water under my eyes? What's going on? Thank you,
Anthony Bourdain
. This episode of
Parts Unknown
felt just ... right. I suddenly want sisig, and Jollibee Chicken Joy, and halo-halo, and kare-kare, and ice-cold San Miguel Beer. And it's just dawning on me that no matter how much we think we are all different from each other, Filipinos share the same story. When I hear "Edelweiss" now, I think of palm trees and halo-halo and balikbayan boxes. And Lola Aurora.
Here's Bourdain blogging about
the episode
.
Labels: philippine culture, society, television
[0] This is Where You Bite the Sandwich
---
Monday, April 25, 2016
10:34 PM | Against Forgetting: The 7th Philippine International Literary Festival
I'll be in Manila later this week for the
7th Philippine International Literary Festival
!
I'll be in the panel on "Workshopping Workshops," together with Renato Vibiesca, Ralph Semino Galan, Mitch Cerda, Michael M. Coroza, Butch Dalisay, and Vim Nadera. The two-day affair will be held on
April 28-29
at QCX Museum, Quezon Memorial Circle. (Admission is free for all sessions. However, everyone is encouraged to bring book donations.)
The theme for the PILF this year is "Against Forgetting" -- and according to the good folks over at the National Book Development Board, it "underscores the role of creation as an individual's attempt at breaking silence, as an act of bravery against seeming futility."
As in previous editions, the festival will feature a plenary session on the theme, a workshop on literary editing, and roundtable discussions on writing, publishing, rights trading, and readership. The PILF is a landmark project of the NBDB that celebrates literature and promotes best publishing practices through discourse on issues of authorship and readership shaping the local book industry. Since its inception in 2010, the festival has become a major gathering and focal point for authors, illustrators, publishers, and literature lovers in the Philippines and beyond.
For more information, please go to
the PILF website
.
Labels: books, conferences, festivals, philippine literature, workshops, writers, writing
[0] This is Where You Bite the Sandwich
---
Saturday, April 23, 2016
1:00 AM | The Sweetness of Emile Ardolino
There is a vulnerable sweetness and a hard-earned sentimentality in
Emile Ardolino
's movies that I think are the very reasons why they have become classics of popular film. That, plus they are such a fantastic mix of film and music and dance. (That "Hungry Eyes" sequence in
Dirty Dancing
still gets me after all these years.) Oh, we remember the movies so well --
Chances Are, Sister Act. Three Men and a Baby, Dirty Dancing, The Nutcracker
-- but unfortunately we don't remember the late filmmaker behind them as much. I find it sad. (He died of complications from AIDS in 1993.)
[0] This is Where You Bite the Sandwich
---
Friday, April 22, 2016
Labels: fast-food, film, humor
[0] This is Where You Bite the Sandwich
---
7:30 PM | Myrna Peña-Reyes on Edith Lopez Tiempo's Iconic Poem + Music and a Reading
Here's
Edith Tiempo
's "Bonsai":
All that I love
I fold over once
And once again
And keep in a box
Or a slit in a hollow post
Or in my shoe.
All that I love?
Why, yes, but for the moment
And for all time, both.
Something that folds and keeps easy,
Son's note or Dad's one gaudy tie,
A roto picture of a queen,
A blue Indian shawl, even
A money bill.
It's utter sublimation,
A feat, this heart's control
Moment to moment
To scale all love down
To a cupped hand's size
Till seashells are broken pieces
From God's own bright teeth,
And life and love are real
Things you can run and
Breathless hand over
To the merest child.
Here's a reading of the poem by
Arlene Delloso
...
And here's a bit of music inspired by her work. This is "Bonsai," an art song composed by the College of Performing and Visual Arts'
Elman Caguindangan
and performed on the piano by
Ricardo Cabezas Abapo Jr.
, based on Mom Edith's most famous poem. [Instrumental only. Lyrics are the lines from the poem itself.] This was commissioned for and first performed in the
Pagpupugay: A Tribute to National Artist Edith L. Tiempo
held at the Luce Auditorium in Silliman University, a program co-presented by the University of the Philippines' Likhaan Institute of Creative Writing, many years ago.
And here's poet
Myrna Peña-Reyes
on the poem:
For poets and writers, all words spring from and lead back to our basic universal concerns: love, life, death. All other matters that engage the heart and mind are variations on these. What impresses us as readers is the individual poet's skill in presenting his or her personal take on these broad concepts—the particularization, the personalization, the concretizing of the universal, which gives wisdom and pleasure.
In "Bonsai" the poet shows us how those huge concepts of love and life can be "scaled down/ To a cupped hand's size," making these concepts more comprehensible and, therefore, capable of nurturing us and being nurtured by us. That the quoted lines occur near the middle of the poem is rightly so for they constitute the focus, the center, the heart of the poem.
The poet accomplishes her task by employing the compact and rich language of poetry where one word, a single image, can suggest a wealth of associations. The tangible physical objects or images then assume a higher significance, their symbolic or metaphorical interpretation that bring out the poem's ultimate meaning.
In naming common objects from everyday existence that reflect what she "loves," the poet makes concrete for us those broad abstract concepts, those big sounding general and amorphous words: love and life. The named objects represent various facets of love and life: the private and personal, the public and playful, the artistic and new, the commercial and practical, the past and present. Consider these ordinary objects and the associations they summon up:
A son's note—private and personal, a reaching out to a fellow being, child to mother; unlike a letter, a note is raw, unrehearsed, extemporaneous; a moment's impulse, emotionally honest. By not specifying what the note says, the poet makes the image richer in possibilities: a useful piece of information, a promise, an expression of thanks, tenderness; perhaps disappointment, hurt, anger—the other faces of love and life.
A husband's one gaudy tie—just one, no more; public, playful, perhaps bad taste or an independent mind challenging tradition; stubbornness, fun-loving silliness, perhaps color blindness—a person's strengths and weaknesses, his human-ness.
A roto picture of a young queen—photos, a record of what was, stir up memories that recreate, bring back to life what used to be; the past contemplated in the present: former triumphs and pleasures; health, beauty, youth in its prime before bodily decrepitude; the stages and the passage of love and life.
An Indian shawl—a man-made work of art, the artistic and perhaps new; travel, the fascinating, the beautiful; the foreign and familiar: something to keep one warm as love, indeed, warms.
Money bill— Who doesn't love it?—the commercial and practical without which the world wouldn't turn; a "necessary evil" that can also be a kindness and a life-saver.
These ordinary everyday objects representing love and life, we are told the poet folds over more than once to hide away in secret, safe places. The act of "folding over once and once again" while suggesting the special attention and care paid to them also infers that the poet doesn't just put them away for good, but takes them out now and then to refresh, perhaps re-evaluate her appreciation of them as representations of "love." That she hides them in safe places suggests not only their great value but a sense of privacy associated with them, as things we hold and feel deeply about are oftentimes regarded.
A box—something purposely constructed, the most common place in different cultures for storing things, universal. The expression "to box" means to encompass, to bring to a required form, to categorize, as the poet classifies and stores in her heart and mind the treasured objects representing specific values to her.
A hollow post—is our native Filipino safe box, a sturdy part of our homes; secret, secure but also vulnerable to termites and fire, as love and life are strong and fragile; a hollow section of bamboo brings to mind our Philippine creation myth: the first man and woman, the beginnings of life and love.
A shoe—the hidden object is worn intimately next to one's body, the feet, our body's support, foundation that enable us to go places: protection, self-sufficiency, independence.
These secret hiding places are metaphorically the poet's heart and mind which are engaged in translating the abstract Universal into its concrete particulars. This act is "a feat," involving control, skill and endurance. "It's utter sublimation," that is, a process that constantly improves or refines till the physical realities become metaphorical significances.
The poet's scaled-down versions of love and life are analogous to bonsai, a deliberately miniaturized, but mature, plant; a dwarf tree that blossoms and fruits; complete in itself although representative of a larger entity, as "…seashells are broken pieces/ From God's own bright teeth." Shells record our planet's life that started in the oceans. Teeth, a most intimate part of one's body, are an essential aid in sustaining life. To put teeth into means to make something effective, inferring firmness, steadfastness, resoluteness.
For in the end, all—broad conceptual concerns or their smaller physical representations, animate or inanimate things—partake of the nature, the divinity of their Creator, the original source of Life who is both Idea and Form.
"Bonsai" is Edith L. Tiempo's Ars Poetica. (Appropriately, Archibald MacLeish's "Ars Poetica" was the poem Mom Edith used to introduce the Modern Poetry class she taught in 1958, the first class I had under her.) "Bonsai" is an excellent demonstration of the craft of poetry, how with great economy of language and precise choice of imagery such a short piece can suggest a wealth of meanings, suggestion being at the heart of modern poetry.
By dipping into the well of our mutual everyday concerns and experience, large and small, for her material, and through her perceptive insights revealed through a consummate poetic skill, Edith L. Tiempo makes "life and love real things" for us, "hands them"—our shared humanity—"breathless" over to us for "the moment and for all time."
Labels: criticism, philippine literature, poetry
[0] This is Where You Bite the Sandwich
---
6:42 PM | Bonsai Birthday
Today, for my summer Philippine literature classes that last for one hour and thirty minutes each, all I did was talk about
Edith Tiempo
's "Bonsai." Which was a beautiful coincidence, since today is Mom Edith's birthday. I thought I'd be able to talk about other poems as well (there's two by Myrna Peña-Reyes and Ricardo de Ungria that I love very much) -- but there's just so much to unpack in "Bonsai," one and a half hours is not enough. Sometimes I talk about "Lament for the Littlest Fellow" as an alternative -- which actually gives me more ground in terms of discussing metaphor and insight -- but I like the paradox that is at the heart of "Bonsai." So, Mom, here's to you. You're missed immensely by all of us.
Labels: dumaguete, life, people, philippine literature, poetry, school, silliman, writers
[0] This is Where You Bite the Sandwich
---
10:37 AM | The Wisdom of Luis Joaquin Katigbak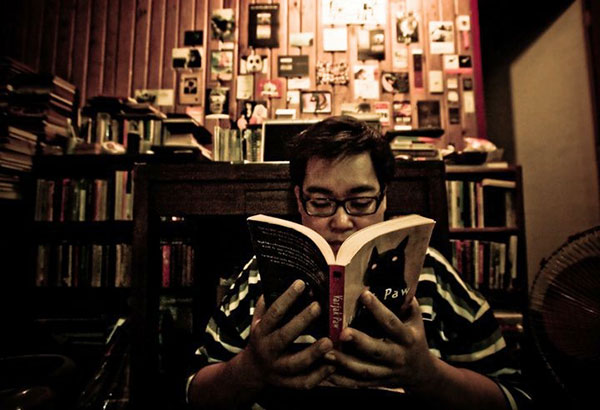 Over at the
Philippine Star,
Jonty Cruz has done a fine tribute to Luis Joaquin Katigbak -- a good friend, and magnificent author of Happy Endings and Dear Distance -- by cobbling together snippets from Luis' Young Star columns. They are a revelation of the kind of man Luis was -- fantastic writer, music lover, Gen X philosopher, good friend. Here are my favourites:
My idea of teen life had been shaped not so much by actual living as by repeated viewings of
Ferris Bueller's Day Off
.
I got my high school degree from Philippine Science High and my college degree from UP Diliman, but in many ways, what I really am is a graduate of the University of Booksale.
I have too many books, basically. It's a fact I've come to accept over the years. And yet, to this day, not a week goes by when I don't visit a Booksale or three. Beyond the gratification from the books themselves, the visits impart pleasures of their own. It's a little bit like gambling, it's a little bit like hunting. You might find a book you remember fondly from your childhood, or a novel you never knew you really wanted to read. Or you could waste an hour and find nothing more compelling than Sudoku for Dummies or a breastfeeding manual.
The act of reading is where (one first learns how to write), as a form of conversation: the reader is constantly reacting to the words he is reading, always questioning or contemplating or accepting. Whether one is reading fact or fiction, autobiography or poetry, one meets the words on a page with words of one's own.
What is the purpose of music? If someone asked me that outright, I would feel like doing several things, one after the other: shaking my head, sighing, and, ultimately, ignoring the question altogether. Music needs no purpose, no justification. If we are lucky, it is made — or we make it. At its best, in different ways, it heals and it helps. It reminds us that we are human.
Eraserheads was the band we could all agree on, regardless of social status or even previously declared preferences; theirs were the songs we would all know by heart.
When we talk about 1996, we talk about being too young to know any better. We talk about loves that sparked and flamed and guttered out, about passions that seemed so certain then and seem nothing more than silly now.
Like any secret language, music is a shortcut to friendship. I have waxed ecstatic about The Sundays and Aimee Mann with utter strangers in an HMV, and once gave one of my year-end music mixes to someone I had just met in a bar — who later became one of my best friends. It also deepens already existent friendships: I loved two of my friends a little more after I had long conversations with them about the exquisite neon-lit melancholy of The Blue Nile.
Hip-hop got me through the worst breakup of my life. It's hard to feel too sorry for yourself when you're blasting Jay-Z's "'The Blueprint."
Never pretend to be familiar with an artist you don't know.
Dancing is always a good idea. Unless you have convinced yourself that it is a bad idea.
When you fall for someone, there is music. Not literally, not at that precise moment — unless you happen to be in a club or at a gig when it happens — but there will be a song, or songs, or a specific artist, who will dominate your headspace at the same time your heart is doing somersaults. You will end up listening to this music to the point of obsession, as you relive initial thrills and run headlong through magical possibilities.
I have never dated a girl whose taste in music I abhorred, or who found mine entirely disagreeable. It's probably a bad idea, more so than dating someone with incompatible taste in books or cinema.
Devastating is not too strong a word for the right combination of song and girl.
I've been in relationships with people with different beliefs, and it was rarely ever a deal-breaker, but I think in some sense what people who throw these Big Questions around are trying to figure out is: Will we be moving in the same direction together?
In truth, one year is pretty much the same as another, and then we die. Hahaha, just kidding! Not about the dying part though. We're totally going to die. That's going to happen, and sooner than you think. I blame carbs.
We like to believe that we are the sum total of our choices. Perhaps the idea gives us a sense of control, of having a deliberate shape to our lives. This belief is adhered to most fervently when it comes to the choices we make regarding what we watch, what we listen to, what we read, what we eat, and what we wear. In short, what we like (and what we Like). In another time, that would have been trivia. In our day, it constitutes our identity.
Assembling a self is a lifelong process. We make do with the materials at hand. (Sometimes even that doesn't account for it: Why is my brother a businessman/triathlete while I'm a writer/sloth? We grew up in the same circumstances. We were even both fat comics readers, once upon a time. I suppose only I had the resolve to stay the course.) What we like, or say we like, can serve as guides of a sort — "signposts in a strange land," to quote Walker Percy again — but we musn't mistake the signs for the terrain.
Whatever you do, enjoy being young, free, and relatively unburdened in the early 21st century, and draw both solace and regret from the fact that these days will never, ever, come around again.
Your own book: there's nothing quite like it. Seeing the cover, emblazoned with the title you came up with; reading your name on the front and the spine; and the sheer fact of it in your hands, whether in print or tablet form — it's something almost all writers, whether aspiring or experienced, dream about.
Creators are monsters. We're all monsters too, in one way or another. The slaying of monsters is an honorable endeavor with a long history. Let us keep in mind, though, that knowledge is the best sword for such an endeavor, and that the monsters we know best are ourselves.
Writers are liars, as many have observed, but they don't literally mean that we cheat on our taxes or impersonate policemen for fun. We present a scenario that more clearly communicates the idea that we want to come across — and, if we are worth anything, it is a strong idea, a good idea — rather than cobble together unconvincing attitudes or unedited minutiae.
All I can tell you is this: as much as possible, think about what you're doing. Think beyond this moment, and beyond the hall of mirrors that is your own skull. Again, in the absence of time machines, we are all traveling in one direction — and no, that was not a reference to the boy band, but thanks for the spontaneous applause — and we all only have so much time. Seeing as how you're eating up the same amount of hours anyway, you might as well use them in as intelligent and humane and informed a manner as possible. Don't try to make yourself feel better by assuring yourself that other people don't know what they're doing — they don't, but neither do you, really. Don't whine. Don't try to be cool. Don't be that guy — or that girl.
We are both always and never alone — you carry your influences, you have mentors in the flesh or on the page, you make connections or you don't — but writing is done by facing the blankness and overcoming it with your own words. That's where the stress and the satisfaction are.
In conclusion, I would like to leave you with the words that I told myself when I went from kindergarten to grade school, and when I finished high school and entered college, and when I finally graduated from college and started working. These are words that have always been proven true: "This is when the trouble starts."
Read the rest here. Art by Arnold Arre.
Labels: books, fiction, film, friends, love, memories, music, obituary, philippine literature, quotes, writers
[0] This is Where You Bite the Sandwich
---
Monday, April 18, 2016
1:32 PM | "They don't want to hear it, they don't care."
I've heard variations of this phrase twice in mere days, in very powerful illustrations of heartbreaking epiphanies. The first is in Episode 7 of Netflix's
Unbreakable Kimmy Schmidt
, where Jane Krakowski's Jacqueline White tries to throw a fundraiser for Native Americans among a cluster of rich, white men -- and their indifference to the issue floored her. In their midst, she gets this frightful insight: "My God, you don't care at all... Why didn't I see it? That has always been the problem, you just don't care..." The second is in the last few scenes of Rick Famuyiwa's
Confirmation
, HBO's film version of Clarence Thomas' controversial 1991 Senate confirmation hearings as Supreme Court justice, which unexpectedly entered a dark chapter when law professor Anita Hall testified that Thomas sexual harassed her under his employ. But Washington, D.C. politics ultimately derailed the hearings, and in the end Kerry Washington's Prof. Hill finally realises: "This was a mistake. This is why I never came forward before. What good have we done? My friends' jobs are being threatened? My reputation has been ruined? For what? I have said everything that I came here to say -- BUT they don't want to hear it. They don't care. They only want to win." They're both very right.
Nobody. Cares.
Labels: film, issues, life, politics, television
[0] This is Where You Bite the Sandwich
---
Sunday, April 17, 2016
7:40 PM | Food Roundup Dumaguete 2016: 2 Story Kitchen
I am an accidental foodie: I used to write a food column for a local paper and have written extensively about the Dumaguete food scene for national magazines and newspapers -- until I decided to discontinue the enterprise about four years ago. Still, people I know who visit Dumaguete keep asking me about the best places to go to eat, and I've found I no longer quite know the scene. A lot can change in half a decade. So I've decided to try a new approach this year and go about sampling the local food culture once more and document everything online in the course of twelve months. The city has grown and expanded enough in the years since 2011, and a significant part of what's happening food-wise has become unfamiliar to me. Consider this a personal adventure.
If you've been around Dumaguete long enough and are privy to some of the twists and turns of its culinary culture, you'd know that
2 Story Kitchen
— that delightful Korean restaurant near the corner of San Jose St. and Avenida Sta. Catalina — is more or less the amalgam of two restaurants that came before it. First, there was Noriter, a playground of Korean whimsy that charmed much of Dumaguete through most of the 2000s and threatened to bedevil our calorie counting with its mishmash of uncanny desserts, including an evil concoction they called Honey Bread. Second, there was Boston Cafe (itself becoming Jutz Cafe before eventually closing down), which sampled a startling menu of old Filipino fusion favorites done in a style its former chef called "masabor." Both were gustatory landmarks a stone's throw away from each other along Sta. Catalina, and both are gone of course — but by interesting twists of fate, fortune, and friendship, the signature dishes of these two restaurants have been mixed up in a delightful way in 2 Story. I cannot complain. I like knowing that some of the dishes I loved from Noriter and Boston Cafe are still around, providing creature comfort. I have a story for example of beginning and ending one year of being vegetarian with Boston's herbed pork chop, a lovely piece of meat heaven that's drenched in an alchemy of herbs and spices — and it's still around, in basically the same form, tantalising still. Most people go to 2 Story Kitchen these days not for the food nostalgia but because they enjoy the "adventure" of squatting around the low platforms doubling as tables in the second storey, ensconced in cubicles stacked upon each other that reminds the casual customer of childhood slumber parties. I prefer the no-nonsense tables of the first floor, where the counter is also located and I can order to my leisure without having to buzz for waitresses to take my order. Truth to tell, it took me a while to warm up to 2 Story. In the very beginning of its existence, the staff annoyed me with their bewildering uncouthness totally opposite the perceived brightness of the place. I came around three years later, happier with a more well-trained staff, and a menu that has things just right for whatever budget you might have — from the pricier pan steak menu, which includes the grilled chicken pan steak (P280), the shrimp burger (P190), the tuna bimbap (P159), the teriyaki chicken steak (P270), the grilled chicken pan steak (P280), the kimchi pilaf (P250), and the shrimp-bacon pilaf (P260), to the more affordable regular entrées like the chicken milanese (P155), the chicken cordon bleu (P185), and the herbed pork chop (P175). The Korean menu ironically almost feels like an add-on, offering just the basic jin noodle soup to the bulgogi, from the deokboki to the bibimbap. (They also have burgers.) But I go home to one dish every single time: the garlic fish filet (P195), a chunk of tuna that's seasoned in garlic, and comes with tomato, lettuce, cucumber, and olive. It does not always come out of the kitchen perfect, but in its best incarnations, it is a guilt-free wonder that's addictive. Ordered at 6:00 PM. Order received at 6:15 PM.
#FoodRoundupDumaguete2016
Labels: dumaguete, food, negros, tourism
[0] This is Where You Bite the Sandwich
---