Wednesday, October 22, 2014
12:02 AM | The Color of Living
I had no plans whatsoever in watching Jorge Gutierrez's
The Book of Life
(2014), the new animated film produced by Guillermo del Toro. The trailers made it look like the film equivalent of a sugar rush -- all that colour, all that schmaltz, all that zaniness. The trailers gave me one big headache, and so when the film parked itself in the local cinema, I merely shrugged. But someone I knew wanted to watch it with me, and I'm not one to decline a movie invitation. I like going to the movies, and I was sure the film wouldn't be
that
bad. When the screening was over, I found it wasn't bad at all. It was actually good. It was very, very good. True, the screen vomited with an avalanche of colours, and yes there was an abundance of zaniness. But it was all hyperkinetic colourful madness that somehow felt well-designed, intentional, organic. I think that turn-around for me is due mostly to the superb direction. Mr. Gutierrez knows how to tell a story, and in fact draws you in by dramatising that ability. The film opens with a bunch of rowdy students being bussed in to experience a day at the museum. But some intrepid lady tour guide takes them to a different adventure instead, showing them a closed-off exhibit about Mexico's Day of the Dead, and then regaling them with a story told from a book she called "The Book of Life." And in one tale, she unfurls the story of La Muerte, the Queen of the Land of the Remembered, and Xibalba, the King of the Land of the Forgotten -- both guardians of the souls of all our dearly departed who also happen to be sparring wife and husband. Xibalba is bored with the tedium of his kingdom and wants to take over the fiesta-land ruled by his wife. And so he proposes a wager: they randomly select three kids -- two boys and a girl, and all of them great friends and playmates -- and they try to see how destiny will lead them in the name of love. Will the boy who is a sensitive singer now being trained to become the greatest matador in the world win the girl's heart? Or will the boy who has the courage and the fighting spirit of a thousand armies emerge victorious? Manolo, the singing matador, is La Muerte's champion, and Joaquin, the soldier, is Xibalba's. They fall for the girl Maria. "Let the best man win," Joaquin tells his best friend Manolo. It is of course sad to see good friends become rivals. But the bet is on, and the story rolls out into a delightful amalgam of a believable love story, a movie musical (featuring contemporary songs! that rendition of Radiohead's "Creep" will haunt me forever), a showcase of dozens of delightful minor characters who
all
steal the spotlight, and insights about carving out a path for oneself (among others) that do not feel like moral lessons. Spinning all of these is an animation style that looks fresh and new: the characters look like wooden puppets at play in candy land, but animated with the vibrance of the "life" in its title. I love this film. I wish more people would watch it. There were only ten people in the theatre I watched it in, and it felt like a disservice to this gem of a film. It's better than what Pixar is churning out these days.
#RoadToOscar
[0] This is Where You Bite the Sandwich
---
Monday, October 20, 2014
6:17 PM | Noteworthy Dialogue: From Ben Stiller's The Secret Life of Walter Mitty (2013)
Walter and Sean spot an elusive ghost cat in the Himalayas. They huddle behind Sean's camera, and Walter waits for him to take a photo. Sean stares at the cat for a long time.
Walter:
When are you gonna ... take it.
Sean:
Sometimes I don't... If I like a moment, I mean me, personally, I don't like to have the distraction of a camera. I just wanna stay in it.
Walter:
(After a beat) Stay in it.
Sean:
Yeah, right there. Right here.
[0] This is Where You Bite the Sandwich
---
Sunday, October 19, 2014
3:09 PM | Noteworthy Dialogue: From John Curran's The Painted Veil (2006)
Kitty:
"For God's sake, Walter, will you stop punishing me! … Do you absolutely despise me?"
Walter:
"No, I despise myself."
Kitty:
"Why?"
Walter:
"For allowing myself to love you once."
Ouch.
[0] This is Where You Bite the Sandwich
---
Saturday, October 18, 2014
The race for the 87th Academy Awards has essentially started with all the online punditry abuzz with each new screening -- and as usual, I want to do my annual unflagging attempt to seeing all possible films in contention, even before the official nominations come on January. This blog series aims to chronicle this effort.
I have never before watched any film directed by Jean-Pierre and Luc Dardenne, fearful that I might not be able to hack any of their grim social realism. But here I was, finally watching the Dardenne brothers'
Deux Jours, Une Nuit
(2014), Belgium's current submission to the Oscars, and finally I feel grateful for having overcome my own cinematic hesitance. The film very much feels like seeing a stripped down version of one of my favourite feel-good movies, Audrey Wells'
Under the Tuscan Sun
. In that 2003 film, Diane Lane plays an American writer who falls into the deepest of despairs, only to find herself having an accidental splendid new life in the beautiful Italian countryside. Hollywood fodder, of course, but I have always responded to that film's golden promises, if only because I want to see the grimness of everyday life processed through rose-colored glasses. The Dardennes don't offer any rose-colored glasses at all. Their filmmaking is stark and spare, with a pace and mechanism to it that feels almost voyeuristic, bordering on the documentary. And all that felt exhilarating to me. We follow Marion Cotillard's blue collar worker Sandra who has been battling a crippling case of depression, necessitating medical leave from her work. (Doing what exactly, we have no idea.) On the eve of her return to her job, a Friday, she gets a call informing her that she has been made redundant at work. She also learns that her fellow workers were made to vote between keeping her, or keeping a 1,000 euro bonus. (Of course, they chose their bonus.) But her employer has given her reprieve. She has the chance of getting a new round of voting on Monday. Now, all she has to do is to convince the majority to give up their bonuses to keep her job. And the film follows her as she does her excruciating round of visiting each co-worker, begging them to reconsider. Some are understanding, some are angry, some don't want to see her at all, and some are downright violent and hostile. Her journey becomes like a microcosm of human behaviour. All the while, the film keeps a firm gimlet eye on Cotillard's character as she juggles through the most tumultuous of emotions, battling her darkness within, pleading for reconsideration, and understanding quite well when she doesn't get it -- and hating herself for begging, and knowing that if she doesn't fight, all is lost. What was disconcerting about the film was how the Dardennes -- and Cotillard -- telegraphed all these so easily and meaningfully that Sandra's dilemma becomes our dilemma: we could easily see ourselves in her shoes -- and the worst part is, we could easily see ourselves in her co-workers' shoes, too. What makes us human? What is pity? What is need, and what is selfishness? Will we give up something we desperately need in order to consider the plight of another human being? The film does not offer any easy choices. But I like how it ended. I like the hard-earned epiphany Sandra gets in the end, and in a sense, no matter how dour the story is, it is still a moving experience.
Best Foreign Language Oscar Chances:
Very good.
#RoadToOscar
[0] This is Where You Bite the Sandwich
---
Thursday, October 16, 2014
1:52 AM | 1993 Best Foreign Language Film Reloaded: How to Listen and Fall in Love
Part 6 of a Series
And finally we come to the last film nominated for Oscar's Best Foreign Language Film in 1993.
There is no overt story being told in Trần Anh Hùng's sensuous
The Scent of Green Papaya
, Vietnam's nominated entry (its first, and so far its last). Although once you let the film's rhythm embrace you, by and by, you do get a certain thread of a storyline -- and yet you quickly get that this is a film that is, above all, about atmosphere. The story follows a girl named Mui, newly arrived from the countryside, who comes to a neighbourhood somewhere in the outskirts of a city, and we get the impression that this is Vietnam before the fall of Saigon. Mui is taken in as a servant by a family -- the mother is a patient smalltime businesswoman, her husband seems to be a lout, their three young sons are consumed by the boredom and itches of adolescence, and their old cook stands in the margins, observing all. The film follows Mui's days and nights in this household, observing the minutiae of her life, until a shift happens midway where we finally see her as a young woman falling in love with the young master of the house she is currently serving.
I remember this film most as if it was something being told by way of a dream, or at least that brief moment we get upon waking where we are still floating in the boundaries of a dream before the claws of reality finally take hold of our senses. I think this is the impression I got of the film 21 years ago when I first saw it because it is largely a very quite movie, with snatches of dialogue here and there, but one that is also aware of the power of music and ambient sound. That carefully orchestrated mix of sound and music -- in particular Debussy's "Clair de Lune" -- are the cues with which we see things through Mui's senses. The feel and smell of green papaya seeds. The warbling of crickets. The crackle of sautéed vegetables in a wok. The sound of glass cracking. The sight of ants in a warpath. And sometimes above this beautiful mix of meditative silence and domestic sound, the drone of invisible warplanes in the distance.
You come away from Trần Anh Hùng's film knowing you have been made privy to an experience like no other. And this is what distinguishes
Scent of Green Papaya
high and above the other films in the nominee list. It is the most cinematic of them all, and pushes the art form towards aesthetics that are not easily handled, but here we see it displayed in virtuosic grandness -- but a grandness that springs from little things and small observations.
This film should have won the 1993 Oscar for Best Foreign Language Film.
That the least of them all -- Fernando Trueba's
Belle Epoque
-- won is testament once again of Oscar's overwhelming Euro-centricity, where France, Italy, Germany, and Spain dominate regardless of how the rest of world cinema fares. Three Asian films triumphed in 1993, and a poorly made Spanish sex comedy gets the prize.
But to get back to my main point. Sure, the Asian film often gets short shrift in the Oscars. But what of the Filipino film? Will we finally get Oscar recognition with Lav Diaz's
Norte, Hangganan ng Kasaysayan
? That's my next post.
[0] This is Where You Bite the Sandwich
---
12:54 AM | 1993 Best Foreign Language Film Reloaded: How to Hide in the Closet
Part 5 of a Series
What a wonderful romp this film was. This was the first film of the Oscar-honored bunch that I saw, 21 years ago, and it has retained its charms after all these years. Coming a year before
Eat Drink Man Woman
and a year after
Pushing Hands
,
The Wedding Banquet
would complete a kind of trilogy depicting the small upheavals in Taiwanese family lives. These films are as observant as the best of Yasujiro Ozu's but with none of the distant formality: Ang Lee's early films are drenched in food, cosmopolitan quirkiness, and dramatic gestures, and all these to excavate the often unsubtle negotiations between the traditional and the modern in the Taiwanese family.
Temperamentally different by miles and miles from any of the other films in the nominee list so far, Ang Lee's
The Wedding Banquet
was a surprise Oscar contender. That Taiwan submitted it given the unapologetic -- and positive (
gasp!
) -- way the film tackled the gay relationship central to the story was already a surprise. That the Oscars would also bite was another surprise, although 1993 was also the year Jonathan Demme's
Philadelphia
came out as a major mainstream offering.
Philadelphia
's serious subject matter -- homosexuality and AIDS -- proved to be something Oscar could not ignore, and soon dutifully handed over an acting statuette to Tom Hanks for what was considered a "brave" performance as an AIDS victim seeking redress.
The Wedding Banquet
is the lighter side of the gay spotlight that year: no victims here, no troubling darkness -- only the hijinks of a domestic drama involving a closeted gay Taiwanese businessman, his intrepid American lover, his doting parents who keep expressing a wish for him to get married, and finally his desperate Chinese tenant, a female painter who becomes the willing partner in a plot hatched by the two gay men to get the parents off their backs. There will be a fake marriage for a green card. A surprise wedding ceremony soon complicates things -- and the twisting and turning of these complications are what keeps the suspense for the movie.
I love the lightness of Ang Lee's touch in his early films, the way he manages to navigate through his culture to find insights to universal dilemmas. The rest of the 1990s would see him try to do the same for cultures outside of his own --
Sense and Sensibility
in 1995,
The Ice Storm
in 1997, and
Ride with the Devil
in 1999, before returning to his Chinese roots and finally making a definite mark in 2000 with
Crouching Tiger Hidden Dragon
-- but those early 1990s films are where he has poured his heart out.
It shares with Chen Kaige's
Farewell My Concubine
the
menage a trois
theme (two men in a relationship and the woman invading it!) at the center of their complications, but
The Wedding Banquet
is actually the better film. It's more complex in its mapping of its human stories, which is easily overlooked because of its contemporary setting and its comedy. The historical seriousness and the elaborately costumed drama of
Concubine,
however, are blinding flashes of fireworks that hide the fact there's not much there.
Next:
Trần Anh Hùng's
The Scent of Green Papaya
...
[0] This is Where You Bite the Sandwich
---
Tuesday, October 14, 2014
9:08 PM | 1993 Best Foreign Language Film Reloaded: How to Survive Chinese History
Part 4 of a Series
I approached Chen Kaige's
Farewell My Concubine
with some trepidation when I watched it again last night, knowing full well how much I disliked it when I first saw it some 21 years ago. I suppose my earlier reaction was one borne out of the inevitable disappointment that came from much-too-high expectations.
But I remember sorely wanting to
like
this film. Gong Li then was my recently discovered film siren -- someone I latched on to in my younger "Fuck-Hollywood-The-Rest-of-the-World-Has-Much-to-Offer" years. I was also just discovering the vastness of Asian cinema, and I was devouring the works of Jafar Panahi, Ang Lee, Wong Kar-Wai, Zhang Yimou, Akira Kurosawa, Yasujiro Ozu, and so many others. That the film had won the Palme d'Or from Cannes also sent my expectations to the stratosphere; its gay subtext also proved quite inviting.
And then I saw it, and I felt let down:
Farewell My Concubine
seemed like a mess. Its promise of a story set to epic scale seemed dwarfish in execution. The characters and their stories did not draw me in. And, worst of all, it had none of the visual poetry of Zhang Yimou's films. I had just seen
Raise the Red Lantern
, and I was overwhelmed by its lyricism, its sense of history unfurling in uncanny domestic melodrama. Yimou was my idea of a perfect Chinese film from the Fifth Generation of filmmakers. Kaige's effort seemed like the product of a crasser cousin: pompous, overlong, rough, uninvolving.
So I surprised myself for liking the film this time around. What had changed in the interim? Perhaps my middle-agedhood? (I'm quite old now, or at least, old
enough
.) Perhaps I have seen so much more of life (that cliche...), and have felt so much more the frail tango of desire and recrimination we do with the people we love? Perhaps I have known so much more the cruel subtleties of loving and the many languages of betrayal?
Because it is the convoluted relationships between the film's three main protagonists that I have responded to so much more now. I still though Kaige's execution to be rough, but this time, it felt more in keeping with the theme of its story. It follows the trajectory of the lives of two Beijing Opera performers -- one who plays the king and the other the consort in the popular play "Farewell My Concubine" -- from their harsh training in childhood to the harsher reception they get in the real world as history unfolds in modern China. The central motif, of course, is the dramatic details of the play they have been performing for all their lives. We see how the motif plays out in their lives outside of the stage as they confront the changes in society, from the fall of the monarchy, to the rise and fall of the Koumintang, to the invasion by the Japanese, to the rise of Communism, and the complete ravaging of the Cultural Revolution. Their lives is made even more complicated by the entry of a woman -- a prostitute played ably by Gong Li -- who has married the "king" (played by Zhang Fengyi) and has set the "concubine" (played immaculately, like a secret dragon, by Leslie Cheung) into an extended jealous fit. How subtle the ways they manipulate each one in their complicated triangle! And how equally subversive how they demonstrate their love and hate as well! I adored the complexity of their untidy melodrama.
Compared to the similar shenanigan's in Trueba's melodrama, Kaige's film easily trumps the Spanish one, and the latter suddenly seems like a horny teenager's depiction of sexual politics.
Farewell My Concubine
is smart, and is easily the better-made film.
Belle Epoque
's Oscar feels like frivolous win.
Next:
Ang Lee's
The Wedding Banquet
...
[0] This is Where You Bite the Sandwich
---
4:15 PM | 1993 Best Foreign Language Film Reloaded: How to Be a Wartime Poet
Part 3 of a Series
Of all five contenders to the Best Foreign Language Film Oscar in 1993, there was only one film in the course of that Oscar season that I hadn't seen, simply because it was impossible to get. That would be Paul Turner's
Hedd Wyn
, the first Welsh film to be nominated for an Oscar. (They would make a repeat of that nomination six years later, in 1999, with Paul Morrison's
Solomon and Gaenor
.) The United Kingdom had begun sending non-English entries to the Oscars two years prior, in 1991, and
Hedd Wyn
would be their second entry after skipping a year. I had always believed that its nomination was borne out of some curiosity in the Academy: the United Kingdom sending in an entry for Best Foreign Language Film. Seeing it now for the first time, my old suspicions ring true.
It helped, of course, that Turner's is a well-made film -- safe and non-controversial in the way the British makes them. (Think
The King's Speech
.) It also has lyrical poetry and a brutal war -- two things that shout "prestige!"
Hedd Wyn
is basically the story of the real-life Welsh poet Ellis Humphrey Evans, known more popularly in Wales as the titular name. A poet made of country stock and sensibilities, he soon came to prominence with his heady verses that proved critically popular. But his nascent rise in the local writing world coincided with the outbreak of World War I. A pacifist who did not believe in killing other people, our dear poet resisted enlisting -- which proved an unpopular stance in his small town. He does eventually make it to the trenches, and the scenes of his battlefield death [
this is not a spoiler
: the film begins with this, and dips into it at length] is spliced beautifully with his winning one of Wales' biggest literary prize. (The film actually made me realise how you can stage a low-budget war by employing mostly close-ups and smokescreen and the sound of mortar and gunfire.) It is basically the Welsh version of
All Quiet on the Western Front
complete with its anti-war sentimentality. Handsomely made, it is however more stuffy Masterpiece Theatre for me than something that should be considerably breaking new ground in cinematic arts. In other words, it is much too safe and genteel, and belongs right in there with the best of Hallmark films -- an uncompelling treatment of a supposedly important subject. It is still watchable, but it has not aged well.
Next:
Chen Kaige's
Farewell My Concubine
...
[0] This is Where You Bite the Sandwich
---
Monday, October 13, 2014
9:44 PM | 1993 Best Foreign Language Film Reloaded: How to Sleep With Four Sisters
Part 2 of a Series
In 1993, something strange happened to the Best Foreign Language Film lineup for the Oscars. It was surprisingly Asian-centric, after decades and decades of the Oscars being enamoured with European fare. It was a year that was kind to Asian films altogether. The one enduring Asian movie star was immortalised in the popular and well-received biopic,
Dragon: The Bruce Lee Story
, starring Jason Lee and directed by Rob Cohen. And Hollywood also produced one mainstream fare that defied expectations: Wayne Wang's adaptation of Amy Tan's bestselling
The Joy Luck Club
was a critical hit, and was most unusual for having gathered together some of the best-known but least hired Asian-American actresses. To a lesser degree, there was David Cronenberg's adaptation of David Henry Hwang's play
M. Butterfly
, with Jeremy Irons and John Lone. Other releases included Gurinder Chadha's
Bhaji on the Beach
and Tsui Hark's
The Green Snake
. The Cannes Palme d'Or also went to Chen Kaige's
Farewell My Concubine
that year, a prestige it shared with Jane Campion's
The Piano
. It was such a popular hit that Gong Li started getting notices as a possible Best Supporting Actress nominee. The film went on to win Best Foreign Film at the Golden Globes. Over at the Berlin Film Festival, its Golden Bear also went to two Asian films: Xie Fei's
The Women from the Lake of Scented Souls
and Ang Lee's
The Wedding Banquet
.
Three films from the continent being nominated for the Oscars wasn't surprising. Consider the contenders: Chen Kaige's
Farewell My Concubine
from Hong Kong, Trần Anh Hùng's
The Scent of Green Papaya
from Vietnam, and Ang Lee's
The Wedding Banquet
from Taiwan. Three magnificent films whose reputation has not been lessened by the years. They competed for the Oscar statuette along with Fernando Trueba's
Belle Époque
from Spain and Paul Turner's
Hedd Wyn
from United Kingdom. The Asian films dominated the conversation that year, but true to the Euro-centric nature of the Oscars, guess which film won: Spain's entry. Let us consider each nominated film again.
This was the eventual Oscar winner, and I remember watching the telecast and feeling miffed when its title was announced. I remembered watching Trueba's film in 1994 with some trepidation. I was a teenager fresh from high school, and all I was hearing about
Belle Epoque
was how "sexy" it was, how deliciously sinful. After I'd seen it, it didn't do much for me -- although I quite agreed the adjectives hoisted on it proved more or less true. But that's to be expected from a story about a handsome young army deserter at the height of the Spanish Civil War who finds himself somehow living in the farmhouse of an older gentleman who just happened to have four beautiful daughters visiting him from Barcelona. They turn out to be all ravishingly beautiful and temperamentally different from each other, which only makes the young man decide to stay on, in hopes of winning one of the girls. He just doesn't win one sister, he manages to bed them one after the other in a series of fortunate circumstances until finally he makes his fate by acknowledging the one who loves him the best.
Seeing it again, it strikes me as being -- ironic for its themes -- a conservatively assembled film, quite an old-fashioned effort that doesn't push the cinematic envelope much. It's not scintillating cinema at all, but it wallows prettily in its carnal fantasy. It has lots of humour thrown in for good measure, plus a stick or two of historical reflections that can persuade the viewer to think that perhaps all these is some kind of commentary about the deep-rooted schisms of Spanish society before Franco. There
has to be
since it cannot just be all about beautiful women and beautiful men and rambunctious sex and some other shenanigans. But it's sad to note that, more than twenty years later, we find that there's ultimately not much there in the film: it's just a pleasant, inoffensive sex comedy that has the brilliance of a lazy
siesta
.
Next up:
Paul Turner's
Hedd Wyn
[0] This is Where You Bite the Sandwich
---
4:46 AM | Oscar and the Asian Film
Part 1 of a Series
In all my years of watching the Oscars and following the race among the contenders that precede each annual telecast of Hollywood's glamourised pat-on-the-back, I have been drawn to one category more than the usual: the award for Best Foreign Language Film.
When I was a younger cinephile, the award struck me as one that was the very illustration of the "magnanimity" of the Academy, which has chosen to single out a film (out of five nominees) that does not come out of the usual American cinematic machinery, to shine some spotlight on the national cinema of some other country that was not the United States, nor its close cousin the United Kingdom.
It also promised me this possibility: here was an Oscar that can truly be won by a Filipino filmmaker. All we need to do, as the category's rules demand, is to have the country's institutional representative chose a title from among those who have undergone a week's worth of qualifying run, then submit the title to the Academy, and then wait for the Academy's own subcommittee overseeing the category to whittle a long-list of usually 70+ titles, to a short list of nine, out of which the final five are chosen.
The older cinephile in me has since realised that all these is easier said than done. More than politics are involved in the grind towards the selection of the nine.
There is also the relentless campaign to get noticed. How does one film among 70 get noticed? Doing the festival circuit -- Cannes, Berlin, Venice, Toronto, Sundance, New York -- is one answer: the better films get better notices, and hopefully word-of-mouth will carry the title through the looong race. Compiling the better notices from important film critics is another. At year's end, the circles they run in usually produce their top-tens and unveil the winners of their award listings. The more a film gets mentioned, the more you are "in the conversation."
It is a trickier process for a "foreign language film," given the bias towards Hollywood fare in these considerations. The one Filipino film, I think, that came closest to surviving this process was Aureaus Solito's
Ang Pagdadalaga ni Maximo Oliveros
, which won the coveted Teddy at the Berlinale and snagged a nomination at the Independent Spirit Awards, while getting generous attention from critics and list-makers. But when the 2006 Oscar's short list was finally revealed, the nominations went to Germany, Denmark, Algeria, Mexico, and Canada: two European countries, one African (a rarity -- but not a rarity for Algeria), one Latin American, and one North American (but a film that does have an Asian theme). In 2007, a film from a most unusual Asian country made the shortlist, but it was Kazakhstan's first attempt to submit a film to the Oscar -- and sometimes being a first-timer helps: at least it brings a heightening of attention by those who are voting. ("The first submission from that country, eh? Let's take a look...")
The Philippines has never won a competitive Oscar for Best Foreign Language Film, even when it has one of the oldest national cinemas in the world, and even when it actually started sending in submissions in 1956, the first year of the category when it went full-merit. (We sent in Lamberto Avellana's
Anak Dalita
. Federico Fellini's
La Strada
, from Italy, won.)
Before 1956, the Oscars did recognise certain foreign films as having been the best of their respective years -- but it was not a competitive award. In 1953, Manuel Conde's
Genghis Khan
-- which had wowed the Venice Film Festival -- was considered for a special citation, but it never got the award. (No foreign film got the award that year.) In those pre-competitive years, only three countries ever merited Oscar distinction:
Italy
(
Shoeshine
in 1947 and
The Bicycle Thief
in 1949),
France
(
Monsieur Vincent
in 1948,
The Walls of Malapaga
in 1950, and
Forbidden Games
in 1952), and
Japan
(
Rashomon
in 1951,
Gate of Hell
in 1954, and
Samurai: The Legend of Musashi
in 1955). As far as Oscar was concerned, these were the only countries in the world aside from the U.S. and the U.K. that were making films in those years.
But the Philippines has not always sent in submissions. In the 1960s, we only sent twice: in 1961 with Gerardo de León's
The Moises Padilla Story
, and in 1967 with Luis Nepomuceno's
Dahil sa Isang Bulaklak
. In the 1970s, we only sent once: in 1976, with Eddie Romero's
Ganito Kami Noon, Paano Kayo Ngayon
. In the 1980s, we only sent in twice: in 1984 with Marilou Diaz-Abaya's
Karnal
, and in 1985 with Lino Brocka's
Bayan Ko: Kapit sa Patalim
. Imagine all the other magnificent films in the First and Second Golden Ages of Philippine Cinema that went unsubmitted.
But we have regularly sent in submissions in the 1990s and thereafter, starting in 1995 with Carlos Sigiuon-Reyna's
Inagaw Mo ang Lahat
, and followed by Tikoy Aguiluz's
Segurista
in 1996, Marilou Diaz-Abaya's
Milagros
in 1997 and
Sa Pusod ng Dagat
in 1998, Gil Portes's
Saranggola
in 1999, Rory Quintos'
Anak
in 2000, Gil Portes again with
Gatas... Sa Dibdib ng Kaaway
in 2001 and
Mga Munting Tinig
in 2002, Chito Roño's
Dekada '70
in 2003, Mark Meily's
Crying Ladies
in 2004, none in 2005 (because of the Film Academy of the Philippines' reasoning that the Oscars were not notified of their change in office address -- thus the "non-delivery" of the official invitation to submit), Auraeus Solito's
Ang Pagdadalaga ni Maximo Oliveros
in 2006, Adolfo Alix Jr.'s
Donsol
in 2007, Dante Nico Garcia's
Ploning
in 2008, Soxie Topacio's
Ded na si Lolo
in 2009, Dondon Santos's
Noy
in 2010, Marlon Rivera's
Ang Babae sa Septic Tank
in 2011, Jun Robles Lana's
Bwakaw
in 2012, Hannah Espia's
Transit
in 2013, and now Lav Diaz's
Norte, Hangganan ng Kasaysayan
in 2014. Sometimes, some of the title sent for consideration can be cause for much head-scratching, with
Noy
standing out as the worst possible contender. And what gives the popularity of Gil Portes whose cinema is, at best, merely "decently-made"?
Our own politics obscure enough our chances for Oscar gold, so one can only imagine the vagueness that transpires from the bigger politics of the international film world. In the given morass of choices and politicking, I can understand an Academy member, who is tasked to be part of the special committee to sift through the gargantuan number of foreign language film submissions, to decide to fall in with the easier alternative of dealing only with national cinemas of considerable track record, or of considerable "undeniability." By that, we mean the countries of Europe, of course, with token representations of the often-cannot-be-ignored countries from other continents (South Africa and Algeria from Africa, Japan and China from Asia's Far East and Israel from the Middle East, Argentina and Mexico from Latin America, and that's basically it.) The stray entry from the unlikely country not usually within Oscar's radar (Cuba, Vietnam, Nepal, Kazakhstan, Cambodia, Vietnam, Ivory Coast, and Nicaragua) becomes the "surprise" tokenism that assures everyone the world has been gone over with a fine-tooth comb.
But here are some statistics:
Twenty-four (24) European countries have so far merited nominations. Compare
that
with only three countries with nominations from Africa. Or only nine countries with nominations from Latin America. (Uruguay's nomination in 1992 was, however, rescinded. And there is the curious case of Puerto Rico, essentially part of the United States, but which garnered a nomination in 1989.) From Asia, there are four countries with nominations from East Asia, two from South Asia, two from Southeast Asia, and four from the Middle East -- 12 in all. Canada as the lone North American country that is not the U.S. has been nominated several times (7 times to be exact).
Almost
all
European countries have been nominated --
except
for Ireland, Portugal, and Romania for the major ones (quite a surprise), and Luxembourg, Albania, Cyprus, Estonia, Latvia, Lithuania, Turkey, Bulgaria, San Marino, Vatican City, Monaco, Andorra, Armenia, Belarus, Azerbaijan, Liechtenstein, Lithuania, Malta, Moldova, and the Ukraine. And I'm not exactly sure how to consider Croatia, Montenegro, Serbia, and Slovenia, because as constituents parts of the former Yugoslavia, they managed to secure six nominations for that (now-nonexistent) country. The same goes for Slovakia, which, as part of the former Czechoslovakia, also garnered six nominations. Since separating from its sister country, it has not garnered any nominations all its own, but the Czech Republic has three nominations thus far.
From a total of 331 nominations (including the special ones) since 1947, 248 or 75% have gone to European countries. Asia clocks in a very distant second with 45 nominations, or 14%. Latin America follows with 24, or 7%. Africa and North America's Canada, with seven nominations each, contribute 2% respectively.
Of the top five countries with most nominations, France leads with a record 38, and Italy follows with 30. (But both share an award in a 1950 co-production with René Clément's
The Walls of Malapaga
.) Spain is third with 20, and then Germany (including nominations for West Germany) with 18. Japan is fifth with most nominations with 15. But Sweden and Russia (including nominations for the Soviet Union) follow very closely with 14 nominations each.
Among the winners, 54 Oscars, or a whooping 81%, have gone to European countries. Only 6 Oscars, or 9%, have gone to Asian countries. Africa, with three wins, constitutes 4%. Argentina's two wins constitute 3% for Latin America. Canada's one win is the remaining 1%.
Taking a look at the European winners, Italy is the over-all champion with 14 wins, followed by France with 12 wins. Russia/Soviet Union and Spain come close with 4 wins each. Sweden, the Czech Republic, Germany, the Netherlands, and Denmark follow with three wins (including two for the Czech Republic, when it was part of Czechoslovakia). Switzerland and Austria have two wins, and there are the singular wins for Hungary and Bosnia and Herzegovina.
Japan, with four wins, has the most Oscars for a non-European country, followed by Argentina with its two wins.
In other words, the Oscars is very much a Europe-centric affair.
As a matter of curiosity, I took note of the years where Europe essentially blocked off the rest of the world with nominations, expecting to find a rarity. To my surprise, there were
12 years
(out of 57 since 1956) -- specifically 1958, 1959, 1966, 1968, 1970, 1978, 1979, 1985, 1986, 1987, 1992, and 1996 --
where there were only European nominees
. That's a lot of years of being blind from the rest of world cinema.
I want to focus for now on the Asian film, however, and how it has fared exactly with Oscars. When I talk of the Asian film, I consider the term with much respect to geography, and mostly considering the imprecise divide provided by the Urals. Hence, the Asian film does not only include those from East Asia (China, Japan, Taiwan, South Korea, North Korea, Mongolia, Hong Kong, and Macau), or Southeast Asia (the Philippines, Indonesia, Malaysia, Thailand, Singapore, Vietnam, Cambodia, Laos, Burma/Myanmar, Brunei, East Timor, and Papua New Guinea), or South Asia (India, Sri Lanka, Pakistan, Bangladesh, Nepal, and Bhutan) -- but also, in my estimation, and perhaps problematically so, the films from the Middle East (which includes Israel, Palestine, Iran, Iraq, Saudi Arabia, Yemen, Oman, United Arab Emirates, Qatar, Kuwait, Afghanistan, Tajikistan, Kyrgystan, Turkmenistan, Uzbekistan, Kazakhstan, Syria, Lebanon, and Jordan). Turkey, for all its wishes to be considered part of Europe, has not been included.
I have attempted to consider the Asian Oscar in terms of the chronological in nominations. The countries below are listed according to the first time they were ever nominated for a Best Foreign Language Film Oscar. I have endeavored to specify the number of wins and nominations, taking note of the films nominated for each particular year. Asterisks (*) denote winning films.
JAPAN
Wins:
4 (including 3 pre-competitive special citations)
Nominations:
15
1951
Rashomon
*
1954
Gate of Hell
*
1955
Samurai, The Legend of Musashi
*
1956
Harp of Burma
1961
Immortal Love
1963
Twin Sisters of Kyoto
1964
Woman in the Dunes
1965
Kwaidan
1967
Portrait of Chieko
1971
Dodeska-den
1975
Sandakan No. 8
1980
Kagemusha
1981
Muddy River
2003
The Twilight Samurai
2008
Departures
*
INDIA
Wins:
0
Nominations:
3
1957
Mother India
1988
Salaam Bombay!
2001
Lagaan
ISRAEL
Wins:
0
Nominations:
10
1964
Sallah
1971
The Policeman
1972
I Love You Rosa
1973
The House on Chelouche Street
1977
Operation Thunderbolt
1984
Camila
2007
Beaufort
2008
Waltz With Bashir
2009
Ajami
2011
Footnote
CHINA
Wins:
0
Nominations:
2
1990
Ju Dou
2002
Hero
HONG KONG
Wins:
0
Nominations:
2
1991
Raise the Red Lantern
1993
Farewell My Concubine
VIETNAM
Wins:
0
Nominations:
1
1993
The Scent of Green Papaya
TAIWAN
Wins:
1
Nominations:
3
1993
The Wedding Banquet
1994
Eat Drink Man Woman
2000
Crouching Tiger Hidden Dragon
*
IRAN
Wins:
1
Nominations:
2
1998
Children of Heaven
2011
A Separation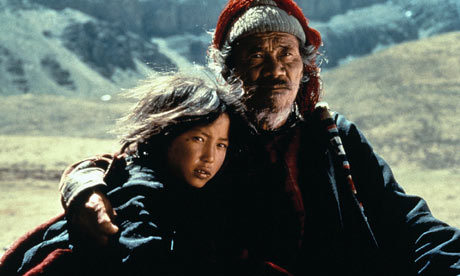 NEPAL
Wins:
0
Nominations:
1
1999
Caravan/Himalaya
PALESTINE
Wins:
0
Nominations:
2
2005
Paradise Now
2013
Omar
KAZAKHSTAN
Wins:
0
Nominations:
1
2007
Mongol
CAMBODIA
Wins:
0
Nominations:
1
2013
The Missing Picture
(There is the special case of the Soviet Union in 1975 when it won for
Dezu Uzala
, which was a Japanese co-production directed by the great Akira Kurosawa. It is a very much an Asian film, but for the sake of clean statistics, I am not considering it.)
But what can we learn from the nominations above?
First
, it's good to be Japan. But Japan was the first Asian country to really make the rounds of the international festival circuit, and the films of Akira Kurosawa (and later on, Yasujiro Ozu) essentially opened the eyes of the world to the possibilities of Japanese cinema. It has earned the right of "first consideration," so to speak. Any Japanese film, by virtue of that long tradition of recognised excellence, will always be something for Oscar to take a look at. Any year is theirs to lose in terms of being nominated, the same privilege accorded to Italy and France.
Second
, it's good to be the new kid on the block. Vietnam, Nepal, and Kazakhstan were curious first timers when they got their first nominations. They have not been nominated since their years.
Third
, it pays to be quirky, especially if quirky has something to do with some dark historical material. Cambodia has submitted twice before it hit pay dirt: in 1994 with
Rice People
, and then in 2012 with
Lost Loves,
both with no nominations. But 2013's
The Missing Picture
was quirky: it was a documentary of Pol Pot's purge of the country, but done in claymation. It borrowed from Israel's technique of 2007:
Waltz With Bashir
was an animated documentary about Israeli soldiers fighting a godless war in Lebanon. Those things get noticed.
Fourth
, it's good to be a country that is always headline news. For better or for worse, Palestine has instant name recall. It is always newsworthy. I wish the Philippines submitted something in 1986, when its People Power revolution made the country a household name all over the world. That could have translated to a nomination. We didn't send anything. But then again, nor did we produce anything of considerable excellence.
Lumuhod Ka Sa Lupa!
and
Donggalo Massacre
, anyone?
Fifth
, having one of the oldest national cinemas in the world does not mean anything. Take a look at India's meagre three nominations, and not one film by Satyajit Ray among them, although one of his film (
The Chess Players
) did get submitted, but did not garner a nomination, in 1978.
Sixth
, it pays to be a juggernaut in the American domestic box office. Ang Lee's
Crouching Tiger, Hidden Dragon
-- Taiwan's submission in 2000 -- could not be denied its win. It was already angling for a much bigger prize -- the Best Picture Oscar itself -- but I guess Academy voters thought it safe, and more American, to give Lee's film the lesser statuette.
Gladiator
won instead.
Seventh
, it pays to be Ang Lee. It has submitted a total of 40 times, but Taiwan only gets nominations every time it submits a film directed by Ang Lee.
And so, it is mostly a hit-and-run affair with Oscars and the Asian film.
In 1993, however, a miracle happened. In a year that was kind to Asian film, three were nominated for the Oscars: Chen Kaige's
Farewell My Concubine
from Hong Kong, Trần Anh Hùng's
The Scent of Green Papaya
from Vietnam, and Ang Lee's
The Wedding Banquet
from Taiwan. They competed for the Oscar statuette along with Fernando Trueba's
Belle Époque
from Spain and Paul Turner's
Hedd Wyn
from United Kingdom. The Asian films dominated the conversation that year, but guess which won...
I'm going to see all five 1993 nominees again, and see how each measure up today. Did the right film win?
To be continued...
[0] This is Where You Bite the Sandwich
---
Saturday, October 11, 2014
5:25 AM | Don't Get Married
The race for the 87th Academy Awards has essentially started with all the online punditry abuzz with each new screening -- and as usual, I want to do my annual unflagging attempt to seeing all possible films in contention, even before the official nominations come on January. This blog series aims to chronicle this effort.
Lately, and without any design, I have been watching recent movies that have been doing a swell job in trying to convince me (and everyone else) that the only way to go about the business of marriage is a warning:
don't do it
. First, there's Peter Askin's
A Good Marriage
, based on the short story by Stephen King. And there's David Fincher's
Gone Girl
, based on the novel by Gillian Flynn. Both are essentially telling the same story, but one is an unfortunate misfire, while the other is a bullet straight to the heart.
I watched these two titles and soon came to some conclusion that the closest film I could think of that resembled the acidic way marriage is regurgitated in these films was Danny DeVito's
The War of the Roses
, his toxic 1989 film about the perils of divorcing.
True, there are other worthy contenders in this Cinema of Deadly and Dysfunctional Marriages, with the likes of Mike Nichol's
Who's Afraid of Virginia Woolf?
(1966) and
Closer
(2004), Anthony Harvey's
The Lion in Winter
(1968), Ingmar Bergman's
Scenes From a Marriage
(1973), John Cassavetes'
A Woman Under the Influence
(1974), Woody Allen's
Interiors
(1978) and
Husbands and Wives
(1992), Brian Gibson's
What's Love Got to Do With It
(1993), Tod Williams'
The Door on the Floor
(2004), and Derek Cianfrance's
Blue Valentine
(2010) -- and here I'm only considering those where the husbands and wives take to war to viciously tear each other apart, physically, emotionally, or mentally -- but DeVito's film seems a shade darker than any of these because it dared to present utter domestic darkness as comedy. I screened the film again and found the increasingly mad retaliations between the warring Michael Douglas' Oliver Rose and Kathleen Turner's Barbara Rose very icy, murderous, and inexplicably delicious. The film sells revenge with such contraband relish, and makes such a game of it. That we are actually capable of unleashing such nefarious torments on people we once truly loved and cared for deeply is the film's ultimate thesis. We may cringe at the idea, but we cannot deny its probability: the film has shown us, step by step, how easily we can traverse the very thin line between loving and loathing.
Joan Allen's character in Askin's
A Good Marriage
has reasons to loathe her husband played by Anthony LaPaglia. Truly gifted by an adoring family whose love for each other is genuine, the wife soon unravels fast upon the discovery of a terrifying secret: her husband is the serial killer now hogging the news headlines. How does one deal with that? Cheating as a marriage problem seems suddenly so much more desirable.
Lesser scribes would concoct a story where the husband would now terrorize the wife for her discovery, in an attempt to silence her. But this is Stephen King territory, and he knows how to avoid the cliches of horror narratives. Mr. King must have asked himself: What happens if a loving wife does make such gruesome discovery about a loving husband? His answer: The husband confesses, the wife accepts his apology -- and makes him promise to stop from further killing. That is an even better, more disturbing, story: because how do you knowingly live with a monster, who may be a ticking time bomb? And this is where the film -- and the short story -- takes its critical and unique turn.
Askin's film is faithful to the source material, but unfortunately it is a film with an execution problem. It is not terrifying. There is no atmosphere of dread, only a smattering of horror movie cliches. It does not get under our skin. It has not been able to delve deep into the wife's horror of a balancing act of playing devoted wife to evil. The actors seem listless, which is a surprise given the strong cast, but I'd attribute all these from the uninspired direction. When the film was over, I found myself thinking: David Fincher should have made this film.
Alas, Mr. Fincher did make a similar film, and that is
Gone Girl
.
What else has not been said about this film? I like best
Joshua Rothman's take on it as a postmodern murder-mystery in The New Yorker
.
Gone Girl
-- a cold, calculating, and surprisingly funny film -- is without doubt a disturbing and absorbing piece of cinema. If you have studied the genius of Fincher's cinema, it feels like an amalgam of bits and pieces from his entire oeuvre: from the cold woman playing with fire from his "Bad Girl" music video for Madonna, to the man who must be played with from
The Game
, from the sociopaths of severe cunning from
Zodiac, Seven, Panic Room,
and
The Girl With the Dragon Tattoo
, to the generational ennui that defines some zeitgeist from
The Social Network
and
The Fight Club
.
But it feels, ultimately, like the unveiling of the maggots that lie within the institution of legal togetherness. Nick and Amy Dunne are our generation's Oliver and Barbara Rose -- but with a sicker twist I cannot divulge. I guess each generation deserves its own Marriage Monsters. I wonder what this new breed says about mine.
#HalloweenMovieMarathon #RoadToOscar
Labels: film, halloween, oscar
[0] This is Where You Bite the Sandwich
---
3:33 AM | Love is Blind
The race for the 87th Academy Awards has essentially started with all the online punditry abuzz with each new screening -- and as usual, I want to do my annual unflagging attempt to seeing all possible films in contention, even before the official nominations come on January. This blog series aims to chronicle this effort.
Daniel Ribeiro's
Hoje Eu Quero Voltar Sozinho [The Way He Looks]
is Brazil's entry to the current race for Oscar's Best Foreign Language Film, and I find the film likeable and endearing, the same way I felt when I saw the short film
Eu Não Quero Voltar Sozinho [I Don't Want to Go Back Alone]
that was its genesis in 2010. To go straight to the point, it is the unfolding story of the dynamics of friendship between a blind but feistily independent Brazilian high schooler, his girl best friend who protects him from bullies, and the handsome curly-haired new boy in school. Things happen, and soon you have a sweet chronicle of a boy coming of age, falling in love, longing for an unsheltered life, and finding out that he is gay. Gainfully acted and produced,
The Way He Looks
doesn't strike me, however, as a film that breaks new ground. It doesn't need to, of course -- but without that it doesn't rise above the cookie cutter. It's almost like the film equivalent of pizza -- albeit a gay, PWD pizza -- but still pizza, and thus leaves you yearning still for a fuller meal. Anyone can enjoy this, but that's the very nature of the commonplace.
Best Foreign Language Oscar Chances:
Slim
.
#RoadToOscar
[0] This is Where You Bite the Sandwich
---
The race for the 87th Academy Awards has essentially started with all the online punditry abuzz with each new screening -- and as usual, I want to do my annual unflagging attempt to seeing all possible films in contention, even before the official nominations come on January. This blog series aims to chronicle this effort.
On occasion, I find the films of David Cronenberg appealing -- if one especially finds appealing the dreadful feel of the dentist's waiting room with the door to the anteroom half-open, enough for the shrill metallic sound of the drill bit to fill the air. But there you go: sometimes we find uneasy entertainment in the things that discomfort us. In the early years of Cronenberg's filmography, when he was remaking the landscape of what we all came to know as the cinema of body horror, he was at the top of his game, and we lapped up his perversions, subtle or unsubtle, from
Videodrome
to
The Fly
to
Dead Ringers
to
eXistenZ
to
Crash
-- all these a celebration of that blurry divide slash boundaries slash violations of flesh and slicing metal slash technology. (The word "slash" is intentional.) Most of these are horror movies about individuals with gaping wounds within them, exacerbated by technology. There has since been, I've noticed, some change of pace since
The History of Violence
. Cronenberg's scalpel violations now seems to become a metaphor for how people relate to each other -- or to be more precise, how we find ways to cut with cold surgical precision the bonds that tie us. We see that in
Eastern Promises, A Dangerous Method
, and
Cosmopolis
. His latest,
Maps to the Stars
, is only the most recent in his attempt to explore this theme -- and perhaps the returns are diminishing. I like the film, but it doesn't have the poetry of
The History of Violence
or the intelligence of
A Dangerous Method
. It feels too much like a film intent only on shocking, but with cheap results masquerading as profundity. The story of a troubled girl with burned arms (played by Mia Wasikowska) who comes to Hollywood to find work as personal assistant to a Hollywood star already past her prime (played to hysterical and cruel perfection by Julianne Moore), only to find herself scratching deep below the surface of Tinseltown's glamour and lights to reveal hidden perversions and secrets, it doesn't feel like the expose or satire to Hollywood excess that it seems to want us to think it is. Hollywood seems to be just a convenient excuse of a setting to just wallow in an uninspired narrative about people doing evil things to other people. Cronenberg has made better films than this. This one feels like a derivative of a D-grade Brett Easton Ellis novel. But please give Julianne Moore that Oscar. She wrings unbelievable greatness from her role, although even that doesn't save this film from sinking.
#RoadToOscar
[0] This is Where You Bite the Sandwich
---
12:10 AM | A Novice's Journey to the End of Innocence
The race for the 87th Academy Awards has essentially started with all the online punditry abuzz with each new screening -- and as usual, I want to do my annual unflagging attempt to seeing all possible films in contention, even before the official nominations come on January. This blog series aims to chronicle this effort.
Paweł Pawlikowski's
Ida
(2013), Poland's official entry to Oscar's Best Foreign Language Film derby, unfurls like a shining throwback to old, silent cinema: there is the beautifully stark black and white cinematography that seems to pulsate with an odd mix of hope and dread; there is the spare dialogue that privileges the drama of gestures and faces; and there is the deliberate glacial pace of the narrative that nonetheless dares us to pay so close an attention that soon the subtleties of the highly orchestrated mise-en-scene embrace us with the languor of the commonplace, only to slap us with the shock of the unexpected. This shouldn't be a gripping film,
but it is
. What cinematic alchemy has it found? Perhaps the material calls for such aesthetic choices. A young Polish novice, on the brink of becoming a nun, is given leave by her Mother Superior to visit an estranged aunt, someone she has not seen since she was orphaned as a baby, and someone who turns out to be a tough judge in 1960s Communist Poland. The eventual reunion brings out dark surprises for the young woman: she is, in fact, Jewish, and her parents were apparently murdered at the height of World War II. In their quest to seek out the unmarked place where their family is buried, they confront hard choices that could prove either fatal or life-changing. I've made it sound dour and desultory -- and perhaps the film indeed is. It is dark, and I'm not sure if it carries any redemptive quality. But it is such an interesting, and winning, photographic experiment in capturing mood, atmosphere, and the fallow depths of character. I wouldn't want to see this film again, and that is a commendation.
Best Foreign Language Oscar Chances:
Good.
#RoadToOscar
[0] This is Where You Bite the Sandwich
---
Friday, October 10, 2014
10:46 PM | Devil May Care
What a disappointment this film was after such an intriguing premise. Alexandre Aja's
Horns
(2013) centres on a hounded young man (played, with surprising dedication, by Daniel Radcliffe) who is
hated
by his entire town -- a slice of Eden that is lazy foil for the hellish undertows of its population -- for allegedly murdering his longtime girlfriend. He grows weary from the endless persecution while awaiting trial, and then slowly widens up to the idea that everyone he knows --
even his family
-- really sees him as the Devil. So one day he wakes up, and finds that he has sprouted a pair of devilish horns, and that suddenly snakes seem to take him like some grandmaster. Stranger still, this new appendages seem to affect people he meets with by making them own up, without much prodding, to their darkest desires. The delicious implications of this is the best part of the movie, but of course the story has to go on and solve the murder-mystery central to it. It does this in the most cliched, uninspired fashion, and with such a relentless overuse of flashbacks, that after a while you just do not really care at all about what happens next. This is proof once again that execution trumps story any time. #HalloweenMovieMarathon2014
[0] This is Where You Bite the Sandwich
---
Monday, October 06, 2014
11:47 PM | Better Than a Lang Leav Poem
I went to see the love of my life
The one who is not my life
But who turns mysterious meaning-
Less suffering into happy, tiny bits of
Breatheable grace.
I went to see the love of my life
The one who loves me less or
Less than less, or most than most
Of all, but I'll never truly know. Love
Being light or nameless shadow,
Depending on her own pain that only
She can know.
I went to see the love of my life
The one who will leave me out of love
Or love's disappoinment. And who
Will not forever live, or whom I will
Leave never willingly unless she
Leaves first. As summer grass. As
Silence green amongst trees.
I went to see the love of my life
But she isn't here. And I am told,
No matter, no matter. Life goes on
And it does all around me and all
Around her wherever she is.
And the arms holding her now. And
Arms holding me that are my own
Arms inside the cold bus with my
Painful fingers all nerve and bone.
Love and life. My love. My life. Small
Things that want to be everything
And are, the only things, until the last
Word you see:
~ Ramil Digal Gulle
Labels: criticism, philippine literature, poetry, writers
[0] This is Where You Bite the Sandwich
---
Wednesday, October 01, 2014
11:21 AM | Charles Osgood's 'Real Men and Women'
Charles Osgood is an American radio and television commentator. His daily program, The Osgood File, has been broadcast on the CBS Radio Network since 1971. Osgood hosts CBS News Sunday Morning. He writes a biweekly syndicated newspaper column and is the author of six books. He is also known for being the voice of the narrator of Horton Hears a Who!, an animated film released in 2008, based on the book of the same name by Dr. Seuss.
Helene, a young friend of mine, has been assigned a theme in English composition class. She can take her choice: 'What is a real man?' or, if she wishes, 'What is a real woman?' Seems the instructor has some strong ideas on these subjects. Helene says she doesn't know which choice to make. 'I could go the women's-lib route,' she says, 'but I don't think he'd like that. I started in on that one once in class, and it didn't go over too well.' So, what is a real man and what is a real woman?
'As opposed to what?' I asked.
'I don't know, as opposed to unreal men and women, I suppose. Got any ideas?'
Yes, it just happens I do. Let's start with the assumption that reality is that which is, as opposed to that which somebody would like, or something that is imagined or idealized. Let's assume that all human beings who are alive, therefore, are real human beings, who can be divided into two categories: real men and real women. A man who exists is a real man. His reality is in no way lessened by his race, his nationality, political affiliation, financial status, religious persuasion, or personal proclivities. All men are real men. All women are real women.
The first thing you do if you want to destroy somebody is to rob him of his humanity. If you can persuade yourself that someone is a gook and therefore not a real person, you can kill him rather more easily, burn down his home, separate him from his family. If you can persuade yourself that someone is not really a person but a spade, a Wasp, a kike, a wop, a mick, a fag, a dike, and therefore not a real man or woman, you can more easily hate and hurt him.
People who go around making rules, setting standards that other people are supposed to meet in order to qualify as real, are real pains in the neck—and worse, they are real threats to the rest of us. They use their own definitions of real and unreal to filter out unpleasant facts. To them, things like crime, drugs, decay, pollution, slums, et cetera, are not the real country. In the same way, they can look at a man and say he is not a real man because he doesn't give a hang about professional basketball and would rather chase butterflies than a baseball; or they can look at a woman and say she is not a real woman because she drives a cab or would rather change the world than change diapers.
To say that someone is not a real man or woman is to say that they are something less than, and therefore not entitled to the same consideration as, real people. Therefore, Helene, contained within the questions 'What is a real man?' and 'What is a real woman?' are the seeds of discrimination and of murders, big and little. Each of us has his own reality, and nobody has the right to limit or qualify that—not even English composition instructors.
[0] This is Where You Bite the Sandwich
---
Sunday, September 28, 2014
4:20 PM | Ebert's Life
The race for the 87th Academy Awards has essentially started with all the online punditry abuzz with each new screening -- and as usual, I want to do my annual unflagging attempt to seeing all possible films in contention, even before the official nominations come on January. This blog series aims to chronicle this effort.
There was a time in my young life as a cineaste where I'd scrupulously scan the reviews of the late film critic Roger Ebert to find out whether my opinion over certain films matched his: if it did, I'd flush in the beautiful certainty of having the right filmic taste; if it didn't, I'd wonder what flavour Kool-Aid Ebert drank that made him so wrong in all the awful places. But he was always a fun read. Also enlightening, given how superbly liberal he was about his opinions, and how well-spoken in his argumentation. (I remember the long battle with video gamers, for example.)
Reading him was like learning at the feet of a good professor. He had that teacherly spirit about him, even when he was cranky, even when he called certain movies "sucky." I'm not exactly sure how I first came to reading his reviews. I know for sure that, in the formative years of my movie-going, it was Pauline Kael's eroticised approach to cinema that got me first -- "Reeling" was my first serious book of popular film criticism. But it is Ebert that has stayed with me longer, whose opinion I treasured even when I disagreed with him.
I bought his books, of course -- one of which he dutily autographed for me, calling me a "cinema lover." (That was awesome.) I followed his journey through what he called the "Great Movies." I clicked on his website daily, and was amazed by how prolific he was in his writings and in his advocacies. I marvelled at how he went on to conquer social media, the perfect opposite of the usual cultural dinosaurs who balk at the latest platforms of engagements. He made me ask: How does one write that much? How does one feel so much about many things (politics included) and still be able to take them on with such fierce intelligence, without the bluster of a shallow know-it-all?
And so
Life Itself
, Steve James' documentary on Ebert which is based on the latter's memoir, seemed tailor-made for me. (And James seemed the perfect choice as helmer of this project produced by Martin Scorsese as well; Ebert, after all, gleefully championed James' documentary
Hoop Dreams
when it first came out, calling it one of the best films ever made.) And the new film is a good and thorough journey through the life of an idol, which includes his unseen story of having to go through the ravages of cancer. We get the usual revelatory talking heads from friends and colleagues. We get snippets of film criticism (but never quite digs into the impact). We get the unusual foray into
Beyond the Valley of the Dolls
. We get the story of the fiery rivalry and bromance with Gene Siskel. We get the love for Chicago. We get insights about the arrogance and the old addictions.
But it didn't involve me. The film feels like a paint-by-numbers effort, almost boring in the predictability of presenting its subject. Perhaps there's just so much of Ebert it cannot be contained in a single film, and any attempt to do so will forever will like a mishmash of Greatest Hits tidbits? Perhaps a greater documentary entailed capturing the man in the full power of his influence and physicality -- which makes this film about ten years too late? #RoadToOscar
Labels: criticism, documentaries, film, oscar, people
[0] This is Where You Bite the Sandwich
---
3:50 PM | To Disconnection
I've decided to log off most of my social media networks today. I simply got tired of it. I'll stick with old-fashioned blogging for now...
Labels: life, social media, web and tech
[0] This is Where You Bite the Sandwich
---
Sunday, September 21, 2014
8:55 PM | Sillimanian Pastor Arrested During Martial Law Tells All
Forty-two years ago, on 21 September 1972, President Ferdinand Marcos declared Martial Law. We have since then been living under the shadow of those dark years—a time recalled by many with much hatred, but also a time romanticized by others as a direct rebuttal of lingering problems. Of the latter, we could only commiserate with this truism: people do forget their history. But as Esther Inglis-Arkell once noted in her thought-provoking study of real-world dystopias: "
There are very few regimes so terrible that they can't be romanticized. This is especially true after they have been defeated. It's easy to be sentimental about something when nobody has to deal with it anymore.
Sometimes regimes can even come back. There is a British monarchy today because, after executing the British king and establishing his own supremacy, Oliver Cromwell died and left management of the land to his ineffectual son. A royal family began looking pretty good."
With the Chito Mirandas of the world increasingly being brazen about Marcosian love, the same could be said about the Philippines and the Marcoses. We have gone through the years after 1986 in a strange lurch, which has provided fodder for historical revisionism. The Martial Law has become a passage in history that has increasingly become blurred, as if it has nothing to do with us all. We forget that if only we can dig deeper, many of us are still around who can give witness to the stark darkness of those years.
This is one such story, the account of the first Sillimanian arrested by the military in the very beginning of martial rule in the Philippines.
By 1969—two years before Ferdinand Marcos declared martial law over the country—Joel Tabada had already served two years of pastoral service for the United Church of Christ in the Philippines in Mangagoy in Surigao City. He had started a small family with wife Grace, who had graduated cum laude with a degree in music from Silliman, and to pass the time while serving churches, he had gone on to develop an interest in black and white photography. But all over the country, activism by students was on the rise, in response to the growing despotism of the Marcos regime. Silliman University struck a resputation as being a hotbed of student unrest: there were open demonstrations around campus, and big streamers screaming for social justice were scattered everywhere.
He decided to go back to Silliman to earn a Bachelor's degree in Divinity—later transformed into a master's degree—and was happily clicking away taking pictures around campus when he was chanced upon by Dr. Harry Pak, the Korean-American pastor of the Silliman Church.
"Dr. Pak challenged me to help him minister Silliman Church," Rev. Tabada recalled—an offer he reluctantly accepted. With that, he said goodbye to his photography, and soon became associate pastor for Silliman Church. His contemporaries included Rev. Lydia Niguidula, who led the Christian Education ministry of the church, and Gideon Alegado, who, as lay pastor, was in-charge of taking care of the young people in church. "We decided to have a team ministry, with Dr. Pak as the administrative pastor as well as the chaplain of the University," Rev. Tabada said. "My work was to be with the University's Buildings and Grounds crew... My task included the outreach ministry of Pangas in Bantayan, and the more immediate—and restless and troublesome—Lo-oc."
He was also given the responsibility of taking care of the Involvement Task Force, where Silliman Church people, especially students, could freely voice their concerns about city life as well as about the national situation. "My office at the left northeast side end of Silliman Church was always filled with students who had all sorts of concerns," Rev. Tabada recalled. "They would leave their books and other things in my office."
Each of the members of the team ministry served a monthly duty to preach at Silliman Church, and they did so with gusto. Dr. Pak delivered profound sermons on the theme of reconciliation and interpersonal relationships, while Rev. Niguidula and Mr. Alegado tended smoothly to their individual responsibilities. "I was challenged to pair up with Dr. Nona Calo who led a committee that had me producing two church dramas, ably acted in by Divinity School students, which depicted troubled students in their academic-activist life," Rev. Tabada said. One such play was for a faculty-staff retreat for the Silliman Church entitled
The Lo-oc Thing
, with Ephraim Bejar directing and Rowena Tiempo and Federico Fundador acting. The plays, done in daylight and also in the evening, had undeniable activist undertones. It was an attempt by the church to be more accommodating in hearing activists who wanted to articulate what they thought about issues of feudalism, neo-colonialism, and cronyism, which were very hot issues in campus, fanned by activism.
It was a time when Atty. Jeremias Montemayor of the Progressive Farmers Federation (PPP) and his ilk were regarded as heroes of the day, mobbed with admirers when they visited and lectured in campus.
A week before Martial Law was declared, another group of students asked permission from Silliman Church to lead in the midweek prayer meeting. "They were led by Law students," Rev. Tabada said. " And I was delighted to find that even Law people could take time out for church life. I was the church authority assigned to give special permission in the leading of the midweek service. The leader of the group was a Law student who regularly came to church. He is now a lawyer based in San Carlos City. Their 'meditation' was an activist-fueled demonstration against 'Uncle Sam,' protesting the idea of the Ugly American preying upon Filipinos."
Rev. Tabada, of course, quickly understood how the whole thing could enrage certain segments who would see this type of midweek meditation as nothing short of irresponsible activism. "But I learned much later that these happenings were in fact organized by what a group of people in the military intelligence who tactically made a decision to entrap me as a 'communist activist'," Rev. Tabada said.
September 23, 1972 was a Sunday.
"It was my turn to mount the pulpit of Silliman Church," Rev. Tabada recalled. "Martial Law was already declared on Friday. There was a blackout of the media, but people knew. I remember that many students in Silliman were very apprehensive as to what would become of them, especially after hearing reports of countless arrests. Many were unabashed in crying in public. I was bewildered to see the church overflowing that Sunday. There were people milling about up to the yard outside. For the first in my three years as pastor, I saw this kind of crowd."
Rev. Tabada's sermon that day was titled
Burn!
It was based on Luke 24:32, about a critical moment in the lives of Christ's disciples given the choice to stay or flee after his crucifixion. And it seemed like the most appropriate Scripture for the time: "It talked about the days of gloom emanating from the death of the Lord—but which was quickly fading with the rising of the sun," Rev. Tabada said. "The idea for me was this:
He is risen! He lives!
So we must also take hold of ourselves and move in Christ's way to witness, and burn. The disciples who were about to leave, because they were fearful of what might happen to them, were instead now living and facing the challenge of going back to where the action was, Jerusalem!"
"I remember the late Mrs. Udarbe, Dr. and Mrs. Beran, among others, congratulating me somberly after the service," Rev. Tabada continued. "Dr. Proceso Udabe would later say, after Martial Law was lifted, that the sermon was touching—but it was no harmful."
Even then, he could not sleep afterwards. He felt something was afoot—and he was right because by midnight, there was a hard knock on the parsonage door.
"The moonlight, I remember, was like daylight," Rev. Tabada recalled.
He opened the door and saw seven fully-armed soldiers outside the parsonage.
Then their team leader asked him, firmly: "Are you Rev. Tabada?"
He answered, "Yes, I am, please come in."
The man with the firm voice introduced himself: "I am 2nd Lt. Aurelio Palmos. I am a member of the Baptist Church in Iloilo. We are from the PC barracks. On orders of the Provincial Commander, we are here to invite you to the headquarters with us… Please, may we have a copy of your sermon delivered this morning?"
"This is my only copy," Rev. Tabada replied. "May I have it back?"
Lt. Palmos smiled and then retorted, "Yes, Reverend."
Rev. Tabada told his wife Grace that he would be gone for only a while to accompany the soldiers to meet with a certain Col. Noli Santua.
Lt. Palmos made one more request: "Please, may we go also to your office at the Silliman Church?"
So Rev. Tabada went with them to his office in the church. They looked around and noticed the many books scattered on the floor.
"Are these books yours?" the military men asked.
"Some of them were borrowed, and some of them were left here by students," he replied.
They took some of the books and soon left to go to the barracks.
"But there was no Col. Santua," Rev. Tabada recalled. "Instead the lieutenant relegated me to a guard who was also grilling Dr. Nona Calo, who was later released.
The guard soon bullishly spent the rest of the time—until the next morning—asking Rev. Tabada endless questions. "I was very sleepy by then, and then he asked another guard to lead me into the barracks, which was housed in a makeshift building. The room I was led to was good only for two people, and there were already six people inside. All were students from Silliman, who were all surprised, and were quite delighted, to see me.
Welcome pastor!
I remember them saying."
The uncomfortable geniality was soon interrupted when a mauled man was suddenly pushed to their holding cell. The man was nursing a bloodied mouth, and it was then that a drunken guard stationed outside the building began shouting invectives against activists, who he blamed to be responsible for the present troubles of Martial Law. He soon came to the stockade and pointed his gun to Rev. Tabada and the cowering students, and shouted at them:
"Unsa mosukol mo? Ha!?"
And then he cocked his gun.
But he was soon prevailed upon by his companions to leave.
By the second Sunday of martial rule, the number of detainees at the barracks increased to over seventy. "We were held in a makeshift, tunnel-shaped contraption surrounded by roughly arranged barb wiring inside the PC headquarters," Rev. Tabada said. "The women detainees were placed in a smaller room above us. That was my first experience of congested imprisonment."
But they were not forgotten by people in Silliman. Dr. Levi Oracion, the new Dean of the Divinity School, soon came to do a prayer service with the detainees. "There was no sermon," Rev. Tabada said. "But the service proved soothing for us all. Much later, Dr. Buddy Martinez, my co-pastor at Silliman Church, led regular church visitations and services, especially during our Provincial Jail sojourn."
Meanwhile, during Rev. Tabada's incarceration, his wife Grace became sick due to allergies. His eldest daughter Lorene, then 7, and son Callum, who was only 4 months old, were hurriedly put up at the house of Grace's aunt, Concepcion Roble, Dean of the Nursing school. Six-year old Joel Jr., meanwhile, went with Rev. Tabada's brother James and also his mother back to their hometown in Surigao. "Grace was alone nursing herself with a helper-cousin at the parsonage," Rev. Tabada said. "Job, my youngest brother, who was then doing his freshman year in Journalism in Silliman, was also taken in later, but was miraculously granted house arrest."
Then, quite suddenly, the "political" detainees, now numbering over 150, were transferred to the Provincial Jail of Negros Oriental. "The jail was teeming with inmates—mostly detention cases—of about 400 people," Rev. Tabada recalled. Up to his release four months later, the political detainees would reach over 200. The apprehension of these so-called "subversives" went on from all over the province. Later, two American Franciscan priests, Fr. Bruno and Fr. Charles, who were both in-charge of an FM radio over at Guihulngan town, were incarcerated with Rev. Tabada at the Provincial Jail. "Rev. Francisco Malanog, fresh from his master's at the University of the Philippines who taught Sociology at Silliman, soon joined us," Rev. Tabada said. "The two Franciscan stayed only for a short time, as the U.S. Embassy soon took care of them."
Two wardens administered the Provincial Jail at the time of Rev. Tabada's imprisonment: Major Juan Dominado, a World War II veteran who was in-charge of the provincial prisoners, and a Moslem Sergeant named Aleh Mohamad who was to be their guardian. "He was a Muslim shepherd over a flock of Christians," Rev. Tabada recalled with a laugh. "Major Dominado who used to hear me preach at the Silliman Church," Rev. Tabasa continued, "and he quietly happy that I was in prison. His reason, he told me later, was that he would now have a preacher who would provide his charges at the Provincial Jail with spiritual nourishment. But I think I disappointed him. I never uttered a word of preaching while I was in the Provincial Jail."
Rev. Tabada's attention was instead drawn to the plight of the regular prisoners, who were padlocked all-day long in their congested cells. "Maj. Dominado put me on surveillance," Rev. Tabada said. "He wanted to know what I was doing sitting for long time beside the prison bars talking to inmates. But I was engrossed over every story these regular prisoners told me, as if they were in confessional. I believe it was because they never had a chance to talk to anybody who was a pastor. They unburdened themselves of their weariness for being in detention for months, even years. Some had gone on for up to fifteen years without any word at all about their respective cases. Most of them were very poor, and half of them had rather large families. They were bread-earners who were in jail, and they could do nothing about their plight except to wait for the promulgation of their cases."
Rev. Tabada said that this stultified him. "Here were people less than 500 meters away from Silliman Church, where we were preaching about social justice, and not one of us could spare the time to know about these detention cases. I was silently ashamed of my being a UCCP pastor who was supposed to champion the cause of justice, love, and Christian care. What I was doing suddenly seemed so academic compared to the gruesome reality I was now hearing about from these long-suffering fellowmen." He said that he read again, and again, the passages from Luke 4:18-19 and Isaiah 61:1-2, and saw some possibilities of ministering, accordingly, to his fellow detainees.
Meanwhile, classes at Silliman University were suspended for the rest of the semester. Dr. Proceso Udarbe became Acting President. "The experience of facing the absolute terror of Martial Law made more a man out of him," Rev. Tabada surmised. "Dr. Udarbe made sure that double-deck beds from the dormitories were provided for all detainees in the Provincial Jail, although only about a third of the detainees were Silimanians."
The women detainee from Silliman, who were mostly members of the Christian Youth Fellowship and were volunteers in various church missions, held on to Rev. Tabada as their "jail pastor." "They used to send me, on all sorts of notes, bits of papers, hello's, thank you's, and others," Rev. Tabada remembered.
"Once I sent them a photo of our 'Martial Law babe'—Callum at four-months, smiling and naked for the camera—and I was told they pinned the photo after passing it around. They looked at the photo as if it was a hopeful consolation of some sort. I responded by writing them open letters in long-hand. I still remember some of their names. There was Doris Abellanosa, Melandrin Empeso, Juliana Laura, Elizabeth Lasmarias, Virgina Orteza, June Loon, Anne dela Plaza, and Ethel Adela Raterta. The other names escape my memory. And among the Sillimanian boys, there were Edgar Rosero, Danilo Saturion, Oscar Lacuesta, Dindo Daruin, Bruce Banglay, Wilfredo Totatanez, Tomas Matic, Nimrod Porra, Jesus Georlin, Sever Mamhot, Dionesio Baseleres, Andy Manalo, Vic Padayhag, Franscisco Malanog. Together with myself, these were the names in the list of Group I of our Meal Schedule," Rev. Tabada said.
When he was finally released before Christmas time, he had interviewed more than 70 prisoners, mostly the regular ones with criminal or civil cases. He would continue to interview more than 300 prisoners in detention after his release, and in 1993 Rev. Tabada would earn his Master' degree in Extension Administration (MAREXA) from Silliman based mainly on his experience in prison.
Going back to regular life was a challenge, and some bridges were broken. "On 16 December 1972, Silliman Church decided to call me back to work with the Team Ministry, this time with Rev. Lydia Niguidula, Mr. Gideon Alegado, Mrs. Adela Raterta, and Dr. Buddy Martinez. Dr. Pak was on leave," Rev. Tabada recalled. "But not all members of the Church Council wanted me back. The late Maj. Rustico Paralejas—who was my teacher in Religion I and was an elder of the church—was totally against my coming back because of my 'activism." But he was out-voted by the council, after which he resigned from it. It was sad because I was rather close to the Paralejas family. The eldest daughter, a campus beauty, donned on me my winning medal in an Inter-University oratorical contest during my sophomore year in college. I even officiated the wedding of their second daughter."
By the mandate of Martial Law, Rev. Tabada's official release—and of course his resumption as Silliman Church minister—was subject to several conditions. He was allowed to do priestly functions such as officiating wedding ceremonies, baptisms, communion services, and special services for funerals and dedications, worship services in public worship, and jail services, as well as being able to hold pastoral office hours where he could receive and counsel visitors. He was also allowed to resume ecumenical relations with other Christian churches, other than the UCCP, within the city, and also to preach the Gospel in any public worship, as well as do pastoral visitations to the homes of church members and students, as well as do sick calls in hospitals.
But he was not allowed to resume church liaison in relation to the Negros District Conference, the UCCP National Office, and the National Council of Churches in the Philippines. He could no longer serve as pastor to the Bantayan Missions and the Lo-oc Outreach, as well as the Silliman Church's Visayan congregation in Nangihayag, which was composed of home helpers, janitors, and working students. He also could not resume radio ministry with DYSR. Rev. Tabada's story has a happier ending, but let us consider those who did not.
Here's Fr. Benjamin E. Alforque on being a witness: "I was forced to witness the torture and sexual harassment of seven farmers from Samar province that the military had arrested and accused of being NPA members. The farmers were blindfolded. They were made to face one another and the wall and to throw punches with all their might. They were hitting at each other and the wall, according to the whim of the military torturer. Bruised and in great pain, the farmers were then told to masturbate and drink their own semen."
But it wasn't just hapless farmers accused of being communist rebels. Martial Law's victims cut through cross-sections of Filipino society.
There
was
Liliosa Hilao
, for example, an asthmatic student who, in 1970, nevertheless joined the Samahang Demokratiko ng Kabataan. Accordingly, even while suffering from asthma attacks, she joined rallies as part of her job as Associate Editor of
Hasik
, the campus paper at the Pamantasan ng Lungsod ng Maynila. In 1973, she was taken from her family's house by drunk members of the Constabulary Anti‑Narcotics Unit (CANU), who had come to look for her brother. She had demanded for a search warrant, but was slapped around instead by the soldiers, then handcuffed, and taken in for questioning. She was found dead the next day. Her brother‑in‑law had earlier come to see her at the military camp and had found her face swollen. Hilao claimed torture. When her sister Alice proceeded to the Camp Crame Station Hospital, Lilli was dead. The official CANU report stated that she had "committed suicide by drinking muriatic acid." Post‑mortem findings, however, confirmed torture: her face was severely swollen, her lips bore cigarette butts burns, her arms had eleven injection marks, her wrists had deep handcuff marks, her torso was badly bruised. The possibility that she was sexually abused was raised.
There
was
Dr. Potenciano Baccay
. According to the New York Times, he was one of Marcos' personal physicians and was Vice President of the National Kidney Foundation. But he made the mistake of revealing to the foreign press that the late strongman had kidney transplants in 1983 and 1984, fueling speculations that Marcos was seriously ill. He was later found stabbed to death, shortly after he spoke to The Pittsburgh Press. Police later said he was kidnaped and slain by communist rebels. A spokesman for Marcos later called the report "sheer fantasy."
Then there
was
Archimedes Tajano
. According to a GMA News Online report, Trajano, then a 21-year-old student at the Mapua Institute of Technology, once stood up in an open forum on August 1977 to question Imee Marcos, the eldest daughter of the late dictator Ferdinand Marcos, on her capability to lead the youth. The nation was then under Martial Law, and Imee Marcos headed the national youth organization Kabataang Barangay and was at the Pamantasan ng Lungsod ng Maynila where she addressed thousands of students. Trajano told Marcos that she would not have assumed the leadership position if she was not the presidential daughter. He also questioned her on her father's role in human rights violations. On 2 September 1977, the bloodied body of Trajano was found on the streets of Manila. The student's parents were told he got into a dormitory fight. Witnesses later came forward to testify that Trajano was last seen being forcibly removed from the university forum by Marcos' security escorts. It is believed Trajano was tortured for 12 to 36 hours before he died. His mother sued Marcos before the US district court in Honolulu, Hawaii, on 20 March 1986, barely a month after the Marcos family fled the country following the EDSA people power that year. In 1991, the US court awarded $4.4 million to the Trajano family.
I remember a poem by Merlie Alunan that expresses the terrible consequences regarding our forgetfulness about Martial Law. "The Bells Count in Our Blood" begins with an epigraph about Fr.
Rudy Romano
, the Redemptorist priest who was "disappeared" by Marcos' men, and whose body has not been found, until now. The epigraph, a 1985 statement from the Redemptorist Community in Dumaguete City, stated: "Every night at 8:00 we shall ring the bells for Father Romano, and we shall continue to do so until he is found."
I grew up in Dumaguete hearing those bells in Dumaguete. Ten counts, in the dark, which the poem recalls beautifully, if also sadly:
Every night just as we settle
To coffee or a mug of cold beer,
They ring the bells—
A crisp quick flurry first, then
Decorous as in a knell, ten counts.
Into the darkness newly fallen
The cadence calls for a brother lost.
At home as we try to wash off
With music and a little loving
The grime of markets from our souls—
The day's trading of truth for bread,
Masks of honor, guises of peace—
The clear sounds infusing the air
Deny us the salve of forgetting.
We know for what they lost him,
Why expedient tyrants required
His name effaced, his bones hidden.
As we bend over the heads of children
Fighting sleep, not quite done with play,
The bells vibrating remind us how
Our fears conspires to seal his doom.
We could say to the ringers:
Your bells won't bring him back,
But just supposing that it could,
What would you have?
A body maimed, perhaps, beyond belief—
Toes and fingers gone, teeth missing,
Tongue cut off, memory hacked witless.
The nights in our town
Are flavored with the dread
The bells salt down measured
From their tall dark tower.
It falls upon our raw minds wanting sleep.
Shall we stop them? Though we smart
We know they keep us from decay.
Shared in this keening,
A rhythm beating all night long
In our veins, truth is truth still
Though unworded. The bells
Count in our blood the heart of all
We must restore. Tomorrow, we vow,
Tomorrow, tomorrow, tomorrow.
Should we forget? The poem already has pointed out, a long time ago, that we have already forgotten. Our ultimate tragedy, beyond the blood and a dictator's mayhem, is our forgetfulness.
#NeverAgain
Labels: dumaguete, history, life, people, philippine literature, poetry, silliman
[1] This is Where You Bite the Sandwich
---