Sunday, September 14, 2014
12:18 AM | A François Ozon Completist Checklist
The first François Ozon film I saw was
A Summer Dress
. This was in Tokyo in 1997 when I attended the first gay and lesbian film festival I'd ever been in, and was so overwhelmed by the cinematic choices it felt very much like being a kid in a candy shop. It was an empowering experience to know that most of the patrons who were with me in that Tokyo theatre were exactly like me who were hungry for representations of themselves on the silver screen. I got plenty of that in that festival -- and that experience has since urged me on to a study of queer cinema. But this short film by Ozon was one of those that struck me the most because it seemed so light, so sexy, so subversive, so dangerous ... so French.
Since then I've seen some of his later films -- the mysterious duo of
Swimming Pool
and
Under the Sand
, with Charlotte Rampling in two indelible star turns, were an exercise of mood and skilful handling of the thriller genre -- and I've come to know the edgy sexuality Ozon seems to inject his films with. And always with a homoerotic subtext. What's not to like?
I want to see all of his films.
☐ The New Girlfriend (2014)
☐ Young and Beautiful (2013)
☐ In the House (2012)
☐ Potiche (2010)
☐ Hideaway (2009)
☐ Ricky (2009)
☐ Angel (2007)
☐ Time to Leave (2005)
☐ 5x2 (2004)
☑ Swimming Pool (2003)
☑ 8 Women (2002)
☑ Under the Sand (2000)
☐ Water Drops on Burning Rocks (2000)
☑ Criminal Lovers (1999)
☑ Sitcom (1998)
☐ See the Sea (1997)
Labels: film
[0] This is Where You Bite the Sandwich
---
Friday, September 12, 2014
9:13 PM | Charlie Makes a Request | Scene From Men Don't Leave (1990)
Favorite Scenes Series
When Paul Brickman's
Men Don't Leave
was released in 1990, it came at the most opportune time in the most personal way. I was 15. I was at an age where I was slowly shaping my passions, and I guess I was beginning what would turn out to be a life-long love affair with the movies. Sure, I'd seen other movies before this one, and ha loved many of them -- but the early 1990s was when I made a deliberate choice to be a cineaste. I went out it with the calculation of a fanatic: I cultivated a taste for the non-commercial and the challenging (I knew I had to expand my horizons, film-wise), I read up on biographies of movie stars and directors, I devoured film history books and from them compiled lists of films I was supposed to see as a budding cineaste. But I wasn't also entirely high-brow: I paid attention to what was popular as well, even waking up very early in the morning of every Monday to watch CNN's
Showbiz Today
and its weekly report of box office tallies. The titles of the top-five box office winners I would carefully log onto my film notebook, which also contained a long list of films I could remember having watched. (Each title was painstakingly rated. Four stars meant I had liked it very much.)
Men Don't Leave
was one of those films I saw advertised in the newspapers with the poster filled with blurbs. The review snippets told me it was a must-see, a critical darling. And so when I came to watch it, I was prepared to expect that it would be good.
And it was
, to my relief. Because there were many films in my youth advertised with exactly the same kind of critical fervency, but I'd find washing over me like a piece of a puzzle I could not get. From the get-go, I liked the film's slow-moving drama, its universal dilemma, its quiet unfolding. There were no villains in this piece, only interesting people confronted with problems and trying their best to overcome them without losing their humanity. I liked that. It also introduced me to Jessica Lange.
I soon moved on to bigger movies with vaster legacies. I had forgotten about this little gem of a movie until the writer Wilfredo Pascual reminded me about it in a recent Facebook meme. Paul Brickman's tight melodrama about a mother (Jessica Lange) and her two sons (Chris O'Donnell and Charlie Korsmo --
Charlie Korsmo! That name is soooo 1990s! I miss him
.) trying to find new life for themselves in Baltimore after the husband dies in an accident. Heart-tugging all the way, but surprisingly restrained all the same. There are syrupy moments, but it worked. I've always found the score to be such a joyful complement to the story, and to have found out now that it was done by Thomas Newman, one of my favourite composers, is to revel in the discovery that there is a DNA to my filmic taste.
In this scene, perhaps my favourite from the movie, we find Mr. O'Donnell's character pleading in a roundabout way to Arliss Howard -- who plays Ms. Lange's new boyfriend -- to give his mother another chance. They have had a falling out, a result of domestic turbulence, and here is the mother's son begging Mr. Howard's character not to leave. Leave-taking by the men in this film is the story's objective correlative, underlined by Mr. Korsmo's tearful speech in the end of the film.
A great movie -- although it does sometimes feel like an ad for life insurance.
[0] This is Where You Bite the Sandwich
---
Wednesday, September 10, 2014
6:16 PM | There is a Conspiracy to Bring Back the 1990s…
… And I don't mind. That decade was awesome.
Except for the mommy pants," Zaki quickly reminded me in Facebook.
She had a point there—those silhouette-less testaments in denim to 1990s throwaway leisure wear were ugly as the face of hell, but then again every single decade's fashion sense is an all-too-easy target for ridicule, with the present occurring as a tenuous benchmark for comparisons in taste. In 1992, for example, I was a junior high school student dressed up in
GQ
nines, thinking that all the girls in my prom, who were dressed to the hilt according to the fashion of the times, were the absolute embodiment of the tasteful and the divine. We took pictures, of course, to ensure our looks would become lasting memory: we have seen those pictures lately—the bouffant hair recollecting the last excesses of the 1980s, the pastel froufrou dresses, the gangsta suits—and we have appropriately recoiled.
But even then, the 1990s were awesome. Lately, I've been having some kind of well-curated nostalgia trip through the pop culture of a decade that had shaped my contemporaries' younger years—that exquisite, romantic time when we were between sixteen and twenty-one—and I've felt some undefined pangs of longing and regret that may in fact be underlined by the idea that in a year or two, those of us who grew up in the 1990s would be turning 40.
(Let this be a pause for us to draw in those bated breaths.)
Lately, I have been revisiting the popular culture that have shaped my young adulthood in the 1990s: Cameron Crowe's
Singles
and Ben Stiller's
Reality Bites
and Amy Heckerling's
Clueless
, or Pearl Jam and Nirvana and Eraserheads, Michael Crichton and Joe Klein and Robert James Waller and John Grisham, or
Friends
and
Dawson's Creek
and
My So-Called Life
and
T.G.I.S.
I've meant this tour through the landmarks of my youth to be recollection of the headiness of life in the fast edges of being young. What I am finding out is that, these things beheld now, have become a slow-moving acknowledgment that all of that had gone by too fast. Much too fast.
And yet the bigger popular culture that surrounds us now cannot help in doing a project of recollection. Buzzfeed and other online linkbaits have been keen lately about doing listicles that excavate the various artifacts of growing up 90s—that dial-up connection noise, beanie babies, tamagochis, Luke Perry, furbies, Netscape Navigator,
Space Jam
. I must not be the only one who followed Hannah Horvath in HBO's
Girls
to a club rave—memories of Doug Liman's
Go
!—and shrieked as she did with Icona Pop's "I Love It" remix, with its glorious whiplash line, "But I'm a 90s bitch!" The
Vulture
blog—a relentlessly comprehensive and addictive compendium of everything current in popular culture—has also been relentless in its 90s nostalgia, doing thoroughly absorbing oral histories of
Party of Five
and
My So-Called Life
, and correctly pronounced that the 1994-1995 season, which saw the premiere of Friends, was the last best season of American network television history, before it got eaten up by cable and online livestreaming. Meanwhile, in the Philippines, Cartoon Network premiered in 1995 in the ascendant cable industry. The animated madness of that channel, reinforced with Nickolodeon's
Hey, Arnold!
and
Rugrats
, as well as the quirky denizens of MTV's Liquid Television, changed the way we looked at cartoons forever. It wouldn't always be Disney—and then Disney itself went on and reinvented animation with
Aladdin
and
Beauty and the Beast
, after its success with The Little Mermaid in 1989.
Where did things go?
Where are we going now?
Today, we long for that old headiness in our culture. A few weeks ago, even
New York Times
lamented: "Are you one of the people mourning the loss of the old-fashioned (as in 1990s) rom-com? Do you feel that romantic comedies haven't been the same—or haven't even existed—since the last time Meg Ryan and Tom Hanks made a movie together?"
Now, it would seem, we are in the project of bringing many of the things that remind us of how young we were once. MTV, for example, which in my youth meant real "music television" plus a sprinkling of original programming—
Daria, Beavis and Butthead, Æon Flux, The Real World
—that aimed so hard to define the zeitgeist, has just announced that it is releasing to the masses the insanity that was Liquid Television. Imagine that.
The cast of Penelope Spheeris'
Little Rascals
(1994), too, has decided to do a quirky 20th anniversary reunion by coming together for a photo shoot and recreating the movie poster and many of the scenes that have made the film an unlikely icon for nostalgia. You see the before and after quickly doing the viral rounds in social media, and all it has become is a blurry acquiescence to the truth that time is the master of us all.
And now, courtesy of
Esquire
Philippines, the band that defined the Filipino youth's groping for meaning in the 1990s—the Eraserheads—have just released two new songs, "Sabado" and "1995," bundled in a CD together with the magazine's September 2014 issue. Which, for me, begged the ultimate question of remembrance:
Nasaan ka nung 1995?
I shall try to remember:
Ako, isang
sophomore
sa kolehiyo
in 1995—and slowly realizing this: "What the eff am I doing in Physical Therapy?"
Pero yun,
super-study
pa rin
, memorizing muscles and nerves (and insertions and origins) for Gross Anatomy and pretending to understand Kinesiology.
Minsan iiyak din
once I'd hear that terrible midnight station ID
na parang
organ music of DYEM-FM here in Dumaguete,
kasi hating-gabi na pero may limang
chapters
pang dapat basahin para sa
exam
sa kinabukasan
. Like,
ano ba?
I just wanted to go to sleep! And I began thinking:
gusto ko bang mag
-work
sa isang ospital
forever?
Hindi naman siguro,
was my answer. So,
yun, iyak lang nang iyak. Pero kahit papano,
go
pa rin ang
film education
ko, kung may oras
. I had just discovered
Spanking the Monkey
from this videoshop named Good Luck Store
na malapit sa palengke
. Also Larry Clark's
Kids
at Ang Lee's
Eat Drink Man Woman
. Also discovered Woody Allen. The radio kept playing Coolio's "Gangsta's Paradise" and Shaggy's "Bombastic,"
pero alam ko na mas gusto ko ang
"Back for Good"
ng
Take That,
dahil alam mo na
. In 1995,
di pa rin ako marunong mag
-party,
at napaka-payat ko pa.
Super-
payat
that I decided I needed to bulk up by eating five cheese de sals
bawat araw
, every 4 PM, after my last class.
At lumabas din yung
Pare Ko
ni
Jose Javier Reyes from Star Cinema, and I fell in love with it. The soundtrack was fantastic, too.
At yun, dun ako natotong humanga sa
Eraserheads.
That was my 1995.
So what gives with all these nostalgia? There is a scene in Stephen Daldry's
The Hours
(2002) between Meryl Streep's Clarissa and Claire Danes' Julia Vaughan that underscores for me something that I have been trying to understand and come to terms with recently—like a belated answer or explanation to some of the things I have been asking about time and youth. In this scene, Clarissa is preparing for a dinner party for a great poet friend, and her encounter with him early in the day has left her devastated—but also thoughtful. She has been crying since then, and then her daughter Julia enters, and asks her if she is all right. They retire to the bedroom and then they start to talk...
"... If you say to me, 'When were you happy...?'" Clarissa asks her.
"Mom...," Julia intones.
"... Tell me the moment you were happiest..."
"I know ... I know, it was years ago," Julia says.
"Yeah," Clarissa says.
"All you're saying is, you were once young," Julia finally tells her mother.
And Clarissa Vaughan smiles and laughs. "I remember one morning," she says, "getting up at dawn, there was such a sense of possibility. You know, that feeling? And I remember thinking to myself, so this is the beginning of happiness. This is where it starts. And of course there will always be more." Both of them laugh. "Never occurred to me it wasn't the beginning, it was happiness. It was The Moment. Right then."
And perhaps this is how I will try to understand nostalgia. Sometimes I wish that when I was much younger someone had taken me by the shoulders, shook me, and told me: "Live every bit of these moments. You are young. When you're older, these things will define every bit of what you will remember to be happy."
Then again, when we were younger, did we ever listen? Alas, no. Youth is too preoccupied with what it thinks is the singularity of its angst. "You don't understand," we all say. But of course we soon understand that they
understood
. Because we've all been there.
In the meantime, to come to terms we have done or did not do in our beloved youth, we embrace the parade of things coming back from the past, not to haunt us, but to remind us we were happy once. We were young once.
Labels: books, film, history, life, music, pop culture, television
[0] This is Where You Bite the Sandwich
---
Saturday, August 30, 2014
12:01 AM | Cinema Connections
Early this August, I finally caught Hannah Espia's
Transit
, the Best Film winner of last year's Cinemalaya Film Festival, which is annually held at the Cultural Center of the Philippines and which has come to define the best of Philippine cinema—if only more people were aware these films existed. But for a few days or so in July or August, it does invite a few thousand cinephiles who throng to the CCP, which seem to invite the notion that there is an audience for local films of a remarkably differently pedigree than, say, the trashy popular offerings of Vice Ganda or Kris Aquino.
I was glad I finally caught
Transit
. I met its director last summer here in Dumaguete while her production company was still scouting locations for its Cinemalaya entry this year,
Dagitab
. Its final choice of location was the Diliman campus of the University of the Philippines—but that was almost Dumaguete, with the hills of Valencia as the setting for its scenes involving a national writers' workshop. Catching
Transit
was better late than never. And finally I understood all the acclaim that film received—including its choice as the Philippine submission to the latest Oscar derby for Best Foreign Language Film.
Transit
didn't quite make the short list, but nonetheless, what a beautiful, patient, sensitive film this is. A tour de force narrative, really, about the hidden lives of OFWs in Israel, told in a fractured mode that stays true to the fractured lives of the people it sought to depict with gimlet-eyed honesty.
I saw
Transit
in the middle of the week I was in Manila for Cinemalaya—and is it any indication that the first film I loved in Cinemalaya X so far by then was a film from last year's festival?
Transit
featured everything I had not seen so far in the entries I'd come to see this year: an organic screenplay with a sound structure, compelling acting from everyone involved, a sense of place, thoroughly absorbing direction. For example, Marc Justin Alvarez's powerhouse acting as a young Filipino boy growing up in Israel seems like a direct slap against the horrid ensemble of
Sundalong Kanin
, an official entry in the New Breed category of Cinemalaya X.
What a travesty this film was. Children caught in the claws of war often makes for a compelling film with an unsettling sort of pathos. It doesn't take much to feel for stories about witnessing the death of innocence, or the corruption of the young in the grips of grim circumstances, set in an epic swirl of blood and betrayal, spilled guts and rampaging war machines. At its most effective—say René Clément's
Jeux interdits
, or Louis Malle's
Au Revoir, Les Enfants
, or Isao Takahata's
Grave of the Fireflies
—the usual gravity of this kind of narrative makes for a provocative thesis about the utter uselessness and brutality of war, and how it eventually spares no one, not even children. I like how this kind of film often strips away the hoary militaristic jingoism and macho bravado that often pervade the usual war narrative. Unfortunately, Janice O'Hara's
Sundalong Kanin
is not a film that does any of this. It is not even an imperfect film with a certain resonance. What it is
is
a movie full of false notes, it appears generally to be a gross disservice to everyone concerned, including its audience. It is the story of four friends—boys in the cusp of adolescence—dealing with the slowly growing horror of what it means to have a town overrun by Japanese forces in World War II. What it finally becomes is an exercise of unfortunate and clumsy filmmaking. The actors are miscast and seem to operate in hysterical mode, the script has a porous consistency, and the production design—crucial for a period film—is virtually non-existent. (For example, it is difficult to feel terror for a boy as he confronts Japanese soldier and a rifle—when it is perfectly clear that the rifle is made of wood.) The Second World War can be depicted realistically, even given constraints. In 1982,
Oro Plata Mata
did it. In 2008,
Concerto
did it.
It can be done.
This film utterly fails at it. There is a crucial scene near the end where the boys face the unbearable twist of having to turn on one of their own: there is a death, there is a grieving mother, and there are people on pursuit of the killers. The scene called for heartbreak—but what does the audience do?
Laugh.
Because the way O'Hara stages the sequence is unintentional slapstick of the worst kind, robbing the scene's potential for a powerful denouement. I have never wanted to get out of a screening so much.
Cinemalaya X had such disappointments. What is the point of Francis Xavier Pasion's
Bwaya
, for example? Is it trying for cinematic expressionism, complete with the picture-postcard meanderings
a la
Terrence Malick? Is it trying to be anthropological, mapping for cinema the geography and the culture of Agusan's marshland? Is it trying to provide a voice for the oral narratives of Northern Mindanao? Is it trying to continue the metafictionality that earned the director so much plaudits with 2008's
Jay
? Is it an excuse to quietly gosh over the lush cinematography of Neil Daza? Is it to waste the majestic acting prowess of Angeli Bayani, reduced here to unfortunate histrionics? I am not exactly sure, but the film seems to provide an answer near its long-awaited end: to concretize in film the memory of a girl eaten by a crocodile in the marsh's shallow waters. But the attempt honestly feels so derivative and so superficial, one is rather tempted to forget.
Eventually, little by little, I did get to see films I came to love or admire. I enjoyed Carlito Siguion-Reyna's
Hari ng Tondo
very much, however: it is a welcome return to a director who has not helmed a film for about a decade. A subtle comedy that also thinks of itself as a family melodrama, it is about a ruined captain of industry who returns to his impoverished Tondo roots to give his grandchildren the only worthy inheritance he could give them: take them out of their comfort zones and make them grow balls among the sigas of Manila's hardened no-man's land. The usual comedic shenanigans and dramatic epiphanies unfurl like clockwork, which is not bad at all—but there is a sense of forcedness in the execution that leaves this film feel a tad empty. That, plus the signature staginess of Siguion-Reyna's direction, cripples what would have otherwise been perfect Cinemalaya comic fodder with a social message, in the vein of
Last Supper No. 3
. But it's funny enough, so there you go.
I enjoyed Giancarlo Abrahan V's
Dagitab
, which almost feels like a French drama unfolding in tropical ennui, ponderous though it was. Real Florido's
1st Ko si Third
was an enjoyable romp through geriatric romance, and a perfect showcase for the talent of the deserving character actress Nova Villa—but it was slight, like an enjoyable one-note joke that took two hours to tell. I loved the most two films: Ida Anita del Mundo's
K'Na the Dreamweaver
, a supersaturated Yimou-ish take on the T'Boli, and Gino Santos'
#Y
, a hyperkinetic look into the living nightmares of the social media generation. Both imperfect films—what film isn't—but both made with a filmmaking signature that's deft and deliberate, they made you feel how mature our young filmmakers have come in their handling of film language. Which is more than I can say for some of the older filmmakers in the festival's roster.
Many things about Joselito Altarejos'
Kasal
, the eventual Best Film winner in the Directors Showcase category of Cinemalaya X—feel like a valedictory. (A point of disclosure: Mr. Altarejos is a good friend of this writer.) For those among us who have seen Mr. Altarejos try to redefine queer cinema in the Philippines from the early double-punch of
Ang Lalake sa Parola
(2007) and
Ang Lihim ni Antonio
(2008) to the more experimental—and complex—forays of the LGBT landscape in
Ang Laro sa Buhay ni Juan
(2009) and
Unfriend
(2014), there are particular choices in the mise-en-scene of the new film that seem to compose both a dare and an invitation from the filmmaker for an earnest reconsideration of his body of work, at least in the genre of film he has found himself niched in. "I hope you enjoy this film," Mr. Altarejos said in Filipino in his introduction during the film's gala screening Tuesday night. "I think I have explored enough of LGBT issues in my film. I am ready for other themes." And so he gives us a film that taunts us with our own expectations and gifts us with the sheer chutzpah of gimlet-eyed wish-fulfillment—to provoke us, to titillate us, but ultimately also to condemn us—and then quickly moves on from that to situate us in the gritty reality of the lives of ordinary gay men, in a storytelling technique that is certainly not designed to cater to the taste of ordinary moviegoers. This is a film that does not hesitate to wallow and meander in the minutiae or ordinary joys, ordinary hurts, and ordinary devastations. You could call that a director going about without a sense of design (nope, it isn't)—but I choose to call it honesty instead. It is a triumph. It is not a perfect film, but it is brave. Sometimes, in film, that becomes even more important than formal flourish.
Labels: art and culture, film, life
[0] This is Where You Bite the Sandwich
---
Friday, August 29, 2014
9:02 PM | Reminders for Life
Haruki Murakami once said something that rings true for me, and perhaps for anyone else who has battled the blues constantly in their lives. I call it the "blues," a common term, to give what I feel a softer conception: and yet to be honest, what I am talking about is a colourless, tremolous darkness with fangs. My comrades-in-arms who know this darkness intimately know that the only way to persevere -- if one can persevere at all -- is to let the frightful darkness run its course, like a fever, like a storm, like the awesome anger of catastrophes. It is not something you can tell yourself to snap out of, as if the mind is a puppet on strings and willpower is the cure. Willpower is a puny figure in the face of this darkness. And so, here is that Murakami quote: "And once the storm is over, you won't remember how you made it through, how you managed to survive. You won't even be sure, whether the storm is really over. But one thing is certain. When you come out of the storm, you won't be the same person who walked in. That's what this storm's all about."
August has been such a storm. It has been such a storm without reason, but it took me by surprise, and coddled me like a rabid dog. My dear friend Elle called it my "birthday blues," and perhaps it was so -- but it was just darkness for me.
And only now do I feel that darkness' tentacles release my mind little by little. Today most especially. Everything is clearer again, and I can see colour. And I behold all these with a tinge of sadness, which is the only way I can behold joy.
Today had started like just any ordinary day gripped in paralysis, the quiet kind that mistakes desperation for breathing. I can't even recall much what I did today. Did I wake up early? I did, but the bed refused to let me go until the middle of the day. Did I have lunch? I must have. But it was a late lunch, I am sure of this, and I had hurried along to KRI to sate pangs of hunger so intense I was practically sweating. The details of the day became sharper by then. I had some chicken dish, I am sure of that. And coffee. And by 4:30 PM, I found my feet leading me to the Udarbe Memorial Chapel in campus, to be with Margie and the Udarbe family as they commemorated the first anniversary of Dr. Proceso Udarbe's passing on. And while I sat in the very last seat of the back row of that chapel, I found Dr. Noriel Capulong's powerful message for the memorial service so touching, I found myself almost crying. It was as if I could feel Tito Proc's kind hands reaching out to me, penetrating the walls of the bowels of my own darkness, and telling me it was all right. Dr. Capulong talked about Tito Proc as somebody who persevered through so many trials and triumphs in life without much need for credit. Tito Proc found the uncelebrated, unacknowledged unfolding of him trying to become a leader at the most crucial times to be a blessing. I have been thinking about this for a year now, this necessity to lie low but to continue working for the dreams that you have -- and Dr. Capulong's recollection of Tito Proc's quiet courage only gave my rumination some solid foundation. And for that I am thankful.
And then I went to see Philip Noyce's adaptation of Lois Lowry's
The Giver
at Robinson's. It was not an important movie, but I found that its heart, like the beloved book, was in the right place. And it made me think about the importance of looking, and looking deep and seeing what's beyond. I think I have forgotten to do this in recent days -- no, months. It was important to be reminded of this again.
And so I tell myself: Always be grateful, Ian. And always be kind. And always be quiet when you can. And look. Look with the intensity of a beholder of some beloved. And be grateful. Be grateful above all for being loved.
Labels: family, film, friends, life, quotes
[0] This is Where You Bite the Sandwich
---
Monday, August 25, 2014
7:13 PM | Hipster Rizal
Labels: graphics, history, people
[0] This is Where You Bite the Sandwich
---
Friday, August 22, 2014
2:21 PM | Broadway Bound
I have no idea what got into my head last summer when, before the start of the current cultural season of Silliman University—we're now enjoying our 52nd year—I told our Cultural Officer, Prof.
Diomar Abrio
, about my dream for this year's Silliman Performs, which is our annual revue featuring the best performing talents in campus.
"I want Broadway," I think I must have said. "I want the lights, I want the sass, I want the tunes that wash over like no other kind of popular music can—it gets your body moving with drama. And I want to direct the segment on
Rent
!"
"I like that," fellow Cultural Affairs Committee member
Leo Mamicpic
chimed in. "And why don't we feature songs from musicals that don't readily get performed in showcases like this?"
Like how it usually happens when we do our "mugna" about things cultural, the dream of a Broadway revue eventually started rolling out into slow fruition, and it fell on
Mark Ian Caballes
to become the overall director of the show, putting together what pieces to perform, and painstakingly finding, arranging, and transcribing with a group of musicians from the College of Performing and Visual Arts the Broadway tunes we wanted to finally perform.
Angelo Sayson
choreographs the dance numbers of the show.
And so finally, on August 22 and then 26, we will pay tribute to the music of the stage and film, in time for the 113th Founders Day celebration of Silliman University.
And why Broadway for this show? Our show's writer,
Warlito Caturay Jr.,
mused over that question as well, and he wrote: "Since the 19th century, Broadway musicals have been an integral part of the American cultural life. Trips to New York would not be complete if one did not see the bright lights of Broadway, or watch and experience stories come alive on stage, or suspend disbelief just to accept for a brief moment that life could happen in between musical numbers. The whole world has embraced Broadway, but a question must be asked: why do we, Filipinos, living in a country geographically removed from Broadway, have also fallen head over heels in love with musicals, be it on stage or films?
Silliman Performs Broadway
attempts to answer this question."
The show will feature excerpts from such beloved musicals as
The Sound of Music, Porgy and Bess, West Side Story, Jesus Christ Superstar, La Cage Aux Folles, Chicago, The King and I, Showboat, Wicked, Dreamgirls, Rent, The Fantasticks, Les Miserables
, and
Carousel
.
Its performers include both veterans of the Luce stage, as well as newly-discovered talents set to soon make names for themselves, hopefully, in local theatre.
There's
Caleb Santos
ostensibly counselling (and yet really flirting with)
Jessa Cabading
about the intricacies of love at a tender age in the courtship song from
The Sound of Music
. From the same musical, there's
Cheryl Lyn Sitoy-Antonio
as Maria, essaying its iconic musical education song. There's
Katrina Tiongson Saga
, now with the Philippine Madrigal Singers, who returns to Dumaguete to sing the gorgeous ballad from
Porgy and Bess
. There's
Dessa Quesada-Palm
as
West Side Story
's Anita, grappling with
Melody Enero
's about the tumultuous demands of first love that defy social expectation. There's
Manolito Saldivar
and
Maria Elcon Cabasag
ruminating about love in the excerpt from
The Fantasticks
. There's
Warlito Caturay Jr.
coming to terms with a fabulous identity in
La Cage aux Folles
. There're the Alphabet City bohemians from 1989 New York -- composed of
Earnest Hope Tinambacan, Louise Remata-Villanueva, Onna Rhea Quizo, Jia de la Cruz, Manuel Jarabe Jr., Ian Lester Gue, Yeshhua Quizo, James Milan, Shamah Bulangis, James Alkene Lamuna, Anna Katrina Espino
, and
yours truly
-- singing about the measures of a life in
Rent
. There's
Japheth Babanto
and
Renna Dedal
's duet about highs and lows of friendship in
Wicked
. There's
Glenn Magdura
's anguished Jesus contemplating the gathering darkness from
Jesus Christ Superstar
. There's
Elana Joy Bartlett
getting to know her charge in
The King and I
with the
Silliman University Dance Trope
. There's
Nierru Cabilao
leading the carnal and jazzy charge in dance with selected students from the Speech and Theatre Department in
Chicago
. There's
Lemoine Poligrates
bemoaning love and its consequences in
Show Boat
. There's
Fritz Figueras
belting out a song about transformation in
Dreamgirls
. And then there're
Rigel Suarez, Frankie Cardona, Cristiani Rebada, Novie Lyne Flores, Calvin Klein Galbinez, James Alkene Lamuna, Japheth Babanto
, and Renna Dedal in their electrifying chorus with the
Silliman University Campus Choristers
singing of a hopeful tomorrow from
Les Miserables
.
I love show tunes. They're a different breed of musical expression that seems to transcend culture. I love the spectacle of light and sound, and the idea that there is a way for ordinary people to just break into song and dance. Silliman University has had a rich tradition of staging musical plays in campus, and this revue promises to be a distillation of that long line of theatrical productions. And hopefully, maybe one of these segments will translate into a full-blown musical after 2011's
Godspell
and 2012's
Into the Woods
. Who knows, maybe we can do
Jesus Christ Superstar
soon? Or perhaps
Rent
? Such promises, such possibilities…
Silliman Performs Broadway
is a special Founders Day presentation of the Cultural Affairs Committee, and no season passes will be honored. Tickets are available at P200, P300, and P500. All tickets and season passes for Luce Auditorium shows are available for sale at the CAC Office at the College of Performing and Visual Arts Building II, and at the theater lobby before the show begins. For ticket reservations and other inquiries, call (035) 422-4365 or 0917-513-3312.
Labels: art and culture, life, music, people, silliman, theater
[0] This is Where You Bite the Sandwich
---
1:16 PM | A Life of Service, Perseverance -- and Art
Dr. Romeo P. Ariniego, the 2010 Outstanding Sillimanian Awardee for Medicine, started collecting art in 1979 while doing medical training in Sydney, Australia. The painting—an abstract work that seems to be that of a fowl with a paintbrush—was by an Australian artist, and what drew Dr. Ariniego in to the artwork was its essential "difference." It spoke to him then, and that painting has since become the cornerstone of an outstanding collection of fine art, which includes paintings, sculptures, masks, and religious icons, which he has intuitively collected over thirty years.
That taste for the fine arts was nurtured, Dr. Ariniego admitted, while reading art books at the Silliman Library while still a working student in the university, and from the pages of these books, he came to admire the works of Monet and Degas.
Ultimately, that burgeoning love for art led him to his collection of local works, which began in 1984 when he bought a series of paintings by Jose T. Joya for just P7,000. Since then, he has collected almost a hundred works by Jose T. Joya, Hernando R. Ocampo, Ernie Verroya, Solomon Saprid, Emmanuel Garibay, and other painters.
And now he has bequeathed his current collection to Silliman University.
Dr. Ariniego graduated from Silliman University with a degree of Bachelor of Science in 1967. He has served the De La Salle-Health Sciences Campus (DLS-HSC) University Medical Center in various capacities, including Chief of the Cardiovascular Division. A well-known practitioner in his field, he has authored and co-authored several scholarly publications, and has received several awards from 1972 to 2009, including the Distinguished Service Award from the Philippine Heart Association, the National Lorenzo M. Tañada CHIMES Award from De La Salle Philippines, and the International Health Professional Distinction, which he received in Cambridge, England.
But he started from humble origins. An incident in childhood proved vital in his later success. In a monograph published to celebrate Dr. Ariniego's life and taste for the arts, we learn that he was in fifth grade in his hometown of Vigan, Ilocos Sur when he saw how his family, frantic over the conditions of a sick uncle, decided to call for the family doctor. "It proved to be a life-changing experience," the book says. "The boy was awed at how the doctor was able to calm down and reassure the family that he decided then and there that he would become a doctor when he grew up. It seemed to be an impossible dream. Sending a child to medical school was impossible for Romy's parents who had to raise eight other children from their meager earnings as laundrywoman and market helper.
"With two siblings still in high school, Romy had to stop schooling after graduating from grade school. Fate intervened through a classmate, the son of an American missionary assigned in Vigan. The American family invited Romy to work as part of the household staff, and helped him finish high school."
But he could not finance himself to go through a preparatory medical education. And so he decided to forego the dream for a while, and enrolled in a business course at the University of the East. He worked during the day at a cigarette factory, and delved into zealous study at night. But his dream of becoming a medical doctor did not abate him.
"One day," the book continues, "Romy chanced upon an advertisement by Silliman University offering a free work-and-study program. He immediately resigned from the factory, and to his surprise, his boss and fellow workers all pitched-in to raise the money he needed for his transportation to Dumaguete City, and for a semester's tuition at Silliman. At Silliman, he worked at various jobs—messenger, gardener, dormitory assistant—and soon finished his pre-med course in three years.
"On his last year in college, Romy was able to get a grant for his medical education through the help of a American missionary faculty at Silliman. Having enough money for tuition, Romy was able to concentrate on his studies at the College of Medicine of the University of the Philippines. He continued his residency training and fellowship at the Philippine General Hospital. His appointment as Chief Resident was a recognition of his hard work and excellence as a physician. He underwent further training in cardiology in Sweden, and in geriatric cardiology in Australia.
"In spite of the tempting job offers in Sweden and Australia, Romy chose to return to the Philippines. Since his residency, Romy wisely used a part of his salary to buy stocks in private hospitals where he planned to set-up his practice. This tipped off the legendary Dr. Paulo Campos who had a keen sense for people with great potential. As soon as Romy returned from Australia, Dr. Campos promptly invited him to be the cardiologist in his new hospital in Dasmariñas. Thinking that it was in a plush village in Makati, Romy quickly accepted his invitation. To this day, Romy does not know whether the astute businessman intentionally forgot to mention that he was referring to a town in Cavite. Being the gentleman that he is, Romy kept his word and practiced in what was then a very rural Cavite.
"It did not take long for Dr. Ariniego's practice to flourish. The Caviteños, especially the elderly, quickly developed a deep trust for the new doctor. The long line of patients who continue to wait patiently outside Romy's clinic attest to the kind of doctor that this once struggling student had become."
He has translated much of this success to helping many students achieve their dreams of becoming medical professionals with generous scholarships—so generous that for many of these students, Dr. Ariniego is not only just a benefactor, he has also become family.
He has already donated his house in Dasmariñas to De La Salle University, for it to become the future house of medical scholars of that school. That, plus a medical library he has built for the school, is part of his medical legacy.
For Silliman, the legacy he wants to leave behind is this other side of him: the art lover. And through this, he hopes some other student—reminiscent of his own student days poring over art books in the library—would gain a similar glimpse of joy in art, and follow the path he found himself treading. And for that, Silliman University is grateful.
Part of Dr. Ariniego's art collection will be exhibited at the Claire Isabel McGill Luce Auditorium Foyer Gallery in a show titled
Gasa sa Kakugi
from August 19 to September 29.
Labels: art and culture, painting, people, silliman
[0] This is Where You Bite the Sandwich
---
Thursday, August 21, 2014
12:25 PM | A Pedro Almodovar Completist's Checklist
I have always loved the colourful idiosyncrasy of Spanish filmmaker Pedro Almodovar, with his labyrinthine plots, comic hijinks, campy female characters, and curiously subversive themes that seem to gel together with a dash of lipstick, carnal energy, and a boundless embrace of film's Technicolor heritage. And yet I have to really see all of Pedro's movies.
His brand of filmmaking is not to everyone's taste, and he does make some unfortunate misses, like his latest airline comedy that seemed to be headed nowhere. But when his films work, they work with gusto. What have I missed?
☑ I'm So Excited! (2011)
☐ The Skin I Live In (2009)
☐ Broken Embraces (2009)
☑ Volver (2004)
☑ Bad Education (2002)
☑ Talk to Her (1999)
☑ All About My Mother (1997)
☑ Live Flesh (1995)
☑ The Flower of My Secret (1993)
☑ Kika (1991)
☐ High Heels (1989)
☑ Tie Me Up! Tie Me Down! (1988)
☑ Women on the Verge of a Nervous Breakdown (1987)
☑ Law of Desire (1986)
☐ Matador (1985)
☐ What Have I Done to Deserve This? (1983)
☐ Dark Habits (1982)
☐ Labyrinth of Passion (1980)
☐ Pepi, Luci, Bom and Other Girls Like Mom (1978)
[0] This is Where You Bite the Sandwich
---
Sunday, August 17, 2014
12:12 PM | Birthday Boy Selfie
Here's a selfie for the purposes of personal study. I've been documenting my face this week for a peculiar reason. Because I've been through a lot the past few days: sickness, depression, stress -- all things beyond the radar of bright and merry. But I think I have always been a creature of silver linings. I believe always in the light at the end of the tunnel, the diamond that comes from the rough. So here's taking a deep breath to begin again.
Hello, 39.
Labels: life
[0] This is Where You Bite the Sandwich
---
Saturday, August 16, 2014
11:30 AM | A Woody Allen Completist's Checklist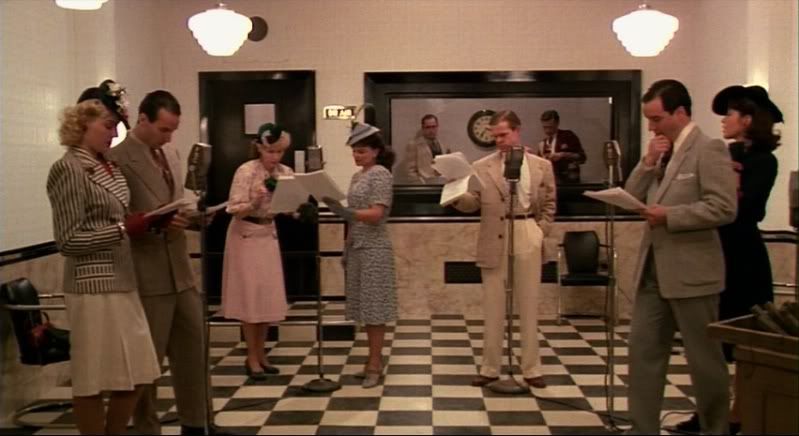 CONSTANTLY UPDATED. FIRST POSTED 6 JANUARY 2011.
I just finished watching Woody Allen's lovely
Radio Days
[1987], one of the few remaining titles in the director's filmmography I have not seen. It took a while, considering it's a film that's rarely available anywhere. And now that I have seen it, it ranks without doubt among the top contenders of my personal Woody Allen favorites. I know why: it's a film about the romance of nostalgia, and although I did not grow up with radio, the film's heart and intentions are universal. It tells the fragmented story of a Jewish family in New York, tidbits woven together by the 1940s radio shows they listened to. It's funny and light and emotional and deep all at the same time, an Allen film that has much in common with his
Everyone Says I Love You
[1996].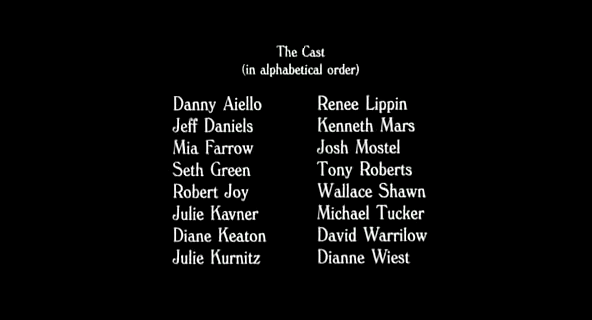 Radio Days
is distinctive of perhaps being the only Allen film that collects most of his regular troupe of actors, from Mia Farrow to Julie Kavner, from Dianne Wiest to Diane Keaton, from Jeff Daniels to Wallace Shawn. It's a great film to start the week with, but now I'm wondering: what else have I missed out on?
Indulge this film geek as he goes about finding exactly that...
☐ Magic in the Moonlight [2014]
☑ Blue Jasmine [2013]
☑ To Rome With Love [2012]
☑ Midnight in Paris [2011]
☑ You Will Meet a Tall Dark Stranger [2009]
☑ Whatever Works [2008]
☑ Vicky Cristina Barcelona [2007]
☐ Cassandra's Dream [2006]
☑ Scoop [2005]
☑ Match Point [2004]
☑ Melinda and Melinda [2003]
☑ Anything Else [2002]
☑ Hollywood Ending [2001]
☑ The Curse of the Jade Scorpion [2000]
☑ Small Time Crooks [1999]
☑ Sweet and Lowdown [1998]
☑ Celebrity [1997]
☑ Deconstructing Harry [1996]
☑ Everyone Says I Love You [1995]
☑ Mighty Aphrodite [1994]
☑ Don't Drink the Water [1994]
☑ Bullets Over Broadway [1993]
☑ Manhattan Murder Mystery [1992]
☑ Husbands and Wives [1991]
☑ Shadows and Fog [1990]
☑ Alice [1989]
☑ Crimes and Misdemeanors [1989]
☑ New York Stories (segment "Oedipus Wrecks") [1988]
☑ Another Woman [1987]
☑ September [1987]
☑ Radio Days [1986]
☑ Hannah and Her Sisters [1985]
☑ The Purple Rose of Cairo [1984]
☑ Broadway Danny Rose [1983]
☑ Zelig [1982]
☑ A Midsummer Night's Sex Comedy [1980]
☑ Stardust Memories [1979]
☑ Manhattan [1978]
☑ Interiors [1977]
☑ Annie Hall [1975]
☑ Love and Death [1973]
☑ Sleeper [1972]
☑ Every Thing You Always Wanted to Know About Sex * But Were Afraid to Ask [1971]
☑ Bananas [1971]
☑ Take the Money and Run [1966]
☑ What's Up, Tiger Lily? [1966]
I think I'm gonna look for
Stardust Memories
next...
Labels: directors, film, life, memories
[0] This is Where You Bite the Sandwich
---
10:00 AM | A Studio Ghibli's Completist List
The first Studio Ghibli film I saw was Isao Takahata's
Grave of the Fireflies
, and I've been hooked to the wonderful films of this Japanese animation studio ever since. Here is a rundown of what I have seen, and what I have yet to see...
[✓]
Nausicaä of the Valley of the Wind
(1984), directed by Hayao Miyazaki
[✓]
Castle in the Sky
(1986), directed by Hayao Miyazaki
[✓]
Grave of the Fireflies
(1988), directed by Isao Takahata
[✓]
My Neighbor Totoro
(1988), directed by Hayao Miyazaki
[✓]
Kiki's Delivery Service
(1989), directed by Hayao Miyazaki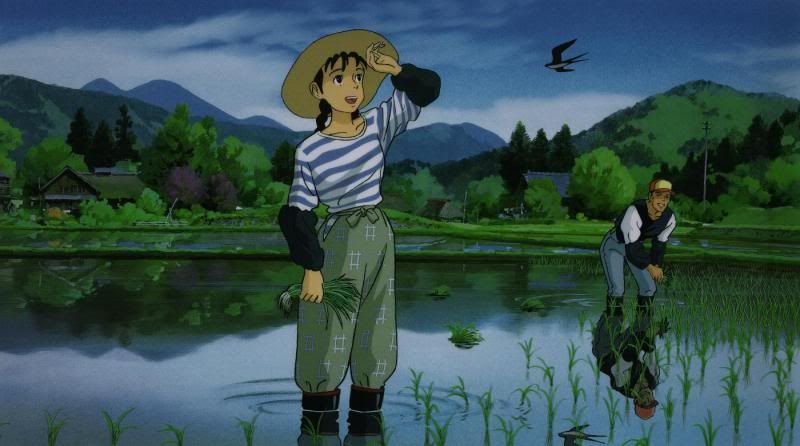 [✓]
Only Yesterday
(1991), directed by Isao Takahata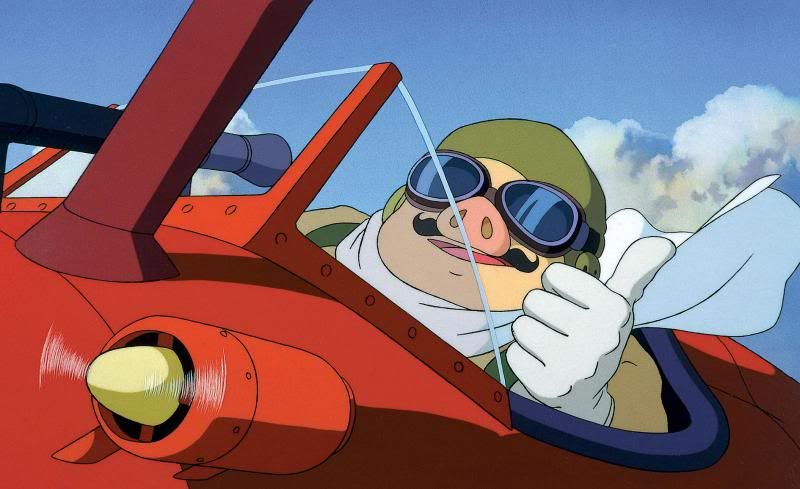 [✓]
Porco Rosso
(1992), directed by Hayao Miyazaki
[✓]
Pom Poko
(1994), directed by Isao Takahata
[✓]
Whisper of the Heart
(1995), directed by Yoshifumi Kondō
[✓]
Princess Mononoke
(1997), directed by Hayao Miyazaki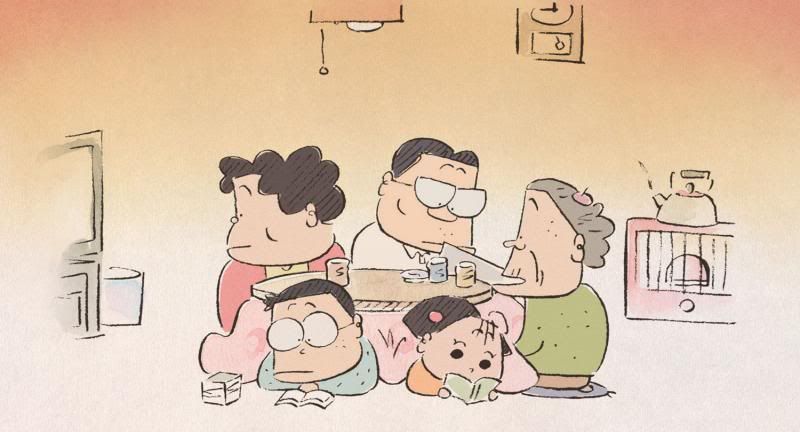 [ ]
My Neighbors the Yamadas
(1999), directed by Isao Takahata
[✓]
Spirited Away
(2001), directed by Hayao Miyazaki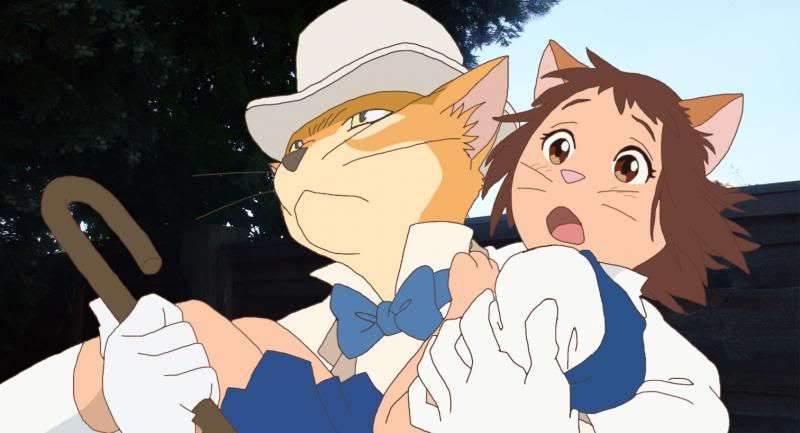 [✓]
The Cat Returns
(2002), directed by Hiroyuki Morita
[✓]
Howl's Moving Castle
(2004), directed by Hayao Miyazaki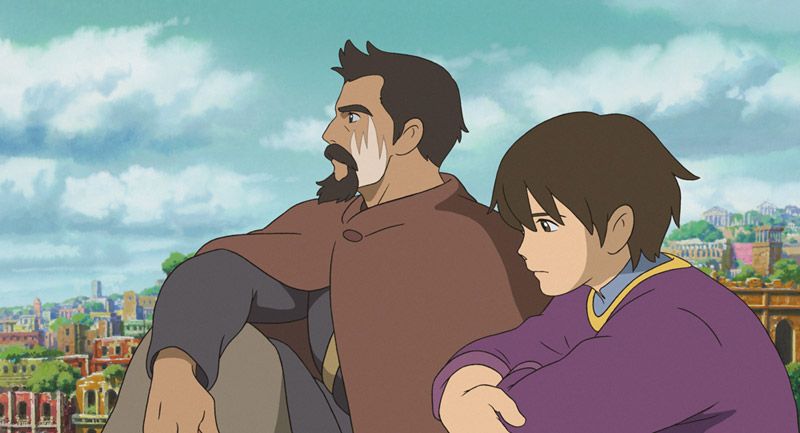 [✓]
Tales From Earthsea
(2006), directed by Gorō Miyazaki
[✓]
Ponyo
(2008), directed by Hayao Miyazaki
[✓]
Arriety
(2010), directed by Hiromasa Yonebayashi
[✓]
From Up on Poppy Hill
(2011), directed by Gorō Miyazaki
[✓]
The Wind Rises
(2013), directed by Hayao Miyazaki
[ ]
The Tale of Princess Kaguya
(2013), directed by Isao Takahata
[ ]
When Marnie Was There
(2014), directed by Hiromasa Yonebayashi
[0] This is Where You Bite the Sandwich
---