This is the blog of Ian Rosales Casocot. Filipino writer. Sometime academic. Former backpacker. Twink bait. Hamster lover.
Interested in What I Create?
Bibliography


The Boy The Girl
The Rat The Rabbit
and the Last Magic Days
Chapbook, 2018




Republic of Carnage
Three Horror Stories
For the Way We Live Now
Chapbook, 2018




Bamboo Girls:
Stories and Poems
From a Forgotten Life
Ateneo de Naga University Press, 2018




Don't Tell Anyone:
Literary Smut
With Shakira Andrea Sison
Pride Press / Anvil Publishing, 2017




Cupful of Anger,
Bottle Full of Smoke:
The Stories of
Jose V. Montebon Jr.
Silliman Writers Series, 2017




First Sight of Snow
and Other Stories
Encounters Chapbook Series
Et Al Books, 2014




Celebration: An Anthology to Commemorate the 50th Anniversary of the Silliman University National Writers Workshop
Sands and Coral, 2011-2013
Silliman University, 2013




Handulantaw: Celebrating 50 Years of Culture and the Arts in Silliman
Tao Foundation and Silliman University Cultural Affairs Committee, 2013




Inday Goes About Her Day
Locsin Books, 2012




Beautiful Accidents: Stories
University of the Philippines Press, 2011




Heartbreak & Magic: Stories of Fantasy and Horror
Anvil, 2011




Old Movies and Other Stories
National Commission for Culture
and the Arts, 2006




FutureShock Prose: An Anthology of Young Writers and New Literatures
Sands and Coral, 2003
Nominated for Best Anthology
2004 National Book Awards


Follow the Spy




Recent Crumbs




Blogs I Read


© 2002-2018
IAN ROSALES CASOCOT
Wednesday, October 27, 2010
7:24 AM | My Own Private Paris
Remember that scene in Sydney Pollack's adapation of
Sabrina
[1995] where Julia Ormond as the title character has this huge corkboard in her Paris apartment which she soon fills up with notes, clippings, and pictures -- all souvenirs of a life in transformation?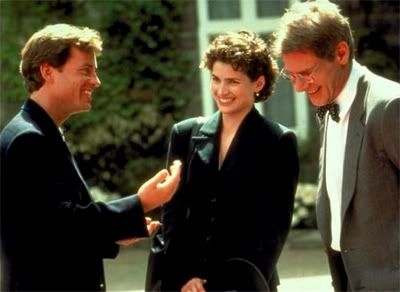 I saw the film again this morning in HBO, and I was reminded that I have always loved that long sequence, although critics then snapped that in Billy Wilder's 1954 version, that transformation involving Audrey Hepburn only required a quick montage. I always thought that assessment unfair: while there's no denying the greatness of the original, the late great director Sydney Pollack was more cognizant, in my opinion, about the theme of transformation of the story. Sabrina's blossoming, which required sequences of her walking Paris alone and getting tutored in cosmopolitan sophistication by Fanny Ardant and Patrick Bruel, was a vital part of the film, which all too soon becomes a vehicle for Harrison Ford as Linus and his transformation from a cold and calculating businessman to a warm and receptive lover.
But what struck me the most was this: if I were my own Sabrina, Tumblr is my corkboard, and the Midwest is my Paris. Yes, my version is a little scaled-down and maybe less glamorous than the Hollywood version, but damn I could see the parallels.
[0] This is Where You Bite the Sandwich
---