This is the blog of Ian Rosales Casocot. Filipino writer. Sometime academic. Former backpacker. Twink bait. Hamster lover.
Interested in What I Create?
Bibliography


The Boy The Girl
The Rat The Rabbit
and the Last Magic Days
Chapbook, 2018




Republic of Carnage
Three Horror Stories
For the Way We Live Now
Chapbook, 2018




Bamboo Girls:
Stories and Poems
From a Forgotten Life
Ateneo de Naga University Press, 2018




Don't Tell Anyone:
Literary Smut
With Shakira Andrea Sison
Pride Press / Anvil Publishing, 2017




Cupful of Anger,
Bottle Full of Smoke:
The Stories of
Jose V. Montebon Jr.
Silliman Writers Series, 2017




First Sight of Snow
and Other Stories
Encounters Chapbook Series
Et Al Books, 2014




Celebration: An Anthology to Commemorate the 50th Anniversary of the Silliman University National Writers Workshop
Sands and Coral, 2011-2013
Silliman University, 2013




Handulantaw: Celebrating 50 Years of Culture and the Arts in Silliman
Tao Foundation and Silliman University Cultural Affairs Committee, 2013




Inday Goes About Her Day
Locsin Books, 2012




Beautiful Accidents: Stories
University of the Philippines Press, 2011




Heartbreak & Magic: Stories of Fantasy and Horror
Anvil, 2011




Old Movies and Other Stories
National Commission for Culture
and the Arts, 2006




FutureShock Prose: An Anthology of Young Writers and New Literatures
Sands and Coral, 2003
Nominated for Best Anthology
2004 National Book Awards


Follow the Spy




Recent Crumbs




Blogs I Read


© 2002-2020
IAN ROSALES CASOCOT
Tuesday, January 10, 2012
1:48 PM | Sandwich Headlines RockEd Dumaguete's Sendong Tsinelas Concert for a Cause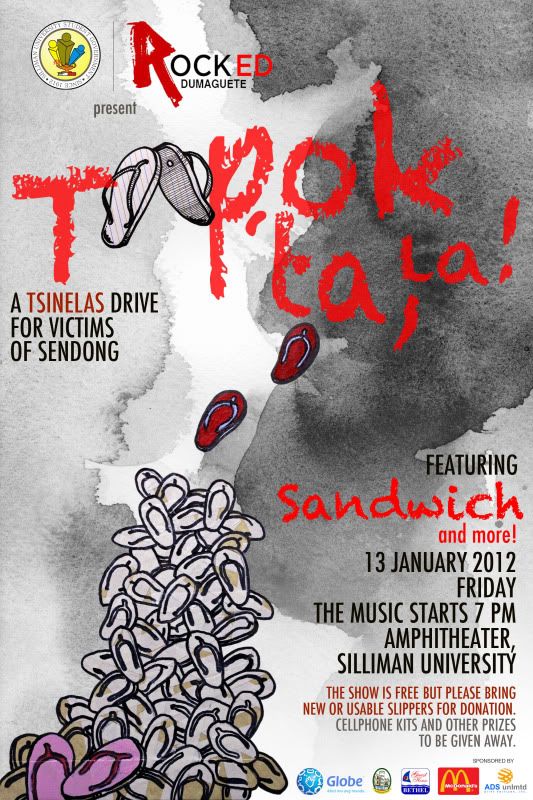 A drive for rubber slippers is the target for the latest Sendong relief efforts in Negros Oriental. The Silliman University Student Government (SUSG) and Rock Ed Philippines Dumaguete Chapter are spearheading a concert featuring Sandwich and other bands to spread the word about Sendong and the relief efforts still necessary to alleviate conditions in affected areas. The concert for a cause, titled "Tapok 'Ta, La!—A Tsinelas Drive for Victims of Sendong," is slated on
Friday, 13 January 2012, at 7 P.M. at the Amphitheater
.
"When we scouted around during our previous relief efforts in affected areas around the province, we noted that besides food and water, people needed other important things which we tended to overlook—this includes underwear and slippers," says Rock Ed Dumaguete Coordinator Ian Rosales Casocot, who is also a faculty member of Silliman University.
According to SUSG President Mahogany Rae Bacon, also a Rock Ed volunteer, the concert is open for free to the public, but encourages everyone to bring donations of new or usable rubber slippers when they come to enjoy the music. "We are particularly interested in people bringing in rubber slippers of all sizes, since usable pairs for kids are usually overlooked in such drives," Bacon said. Rubber slippers will also be on sale in the concert site to make donations easier.
Rock Ed Philippines was formed in 2005 by Gang Badoy, Noel Cabangon, Lourd de Veyra, and other creatives and private citizens to spearhead—using music and the arts—alternative education campaigns in the country and to coordinate relief efforts during disasters. The Dumaguete chapter includes many of the city's young artists, musicians, writers, and entrepreneurs.
Local bands such as Motion will also take part in the concert-for-a-cause. The event is also co-sponsored by Globe, Florentina Homes, Bethel Guest House, McDonald's, and ADS Unlimited.
If you want to become a Rock Ed Dumaguete volunteer, please email us at rocked.dgte@yahoo.com. Or go to our website.
Labels: rocked
[0] This is Where You Bite the Sandwich
---