Saturday, August 17, 2013
5:48 PM | The Birds of Julia, The Flowers of Susan
Last Friday afternoon, we saw the opening of a twin painting exhibit by two members of the otherwise musical Vista family. The exhibit, titled
Birds & Flowers
, is exactly that—a show of paintings in acrylic and in watercolor of birds and flowers, the favorite subjects of our two visual artists.
Elizabeth Susan Vista-Suarez has always been known for the music that she makes, be it as director of the Silliman University Campus Choristers in one of its heydays in the 1990s, or as current director of Ating Pamana and the Silliman University Gratitude and Goodwill Ambassadors, or as dean of the College of Performing and Visual Arts.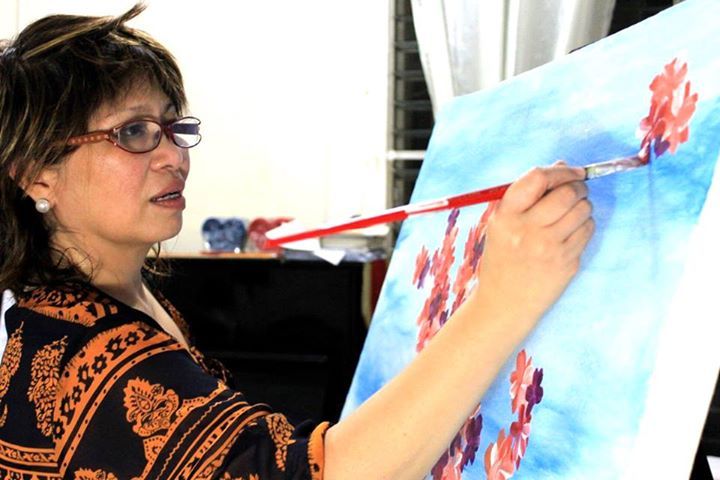 A few years ago, however, she started dabbling in an art form completely different from her usual discipline—painting. But it was also something that has much in resonance with her musical personality: to daub colors, to select texture, to blend light and dark, to compose the visual—all of that is familiar to the best of musicians, if only done in a different terrain. She started painting in oil, and later changed to acrylic when her painting mentor told her the medium was healthier for her.
It was a surprising turn of interest, given that she has had no influences in painting—only that she liked the works of the Impressionists, and has always had a love for the gracefulness of Asian art. But perhaps that proclivity for the visual has already some stirrings in childhood. "In high school, I've already been making flowers in that Chinese painting method, which I'd do on stationery, with watercolor. I did it to sell to my aunties," she says. "But I became more interested in painting when I went a bit blind at the age of forty. I needed to see color again, afraid that I might not be able to see anything at all. But painting has helped me be in my own world, where I can turn my ears off amidst everyone and everything."
But what is it about flowers that attracts her most as subject for her paintings? "Flowers are the easiest to paint," she says. "And flowers also symbolize strength and beauty. They are just like women—they're often abused, and kicked around in a very patriarchal world. I remember the lyrics of this song that goes: 'Little flowers never worry when the rain begins to blow, and they never cry when the rain begins to pour… Though it's wet and cold, soon the sun will shine again, and they'll smile unto the world for their beauty to behold!'"
Her underlying aesthetic philosophy for her paintings is simple enough: it is an expression of a personal joy. "And joy equals no expectation," she says. "When we do our best, God will do the rest."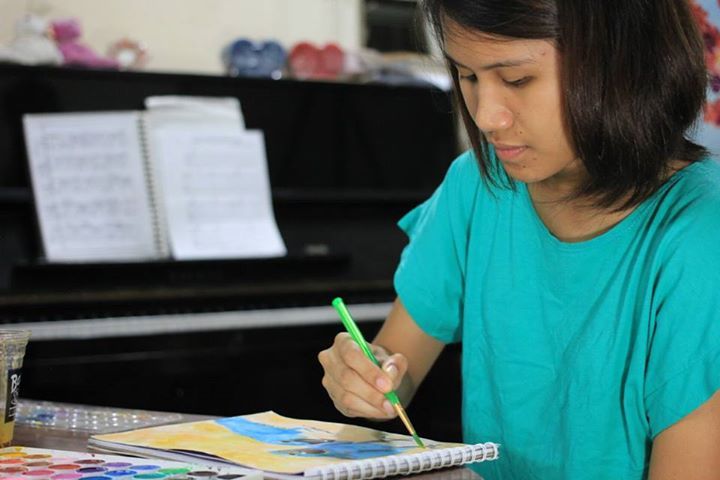 Julia Christine Vista Zamar—Justine to friends, and Tatin for those us who watched grow up in Vista Cottage in Silliman campus—on the other hand, have always known that there was enormous power in the act of taking up the brush and rendering the world through painting. That realization began to sink into her consciousness when she would watch her mother work on her flower paintings. "My mom has always been my influence," she says. "She has been painting for some time now, and often when she paints, I'd get to sit around and hang with her and watch her do her painting. In those times, I'd always see that she finds joy in painting. It also calms her—it was more like a stress-buster soothing system for her. And having seen that many times in my life, I thought that maybe some day I'd like to try what she's doing."
But there was no definite start for her when it came to finally doing painting. One thing she could remember growing up, however, was borrowing her mother's fabric paint and doing little doodles on katcha—and give them as gifts to friends. "I didn't really imagine myself doing a whole painting but when a good friend of mine asked me to join Hersley-Ven Casero's Collaborative Project, I took it as a challenge to finally paint a whole picture," she says. "After that, I was starting to explore more about painting, and finding out how interesting and fun it can be. This is an entirely new sense of self-discovery." She began to use watercolor. It was the medium she was the most comfortable with.
But what is it about birds that has attracted her as subject for her paintings? "Birds are one of the most interesting creatures," she says. "They are among the smartest animals ever created, even smarter than dogs. But the one thing about birds which I love the most is how symbolic these animals are. They remind me of hope."
She sees her watercolor paintings as a statement she is making about never limiting oneself. "Sometimes we think that mixing different colors would give a horrible effect on a painting," she explains, "but when you actually try different things without fear, you'll realize that something beautiful will come out of it."
"Still, I don't really know what's going to happen in the future with my paintings," she continues. "But I do hope that somewhere in the future, they'd be hanging on walls in different places of the country. But birds will always be my main subjects, although it would be interesting to try to paint people and use acrylic as medium."
Labels: art and culture, cultural affairs committee, dumaguete, negros, painting, silliman
[0] This is Where You Bite the Sandwich
---