This is the blog of Ian Rosales Casocot. Filipino writer. Sometime academic. Former backpacker. Twink bait. Hamster lover.
Interested in What I Create?
Bibliography


The Boy The Girl
The Rat The Rabbit
and the Last Magic Days
Chapbook, 2018




Republic of Carnage
Three Horror Stories
For the Way We Live Now
Chapbook, 2018




Bamboo Girls:
Stories and Poems
From a Forgotten Life
Ateneo de Naga University Press, 2018




Don't Tell Anyone:
Literary Smut
With Shakira Andrea Sison
Pride Press / Anvil Publishing, 2017




Cupful of Anger,
Bottle Full of Smoke:
The Stories of
Jose V. Montebon Jr.
Silliman Writers Series, 2017




First Sight of Snow
and Other Stories
Encounters Chapbook Series
Et Al Books, 2014




Celebration: An Anthology to Commemorate the 50th Anniversary of the Silliman University National Writers Workshop
Sands and Coral, 2011-2013
Silliman University, 2013




Handulantaw: Celebrating 50 Years of Culture and the Arts in Silliman
Tao Foundation and Silliman University Cultural Affairs Committee, 2013




Inday Goes About Her Day
Locsin Books, 2012




Beautiful Accidents: Stories
University of the Philippines Press, 2011




Heartbreak & Magic: Stories of Fantasy and Horror
Anvil, 2011




Old Movies and Other Stories
National Commission for Culture
and the Arts, 2006




FutureShock Prose: An Anthology of Young Writers and New Literatures
Sands and Coral, 2003
Nominated for Best Anthology
2004 National Book Awards


Follow the Spy




Recent Crumbs




Blogs I Read


© 2002-2020
IAN ROSALES CASOCOT
Monday, September 17, 2007
10:38 AM | The Good Body in the Luce
And speaking of cultural events in the Luce (Dumaguete is buzzing these days with the parade of shows), the last show for the first half of the cultural season is New Voice Company's production of Eve Ensler's
The Good Body
. Here's the official description of the play: "Since her one-woman show
The Vagina Monologues
shot down societal notions of acceptable topics in theaters—and in spired legions of independent productions and community events around the world—playwright, performer, and activist Eve Ensler has turned her unique eye on the rest of the female form. Whether undergoing Botox or living under burkhas, women of all cultures and backgrounds feel compelled to change the way they look in order to fit in with their particular culture, in order to be accepted, in order to be good. In
The Good Body
, Ensler explores their experiences with monologues representing women from Bombay to Beverly Hills. Delivering narratives collected in locker rooms, cell blocks, boardrooms, and bedrooms, Ensler frames their stories with her own personal journey from a self-loathing teenager to a (sometimes) self-accepting adult. Interspersed throughout are riotous excerpts from Ensler's lifelong dialogue with her belly—a sassy and conniving antagonist in its own right. Through her honest, insightful, and sometimes naughty portrayal of genuine experiences and real-life obsessions, Ensler strips the complicated issue of body politics down to its intimate essence, once again destroying pre-conceived notions about what women really think. This is new theater at its finest:
The Good Body
will move, inspire, entertain—and just might make you blush a bit in the process."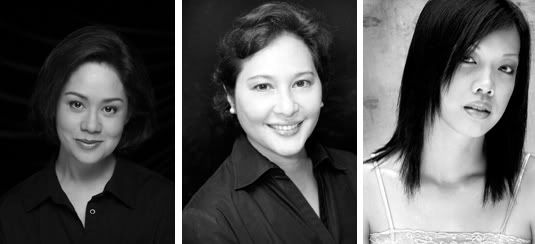 The Dumaguete production, slated this Friday, September 21, will feature
Monique Wilson
herself, together with
Juno Henares
and
Lily Chu
.
There are only about 65 tickets left.
So, if you're in Dumaguete this Friday night, tickets are available at the Silliman University College of Performing Arts Office and the Luce Auditorium Office, and at the theater lobby before the show. For inquiries and ticket reservations, please call (035) 422-6002 loc. 520 and look for Glynis.
Labels: art and culture, dumaguete, theater
[0] This is Where You Bite the Sandwich
---