Wednesday, March 25, 2009
11:26 AM | Remembering Sid Gomez Hildawa, 1962-2008
By Ed Delos Santos Cabagnot
(The following email was written 1 April 2008, 1:16:34PM from the Widdhayawinet Residence Hall, Chulalongkorn University)
Sawat dee krup
from Bangkok!
Little did I know that when I left the Philippines seven months ago for an Asian Cinema fellowship grant that I would be returning with an empty seat in front of me during our regular CCP Artistic Programs Committee [meetings]. And an empty seat at the buffeteria as well. The passing of my dear, dear friend Sid is, to say the least, a shock. Just last week I received a text asking for prayers because he was in the hospital for dengue and typhoid, as well as the stressful news that some of his internal organs have collapsed. Right away I texted my CCP friends and they all promised to update me regarding Sid's progress. Then during the end of last week, I received word from Hermie that Sid was rallying. This was echoed by Tess in a text. I was relieved... The last thing I needed during the last week of my stay in Thailand, as well as the end of my great, grand API (Asian Public Intellectuals) adventure was sad news. Last Saturday, my Pinoy friends in Bangkok wanted to give me a send-off. Very untypical of me, I did not attend. My excuse was that since I started swimming at the Chulalongkorn pool, all my aging muscles were aching. But to be frank, I was just feeling out of sorts -- for the past two weeks, I have been semi-depressed about leaving my seven-month life as a traveling film researcher, and returning to my "real life" grinding away at the CCP. But a part of me wanted to go back to family, friends and co-workers... for I have missed these people a lot also.
Yes, that's how crazy my past weeks have been. And then Sunday evening I got the text that my dear Isidro has flown the coop.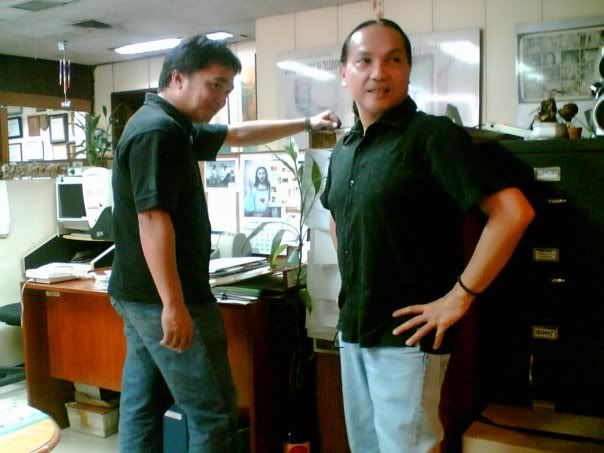 Sid Gomez Hildawa and Ed Cabagnot

... I haven't put a handlle on this thing yet. To be honest again, I can't give in to mourning. It is my last week in Bangkok, and I have still have a lot of loose ends to tie up. I have two last major interviews to accomplish -- tomorrow with director Ekachai of
Beautiful Boxer
and the next day with director Nonzee of
Nang Nak
and
Jan Dara
. Plus, I have given myself the ultimate gift of inviting my two nephews to Bangkok to help my last days as an adventuring scholar more meaning and to keep me from falling into a pit of darkness...
Despite the above, Sid is always in my mind and my heart -- yes, I feel he is surrounding me now that he has become less physical and just more...
akashic
!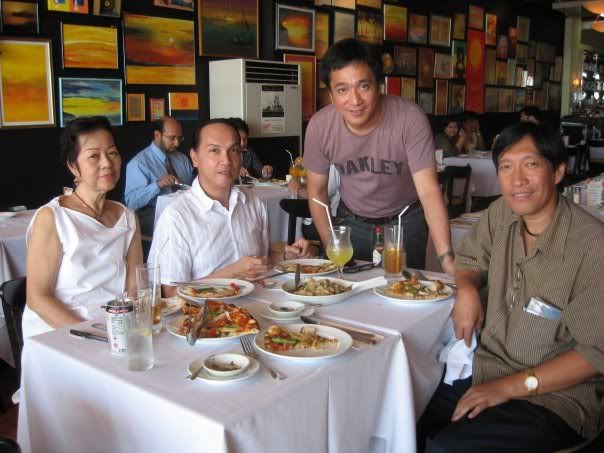 The CCP Trio -- Ed Cabagnot, Sid Hildawa, and Hermie Beltran -- plus one.
When folks shuffle off their mortal coil, the ones who are left behind usually have their tales of "significant" portents during these final days. I, too, have mine. Last weekend, I was playing around with my brand new Nikon Coolpix digital camera. A blue-grey dove alighted on my balcony. Quickly I knew this would be a Kodak moment. And I knew that if I made sudden moves the bird would instinctively fly way. To my surprise, the dove stayed. And allowed me to take one shot of him. Again surprisingly, the shot came out blurred -- strange, this was a great camera, everything in the background was clear but the bird was a bit out of focus.
Birds have always been my portents of death ever since. I could write a book about all the instances a bird would fly into my room at home or at my office and then soon after I would get the news of the passing of a friend or relation.
Again, this has been the case with Sid.
Of all his colleagues at the CCP, I guess I count myself as Sid's oldest (underline the "old" part) friend. I met him in 1983 or 1984 when we both used to participate in the, now looking back, zany impromptu art happenings organized by art folks back then. Yes, my dear friends, I, too, was a performance artist at the now-disappeared landmark, the Pasay Art Center at the corner of Taft and Buendia. I remember one of these gigs which I participated in along with Jean-Marie, Cesare, Ronnie Lazaro... and this shy, soft-spoken visual artist named Sid Hildawa.
Try to imagine me and Sid, twenty plus years ago... We were both on the move, aggressive and excited about new possibilities. We both had an eye of beauty, et cetera. In other words, I think
(I know)
that we had a instant liking for each other. We got each other's telephone numbers (no cells back then!) and found ourselves talking a lot about shared interests.
"Wow,
pare... ang galing ng mga
chicks at Penguin last night!" -- you get the drift. This was the mid-80s, give us a break!
I distinctively remember Sid coming to my house one night. We bought two bottles of Tanduay
lapads
. Talked about life, God, art, love, et cetera... But to cut to the chase, I sent him home after a couple of embarrassed silent moments,
haha
! Sid and I still used to laugh at that incident. And we usually roll on the floor laughing at the "what if's" of that night.
When Sid joined CCP, I was happy that our friendship would be rekindled. And it was. This time we were joined by a fellow poet and intellectual, Herminio Beltran. Those who see us carelessly laughing ourselves away at the CCP buff would know what I mean...
I don't think I can continue... I feel very sad at this point.
Let me just say that Sid is one of the best things that happened to me at the CCP. He was graciousness personified. When I get hot tempered and foul-mouthed, he has always been my soothing, calming force.
Sid's passing during my absence has one bright meaning -- I was spared seeing his physical decline. That means, in my mind and heart, I shall always remember Isidro Gomez Hildawa, my precious Sid, at his glorious and his most beautiful best!
Kindly send his family and loved ones, my deepest, deepest condolences. I share in their grief. But I also share their good fortune of having a fellow like Sid grace our brief time on this planet.
Sid, until our next meeting my friend!
Labels: obituary, philippine literature, writers
[0] This is Where You Bite the Sandwich
---