Tuesday, March 24, 2009
10:07 PM | On Being Censored
By Auraeus Solito
When I received the email telling me that Singapore's censors would not allow my new film
Boy
to be screened, I felt it was almost like a joke. This has happened to me before.
Boy
is my ode to a phenomenon in Filipino movies, the "macho dancer" genre. In the film, an unnamed boy is smitten by a macho dancer – or male stripper – and decides to buy him and bring him home for the New Year. It's like a cross between a coming-of-age film and an erotic one, and it was supposed to have its premiere in competition at the Singapore International Film Festival, which opens on April 14. A week ago, I was so happy to see the Festival had put the film on their website. And now suddenly it has been banned.
According to Zhang Wenjie, festival director of the SIFF, the censors will usually issue a one-line reason for disallowing a film. (Last year, they wrote of one title: "the film promotes terrorism".) I am still waiting for their statement on my film but I predict it will have something to do with its gay erotic nature. Zhang Wenjie proposed that it remain in competition just the jury watch it. I replied that I make my films for my audience, not for a jury, and withdrew it from the Festival.
Three years ago, something similar happened to me in the Philippines. My second feature film,
Tuli
(Circumcision), which was in competition at the CineManila Film Festival, got an X-rating from the Movie and Television Review and Classification Board, meaning it could not be screened to the public. Without my permission, my producers cut the film to allow it to be shown. As I told the
Philippine Daily Inquirer
at the time, it's the worst thing that can happen to a filmmaker. It's like your baby being disemboweled. I insisted the jury watch
Tuli
uncut (no pun intended) and, after a long fight, I got my way. The film won the awards for Best Film and Best Director. I felt so vindicated after that.
Back then, being censored really hurt. But now, the second time around and in another country, I felt more angry than hurt. I was looking forward to seeing my film with an audience. I guess it wont happen.
In Singapore, when one's film is banned, there are no other venues that the film can be freely screened. In the Philippines, when a film gets an X-rating, one can still show the film in the University of the Philippines Film Institute (UPFI), which has an academic mandate and is censorship-free zone, and the Cultural Center of the Philippines (CCP), which has a cultural mandate that makes it censorship-free. I remember seeing Derek Jarman's
Caravaggio
at the UPFI. It was my first viewing of a totally beautiful queer film. I also saw the banned film
Orapronobis
, by the great Filipino filmmakaer Lino Brocka. Ironically, the film was banned after the dictatorship, when Corazon Aquino was president. It shows the irony of the post-martial-law Philippines. Things have not really changed.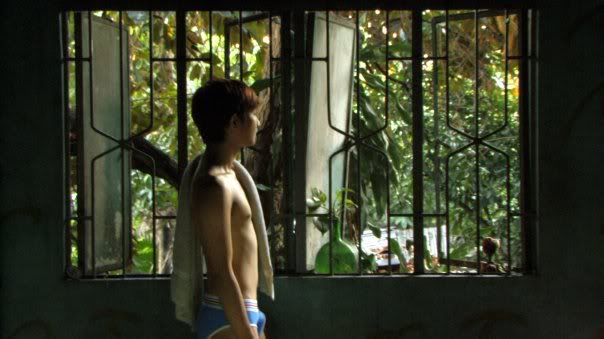 Recently in Manila, there has been great debate on what one writer describes as "gay porno" being shown at the UPFI. These are films that usually get an X-rating from the MTRCB. A string of queer films have been made the past year, attracting large gay audiences to the UPFI. Thanks to digital technology, independent films can be made very cheaply in a few days. But with this empowerment comes mediocrity and exploitation – some films were being promoted online as featuring 12 full-frontal male nude scenes! Now MTRCB wants to monitor the UPFI, which is frightening but I doubt the progressive University of the Philippines will allow it.
Censorship in the Philippines is based on the whim of whoever is in power. In the era of martial law, a lot of so-called "bold" – i.e., erotic – films were allowed to be screened in mainstream cinemas. But films with strong political content were mostly banned. In the 1990s, for a time there was an absurd rule that women could just show one breast, so there were a string of one-breasted erotic films! Under President Estrada, who was later impeached, censorship was almost abolished, ushering in a string of films with full-frontal nudity. When one,
Sutla
(Silk), had a close-up of female genitalia, the Church became angry and censorship was returned.
Today, censorship in the Philippines has again become ultra-conservative, almost as if we were back under martial law. That's why, after my new film was banned by the censors in Singapore, I decided not to go through the MTRCB at home.
Boy
will screen to a public audience in the censorship-free UPFI and Cultural Center of the Philippines. I have had enough of being censored!
Auraeus Solito's first feature,
The Blossoming of Maximo Oliveros
, won 15 international prizes, including three at Berlin. His second and third films,
Tuli
and P
hilippine Science
, were also recognised with awards on the international festival circuit.
Labels: censorship, directors, film, issues
[0] This is Where You Bite the Sandwich
---