Saturday, April 25, 2009
9:17 AM | Her Majesty on Top of the Hill
All roads lead to Montemar, north of Sibulan, on a hilltop house that overlooks the blue of Tañon Strait, on the 22nd of April. The day always seems to be the advent to the higher reaches of summer—glorious May time is just around the corner—and there is already, in the air, a palpable sense of magic and poetry in the way the Dumaguete sun kisses our skin.
This year, the urgency to visit the house on the hill becomes even more so.
And so we trek, all of us: devotees on a kind of pilgrimage, or homecoming, to pay tribute to the Mother who had midwifed our silly young scribbling on paper from years ago towards shades of maturation we haphazardly call our writing lives. The queen herself—who embodies a life of majestic poetry—waits for us this year: the National Artist for Literature, Edith Lopez Tiempo, is celebrating her 90th birthday, and we come to celebrate it with song and food.
The National Artist welcomes us.

Poet Marjorie Evasco and fictionist Susan Lara greet Mom Edith a happy birthday.
Ninety years
, I thought. That is ten years shy of a centennial—
and
the legend is still very much alive, and producing powerful poetry. "Ninety years. That's a
lot
of years," I soon said to no one in particular as our van—which contained several generations of Tiempo writing "children"—began the climb towards Mom Edith's house, and then made a turn towards the hillside facing the sea.
"It is," somebody replied. "And look at what she's done all those years—I'd be happy if I could have a quarter of what Mom has accomplished." And what has she accomplished exactly? Beyond mere consideration of bibliography—
all those volumes of poetry, essays, short stories, and novels
—she has gone and done what only a few people
can be
: literary mother to five decades of Filipino writers. That we call her "Mom" is no accident of familiar terms, nor empty honorific. She is truly "Mom Edith" because she has nurtured many of us in our pursuit of the lonely art of writing—and not just in the haphazard way a typical mentor could be to a fledgling dreamer, but in the gentle (if slightly edgy) way she prods and pushes and makes you realize the potential, or the disaster, of what you have written. Her methods are alchemy of the highest order—it is unique and cannot be studied—and we all come away grateful only for what we have learned.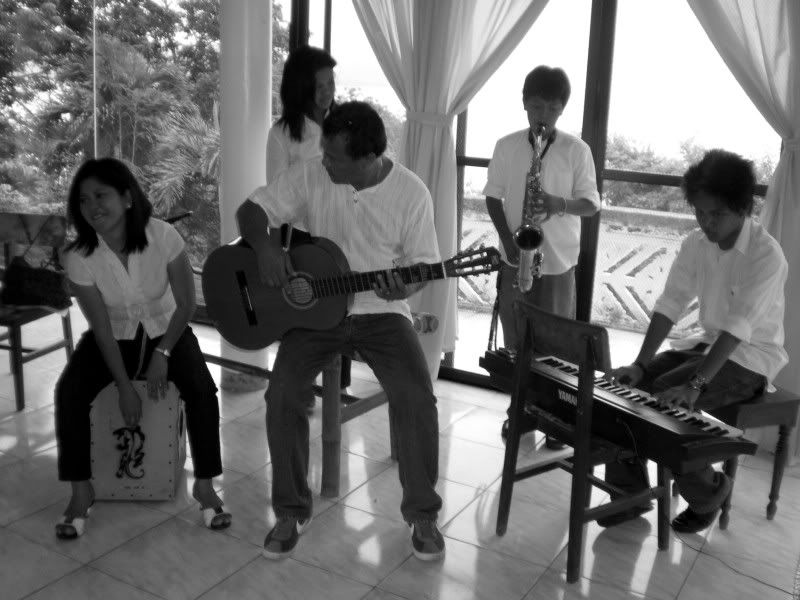 The Quizo Family Singers serenade Mom Edith.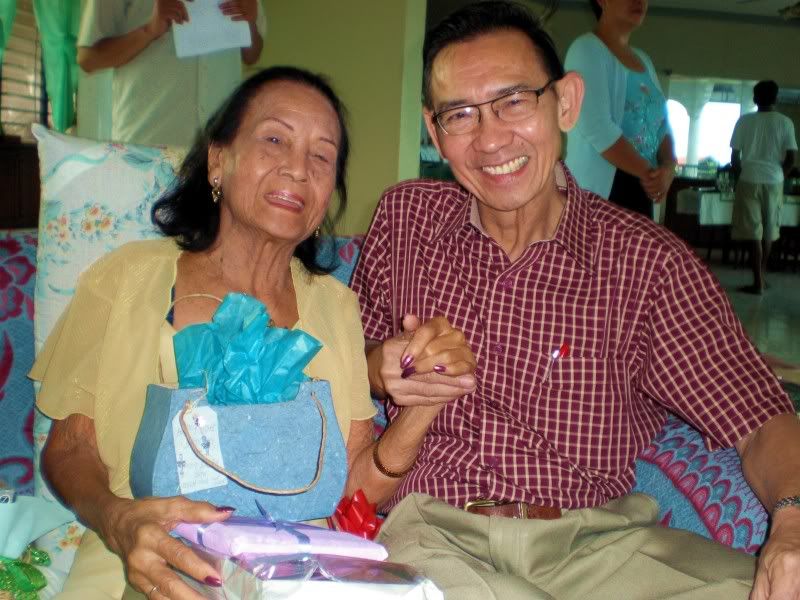 Mom Edith with poet Gemino H. Abad.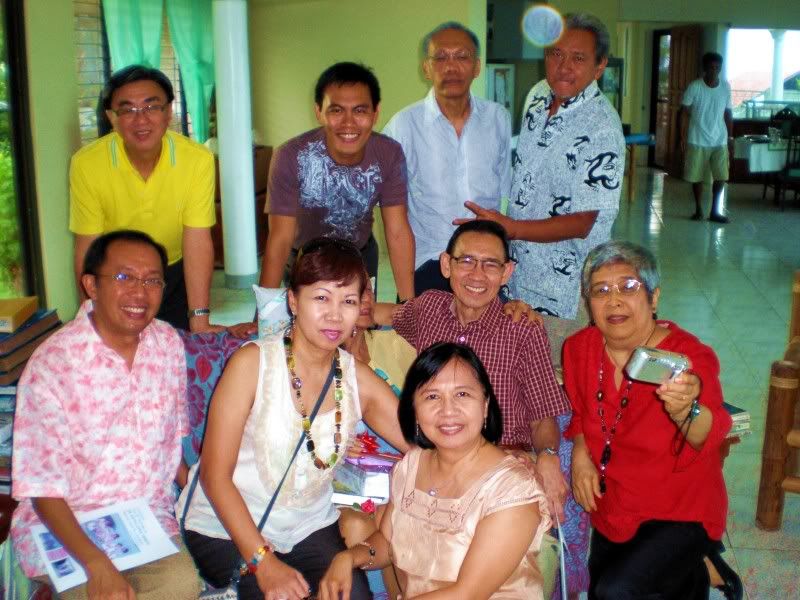 Some of the Tiempo writing brood.
And so we always come back, summer after summer, to give our thanks. It then came to me like the purest of epiphanies: one lives on truly in the hearts of those who love you back. And there are hundreds who love her without reservation, who make this kind of pilgrimage—simply because they feel compelled to do so. It cannot be explained. Is there any other Filipino literary giant who commands such devotion? Nick Joaquin comes close, but not entirely.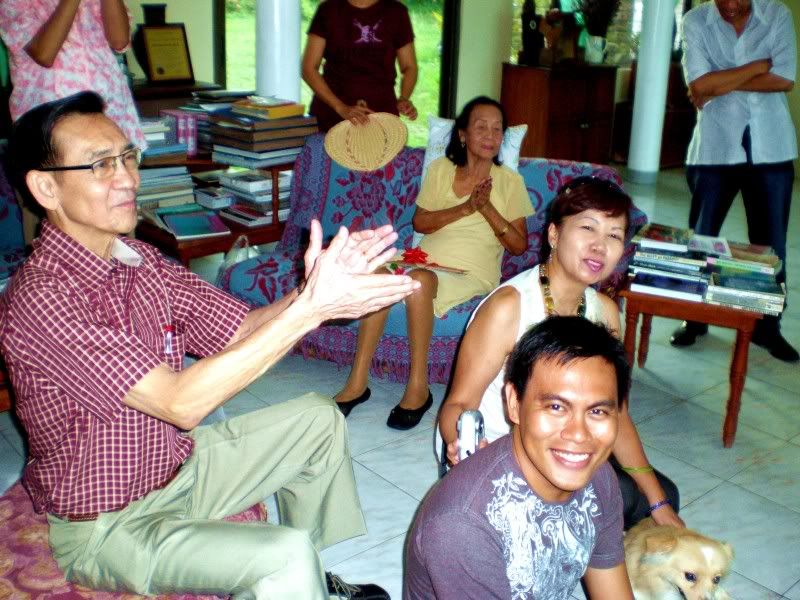 Applauding the Quizo Family.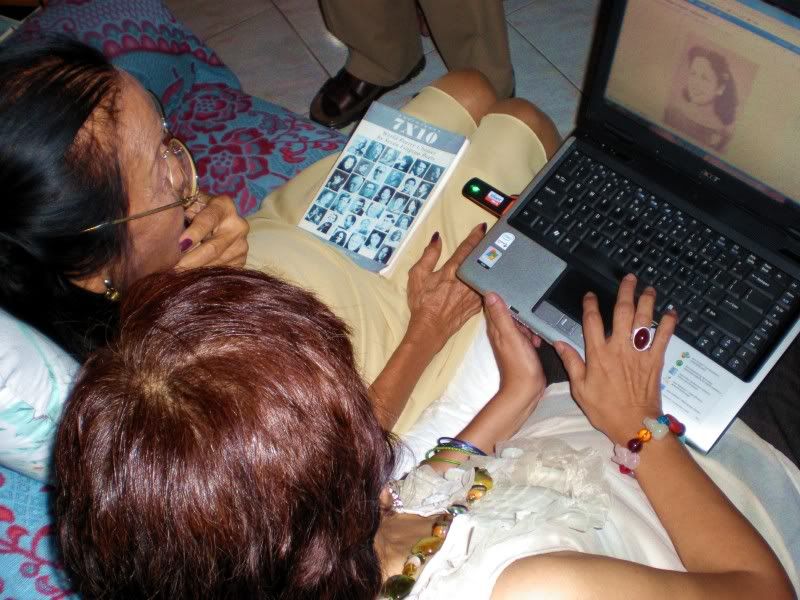 The National Artist is Facebooking! Reading birthday greetings from all over the world on her Facebook fan page.
The dinner aftermath had Mom Edith singing old songs in Cebuano.
We soon entered Montemar bearing gifts and well wishes. Mom Edith, seated like royalty on her sofa, greeted us one by one with a hug and a kiss, and astounded some of us for still remembering
every one
of our names—as well as surprising tidbits she knew of our current lives. "
Ian
," she greeted me as I drew near, her voice soft but not frail, "you must come visit me more often." I promised I would.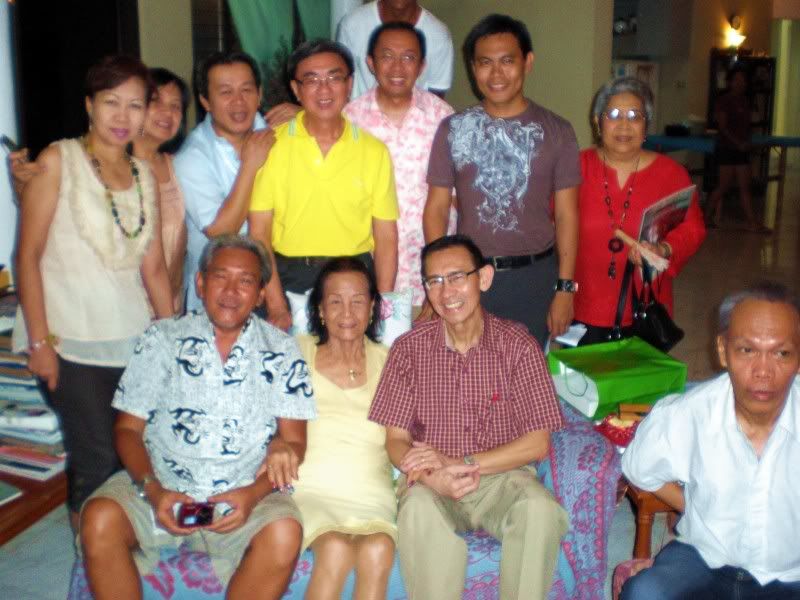 Standing, from left: Susan Lara, Marjorie Evasco, Ernesto Superal Yee, Anthony Tan, DM Reyes, Ian Rosales Casocot, and Myrna Peñ
a-Reyes. Seated, from left: Krip Yuson, Dr. Edith Tiempo, Gemino Abad, and Cesar Ruiz Aquino.
This year, we all come from so near, and so far. Her writing children from Manila—Marjorie Evasco, Susan Lara, Krip Yuson, Gémino Abad, and DM Reyes—had flown in just for the occasion. The local ones—including César Ruìz Aquino, Anthony Tan, Myrna Peña-Reyes, Ernesto Superal Yee, and yours truly—joined them, and we spent the late afternoon of the 22nd day of April, straight on to the evening, basking in the reflected glow of one literary legend. The Quizo Family Singers had already serenaded her with a choice of songs—and Mom Edith was in her element, easily belying the fact of 90 years with a spritely need to dance, and to sing. And sing she later did—a medley of local songs remembered from childhood. And when it was over, and when it was time to go home, we all came away assured that all was well. All was happy.
Happy birthday once again, Mom Edith!
And thank you for the inspiration.
[Read Krip Yuson's column about our visit in the
Philippine Star
here
.]
Labels: dumaguete, dumaguete writers workshop, party, philippine literature, writers
[0] This is Where You Bite the Sandwich
---