This is the blog of Ian Rosales Casocot. Filipino writer. Sometime academic. Former backpacker. Twink bait. Hamster lover.
Bibliography


Don't Tell Anyone:
Literary Smut
With Shakira Andrea Sison
Pride Press / Anvil Publishing, 2017




Cupful of Anger,
Bottle Full of Smoke:
The Stories of
Jose V. Montebon Jr.
Silliman Writers Series, 2017




First Sight of Snow
and Other Stories
Encounters Chapbook Series
Et Al Books, 2014




Celebration: An Anthology to Commemorate the 50th Anniversary of the Silliman University National Writers Workshop
Sands and Coral, 2011-2013
Silliman University, 2013




Handulantaw: Celebrating 50 Years of Culture and the Arts in Silliman
Tao Foundation and Silliman University Cultural Affairs Committee, 2013




Inday Goes About Her Day
Locsin Books, 2012




Beautiful Accidents: Stories
University of the Philippines Press, 2011




Heartbreak & Magic: Stories of Fantasy and Horror
Anvil, 2011




Old Movies and Other Stories
National Commission for Culture
and the Arts, 2006




FutureShock Prose: An Anthology of Young Writers and New Literatures
Sands and Coral, 2003
Nominated for Best Anthology
2004 National Book Awards


Follow the Spy




Recent Crumbs




Blogs I Read


© 2002-2018
IAN ROSALES CASOCOT
Tuesday, December 14, 2010
6:00 AM | With Movies This Bad, I Might as Well Go Straight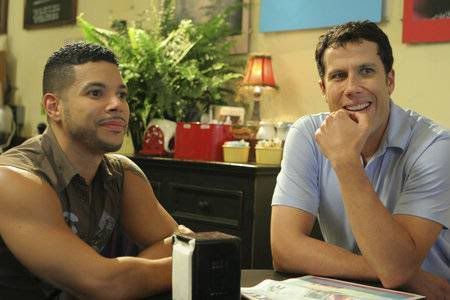 If you have been wondering, you might as well know by now that I've been watching all these queer films for research on an article about gay films that I am writing — and for the most part, I've enjoyed the assignment, having discovered obscure (and mostly foreign) gems along the way, films that never got into my cinematic radar before. (And for obvious reasons.) But lately, there has been this string of real time-wasters. Stewart Wade's
Coffee Date
[2006]. Lawrence Ferber's
Birthday Time
[2000]. Rob Williams'
Long Term Relationship
[2006]. Jeff London's
And Then Came Summer
[2000]. Bad, bad, bad movies. Such inept filmmaking, they don't even deserve the cringe they induce.
[2] This is Where You Bite the Sandwich
---