Wednesday, October 14, 2015
9:05 PM | The Fascination for Fascism and the Fear of Freedom
Talk of politics is a slippery slope of a topic I never wish to engage in. Its nature is very much like the morbid reality of Internet comments—you just don't go there if you wish for your sanity to prevail. You don't go there either if you want friendships to be preserved.
But—with the national elections just around the corner—it is the high season for all things politics. I will allow myself this singular instance to dip myself in the murky waters. It will never happen again.
But I think you know what I mean when you are tight with someone, for example, and one day, that someone proclaims in Facebook: "Marcos was a good President—and I'm voting for his son Bongbong for Vice President." Or: "Binay is our savior." Or: "I'm all for Poe." Or: "Roxas is the man." And you are left reeling, asking the bewildered question:
Who are you, and what have you done with my friend?
In other words, politics is the lens with which we demonize ourselves to other people.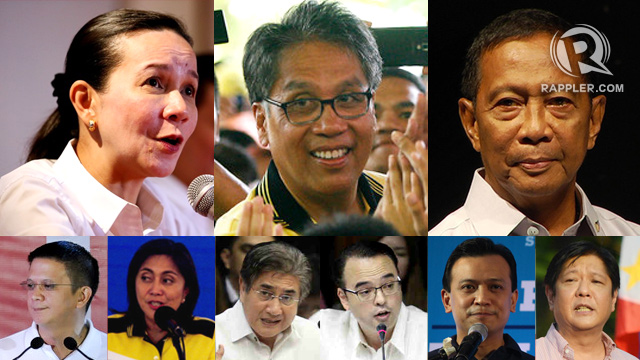 The truth of the matter is, human nature and the way we have come to shape our principles—a sense of politics included—is a dark mystery for which we can only begin to understand by invoking this cliché: the heart wants what it wants. Reason or logic is not part and parcel of this. You can do a long litany of the many provable abuses committed by the Marcos regime, and the diehard Marcosian will still turn a deaf ear till he's blue in the face. You can cite the shenanigans of Miriam Defensor-Santiago during the impeachment trial versus Joseph Estrada, and her fans will throw copies of Stupid is Forever at your face in righteous indignation.
Nobody wants facts (or platforms) in politics. The heart just wants what it wants.
Which is why I actually do get the widespread support for Rodrigo Duterte or the lingering longing for the Marcos dictatorship among many of my friends—many of whom are close to me, and whom I know are perfectly decent human beings. I, of course, will always raise an eyebrow when any of them proclaim their [suspect] politics with such ferocity on social media—but I also understand that they probably do the same to mine. (You're probably reading this right now, and muttering: "This is utter bullshit, Ian.")
But if you really want to understand where these two particular stirrings for Duterte or Marcos come from, it's important to study history and psychology.
In the first instance, I invite you to take a close look at the crippling post-First World War conditions in Germany that gave rise, especially among the youths, to a widespread longing for "national dignity." This culminated in the eventual popularity of Adolf Hitler, who promised order and embodied tough charisma.
Read Jon Savage's
Teenage: The Creation of Youth Culture
(2008) for this. In his book, Savage paints a portrait of German youths demoralized and frustrated with the decay of social systems and the seemingly unmanageable culture of graft and corruption in government, so much so that being German had become a sullied identity. (Sounds familiar?) There was no sense of national pride. It was also the same in pre-World War II Italy, which saw the rise of Benito Mussolini. These two fascist dictators rose to massive fame on separate but identical platforms of tough-mindedness that bordered on militaristic hysteria—and the young of Italy and Germany, all of them in need of a superhero, lapped it up and were the first to embrace the spectacle of their toughness. Mussolini and Hitler knew that the way to control the destiny of their nations was through their nation's youths—and both did indeed bring back a sense of pride of being Italian and German, but the bloody aftermath of World War II would, of course, show the high price that was paid for the fascism that they embodied.
In the second instance, it is also wise to understand why most people are actually scared of "freedom." It pays to read Erich Fromm's seminal
The Fear of Freedom
(1941) to understand what seems to be a conundrum of a thesis—because who doesn't love freedom? Isn't it an ideal we all long for and fight for? But to quote Alexey Yanovski: "Freedom is uncomfortable. Freedom is unknown, which is scary. Very few people actually want freedom. They prefer formulas." This is true. In his pathbreaking book, Fromm posits that in the process of becoming freed from an iron-fisted authority (say, Marcos), we are often left with feelings of hopelessness that will not abate until we develop some form of replacement of the old order (say, Marcos Jr.).
The best way, perhaps, for anyone to understand this is to recall the movie
The Matrix
, directed by Andy and Lana Wachowski in 1999. Think about Neo's (Keanu Reeves) ultimate choice in that film, as intoned by Morpheus (Laurence Fishburne): "This is your last chance," Morpheus tells Neo in the inciting incident of the story. "After this, there is no turning back. You take the blue pill—the story ends, you wake up in your bed and believe whatever you want to believe. You take the red pill—you stay in Wonderland and I show you how deep the rabbit-hole goes."
The red pill is freedom—but freedom also means the horror and bitterness of knowing for real what has become of humanity—i.e., batteries for harvesting by robot overlords—and surrendering to a life where nothing remains constant, and everything is fraught with danger. The blue pill is remaining in the trap of the Matrix—a prison, yes, but it is a comfortable prison, a dream really, where "life" seems to go on in the ordinary ways it unfolds.
I think, given the tough choice, most people would choose the blue pill, freedom forfeited. Only the truly strong will take the red pill and everything that freedom promises—a life of uncertainty and inheriting the terrible charge of having to truly shape, by yourself, your own path and destiny. According to Fromm, psychology-speaking, human beings are hardwired to want to be told what to do, to be herded around like sheep by a higher authority.
Sounds familiar?
In other words, we're f****d.
But enough about the psychology of politics.
[Photos from Rappler and Warner Bros]
Labels: books, dictatorships, fascism, history, issues, politics, psychology
[0] This is Where You Bite the Sandwich
---