This is the blog of Ian Rosales Casocot. Filipino writer. Sometime academic. Former backpacker. Twink bait. Hamster lover.
Interested in What I Create?
Bibliography


The Boy The Girl
The Rat The Rabbit
and the Last Magic Days
Chapbook, 2018




Republic of Carnage
Three Horror Stories
For the Way We Live Now
Chapbook, 2018




Bamboo Girls:
Stories and Poems
From a Forgotten Life
Ateneo de Naga University Press, 2018




Don't Tell Anyone:
Literary Smut
With Shakira Andrea Sison
Pride Press / Anvil Publishing, 2017




Cupful of Anger,
Bottle Full of Smoke:
The Stories of
Jose V. Montebon Jr.
Silliman Writers Series, 2017




First Sight of Snow
and Other Stories
Encounters Chapbook Series
Et Al Books, 2014




Celebration: An Anthology to Commemorate the 50th Anniversary of the Silliman University National Writers Workshop
Sands and Coral, 2011-2013
Silliman University, 2013




Handulantaw: Celebrating 50 Years of Culture and the Arts in Silliman
Tao Foundation and Silliman University Cultural Affairs Committee, 2013




Inday Goes About Her Day
Locsin Books, 2012




Beautiful Accidents: Stories
University of the Philippines Press, 2011




Heartbreak & Magic: Stories of Fantasy and Horror
Anvil, 2011




Old Movies and Other Stories
National Commission for Culture
and the Arts, 2006




FutureShock Prose: An Anthology of Young Writers and New Literatures
Sands and Coral, 2003
Nominated for Best Anthology
2004 National Book Awards


Follow the Spy




Recent Crumbs




Blogs I Read


© 2002-2018
IAN ROSALES CASOCOT
Thursday, June 02, 2005
10:38 PM | Terrible, Delicious Secrets
I stumbled on this in
Veronica Montes's blog
, and she is right.
This
is extremely addicting, in a voyeuristic kind of way.
Secrets -- especially anonymous ones, in postcard-size, and all done up in tinsel and color and cut-outs and what-not -- are fascinating because they strip all of us to our barest selves, down to our darkest sides that I think make us so much more human because they do not deny the animal within us. Animals that secretly loathe, that secretly pine for contraband dreams, that secretly hope beyond all the odds, that secretly hate and murder in our daytime fantasies, that secretly wish we are somewhere else and
not
here.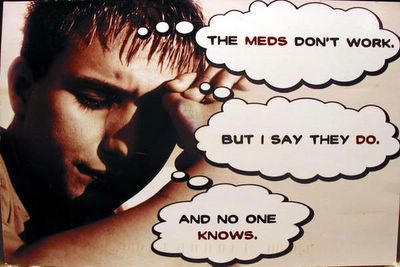 I'm wishing there's a book on this soon. The
New York Times
' Sarah Boxer
writes
:
One odd thing about PostSecret is that there's a real disconnection between what the confessions are and what the readers think they are. One reader from Texas wrote, "Thank you so much for building a window into so many souls, even if it only shines light on the darkest part." A reader in Australia wrote: "Each is a silent prayer of hope, love, fear, joy, pain, sorrow, guilt, happiness, hatred, confidence, strength, weakness and a million other things that we all share as human beings... there is no fakeness here."

No fakeness? Oh, but there is. And it is the fakeness, the artifice and the performance that make this confessional worth peeking at. The secret sharers here aren't mindless flashers but practiced strippers. They don't want to get rid of their secrets. They love them. They arrange them. They tend them. They turn them into fetishes. And that's the secret of PostSecret. It isn't really a true confessional after all. It is a piece of collaborative art.
What's your deadliest secret? I'll tell you mine if you tell me yours.
Labels: life, strange things
[0] This is Where You Bite the Sandwich
---