This is the blog of Ian Rosales Casocot. Filipino writer. Sometime academic. Former backpacker. Twink bait. Hamster lover.
Interested in What I Create?
Bibliography


The Boy The Girl
The Rat The Rabbit
and the Last Magic Days
Chapbook, 2018




Republic of Carnage
Three Horror Stories
For the Way We Live Now
Chapbook, 2018




Bamboo Girls:
Stories and Poems
From a Forgotten Life
Ateneo de Naga University Press, 2018




Don't Tell Anyone:
Literary Smut
With Shakira Andrea Sison
Pride Press / Anvil Publishing, 2017




Cupful of Anger,
Bottle Full of Smoke:
The Stories of
Jose V. Montebon Jr.
Silliman Writers Series, 2017




First Sight of Snow
and Other Stories
Encounters Chapbook Series
Et Al Books, 2014




Celebration: An Anthology to Commemorate the 50th Anniversary of the Silliman University National Writers Workshop
Sands and Coral, 2011-2013
Silliman University, 2013




Handulantaw: Celebrating 50 Years of Culture and the Arts in Silliman
Tao Foundation and Silliman University Cultural Affairs Committee, 2013




Inday Goes About Her Day
Locsin Books, 2012




Beautiful Accidents: Stories
University of the Philippines Press, 2011




Heartbreak & Magic: Stories of Fantasy and Horror
Anvil, 2011




Old Movies and Other Stories
National Commission for Culture
and the Arts, 2006




FutureShock Prose: An Anthology of Young Writers and New Literatures
Sands and Coral, 2003
Nominated for Best Anthology
2004 National Book Awards


Follow the Spy




Recent Crumbs




Blogs I Read


© 2002-2018
IAN ROSALES CASOCOT
Wednesday, February 15, 2006
1.
I'm honestly bored with this blogskin. But just the thought of tweaking html again makes me
absolutely
tired. I miss white, simple templates with a singular defining image. Like a sunflower. Or coffee beans. Or an apple.
2.
I'm watching
Tyra
. Why would anybody be scared of pennies? Snake phobia, yes. Even I can understand dolphins.
But pennies?
3.
Hehehe
:
A man and a woman were driving down the road and arguing about his deplorable infidelity. Suddenly the woman reaches over and slices the man's member off. Angrily the woman tosses it out the car window.
Driving behind the couple is a man and his 10-year-old daughter.
The little girl is just chatting away at her father when all of a sudden the penis smacks the pickup on the windshield, sticks for a moment, then flies off.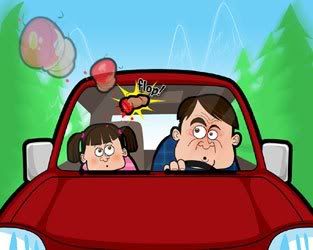 Surprised, the daughter asks her father, "Daddy, what the heck was that?
Not wanting to expose his ten-year-old daughter to anything sexual at such a young age, the father replies, "It was only a bug, honey.
The daughter sits with a confused look on her face, and after a few minutes she says, "Sure had a big dick, didn't it?"
[from
fhm
via
i worship the god in you
]
Labels: blogging, humor, television
[0] This is Where You Bite the Sandwich
---