This is the blog of Ian Rosales Casocot. Filipino writer. Sometime academic. Former backpacker. Twink bait. Hamster lover.
Interested in What I Create?
Bibliography


The Boy The Girl
The Rat The Rabbit
and the Last Magic Days
Chapbook, 2018




Republic of Carnage
Three Horror Stories
For the Way We Live Now
Chapbook, 2018




Bamboo Girls:
Stories and Poems
From a Forgotten Life
Ateneo de Naga University Press, 2018




Don't Tell Anyone:
Literary Smut
With Shakira Andrea Sison
Pride Press / Anvil Publishing, 2017




Cupful of Anger,
Bottle Full of Smoke:
The Stories of
Jose V. Montebon Jr.
Silliman Writers Series, 2017




First Sight of Snow
and Other Stories
Encounters Chapbook Series
Et Al Books, 2014




Celebration: An Anthology to Commemorate the 50th Anniversary of the Silliman University National Writers Workshop
Sands and Coral, 2011-2013
Silliman University, 2013




Handulantaw: Celebrating 50 Years of Culture and the Arts in Silliman
Tao Foundation and Silliman University Cultural Affairs Committee, 2013




Inday Goes About Her Day
Locsin Books, 2012




Beautiful Accidents: Stories
University of the Philippines Press, 2011




Heartbreak & Magic: Stories of Fantasy and Horror
Anvil, 2011




Old Movies and Other Stories
National Commission for Culture
and the Arts, 2006




FutureShock Prose: An Anthology of Young Writers and New Literatures
Sands and Coral, 2003
Nominated for Best Anthology
2004 National Book Awards


Follow the Spy




Recent Crumbs




Blogs I Read


© 2002-2018
IAN ROSALES CASOCOT
Tuesday, January 30, 2007
7:23 AM | Ritmo sa Ritwal
Once upon a time, I had illusions of becoming a film director. I was into films, and
still
am -- although largely in the capacity of a critic. (Which may prove the truism:
critics are frustrated wannabes
.) In college, I made this short film titled
Trahedya sa Kabila ng Liwanag
, a melodramatic tearjerker about two brothers and the dangers of drug abuse -- which was unfortunately the script assigned to us by our professor who was also teaching the scriptwriting class. We shot that film on video in two weeks, and came out of it delighted over coming into pure encounter with the cinematic elements, which were mostly abstract concepts we argued over or admired in our favorite films, until then. My chief cinematographer for that film was my college
kabarkada
and fellow Midnight Society member
Clee Andro Villasor
, who went on to do graphic and web design and photography in Cebu. (He did the design for
my LJ
a few years back -- but the impact of the design is better appreciated in Explorer.) About two year ago, he texted me, suggesting that we go back to filmmaking again. I told him I felt it in my bones that the boat had sailed for me, and that creative writing for me was
it
. Today Clee has directed his first documentary titled
Ritmo sa Ritwal
, which is about the Sinulog in Cebu, and this is the DVD...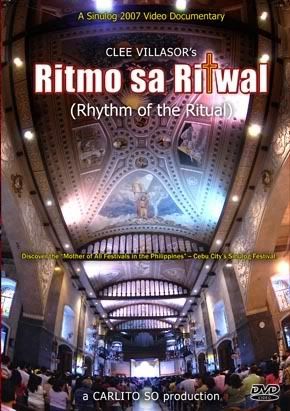 Shows you how far one could go when you set your heart to it.
Congratulations, Clee!
Labels: film, friends, life, memories
[0] This is Where You Bite the Sandwich
---