This is the blog of Ian Rosales Casocot. Filipino writer. Sometime academic. Former backpacker. Twink bait. Hamster lover.
Interested in What I Create?
Bibliography


The Boy The Girl
The Rat The Rabbit
and the Last Magic Days
Chapbook, 2018




Republic of Carnage
Three Horror Stories
For the Way We Live Now
Chapbook, 2018




Bamboo Girls:
Stories and Poems
From a Forgotten Life
Ateneo de Naga University Press, 2018




Don't Tell Anyone:
Literary Smut
With Shakira Andrea Sison
Pride Press / Anvil Publishing, 2017




Cupful of Anger,
Bottle Full of Smoke:
The Stories of
Jose V. Montebon Jr.
Silliman Writers Series, 2017




First Sight of Snow
and Other Stories
Encounters Chapbook Series
Et Al Books, 2014




Celebration: An Anthology to Commemorate the 50th Anniversary of the Silliman University National Writers Workshop
Sands and Coral, 2011-2013
Silliman University, 2013




Handulantaw: Celebrating 50 Years of Culture and the Arts in Silliman
Tao Foundation and Silliman University Cultural Affairs Committee, 2013




Inday Goes About Her Day
Locsin Books, 2012




Beautiful Accidents: Stories
University of the Philippines Press, 2011




Heartbreak & Magic: Stories of Fantasy and Horror
Anvil, 2011




Old Movies and Other Stories
National Commission for Culture
and the Arts, 2006




FutureShock Prose: An Anthology of Young Writers and New Literatures
Sands and Coral, 2003
Nominated for Best Anthology
2004 National Book Awards


Follow the Spy




Recent Crumbs




Blogs I Read


© 2002-2020
IAN ROSALES CASOCOT
Friday, June 15, 2007
7:52 PM | For a Limited Time Only
... or:
Once Upon a Halloween
. I really shouldn't be posting these online, but what the hell, I too can make fun of myself once in a while. This was one Halloween when all was well and dandy. Mark came as a Dead Guy (I wanted him to dress up as Paris Hilton, but no go), and I came as Bella Flores.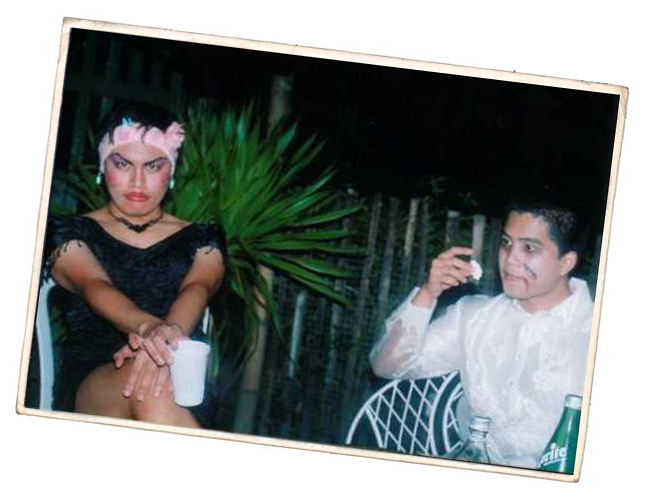 The scariest thing may be this: those clothes are Mark's mom's clothes (she gleefully raided her closet to dress me up), and the makeup is courtesy of Love, Mark's sister,
hehehe
. And my brother Dennis -- the straightest arrow this side of the world who cannot even pronounce the name Gloria Gaynor without getting a headache -- drove us to the party. I think my makeup shook him up,
hehehe
.
This was all of us during those heavenly days when everything was well among friends, love-wise, and we used to party
a lot
in Laurie Raymundo's old front yard in Silliman Village. We all dared each other to wear a costume on Halloween, and I think I upped the ante more than anyone else.
How typically theatrical of me.
That's Laurie after diva ol' me, then Bing Valbuena, Mark, Aileen, Wendy from Canada, Margie, two others, and ...
my God
, I forget his name.
Expiration date for this post: three days. But really, ain't I the Vamp?
Labels: friends, holidays, life, memories
[0] This is Where You Bite the Sandwich
---