This is the blog of Ian Rosales Casocot. Filipino writer. Sometime academic. Former backpacker. Twink bait. Hamster lover.
Interested in What I Create?
Bibliography


The Boy The Girl
The Rat The Rabbit
and the Last Magic Days
Chapbook, 2018




Republic of Carnage
Three Horror Stories
For the Way We Live Now
Chapbook, 2018




Bamboo Girls:
Stories and Poems
From a Forgotten Life
Ateneo de Naga University Press, 2018




Don't Tell Anyone:
Literary Smut
With Shakira Andrea Sison
Pride Press / Anvil Publishing, 2017




Cupful of Anger,
Bottle Full of Smoke:
The Stories of
Jose V. Montebon Jr.
Silliman Writers Series, 2017




First Sight of Snow
and Other Stories
Encounters Chapbook Series
Et Al Books, 2014




Celebration: An Anthology to Commemorate the 50th Anniversary of the Silliman University National Writers Workshop
Sands and Coral, 2011-2013
Silliman University, 2013




Handulantaw: Celebrating 50 Years of Culture and the Arts in Silliman
Tao Foundation and Silliman University Cultural Affairs Committee, 2013




Inday Goes About Her Day
Locsin Books, 2012




Beautiful Accidents: Stories
University of the Philippines Press, 2011




Heartbreak & Magic: Stories of Fantasy and Horror
Anvil, 2011




Old Movies and Other Stories
National Commission for Culture
and the Arts, 2006




FutureShock Prose: An Anthology of Young Writers and New Literatures
Sands and Coral, 2003
Nominated for Best Anthology
2004 National Book Awards


Follow the Spy




Recent Crumbs




Blogs I Read


© 2002-2018
IAN ROSALES CASOCOT
Saturday, October 13, 2007
8:02 AM | If Ever You're in Baguio on October 15...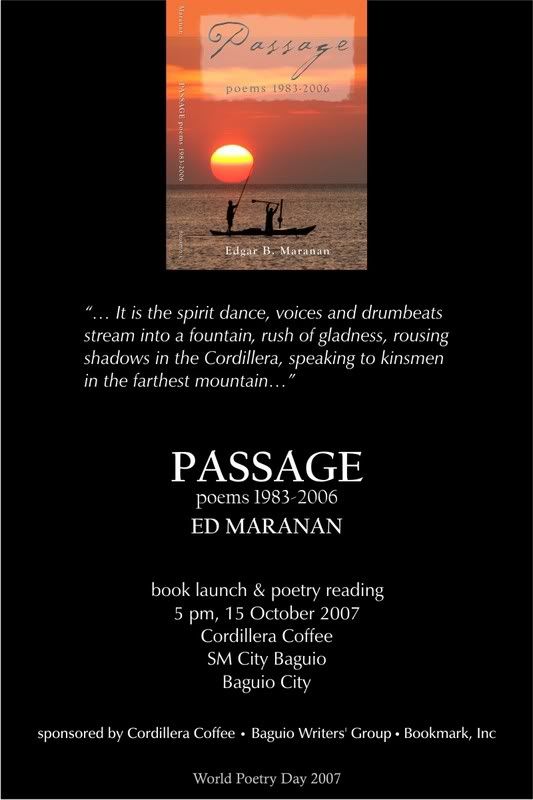 Ed Maranan, prize-winning poet, fictionist, essayist, playwright, and children's story writer, is launching his third book of poetry on
October 15
at the Cordillera Coffee shop, SM Baguio, at 5:00 in the afternoon.
Passages / poems 1983-2006
, is a selection of poems from several of his Palanca-awarded collections during the last twenty years, appearing together in print for the first time.
The book launch and poetry reading, under the auspices of the Baguio Writers Group of which Maranan is a member, will be followed by a poetry evening in the same venue, with other Baguio poets reading their own works. Both events will mark the BWG's celebration of World Poetry Day, October 15. Cordillera Coffee is sponsoring this twin-bill literary event.
Eminent poet Dr. Ophelia Dimalanta wrote the introduction to the book. Other famous poets contributed blurbs including Gémino H. Abad, Luisa A. Igloria, Eileen R. Tabios, Rowena Tiempo Torrevillas, and Alfred A. Yuson.
With thirty Carlos Palanca awards to his name, a record of sorts, Ed Maranan has established a reputation as a prolific multi-genre and bilingual writer, and also as a translator. Bookmark is publishing several of his prize-winning stories for children, to be launched in Baguio and Museo Pambata in Manila sometime in December.
Maranan was one of four Filipino writers who represented the Philippines at the recent Ubud Writers Festival held in Bali, Indonesia, in September this year. He was also the Philippine participant at the 2006 International Writers Residency in Lavigny, Switzerland, and at the 1985 International Writing Program in Iowa, USA.
When he was a high school senior at St. Louis College in Baguio in 1963, Maranan won a national essay competition, and represented the Philippines at the New York Herald Tribune World Youth Forum. He taught graduate courses in Philippine Studies at the UP Asian Center, Diliman, and served as Information Officer of the Philippine Embassy in London from 1993 to 2006. Back home, he is now a full-time freelance writer.
Labels: books, philippine literature, writers
[0] This is Where You Bite the Sandwich
---