This is the blog of Ian Rosales Casocot. Filipino writer. Sometime academic. Former backpacker. Twink bait. Hamster lover.
Interested in What I Create?
Bibliography


The Boy The Girl
The Rat The Rabbit
and the Last Magic Days
Chapbook, 2018




Republic of Carnage
Three Horror Stories
For the Way We Live Now
Chapbook, 2018




Bamboo Girls:
Stories and Poems
From a Forgotten Life
Ateneo de Naga University Press, 2018




Don't Tell Anyone:
Literary Smut
With Shakira Andrea Sison
Pride Press / Anvil Publishing, 2017




Cupful of Anger,
Bottle Full of Smoke:
The Stories of
Jose V. Montebon Jr.
Silliman Writers Series, 2017




First Sight of Snow
and Other Stories
Encounters Chapbook Series
Et Al Books, 2014




Celebration: An Anthology to Commemorate the 50th Anniversary of the Silliman University National Writers Workshop
Sands and Coral, 2011-2013
Silliman University, 2013




Handulantaw: Celebrating 50 Years of Culture and the Arts in Silliman
Tao Foundation and Silliman University Cultural Affairs Committee, 2013




Inday Goes About Her Day
Locsin Books, 2012




Beautiful Accidents: Stories
University of the Philippines Press, 2011




Heartbreak & Magic: Stories of Fantasy and Horror
Anvil, 2011




Old Movies and Other Stories
National Commission for Culture
and the Arts, 2006




FutureShock Prose: An Anthology of Young Writers and New Literatures
Sands and Coral, 2003
Nominated for Best Anthology
2004 National Book Awards


Follow the Spy




Recent Crumbs




Blogs I Read


© 2002-2018
IAN ROSALES CASOCOT
Thursday, January 31, 2008
8:53 PM | In the Age of Paris Hilton
One thing I have learned from seven seasons of watching
American Idol
is that there is an extraordinarily huge number of people who have an inflated sense of talent, but who are otherwise tone deaf.
It's such a sad, sad thing.
But you know what's even sadder? Otherwise talented people reduced to a joke in the Age of Paris Hilton.
Take the case of
Julie Dubela
(official website
here
)...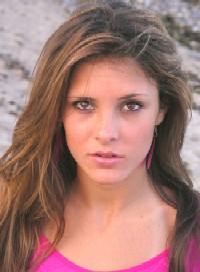 She is a well-known young singer around New England who, when she was quite young, appeared in TV talent shows such as Fox's
American Juniors
and PaxTV's
America's Most Talented Kid
. Listen to her old rendition of
"Rainy Days and Mondays"
and you can
feel
the purity and promise of her young voice. She sounded like the real thing, indeed.
She has grown up since then.
Tonight, Ms. Dubela auditions for
American Idol
... and falls flat on her face. It was a horrible audition: she slurred her words, she overdramatized, she approximated a drunken gorilla who thinks she is Christina "Skank-o-Rama" Aguilera in
Dirrrty
. Gone is the precious precocity of her young days. And so she gets three definite no's from the judges, and she emerges from the audition room almost shell-shocked, angry and unable to believe that her "singing" did not even pass muster during the
first
round.
Ouch.
Mark
makes this observation: she now sounds like a young teenager trying too hard to seem like Paris Hilton. Listen to that affected lilt, Beverly Hills-style, of her speech, where she sounds like an annoying clone of Nicole Ritchie or Paris. Look at her vamped up appearance. Consider the effect of dumbing down Paris-style: Simon Cowell calls her precocious, and she says, in perfect character: "What's precocious?"
Look at what Paris Hilton, Jessica Simpson, Britney Spears, Lindsay Lohan, Tara Reid, Ashley Simpson, Mary Kate Olsen, Tara Elizabeth Connor, and Lauren Caitlin Upton have wrought. Stupidity and skankiness as currency to fame and notoriety. I fear for the next generation, indeed.
Labels: art and culture, celebrity, issues, psychology, television
[0] This is Where You Bite the Sandwich
---