Saturday, October 25, 2008
6:20 PM | And Now, For Something Completely Different...
I was told when I got into the set that it was the third hectic day of shooting, but you could not exactly tell that from the boundless energy that embraced the set of
Handumanan
*, a new film that has recently wrapped principal photography in Dumaguete. It was a Sunday afternoon, and sometime during the middle of much-needed weekend pampering, I got a text message from director Seymour Sanchez: "We're shooting now in the Silliman bookstore."
For real?
I texted back.
I had no idea his crew was already in Dumaguete, and a part of me was still delightfully surprised that things were already coming to fruition for his efforts, considering the possible nightmares that can happen in pre-production. "I'm happy," the director told me, after he had yelled cut for yet another take of
Chin-chin Gutierrez
and newcomer
Akihiro Sato
alighting from one of the city's ubiquitous tricycle. "I got what I needed, and I got my dream cast," which also included Urian Best Actor winner
Jason Abalos
.
A few months ago, meeting Seymour for the first time over coffee while he was in town to scout locations and obtain permissions and sponsorships from anyone willing to help out an independent filmmaker, I still could not quite imagine a film being made in Dumaguete.
Dumaguete in film seemed highly unlikely. Like a gimmick. Or a company-sponsored vacation destination where work becomes just another perfect excuse to
lakwatsa
. And it always was. Countless television productions come to town to shoot, but never with the place as an integral part of the story: for the most part, the cast and crew come to town to ostensibly work, but really to vacation in some resort around the province. Which is perfectly okay, of course. But I wanted to see a film that had Dumaguete in its heart, the way Donsol and Batanes were in Adolfo Alix's films, or Batad was in Benjie Garcia's, or Bacolod was in Peque Gallaga's seminal
Oro Plata Mata
. Think New York in Woody Allen's or Martin Scorsese's movies, or Rome in Federico Fellini's.
When local audiences flocked to see StarCinema's
Close to You
in 2006 to see how the city would be rendered in celluloid, they cheered when they saw scenes set in the Silliman amphitheater and in the seaside Boulevard—but it was Dumaguete as wallpaper, with the setting completely non-essential to the story. It could have been shot in Bacolod (as was originally planned), and nobody would have been the wiser.
There is always the question of the geography of our cinema. Our film heritage has largely taught us that celluloid Philippines lies confined, for the most part, in the business districts of Makati or the slums and grime of Tondo or Payatas. Sometimes, we get Baguio or Cebu or Davao or Boracay or Puerto Princesa (and sometimes such exotic locales as Panglao, Donsol, Vigan, Batad, or Basco)—but Filipino film is largely Manila-centric. For obvious reasons, of course, since the industry is entrenched in the capital. And so, when we sometimes get something like Jeffrey Jeturian's
Minsan Pa
(set in Cebu, and using Cebuano as dialogue) or Cesar Montano's
Panaghoy sa Suba
(set in Bohol, and using Cebuano, too, as dialogue), we get the exquisite thrill of the familiar, and for once we get an affirmation—no matter how silly it may actually seem in hindsight—from popular culture that our own places, our own languages, our own stories do exist beyond the narrow view of Manila.
They've made movies in Dumaguete before—but never enough, quite surprisingly, considering Dumaguete's picturesque setting, its strategic location in Central Visayas that makes it the convenient gateway to surrounding provincial capitals (and assorted backdrops only minutes or hours away from each other), its highly educated workforce, and its more-than-willing community to host film productions of various sorts. (Well, at the very least, the Silliman University community, that is. The local city government can be frustratingly hit-and-miss in this possible area of development, which is sad because a thriving film industry can do well for Dumaguete, where the only other "industry" seems to be academic. Today, it is Cebu that has grabbed that opportunity with its hosting of the
International School of Film and Television in Mactan
.)
That Dumaguete is the hometown of National Artist for Film
Eddie Romero
should be a plus. By account of local pride, that should prod the city fathers to try to make Dumaguete the cinema capital of Central Philippines. But no. Our city leaders simply lack the imagination, and are always caught up in petty politics to think outside the box.
Many years ago, in the early 1980s, Eddie Romero trooped home to Dumaguete after the success of a string of now-classic films such as
Ganito Kami Noon, Paano Kayo Ngayon
(1976),
Banta ng Kahapon
(1977), and
Agila
(1979) to film
Kamakalawa
, a film starring the then-ascendant Christopher de Leon, Chat Silayan, and Tetchie Agbayani, essaying the lead roles in a fantasy story set in pre-colonial Philippines. Although not exactly one of the master's best, the film is a curious piece of local cinema, and its production still resonate in the memories of those who were here and helped in its making. (My old Filipino teacher in Silliman, it turned out, played Mr. de Leon's mother.)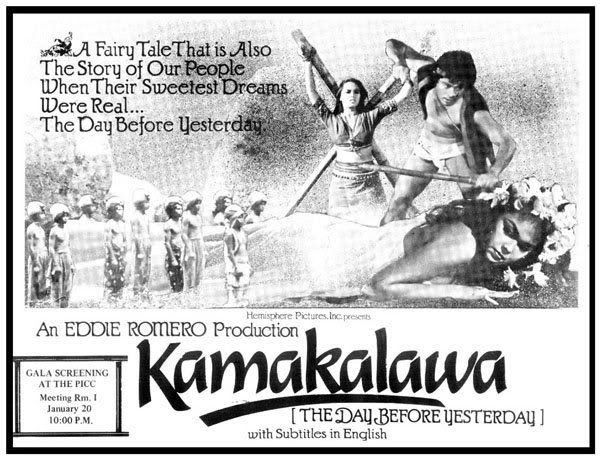 I still sometimes wish that the National Artist would come home once more, and make a film here. Perhaps one that can equal the grandeur of
Oro Plata Mata
.
After
Kamakalawa
, there was nothing as far as I can remember, although Dumaguete did figure in one of those 1980s Regal horror movies as an easy replacement for nearby Siquijor. (Which is laughable.) We can also stretch the definitions of celluloid setting and recall the infamous amateur porn flick
Dumaguete Sex Scandal
, which opened the floodgates to geographically-themed local sex films. (Now, that one's for the books.) Then there was
Close to You
, the debut film of Sam Milby, where a significant part of the story is set in the city, which became an instant replacement for Bacolod. (It is said that the filmmakers could not find a suitable spot in Bacolod to film segments set in the Visayas—and immediately decamped to Dumaguete.)
Still, Bacolod today has overtaken Dumaguete as the capital of filmmaking in Negros Island, thanks in large part to the efforts of Peque Gallaga, one of our remaining geniuses from the last golden age of Philippine cinema. Gallaga's
Oro Plata Mata
—an epic story of Occidental Negrense hacendero life under the Japanese during the Second World War—is arguably one of the local filmdom's best, and there is no equivalent to that set in Oriental. These days, young filmmakers are buzzing out of Bacolod, some of them churning out critically-acclaimed independent films such as
Balay Daku
by Jan Philippie V. Carpio (see video clip
here
) and
Namets
by Jay Abello (see Cinemalayatrailer
here
).
And so, when Seymour—who has roots in Dumaguete, and whose uncle is the acclaimed poet Wilfredo Pascua Sanchez—approached me to help him build a network of local people to work with, I jumped at the chance. He said he wanted to do a Dumaguete film, with a typical Dumaguete character: a writer. In this case, a writer (played by Chin-chin Gutierrez) who comes home to deal with mortality, and finally with love. (You have to watch the movie to know the story.)
And now, he has finished shooting here, and will begin post-production soon. Next year would come the finished product, with Dumaguete, finally, as a ticking heart on film. I hope it works. And here's the best of our wishes to the filmmakers.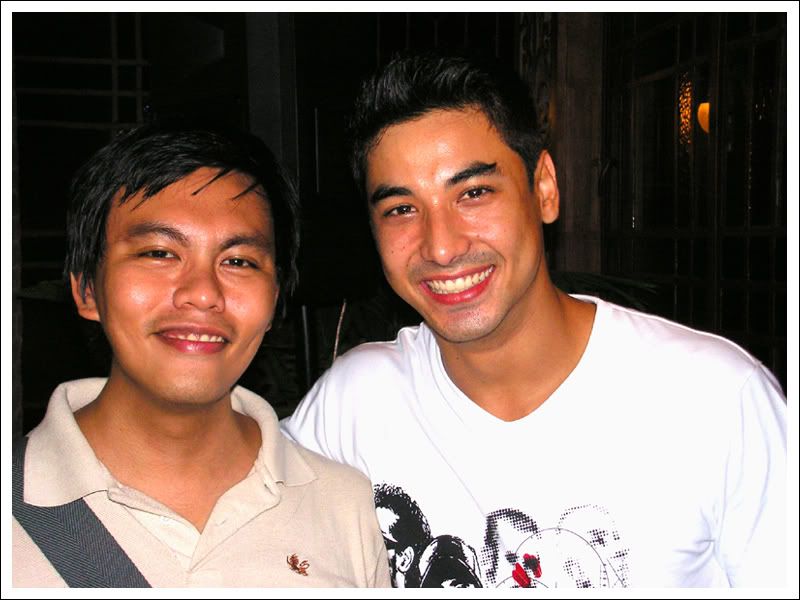 With Akihiro Sato in Cafe Antonio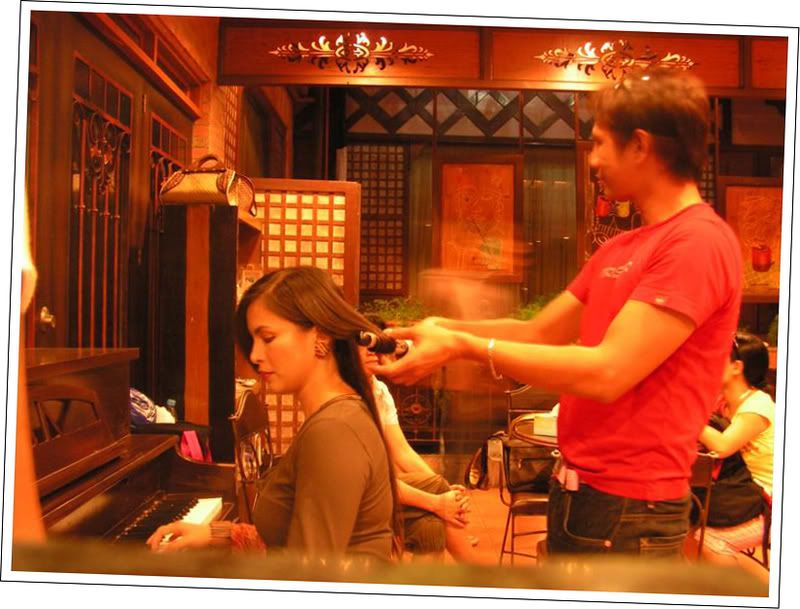 Chin-chin Gutierrez being prepped by a local stylist before a scene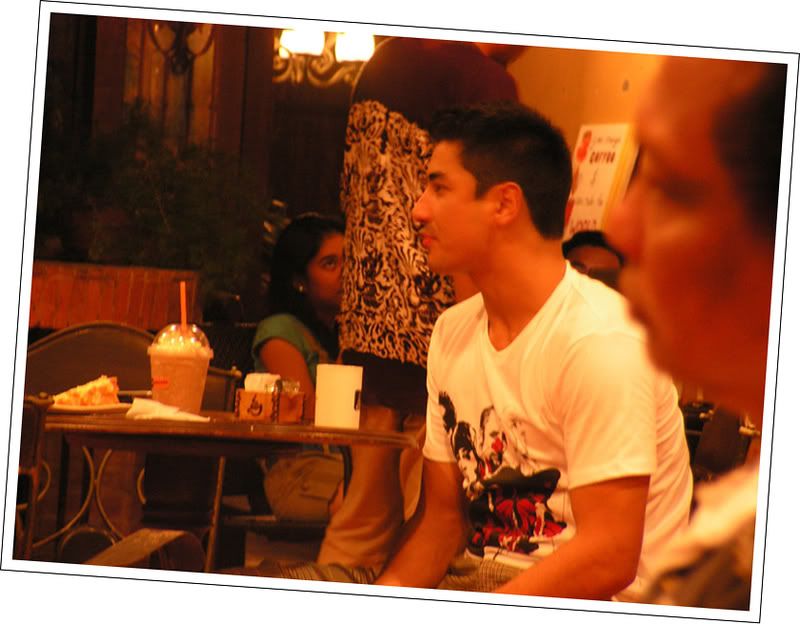 Aki waiting for the set-up to finish

The director planning the next sequence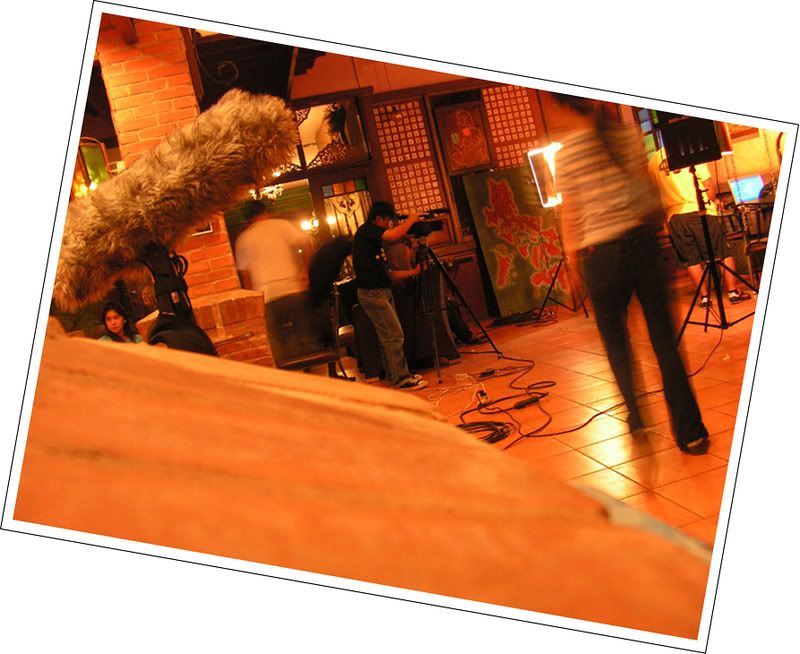 The crew setting up in Cafe Antonio, inside the Spanish Heritage building
*
Handumanan
is Cebuano for "remembrance"
Labels: celebrity, directors, dumaguete, film, negros
[0] This is Where You Bite the Sandwich
---