This is the blog of Ian Rosales Casocot. Filipino writer. Sometime academic. Former backpacker. Twink bait. Hamster lover.
Interested in What I Create?
Bibliography


The Boy The Girl
The Rat The Rabbit
and the Last Magic Days
Chapbook, 2018




Republic of Carnage
Three Horror Stories
For the Way We Live Now
Chapbook, 2018




Bamboo Girls:
Stories and Poems
From a Forgotten Life
Ateneo de Naga University Press, 2018




Don't Tell Anyone:
Literary Smut
With Shakira Andrea Sison
Pride Press / Anvil Publishing, 2017




Cupful of Anger,
Bottle Full of Smoke:
The Stories of
Jose V. Montebon Jr.
Silliman Writers Series, 2017




First Sight of Snow
and Other Stories
Encounters Chapbook Series
Et Al Books, 2014




Celebration: An Anthology to Commemorate the 50th Anniversary of the Silliman University National Writers Workshop
Sands and Coral, 2011-2013
Silliman University, 2013




Handulantaw: Celebrating 50 Years of Culture and the Arts in Silliman
Tao Foundation and Silliman University Cultural Affairs Committee, 2013




Inday Goes About Her Day
Locsin Books, 2012




Beautiful Accidents: Stories
University of the Philippines Press, 2011




Heartbreak & Magic: Stories of Fantasy and Horror
Anvil, 2011




Old Movies and Other Stories
National Commission for Culture
and the Arts, 2006




FutureShock Prose: An Anthology of Young Writers and New Literatures
Sands and Coral, 2003
Nominated for Best Anthology
2004 National Book Awards


Follow the Spy




Recent Crumbs




Blogs I Read


© 2002-2018
IAN ROSALES CASOCOT
Wednesday, June 17, 2009
12:53 AM | Filipinas and Asian Chick Lit
I miss
Summit Books
. Those pastel-colored, brilliantly written escapist fare otherwise known as Chick Lit, which were authored by some of our best young women writers which included Tweet Sering, Abi Aquino, Claire Betita, Mabi David, and Melissa Salva.
I miss the old books anyway.
It was never the same when
Tara FT Sering
, who used to be the series editor, left Summit Publishing to pursue other publishing interests. (She's now the managing editor of
Contemporary Arts Philippines Magazine
.) But now, three of the Summit writers have come back to bookstore shelves, this time through a Singapore-based publisher, and they are slowly changing the way we look at this genre of pop literature.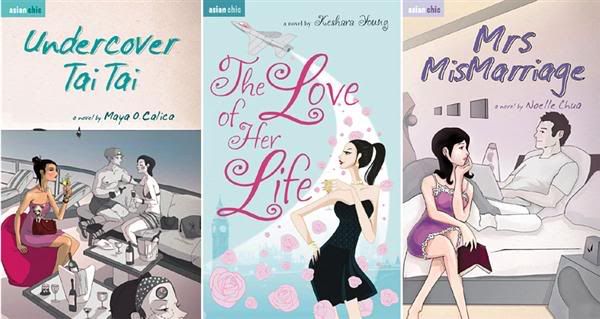 Newsweek
recently did a piece on so-called Asian chick lit -- mostly books by the publisher
Marshall Cavendish
which is based in Singapore -- and the article focuses on several authors, three of whom happen to be Filipinos: the always unbelievable Tara, Maya O. Calica, and Noelle Chua.
From the article by Sonia Kolesnikov-Jessop:
We've always seen a demand for quality fictional writing with a local slant in the region," says Chris Newson, general manager of Marshall Cavendish. "Chick lit has been one of the most successful global publishing genres over the last 15 years, and it's been very successful commercially in the region, so why not produce a local variety?"

The trick is to make even local varieties hew closely to the standard formula. "You have a heroine who is cosmopolitan and independent-—someone who other women want to be," says Noelle Chua, author of

Mrs. MisMarriage

, whose heroine's glamorous life loses its luster as soon as her new boyfriend proposes. "But she's not perfect, like the heroines of old Barbara Cartland romance novels. From the beginning, like in Bridget Jones, you see her flaws, and the heroine can laugh at herself."

While love's travails and professional success are universal chick-lit themes, Asian chick lit also reflects some cultural differences. "In Western chick lit, the heroine's support system consists almost entirely of friends, but in Asian societies, family is also very much involved," says Lum Kit Wye, the winner of the Marshall Cavendish writing competition. Her novel,

In Ten Easy Steps

, about a homebody legal secretary who relies on her family to help her change her life after her boyfriend dumps her, will be published in Singapore this fall. Sex, fairly pervasive though never very graphic in most Anglo-Saxon chick lit, is more understated in Asian chick-lit novels. "The heroines are urbane, modern Asians, but they're probably less forward than their Western counterparts, especially in terms of their relationships with men," says Chua. "I think Asian women by and large are still less aggressive and outspoken than Western ones."
Read the rest
here
.
[In the same issue,
Jessica Zafra
writes
about Brillante Mendoza's Cannes-winning film
Kinatay
, and dares us to look away.]
Labels: books, chick lit, philippine literature, writers
[0] This is Where You Bite the Sandwich
---