This is the blog of Ian Rosales Casocot. Filipino writer. Sometime academic. Former backpacker. Twink bait. Hamster lover.
Interested in What I Create?
Bibliography


The Boy The Girl
The Rat The Rabbit
and the Last Magic Days
Chapbook, 2018




Republic of Carnage
Three Horror Stories
For the Way We Live Now
Chapbook, 2018




Bamboo Girls:
Stories and Poems
From a Forgotten Life
Ateneo de Naga University Press, 2018




Don't Tell Anyone:
Literary Smut
With Shakira Andrea Sison
Pride Press / Anvil Publishing, 2017




Cupful of Anger,
Bottle Full of Smoke:
The Stories of
Jose V. Montebon Jr.
Silliman Writers Series, 2017




First Sight of Snow
and Other Stories
Encounters Chapbook Series
Et Al Books, 2014




Celebration: An Anthology to Commemorate the 50th Anniversary of the Silliman University National Writers Workshop
Sands and Coral, 2011-2013
Silliman University, 2013




Handulantaw: Celebrating 50 Years of Culture and the Arts in Silliman
Tao Foundation and Silliman University Cultural Affairs Committee, 2013




Inday Goes About Her Day
Locsin Books, 2012




Beautiful Accidents: Stories
University of the Philippines Press, 2011




Heartbreak & Magic: Stories of Fantasy and Horror
Anvil, 2011




Old Movies and Other Stories
National Commission for Culture
and the Arts, 2006




FutureShock Prose: An Anthology of Young Writers and New Literatures
Sands and Coral, 2003
Nominated for Best Anthology
2004 National Book Awards


Follow the Spy




Recent Crumbs




Blogs I Read


© 2002-2018
IAN ROSALES CASOCOT
Friday, July 31, 2009
4:05 PM | The Carlo J. Caparas Story: Massacre at the National Artists Awards (God, Save Us All!)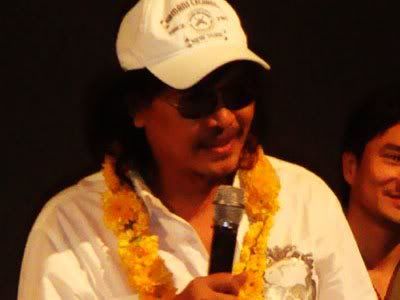 When I first heard that Carlo J. Caparas -- the king of massacre movies and creator of the popular
komiks
series "Ang Panday" (and creator
lang ha
? he never even drew a single frame of it,
this according to
komiks
walking encyclopedia Gerry Alanguilan
) -- has just been proclaimed National Artist for Visual Arts and Film by Gloria Macapagal Arroyo, I thought it was one of those jokes passed around cellphone to cellphone by some guy bored by the rainy days.
It wasn't.

But let's have the obra speak for itself, so they say. So let's consider naman these cinematic gems... The Cory Quirino Kidnap: NBI Files (2003), Wilson Sorronda: Leader Kuratong Baleleng's Solid Group (1995), The Lilian Velez Story: Till Death Do Us Part (1995), The Anabelle Huggins Story - Ruben Ablaza Tragedy (Mea Culpa) (1995), The Marita Gonzaga Rape-Slay: In God We Trust! (1995), Victim No. 1: Delia Maga (Jesus, Pray for Us!) (1995), The Maggie dela Riva Story (God ... Why Me?) (1994), Lipa Arandia Massacre (Lord Deliver Us from Evil/God Save the Babies!) (1994), The Untold Story: Vizconde Massacre 2 - God Have Mercy on Us (1994), The Vizconde Massacre Story (God Help Us!) (1993), The Cecilia Masagca Story: Antipolo Massacre (Jesus Save Us!) (1993), Humanda Ka Mayor!: Bahala na ang Diyos (1993), The Myrna Diones Story (Lord, Have Mercy!) (1993), Ayaw Matulog ng Gabi (1990), Ang Mahiwagang Daigdig ni Elias Paniki (1989), and Celestina Sanchez a.k.a. Bubbles (1988).

He deserves the National Artist title. He is very, very religious.


And then I got amused by the idea. This was sheer brilliance! It totally democratizes the prestigious (and elitist!) National Artist Award! It opens up a vista of possibilities! And I am giddy with all of it. Imagine, Annabelle Rama may be a shoo-in for National Artist for Film Acting! Delicious. Let's open up a new category (and they always do) and put in Film Criticism. Inday Badiday, post-humously! Or if you don't want dead people, Cristy Fermin!
Wait, wait!
What about Arnel Salgado or Xerex Xaviera as National Artists for Literature! Or Marc Logan for Broadcast Arts! Lito Camo for Music! Joel Lamangan for Film! The Sex Bomb Dancers for Dance! And I want my local sastre to be given her due and get Fashion Design!
It's all good.
(God, We Atone for Our Sins.)
Labels: art and culture, politics, rants
[0] This is Where You Bite the Sandwich
---