Thursday, July 22, 2010
7:46 PM | Amihan Explores Femininity and Power in New Art Exhibit at Silliman
The exhibit title evokes power and femininity; it paraphrases a chess term about how a pawn journeys across the length of a board to become a queen. Amihan, the eldest daughter of the Jumalon family of painters, shows us glimpses of her own journey in becoming an artist and a mother in the above-titled art show. It opens at the Luce Auditorium Foyer Gallery at Silliman University in Dumaguete on
24 July 2010
at 5:30 P.M.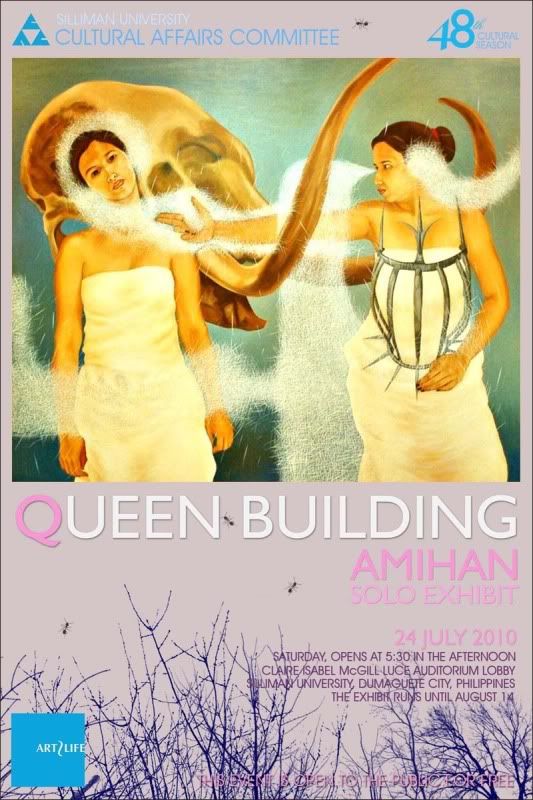 The exhibit is part of the 48th cultural season of the Silliman University Cultural Affairs Committee.
"Being a mother and an artist is like walking a tightrope. If I fall, something breaks. You can't run, you don't have the time. So you tread slowly and allow these roles to serve as your balance beam," says the artist. "
Queen Building
is a visual, surreal chronicle about undertaking and maintaining these roles."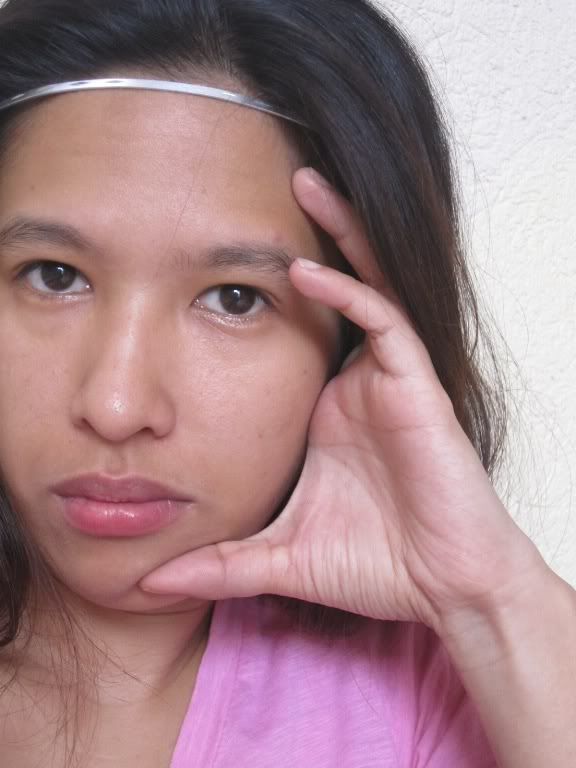 The works in this coming exhibit all feature female figures, which have been Amihan's primary subjects all throughout her career as a visual artist. Some are grim personas born out of the artist's struggles to fuse being a mother and an artist in the years she has been largely absent from the art scene. Some are painted almost like mythological figures; dream symbols that evoke a particular aspect of women's experiences. And some are virtually self-portraits, the artist recreating and discovering facets of herself.
Thus, on 'Iron Maiden' (acrylic on canvas), we see the artist's implacable likeness personifying a medieval torture device while another figure crawls out of its dark, womb-like recess. The monochromatic painting manages to evoke both aggression and femininity, qualities that can be found in the artist's earlier paintings.
In 'Lovers' (acrylic on canvas), we see the artist recreating herself once again, this time as two copies of herself, setting them up in mischievous poses while a huge mastodon skull dominates the background.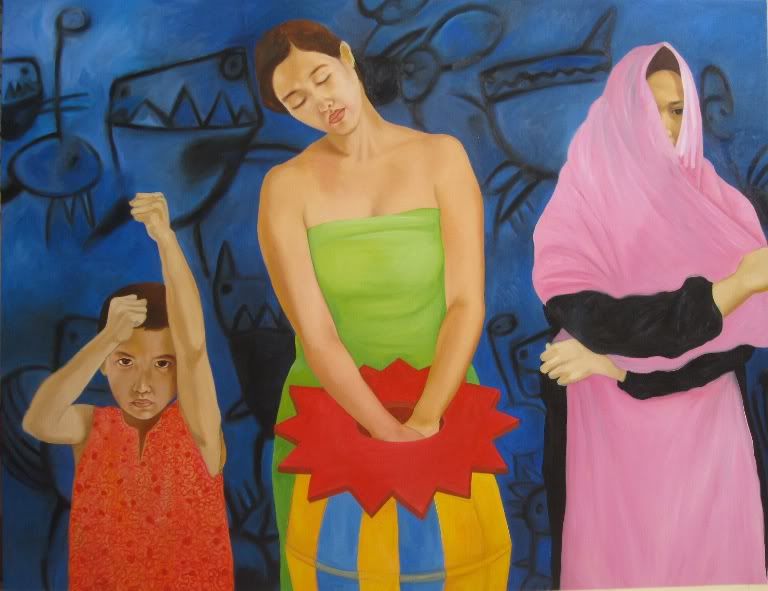 We see another figure with her likeness in 'Magician' (acrylic on canvas), which provides a colorful counterpoint, not only to the more muted approach of the other works, but to the mother-and-child genre paintings. This large-scale work features a portrait of the artist with her hands inside a barrel, her young son, and another hooded female figure. Naïve stick figures of monsters (which her son doodled) dance in the background.
The personal becomes the universal. "Queen building" is a reflection of the multitude of roles and personas worn by women. It is in these explorations of self as archetypal female subjects that Amihan's work shines.
The exhibit runs until August 14, and is open to the public. For more information, please call (034) 422-6002 loc. 520 or 09173235953.
(Bendix Fernandez for the Silliman University Cultural Affairs Committee)
Labels: art and culture, cultural affairs committee, dumaguete, negros, silliman
[0] This is Where You Bite the Sandwich
---