This is the blog of Ian Rosales Casocot. Filipino writer. Sometime academic. Former backpacker. Twink bait. Hamster lover.
Interested in What I Create?
Bibliography


The Boy The Girl
The Rat The Rabbit
and the Last Magic Days
Chapbook, 2018




Republic of Carnage
Three Horror Stories
For the Way We Live Now
Chapbook, 2018




Bamboo Girls:
Stories and Poems
From a Forgotten Life
Ateneo de Naga University Press, 2018




Don't Tell Anyone:
Literary Smut
With Shakira Andrea Sison
Pride Press / Anvil Publishing, 2017




Cupful of Anger,
Bottle Full of Smoke:
The Stories of
Jose V. Montebon Jr.
Silliman Writers Series, 2017




First Sight of Snow
and Other Stories
Encounters Chapbook Series
Et Al Books, 2014




Celebration: An Anthology to Commemorate the 50th Anniversary of the Silliman University National Writers Workshop
Sands and Coral, 2011-2013
Silliman University, 2013




Handulantaw: Celebrating 50 Years of Culture and the Arts in Silliman
Tao Foundation and Silliman University Cultural Affairs Committee, 2013




Inday Goes About Her Day
Locsin Books, 2012




Beautiful Accidents: Stories
University of the Philippines Press, 2011




Heartbreak & Magic: Stories of Fantasy and Horror
Anvil, 2011




Old Movies and Other Stories
National Commission for Culture
and the Arts, 2006




FutureShock Prose: An Anthology of Young Writers and New Literatures
Sands and Coral, 2003
Nominated for Best Anthology
2004 National Book Awards


Follow the Spy




Recent Crumbs




Blogs I Read


© 2002-2020
IAN ROSALES CASOCOT
Wednesday, July 14, 2010
1:00 PM | Acclaimed Rondalla Groups Invade Silliman
Two rondalla groups will perform in a rare full day of rondalla performances at Silliman University's Claire Isabel McGill Luce Auditorium. The acclaimed Celso Espejo Rondalla and the La Libertad Children's Rondalla are slated to do back-to-back performances on
17 July 2010
, Saturday.
The
Celso Espejo Rondalla
, who will give a matinee performance at 3 PM and a gala performance at 8 PM, is composed of two generations of outstanding rondalla players: the senior members are professionals in their chosen fields while the younger ones are college students. The members were winners in the National Music Competitions for the Young Artists (NAMCYA), either as a solo instrumentalist or members of rondalla ensembles.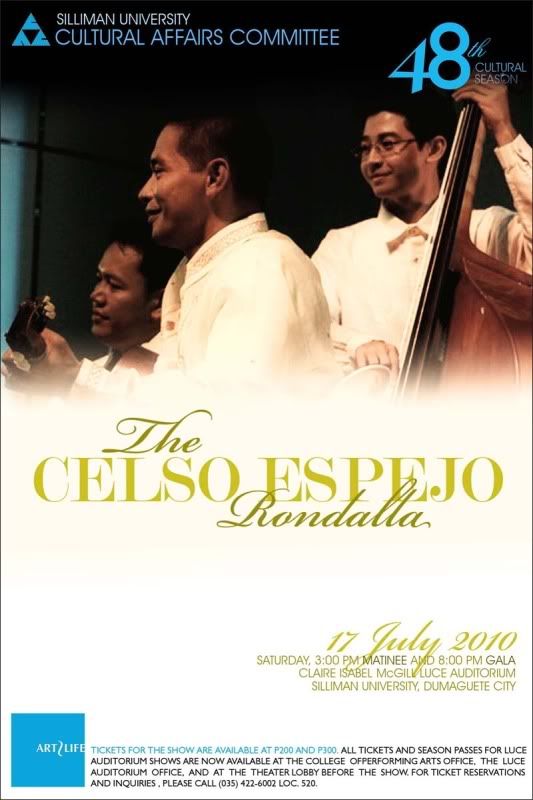 The group, named after Maestro Celso Espejo, the group's conductor and one of the pillars of the Philippine Rondalla, was one of the performers in
Cuerdas nin Cagabsan: The 1st International Rondalla Festival
in Naga and Legazpi Cities, where they made an outstanding performance of light classics and contemporary Filipino compositions for rondalla. It was also one of the crowd favorites in
Cuerdas Sa Panaghiusa: The 2nd International Rondalla Festival
in Dumaguete.
The
La Libertad Children's Rondalla
, on the other hand, will perform twice in the morning, at 8:30 and 10 A.M. This show is part of the Silliman University Cultural Affairs Committee's outreach program, with this show designed specifically for children.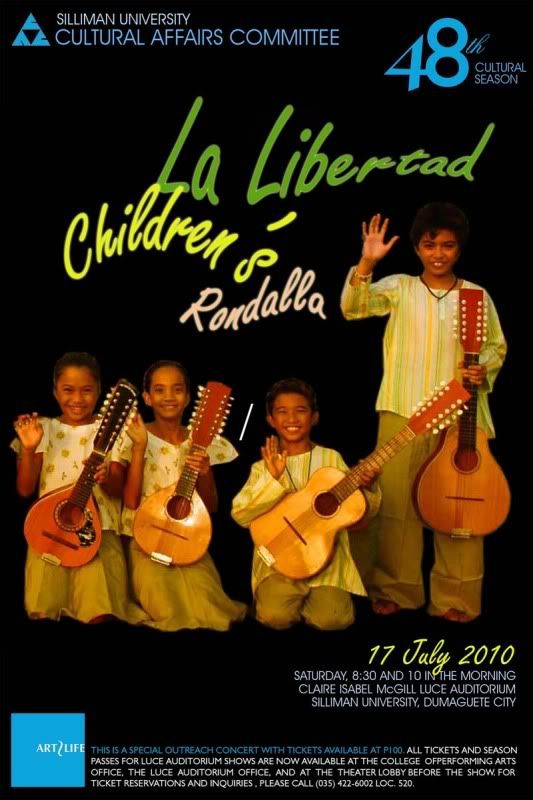 A fast-rising cultural act from the municipality of La Libertad, the group started when the town became a recipient of a set of rondalla instruments donated by the Provincial Government of Negros Oriental through Board Member Mariant E. Villegas. Then La Libertad Mayor Jocelyn Sy-Limkaichong, now the First District Representative of Negros Oriental, initiated the rondalla training program when she invited Mr. Ian Encarnacion, a voice major in Silliman University and a member of Kwerdas de Negros, to initiate a musical group in the town of La Libertad. The move sprang from Rep. Limkaichong's vision to preserve local culture and revive an interest in Filipiniana.
Most of the members of the group are elementary school children, from grade four to five of Pio Banogon Elementary School.
Tickets for the Celso Espejo Rondalla Concert are available at P200 for the matinee and P300 for the gala show. Tickets for the La Libertad Children's Rondalla are available at P100. For inquiries, please call (035) 422-6002 LOC. 520 or 09173235953.
Labels: art and culture, cultural affairs committee, music, negros, silliman
[0] This is Where You Bite the Sandwich
---