Friday, June 18, 2010
11:23 PM | Silliman University Cultural Affairs Committee Launches Its 48th Cultural Season with Philippine Opera Company's 'Harana'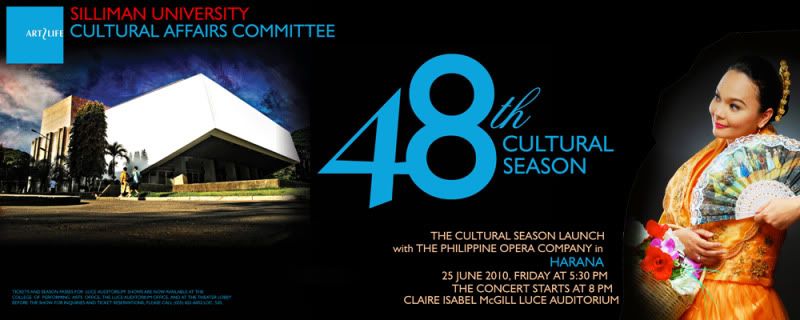 The Silliman University Cultural Affairs Committee presents the
Philippine Opera Company
in
Harana
, which will be performed in the Claire Isabel McGill Luce Auditorium on
June 25
as part of the launch of the cultural season, and on
June 26
for regular patronage.
The June 25 launch, which will start at 5:30 PM at the auditorium foyer, will also feature a screening of
Carmen Singson del Prado
's documentary
Dumaguete: An Artists' Haven
. The performance by the Philippine Opera Company will start at 8 PM.
The POC show features the country's highly celebrated singers Ana Feleo, Karla Patricia Gutierrez, Ma. Florence Aguilar-Barquez, Arlynne Lupas-Tecson, Jennifer Villegas, Sherwin Sozon, Glenn Gaerlan and Nazer Salcedo. This comes after Harana's first Visayan tour last May as part of the National Heritage Festival celebration.
When POC launched the show in 2008, it reaped good notices from audiences and critics. Julie Yap-Daza in
Manila Bulletin
, wrote: "How long have we waited for such an endearing piece of artful, delightful entertainment."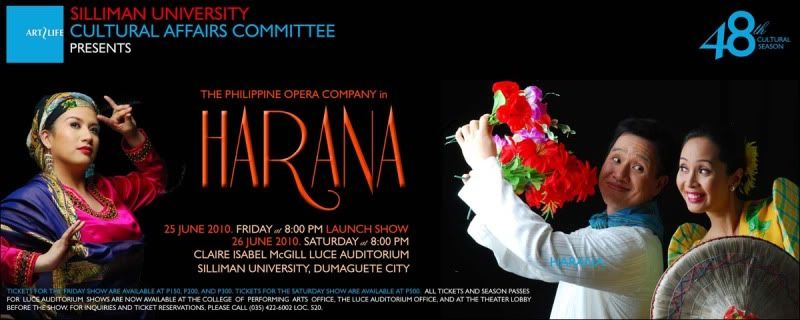 Harana refers to the traditional form of courtship where a man woos a woman's affection by singing underneath her window. In the 1920s, the harana or kundiman became a mainstream musical style, with many popular performers including Diomedes Maturan and Ruben Tagalog performing it. A celebration of this musical tradition comes in a time when the country is rapidly losing an appreciation of Filipino music to foreign influences. Many people are no longer interested in listening to Filipino classics, composed by gifted Filipino geniuses.
Philippine Opera Company's cultural repertoire showcases the evolution of Philippine music through song, movement and drama. The show consists of six suites—the Igorot, Maria Clara, Rural, Folk, Muslim, and the Contemporary—each theatrically presented with authenticity and visual excitement. The creation of each suite is a product of thorough research, with the commitment to preserve indigenous music, dance and folklore. POC's skill is evident as it restructures and enhances this research to evolve into a show of great appeal to theater. Contemporary audiences will find the performance an absolute feast to the senses.
Repertoire for the tour includes timeless classics such as "Bituing Marikit," "Dahil Sa Isang Bulaklak," "Iyo Kailan Pa Man," "Kalesa," "Ang Maya," "Ano Kaya Ang Kapalaran," "Dumbele," "Ay Salidumay," "Waray-Waray," "Sa Kabukiran," "Manang Biday," "Atin Cu Pung Singsing," "Pobreng Alindahaw," "Saan Ka Man Naroroon," "Gaano Ko Ikaw Kamahal," "Usahay" and "Hindi Kita Malimot."
Future shows from the CAC include Silly People's Improv Theater
Live in Dumaguete
, the Ryan Cayabyab Singers in Concert, the Philippine Madrigal Singers in Concert, Douglas Nierras' Powerdance in
Aerial Suite
, Coke Bolipata and the Pundaquit Virtuosi in Concert, the Celso Espejo Rondalla in Concert, the La Libertad Children's Rondalla in Concert,
Children's Letters to God
, and Silliman Performs with the Kayahag Dance Troupe in a Lucy Jumawan Dance Tribute. Other events include the Active Vista Film Festival and Armando Lao's Found Story Screenwriting Workshop.
For inquiries, call 422-6002 loc. 520 or 0917-323-5953.
Labels: art and culture, cultural affairs committee, dumaguete, film, music, negros, silliman
[0] This is Where You Bite the Sandwich
---