This is the blog of Ian Rosales Casocot. Filipino writer. Sometime academic. Former backpacker. Twink bait. Hamster lover.
Interested in What I Create?
Bibliography


The Boy The Girl
The Rat The Rabbit
and the Last Magic Days
Chapbook, 2018




Republic of Carnage
Three Horror Stories
For the Way We Live Now
Chapbook, 2018




Bamboo Girls:
Stories and Poems
From a Forgotten Life
Ateneo de Naga University Press, 2018




Don't Tell Anyone:
Literary Smut
With Shakira Andrea Sison
Pride Press / Anvil Publishing, 2017




Cupful of Anger,
Bottle Full of Smoke:
The Stories of
Jose V. Montebon Jr.
Silliman Writers Series, 2017




First Sight of Snow
and Other Stories
Encounters Chapbook Series
Et Al Books, 2014




Celebration: An Anthology to Commemorate the 50th Anniversary of the Silliman University National Writers Workshop
Sands and Coral, 2011-2013
Silliman University, 2013




Handulantaw: Celebrating 50 Years of Culture and the Arts in Silliman
Tao Foundation and Silliman University Cultural Affairs Committee, 2013




Inday Goes About Her Day
Locsin Books, 2012




Beautiful Accidents: Stories
University of the Philippines Press, 2011




Heartbreak & Magic: Stories of Fantasy and Horror
Anvil, 2011




Old Movies and Other Stories
National Commission for Culture
and the Arts, 2006




FutureShock Prose: An Anthology of Young Writers and New Literatures
Sands and Coral, 2003
Nominated for Best Anthology
2004 National Book Awards


Follow the Spy




Recent Crumbs




Blogs I Read


© 2002-2018
IAN ROSALES CASOCOT
Wednesday, October 27, 2010
3:46 PM | Silence, Stillness, and Connection in a Crumbling World
Tsai Ming-liang's
I Don't Want to Sleep Alone
[2006] is my introduction to the Malaysian director's oeuvre, and I am deeply shamed. Where have I been cinema-wise the past few years? In college, I used to know the latest currents of world cinema so well, and now I only have this wasteland of unawareness, and I hate playing catch-up. Thank God then for this time in Iowa. In any case, I was startled by the audacity of this film, which carries the poetic sensibility of Yasujirō Ozu and the found story aesthetics of Armando Lao. This is a silent film that masquerades as a movie with sound -- and so one must learn to appreciate it in the way its images unfold, which is not hard to do since the cinematography is breathtaking, even if the landscape it depicts is that of the underbelly of Kuala Lumpur. Lao's protegee Brillante Mendoza has done similar work in
Serbis
[2008] -- e.g., the long-takes, the brilliant use of ambient noise, and the quietly observant camera that takes in the poetry of decrepitude -- which in fact has a cousin in Tsai's
Goodbye, Dragon Inn
[2003], both of which tell the stories of crumbling cinemas as a reflection of the riptide of turbulence in Asian society. The only difference between Mendoza and Tsai is the latter's preference for silence and stillness.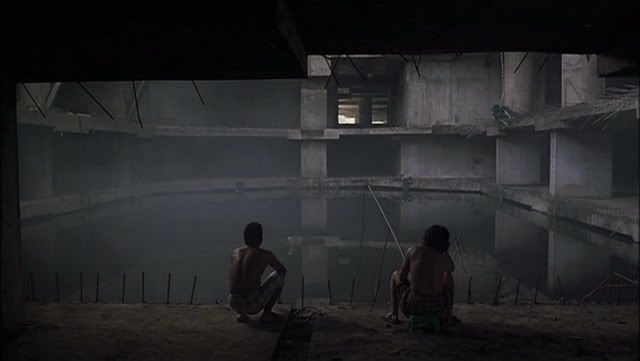 Silence and stillness. Those are good words to describe
I Don't Want to Be Alone
, which signals Tsai's return to filmmaking in Malaysia after a career that has mostly burgeoned in Taiwan. I came to this title thinking that it would give me an idea of how another Asian nation, this time Malaysia, would tackle a gay story. (I am undertaking an unofficial research of Asian pink cinema, I have no idea why.) But I don't think I can label this gay at all, although the filmmaker is certainly openly gay. Yes, there is tenderness in the way the Bangladeshi undocumented worker cares for the mauled Chinese man, but there is no overt sexuality here. In fact, the most overt sexual situation occurs between the Chinese man and the lady boss and later, the waitress who works for her. Near the end, there is also the brief gesture of tenderness between the two men -- but I don't know what to make of that. I can say though that, in the film, there is only a limning of that universal search for connection in a brutal world. And what to make of that enigmatic end? I have no idea, but it reminds me of the puzzles in the last shots in Stanley Kubrick's
2001: A Space Odyssey
[1968] and Michael Haneke's
Cache
[2005]. I guess the images are there for us to ponder and ponder some more, and so I shall do just that.
Labels: directors, film, queer
[0] This is Where You Bite the Sandwich
---