This is the blog of Ian Rosales Casocot. Filipino writer. Sometime academic. Former backpacker. Twink bait. Hamster lover.
Interested in What I Create?
Bibliography


The Boy The Girl
The Rat The Rabbit
and the Last Magic Days
Chapbook, 2018




Republic of Carnage
Three Horror Stories
For the Way We Live Now
Chapbook, 2018




Bamboo Girls:
Stories and Poems
From a Forgotten Life
Ateneo de Naga University Press, 2018




Don't Tell Anyone:
Literary Smut
With Shakira Andrea Sison
Pride Press / Anvil Publishing, 2017




Cupful of Anger,
Bottle Full of Smoke:
The Stories of
Jose V. Montebon Jr.
Silliman Writers Series, 2017




First Sight of Snow
and Other Stories
Encounters Chapbook Series
Et Al Books, 2014




Celebration: An Anthology to Commemorate the 50th Anniversary of the Silliman University National Writers Workshop
Sands and Coral, 2011-2013
Silliman University, 2013




Handulantaw: Celebrating 50 Years of Culture and the Arts in Silliman
Tao Foundation and Silliman University Cultural Affairs Committee, 2013




Inday Goes About Her Day
Locsin Books, 2012




Beautiful Accidents: Stories
University of the Philippines Press, 2011




Heartbreak & Magic: Stories of Fantasy and Horror
Anvil, 2011




Old Movies and Other Stories
National Commission for Culture
and the Arts, 2006




FutureShock Prose: An Anthology of Young Writers and New Literatures
Sands and Coral, 2003
Nominated for Best Anthology
2004 National Book Awards


Follow the Spy




Recent Crumbs




Blogs I Read


© 2002-2018
IAN ROSALES CASOCOT
Wednesday, November 10, 2010
5:27 PM | Untoward Attraction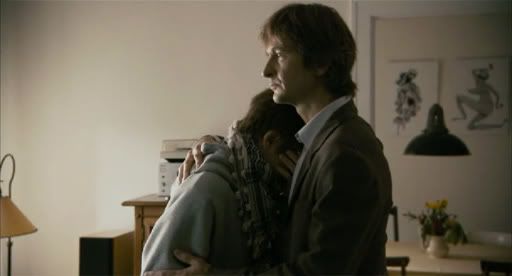 Danish filmmaker Christian Tafdrup's
En Forelskelse
[
Awakening
, 2008] works and does not work at the same time. It is moving and tense in parts and in the proper places, and the actors are very affecting and persuasive in the roles they are made to inhabit — but for a film that dares to tackle a most controversial twist in a relationship, it is never daring enough and leaves us with only the hopeful hints of possibilities without the rigorous finish that the story demands from the filmmaker. Young Carlsen, a teenage boy, has just started seeing a girl named Melissa, and she soon introduces him to her parents Stig and Brigitte, a down-to-earth couple who seems to show genuine liking for their daughter's boyfriend. They treat him instantly as part of the family, and even takes him on a family weekend trip to their country house. But in the middle of that trip, Carlsen finds himself falling for the father, much to his surprise and confusion. That's a recipe for stimulating queer cinema, but. But. That's it. It resolves itself with such softness that it feels like a half-baked effort, redeemed only by the restraint of the actors. Then again, this is a short film. The subject perhaps requires the rigorous exploration possible in a feature film.
[0] This is Where You Bite the Sandwich
---