Wednesday, November 03, 2010
7:24 AM | Taking Stock of a Personal Pink Cinema
There is almost always something subversive at play in the films of Joselito Altarejós in the way he circumvents common expectations and gives us something else, either through unexpected insight or in forcing us to confront our base instincts and show us for what we really are beneath all these masks. Often, what we see reflected is harsh rebuke, but nonetheless.
It is easy to mistake, for example, his new film
Laruang Lalake
to be just another run-of-the-mill title from the exploding factory of explicit gay filmmaking. This is a trend that is nearing complete saturation that nothing on screen these days can shock us anymore, the way it had when Altarejós'
Ang Lalake sa Parola
and
Ang Lihim ni Antonio
first came out, along with Cris Pablo's pathbreaking
Duda/Doubt
, Brillante Mendoza's
Masahista
, and Auraeus Solito's
Ang Pagdadalaga ni Maximo Oliveros
—to mention only four of this new wave of directors who have helped shape much of contemporary filmmaking.
Of course, after the deluge, there is always the requisite coming-to-terms with what one has helped wrought. This is such a film.
This film could only be made by a director in a kind of crisis of creation, not in being prolific but in being boxed in by a recognizable niche. While the result may be rough around the edges, it achieves a kind of poignancy that can only be perceived by those who will see this film for what it really is, and not for what it markets itself to be. Because
Laruang Lalake
is certainly not a flesh feast, despite the fact that this is a movie about the making of movies that are in fact "flesh feasts," and despite the casting of Marco Morales, known in pink film circles as the guy to go for frontal nudity. We already know this kind of meditative and self-reflective filmmaking can be done with Raya Martin's somber and very experimental
Next Attraction
, but while that film glories in pushing the boundaries of form,
Laruang Lalake
gets to the task with minimal stylistic flourish.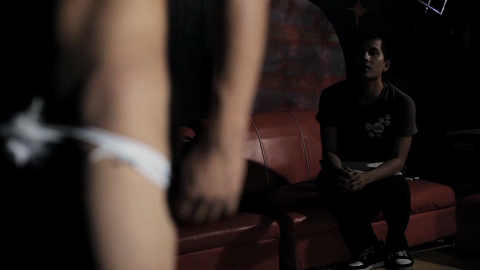 We get more than a hint of what it wants us to know near its end, when the character of Wilfredo Ligas, the film director played by Richard Quan, confesses to what seems to be a camera documenting the making of his film: "Gay film director… I don't think
kontrolado ko kung ano ang itatawag nila sa akin
, you know. Tag
lang 'yun
. I know for a fact
kung anong klaseng direktor ako
, so be it. As long as
seryoso ako
, I remain true
sa mga ginagawa kong trabaho
, I'm happy with that."
But there is a tad of bitterness and sadness to how Ligas describes his work and his niche. The whole film finds us in a real-time journey with him as he begins the task of casting his new film, and then going about the thankless job of troubleshooting every aspect of production, which is essentially what a director does. The cashflow is drying up. The producer is endlessly flirting with cast and crew. The managers of his actors are pushing him to various compromises. The famous character actress they were banking on for a strong supporting role quits at the last minute. Beyond production delays, the director finds his own life in upheaval as he tries to juggle his personal finances, the success of this film the only way he could scrape by. And then, of course, there is the purgatory of getting the film past the MTRCB and its ridiculous "rating" system.
One can't help but feel that Altarejós may be giving us a very specific autobiography, in the way he mined his childhood in Masbate in the beautiful and underrated
Pink Halo-halo
. The great French director François Truffaut after all famously ransacked his own experience of filmmaking with
Day for Night
, his movie about making movies—and in fact cast himself in the role of the film director in the story, giving us subterfuges of references that continue to fascinate us. (Altarejós' casting of director Cris Pablo as a fussy gay talent manager is part of the film's own self-referencing.)
But while
Day for Night
was from a filmmaker telling a story about the joy and foibles of what he does,
Laruang Lalake
runs like a cautionary tale. Altarejós has always come off as a director reluctant in his role as the storyteller of gay lives in Philippine movies, especially given that many movies of this ilk are always expected by its target audience to contain just enough suitable drama as fillers between scenes of ribald depictions of gay sex. The narrative is supposed to rescue the effort beyond the mere titillating, give the film the false label of "art" when in fact it is just soft porn.
Laruang Lalake
recognizes that duplicity as well, as we learn that the producer—played to perfection by the incandescent Mon Confiado—is in fact a gay bar owner lamenting the decline in patronage of gay bars, and so has turned to "indie filmmaking" instead.
Since breaking out of the mold with
Ang Lalake sa Parola
, an unexpected moneymaker in the niche of pink cinema that at least tried to give more than two dimensions to the story of local gay lives, Altarejós seems to have been in constant pressure to up the ante. He did exactly that with what can be considered as the first full blossoming in his oeuvre—the coming-of-age tale of
Ang Lihim ni Antonio
, a sexy and deeply-felt film that also seemed to reflect something universal in the lives of many Filipino gay men. He peppered it with scenes of incredible sex—only to dash expectations with an ending that unfurled like a brutal anti-climax. But in repeat viewings, one soon understands that this is Altarejós' way of subtly questioning our expectations—he gives us what we want, and at the height of all that, pulls the rug beneath our feet, reminding us that we are hypocrites: we tolerate the seriousness of the overall narrative, if only to get to the salacious parts we know are coming our way. But he won't have that.
In
Laruang Lalake
, we are misled to believe that this is the story of Samuel, a wannabe actor played by an underwhelming Arjay Carreon. We begin the film, after all, waking up with him, seeing him go through the process of auditioning for a part in a film titled "Laruang Lalake." On set, he meets many of the characters whose little stories we follow—but soon the film becomes the director's story. Quan's Ligas is, in fact, the "laruang lalake" of the title, the man who has been played by life. (The fact that the title can also be translated as "Boy Toy" adds to the many levels of self-awareness.)
In the film, this progression of the director's damnation is bracketed by two other characters, each one an embodiment of stages in a downhill life: there is the elderly Zaldy, played by Ces Aldaba, once an award-winning director now in the grips of a fiscal meltdown; and there is Marc, played by Mark Fabillar, as the young film student and production assistant who dreams of becoming a director himself. Fabillar's Marc is the story's naïve and romantic hero, who falls in love with Samuel, senses the existential decay the movie set represents, and makes the only cathartic move in the film. As the totally unexpected and subtle soul that moves it and thus is the one we most feel for, Fabillar runs away with this film with a subtle but deeply emotional performance. In the end, he makes this film his character's story, as the only man who refuses to be played.
Labels: directors, film, queer
[0] This is Where You Bite the Sandwich
---