This is the blog of Ian Rosales Casocot. Filipino writer. Sometime academic. Former backpacker. Twink bait. Hamster lover.
Interested in What I Create?
Bibliography


The Boy The Girl
The Rat The Rabbit
and the Last Magic Days
Chapbook, 2018




Republic of Carnage
Three Horror Stories
For the Way We Live Now
Chapbook, 2018




Bamboo Girls:
Stories and Poems
From a Forgotten Life
Ateneo de Naga University Press, 2018




Don't Tell Anyone:
Literary Smut
With Shakira Andrea Sison
Pride Press / Anvil Publishing, 2017




Cupful of Anger,
Bottle Full of Smoke:
The Stories of
Jose V. Montebon Jr.
Silliman Writers Series, 2017




First Sight of Snow
and Other Stories
Encounters Chapbook Series
Et Al Books, 2014




Celebration: An Anthology to Commemorate the 50th Anniversary of the Silliman University National Writers Workshop
Sands and Coral, 2011-2013
Silliman University, 2013




Handulantaw: Celebrating 50 Years of Culture and the Arts in Silliman
Tao Foundation and Silliman University Cultural Affairs Committee, 2013




Inday Goes About Her Day
Locsin Books, 2012




Beautiful Accidents: Stories
University of the Philippines Press, 2011




Heartbreak & Magic: Stories of Fantasy and Horror
Anvil, 2011




Old Movies and Other Stories
National Commission for Culture
and the Arts, 2006




FutureShock Prose: An Anthology of Young Writers and New Literatures
Sands and Coral, 2003
Nominated for Best Anthology
2004 National Book Awards


Follow the Spy




Recent Crumbs




Blogs I Read


© 2002-2018
IAN ROSALES CASOCOT
Wednesday, November 03, 2010
5:43 AM | Tenderness and Nightmares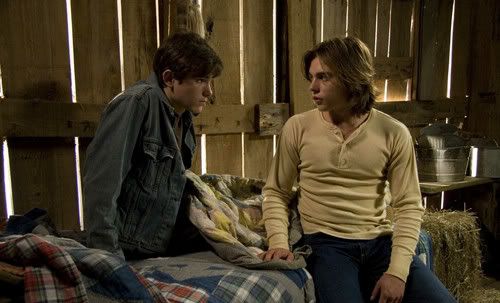 James Bolton's film adaptation of
Dream Boy
[2008] is equal parts harrowing domestic horror and tender drama. Almost every scene, aided by a great musical score, is exquisite that I'm moved to pause the film once in a while to either recoil from the tension or to consider the dreamy sweetness of the lead characters' gestures. I read the popular book by Jim Grimsley years ago, when I was younger, in college, and still coming to terms with what I was, who I was, feeling about the world around me for what's it's like. The book didn't exactly ring with immediacy for me: I was more into David Leavitt and his picture of a more metropolitan life. Grimsley's drama set in the Deep South just did not register for me, although I did find his prose quite muscular and lyrical at the same time. But now that I'm older, I've seen so much more, learned so much more. I can understand the sensitive undercurrents of abuse and bullying, especially in the light of the recent suicides by young men who must have gone through variations of this very real theme. The film is strong and urgent but does not pander. And yet it still packs quite an emotional wallop. I am simply moved by it. I also like Diana Scarwid's Vivian, the boy's mother, and her quiet struggle as she tries to battle with the white elephant in the room — that her husband is a molester of his own child. In the middle of all that horror, we also have a love story brewing between Roy and Nathan, something unexpected but completely real. There is no false note to their regard for each other, and that sleigh of dramatic hand is owed to the performances of Stephan Bender and Maximillian Bender, who embody their characters so well it is difficult to see the acting. To juggle all these requires a cinematic magician. I guess director Bolton is one. This is a fine film that should be seen by everybody.
[0] This is Where You Bite the Sandwich
---