This is the blog of Ian Rosales Casocot. Filipino writer. Sometime academic. Former backpacker. Twink bait. Hamster lover.
Bibliography
Sunday, December 26, 2010
8:08 PM | Poor, Poor Ramona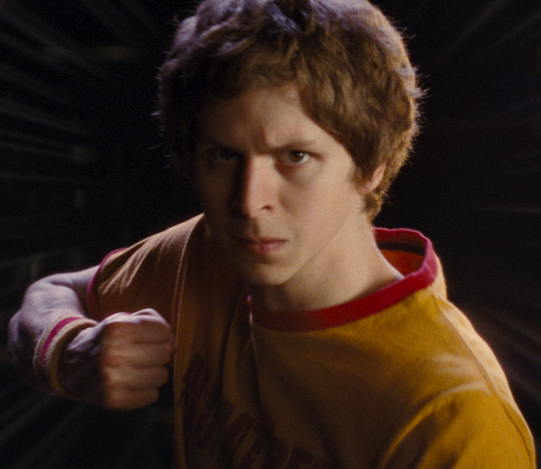 I can't believe Edgar Wright's
Scott Pilgrim vs. the World
[2010] did not gain traction with mass audiences when it was released in theaters early this year, because here is an inspired, almost-original take on a comics story that manages to sustain much of its awesomeness in the avalanche of gimmicks and cutesy it tries to drown itself in. What happened? I have a theory about its unforgivable flaw, but that's for later. Let me concentrate on its strengths first, notably Michael Cera in the full power of his trademark nerdy pose equipped with his trademark deadpan line-delivery, surrounded by a world that takes its visual cue from the vocabulary and tropes of video games and comic books. In this film, Mr. Cera plays the embattled title character, a bass guitarist in a struggling band who suddenly becomes besotted with a girl named Ramona Flowers, much to the consternation of a new 17-year old (and in high school) girlfriend named Knives Chau, as well as to the dismay of the rest of his very colorful posse. In pursuit of Ramona, Scott Pilgrim inexplicably finds himself having to fight for the blossoming romance by having to duel to the death with her seven "evil exes" -- a motley crew of inspired lunacy that includes Chris Evans, Brandon Routh, and Jason Schwartzman. Pretty impressive. I enjoyed the film very much, but I felt unimpressed by Mary Elizabeth Winstead's Ramona -- which is crucial. As the film's resident Helen of Troy, for whom deadly battles must be fought over, she comes off -- beyond the almost requisite quirkiness demanded by the role -- as totally undeserving of all that attention. She lacked charm and spark and gravity, the way Zooey Deschanel or Emma Stone might have provided if they had this role. Because no matter how much I wanted to cheer on Scott Pilgrim in his entertaining battles, I found myself scarcely caring for his ultimate goal.
[0] This is Where You Bite the Sandwich
---