Sunday, December 19, 2010
4:15 PM | Through the Rabbit Hole Into Wonderland at the Foot of Pundaquit
I decided to spend a week in Manila right after arriving from the United States, not just to fulfill some last obligations for the U.S. Embassy but also to visit some friends, and to prepare myself for the eventual arrival home in Dumaguete City. The essayists Rica Bolipata-Santos decided to take me, along with writers Francesca Kwe-Lacaba and Kris Lanot Lacaba, for a weekend in Casa San Miguel in Zambales, at the foot of Mt. Pundaquit.
With horror writer Yvette Tan at M Cafe in Greenbelt.
With essayist Rica Bolipata-Santos in Subic for lunch, on our way to Casa San Miguel in Zambales.
The fiction writer Francesca Kwe-Lacaba taking in the visual overload of Plet Bolipata-Borlongan and Emong Borlongan's house and studio in Casa San Miguel in Zambales.
I rediscovered childhood biking around Casa San Miguel.
Rica Bolipata-Santos in contemplative mood in her house in Zambales.
Around Casa San Miguel...
Rica and poet Kris Lanot Lacaba in the green shadows of the stage in Casa San Miguel.
Kris and Kit celebrated their first wedding anniversary with us in Casa San Miguel...
Emong Borlongan shows us his sketch notebook...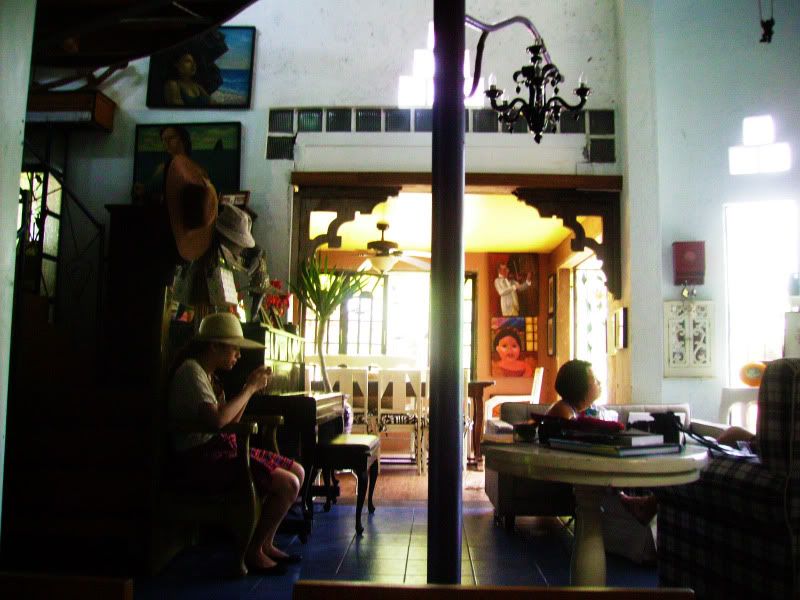 Spending a lazy weekend with friends and writing can be a beautiful thing. One truly needs this once in a while.
Labels: art and culture, friends, photography, travel, writers
[0] This is Where You Bite the Sandwich
---