Wednesday, March 23, 2011
3:06 PM | How the Young Breathe, or Some of Them Anyway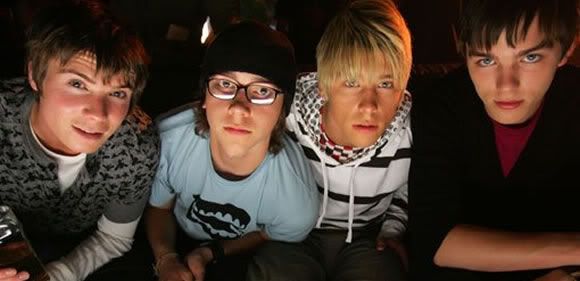 I've only begun watching the British version of
Skins
recently. Belatedly, I know. A TV series takes commitment, time, and devotion, and one cannot serve too many masters at the same time, but here comes summer, and here's a surfeit of all that.
I like
Skins
, uneven though it is. What it does best is to make its camera become a magnifying glass to study the anguished minutae of its teenage character's lives, in episodes devoted thematically to each one -- the beautiful manipulations of Tony, the pretty frivolity of Michelle, the doormat indecisions of Sid, the spaced-out wisdom of Cassie, the fuck-it freefalls of Chris, the horny Muslim boy dilemmas of Anwar, the tough cookie crumblings of Jal, the emotionally-detached wisdom of Effy, the... wait, do we ever know anything more about Maxxie, its resident gay boy/dancer who longs to leave Bristol to find life in London? Season 2 begins with him, stays with him for a while after unfairly treating him like wallpaper in Season 1, but just as abruptly, he's gone too in Season 2, and brings him back only to connect the loose threads in the end with an afterthought of a "subplot" involving him with a guy named James, who just pops out from somewhere holding Maxxie's hand. And there's the rub. After beautifully chronicling the turmoil in the inner lives of Cassie (especially Cassie), Tony (especially Tony), Chris, and Jal -- and sometimes Sid and Michelle -- it leaves the rest of the characters hanging in no-development hell. Still, the characters got to me, Cassie and Effy especially, but Jesus, do the very young these days really live out like that?
I may have to stop with Season 2 though, just as the first generation -- composed of Nicholas Hoult, Dev Patel, Mike Bailey. Hannah Murray, April Pearson, Joe Dempsie, Larissa Wilson, Mitch Hewer, with some very special participation of Kaya Scodelario -- I'm not good at finishing any TV series, sampling only the first two seasons at most, like
Dexter
or
Weeds
. The only one I ever got to finish was
Sex and the City
, and I still can't bring myself to finish out the last seasons/episodes of
Lost
,
Queer as Folk
,
Friends
, and
Six Feet Under
for some reason.
Labels: issues, life, queer, television
[0] This is Where You Bite the Sandwich
---