This is the blog of Ian Rosales Casocot. Filipino writer. Sometime academic. Former backpacker. Twink bait. Hamster lover.
Interested in What I Create?
Bibliography


The Boy The Girl
The Rat The Rabbit
and the Last Magic Days
Chapbook, 2018




Republic of Carnage
Three Horror Stories
For the Way We Live Now
Chapbook, 2018




Bamboo Girls:
Stories and Poems
From a Forgotten Life
Ateneo de Naga University Press, 2018




Don't Tell Anyone:
Literary Smut
With Shakira Andrea Sison
Pride Press / Anvil Publishing, 2017




Cupful of Anger,
Bottle Full of Smoke:
The Stories of
Jose V. Montebon Jr.
Silliman Writers Series, 2017




First Sight of Snow
and Other Stories
Encounters Chapbook Series
Et Al Books, 2014




Celebration: An Anthology to Commemorate the 50th Anniversary of the Silliman University National Writers Workshop
Sands and Coral, 2011-2013
Silliman University, 2013




Handulantaw: Celebrating 50 Years of Culture and the Arts in Silliman
Tao Foundation and Silliman University Cultural Affairs Committee, 2013




Inday Goes About Her Day
Locsin Books, 2012




Beautiful Accidents: Stories
University of the Philippines Press, 2011




Heartbreak & Magic: Stories of Fantasy and Horror
Anvil, 2011




Old Movies and Other Stories
National Commission for Culture
and the Arts, 2006




FutureShock Prose: An Anthology of Young Writers and New Literatures
Sands and Coral, 2003
Nominated for Best Anthology
2004 National Book Awards


Follow the Spy




Recent Crumbs




Blogs I Read


© 2002-2020
IAN ROSALES CASOCOT
Friday, January 13, 2012
12:20 PM | Today in Culture in Dumaguete: Violinist Jimmy Tagala Jr. in Concert at the Luce and Sandwich in a Benefit Concert at the Amphi
Jimmy Tagala Jr.
, first-prize winner of the recently concluded 2011 NAMCYA Violin Category C competitions, will be featured in a solo recital at the Claire Isabel McGill Luce Auditorium in Silliman University. The gala concert is set on
13 January 2012, Friday at 8 in the evening
with a program of classical violin virtuoso works, including
Concerto in D
by Tschaikowsky,
Caprice No. 15
by Paganini,
Sonata in D minor for Violin and Piano
by Brahms,
Mutya ng Pasig
and
Bahay Kubo
arrangements by Gilopez Kabayao, and
Carmen Fantasy
by Sarasate.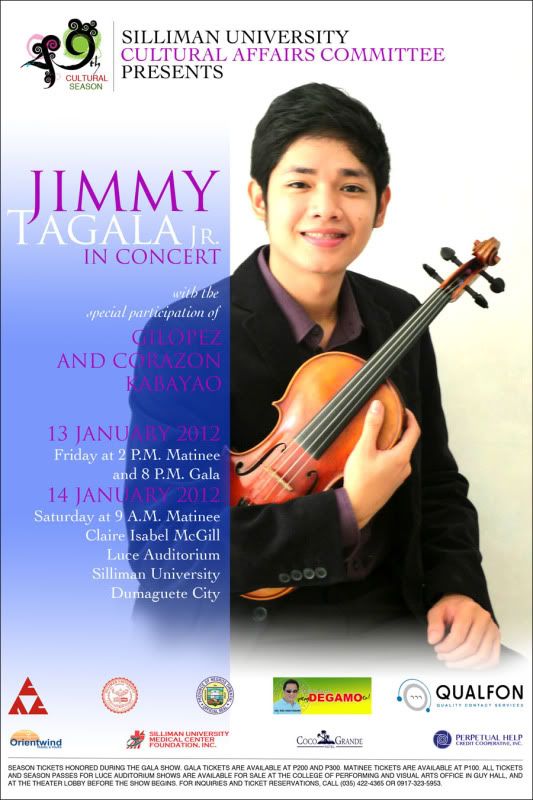 The unique feature for this concert is the special participation of Filipino violin virtuoso and musical crusader, Gilopez Kabayao, as guest artist in Scherzo Tarantelle by Wieniawski and Bach's Concerto for Two Violins in D Minor together with the featured soloist. It is one of the rare occasions when Prof. Kabayao will once again be heard in Silliman University. Corazon Pineda Kabayao will be the assisting artist at the piano.
Mr. Tagala has been under the tutelage of Prof. Kabayao since he was 12. He was first place winner at the 2005 NAMCYA Violin Category B at 14 and at 15, and was the youngest among a hundred young musicians from Asia who were accepted to join the 2006 Asian Youth Orchestra in its concert tour of six Asian countries. At 16, Mr. Tagala gave his solo debut concert with a performance of the Beethoven and Khachaturian concertos to critical acclaim. He joined the Kabayao Family Quintet in their European concerts in 2009.
A matinee lecture-recital will be held at 2:00 in the afternoon of January 13 as part of the cultural-education program for the students. Season tickets honored during the gala show. Gala tickets are available at P200 and P300. Matinee tickets are available at P100. All tickets and season passes for Luce Auditorium shows are available for sale at the College of Performing and Visual Arts Office in Guy Hall, and at the theater lobby before the show begins. For inquiries and ticket reservations, call (035) 422-4365 or 0917-323-5953.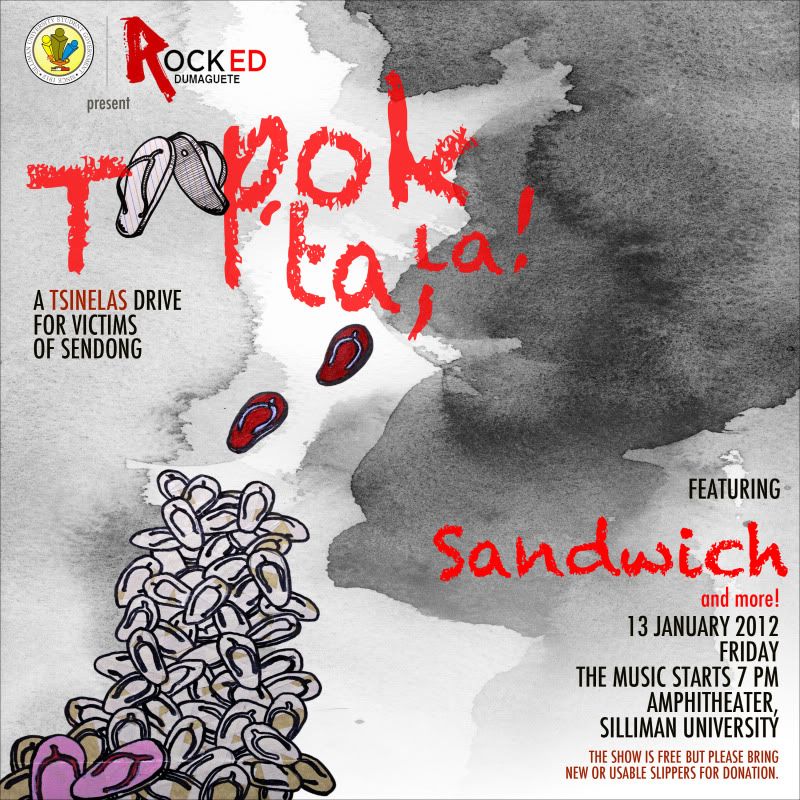 Popular Filipino rock band
Sandwich
, meanwhile, headlines a concert/donation drive for rubber slippers for the Sendong relief efforts in Negros Oriental. The Silliman University Student Government (SUSG) and Rock Ed Philippines Dumaguete Chapter co-sponsor this event to spread the word about Sendong and the relief efforts still necessary to alleviate conditions in affected areas. The concert for a cause, titled "Tapok 'Ta, La!—A Tsinelas Drive for Victims of Sendong," is slated at 7 P.M. at the Amphitheater.
More details here
.
Labels: art and culture, cultural affairs committee, dumaguete, music, negros, rocked, silliman
[0] This is Where You Bite the Sandwich
---