Hannah quickly took the stuffed toy from the nearly empty box, and gave it to the girl. The sight of those young eyes beholding this huge toy was priceless.
We would tell Bugsy about this of course, and he felt the need to tell this story: "Ian, let me tell you something about the polar bear—and most of the stuffed toys we sent you. They're from a very good friend of mine who works as a nanny in New York but has not come home in almost ten years. Her papers expired when she was jobless and penniless, so she's a TNT, there up to this time. Almost everything she earns goes to her nephews and nieces and her old mom here in the Philippines. Despite all her problems, she has managed—through the years—to collect stuffed toys from her employer who allowed her to bring them home with her. She put them in her small rented room in New Jersey—and that polar bear sat at the foot of her bed for a long, long time. She did not have money to put all the toys in a balikbayan box. But finally, God being good, we found the money to have the balikbayan box shipped to me. I intended to give them to orphans and street kids, according to her instructions. But I couldn't do it sooner because I teach. I waited for Christmas break. Typhoon Sendong came and... God showed us the way to you through Jane of Philippine Beat (whose email add I stumbled on in Twitter). My New York friend said, before she sent the polar bear here, 'It's time for you to have another roommate.' I am sure she will be happy to know it went to a cute little girl in Dumaguete. Thank you again! I am not wishing for another calamity but, should the need arise, please do not hesitate to let me know and I will do my best to be able to help again."
This just broke my heart, but in a good way. How sometimes we are moved to restore our faith in humanity because there are countless (mostly anonymous) people out there who do feel the need to reach out and help other people—even when they're also in circumstances that is less than spectacular.
Which is why I'm quite happy to coordinate Rock Ed Dumaguete with its Manila founders—an amazing bunch that includes Gang Badoy, musician Noel Cabangon, rocker and writer Lourd de Veyra, filmmaker Pepe Diokno, publisher Ani Almario, among many, many other private citizens, entrepreneurs, and creative—visual artists, writers, musicians, and others who feel a deep personal need to help out, in fun and creative ways, the people in our country, most of whom have nothing. Part of Rock Ed's motto is "to help make helping other people easier for most people," in a sense to slowly create a culture and mindset of civic mindedness especially among the young. Subtlety and rocking it are all part of the package. Rock Ed's biggest aim, of course, is alternative education beyond the classroom—essentially finding creative ways to teach people young and old about everything, from entrepreneurship to HIV awareness to solving mathematics problems. And most often with the help of music.
And so far, since Rock Ed's inception in Dumaguete in the wake of Sendong, the response of many young people wanting to do their part—be it environmentalism or gender education or relief efforts for disasters—have been electrifying. I have never seen these many young people energized to do something for the community. I don't think it's just them joining in a trend. There's genuine concern and enthusiasm here.
It is a good sight to behold, and Dumaguete is so much better for it.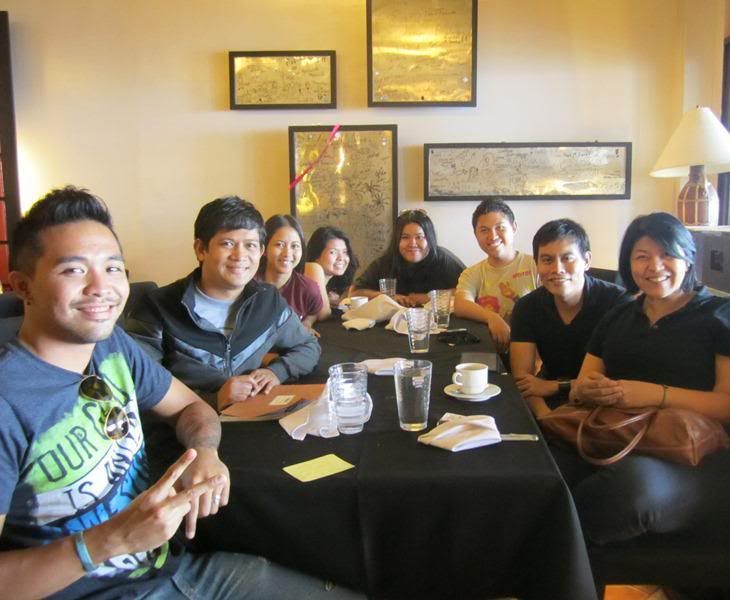 Some members of the core group of Rock Ed Dumaguete: Cole Geconcillo, Mahogany Rae Bacon, Precious Grace Heradura, Mariekhan Edding, Anna Katrina Espino, Robbie Yasi, Ian Rosales Casocot, with Gang Badoy. Photo courtesy of Ms. Badoy.

If you want to become a Rock Ed volunteer, or if you have books, clothes, and other things you can donate for our various drives, please email me at ian.casocot(at)gmail.com. Visit the Rock Ed Philippines website at www.rocked.ph. Like us in Facebook (search for RockEdDumaguete), and follow us on Twitter @RockEd_Dgte.