It was a delicate balance. How to divide one's body on a Friday night when you are part of the organizing teams behind two events happening simultaneously? At the Claire Isabel McGill Luce Auditorium, for the Cultural Affairs Committee of Silliman University, the young virtuoso Jimmy Tagala Jr. was making his debut as a solo headliner, with mentors—the legendary violinist Gilopez Kabayao and pianist wife Corazon—in tow. At the Amphitheater, for Rock Ed Dumaguete's Tsinelas for Sendong Drive, Sandwich was amping it with the pure gusto of Pinoy rock.
Two different kinds of music, poles apart. (And yet, by evening's end, I would find out the heart for both is the same.)
It was a decision I tossed to the fates—"I would follow where my feet would lead," I told myself. I settled for considering myself, in a way, lucky: what charmed life one must live to have front row seating to two great things. But somehow I managed to attend both, with my body intact. No dividing or cloning required, helped for the most part for the mere few hundreds of meters that divided the wild openness of the amphitheater and the hallowed hall of the Luce. My feet, it seemed, were quick enough to straddle the divide.
It was important to be at the Sandwich gig. We were raising awareness for Sendong relief, and we were inviting people to come and hear the music for free. But we were encouraging them to come and bring new or usable tsinelas for victims of Sendong. And sure enough, they came by the hordes. The boxes of tsinelas we brought over to sell—just in case anyone in the crowd felt "too lazy" to come with a pair to donate—sold out even before Sandwich took to the stage. And people were donating and donating, some in used clothing and some in money—that it was enough to restore faith in humanity. The shower of donations and good will almost brought some of the Rock Ed volunteers to tears. And there were many of them—young people from all over the city and not just Silliman University—coming in with the fullest intentions to help. I remember Gang Badoy telling me once that this was our ultimate mission in Rock Ed, to plant this seed of civic concern among the young. That it can start out small, but it will pay in big dividends in the future. The tsinelas is just a metaphor, a seed. The real goal is to reinvent people.
By 9 PM, the grounds of the amphitheater would be filled to capacity, if that was possible—but it was enough, it would seem, for lead singer Raimund Marasigan to willingly jump into the moshpit, twice. And the crowd went wild.
There are many people to thank for this, of course. The indefatigable Mahogany Rae Bacon, the irrepressible Mars Edding, the amazing Marita Ong, Rena Ochoco, and Yan Vanslembrouck. Then there's Anna Katrina Espino, and Cole Geconcillo, Babes and Joey Utzurrum, Hersley Ven Casero, Precious Grace Heradura, Silvin Maceren, Jaimee Duran, Fe An and Fob Sy, Robbie Yasi, Ron Calumpang, Sanda and Sande Fuentes, Duds Tecson, Von Cathleen Panot, among many others. These people are the young heart of Rock Ed volunteerism.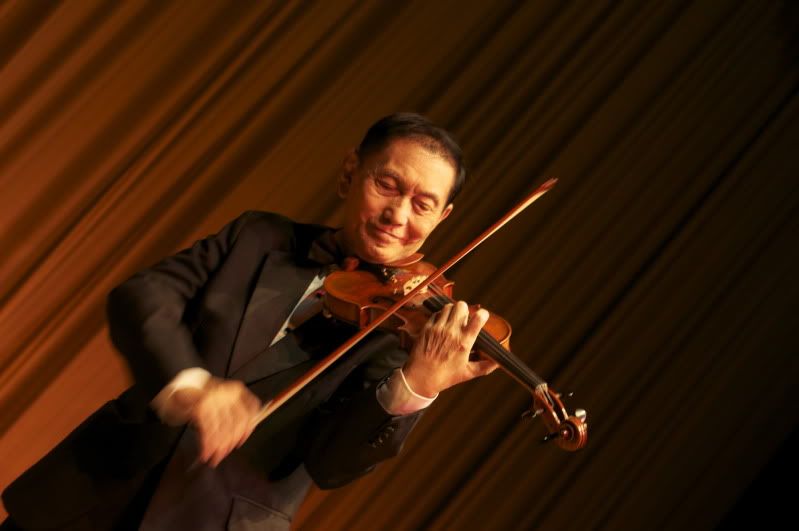 While rock music went full blast in the amphitheater, a few meters away at the Claire Isabel McGill Luce Auditorium, Gilopez Kabayao came back to his alma mater to play and to guest support his protégé, the fantastically talented virtuoso Jim-Jim Tagala. We hurried there to catch the concert in time, and to get some video footage of Mr. Kabayao for a planned video project for the fiftieth anniversary of the Cultural Affairs Committee. The pre-show photo shoot (with Annabelle Lee Adriano) went quite well, and so did the interview we did with the Kabayaos and Jim-Jim.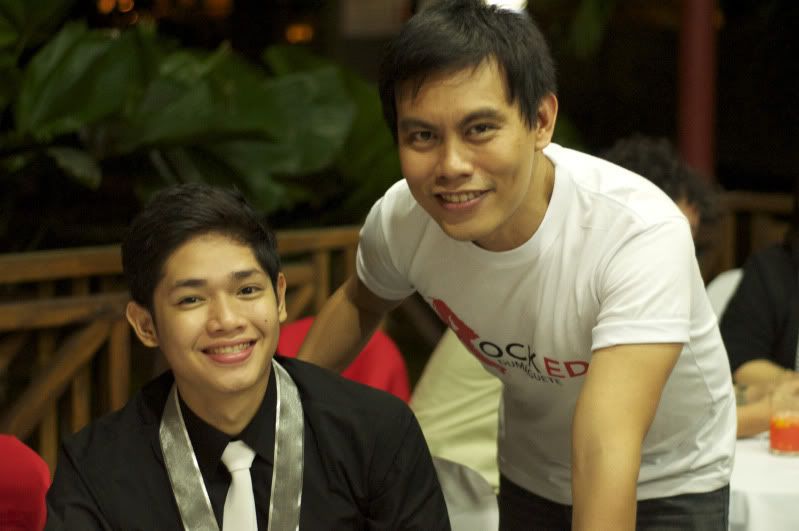 And when it came to Jim-Jim's music, we were in for a pleasant shock. How many standing ovations did we give him? Quite a few, and heartily meant, too. For his youth, this violinist managed to wow the Luce crowd with uncommon dexterity and organic connection to the music. His duet with his mentor over Bach's
Concerto in D Minor for Two Violins
was more than worth the price of the ticket, but Jim-Jim's take on Tchaikovsky's
Concerto in D Major, Op. 35
brought down the house. He would bring down the house twice more, with Kabayao's intricate arrangements of Paganini's
Caprice No. 15
as well as Abelardo's
Mutya ng Pasig
and the folk song the folk song
Bahay Kubo
, and finally with a shattering finale with Bizet's
Carmen
. To watch Jim-Jim play the violin was to see music breathing.
What a Friday night that was.
[Photos by Hersley-Ven Casero and Annabelle Lee-Adriano]