Monday, October 24, 2005
9:15 PM | Fearless Butterflies
If you find yourself in Cebu City this Wednesday night, you can check out
this new exhibit
of works by Cebu artists, musicians, and writers who are on the out side of the dark closet,
if you know what I mean
. (That I'm part of the exhibit may be explained by the fact that Dumaguete is essentially a suburb of Cebu City,
no?
) It's organized by James Iain Neish, the Cebu artist and poet -- and features works by Russ Ligtas, John Bengan, L. Lacambra Ypil, Ronald Villavelez, Zara Smith, Anna Carla Gonzalez, Mitzi Sabanal, Liyo De Norte, Louise de la Cruz, Clee Andro Villasor, Hali Marmol, Angelica Cabais, Sunshyn Alerre, Chastity Manuel, and Shem Garcia. The fabulously queer details are as follows...
Mon y Liza Holdings
Kahayag Cafe
POW Designs

present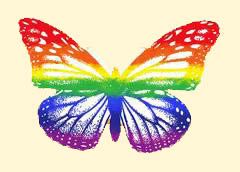 Kabakaba Ba Ka?

An Exhibit
November
Kahayag Cafe

Old Coaco Building, M.J. Cuenco Avenue, Mabolo
Opening Night: 26 October 2005, 7PM

December
Mooon Cafe
42 Emilio Osmena St., Guadalupe
Mon - Thu : 5PM - 12MN
Fri - Sun : 5PM - 1AM

January
UPVCC Little Gallery
UP in the Visayas Cebu College, Gorordo Avenue, Lahug
Mon - Fri - 9AM - 5PM
The program reads: "Showcasing works by gay and lesbian writers and visual artists, illustrating scenes from queer life that applaud the human spirit. Keeping the content personal, drawn from real life, the participants relate their own gay experience in addition to eradicating any misapprehension that they are speaking for the entire gay community of Cebu. Each artist asserts, 'This is my story,' and leaves it at that. The show celebrates life and the people living it, affirming that the queer biography is no more alien than the next person's, varied as the rest of humanity's."
Labels: art and culture, queer
[0] This is Where You Bite the Sandwich
---