Tuesday, January 17, 2006
9:13 PM | In Between, and Straight to Your Heart
I watched Duncan Tucker's transsexual dramedy
TransAmerica
, starring the formidable Felicity Huffman and the incandescently beautiful Kevin Zegers, a few weeks ago -- and found it a heartwarming road trip with a gender twist. (The offical website can be found
here
.)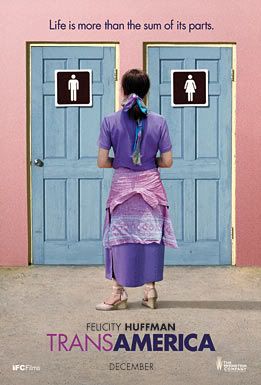 I remember telling Mark, "Felicity has
got to be
nominated for this role." And now, she has just won the
Golden Globe Best Dramatic Actress award
for her role as a man getting transformed into a woman. A role like this usually gets the Oscar nod (note Linda Hunt's Oscar-winning role in Peter Weir's
The Year of Living Dangerously
-- where she convincingly plays a
male
reporter, and note the gender surprise pulled off by the Oscar-nominated Jaye Davidson in Neil Jordan's
The Crying Game
).
I watched the movie again with Mark tonight, after witnessing Felicity Huffman's coup at the Golden Globes where she memorably said in her acceptance speech: "I know as actors our job is usually to shed our skins, but I think as people our job is to become who we really are, and so I would like to salute the men and women who brave ostracism, alienation and a life lived on the margins to become who they really are."
(Very nice, Mrs. William H. Macy.)
The movie is even funnier and more endearing the second time around. You
have
to watch it. Check your gender squimishness at the door, and watch it if you can.
[0] This is Where You Bite the Sandwich
---