This is the blog of Ian Rosales Casocot. Filipino writer. Sometime academic. Former backpacker. Twink bait. Hamster lover.
Interested in What I Create?
Bibliography


The Boy The Girl
The Rat The Rabbit
and the Last Magic Days
Chapbook, 2018




Republic of Carnage
Three Horror Stories
For the Way We Live Now
Chapbook, 2018




Bamboo Girls:
Stories and Poems
From a Forgotten Life
Ateneo de Naga University Press, 2018




Don't Tell Anyone:
Literary Smut
With Shakira Andrea Sison
Pride Press / Anvil Publishing, 2017




Cupful of Anger,
Bottle Full of Smoke:
The Stories of
Jose V. Montebon Jr.
Silliman Writers Series, 2017




First Sight of Snow
and Other Stories
Encounters Chapbook Series
Et Al Books, 2014




Celebration: An Anthology to Commemorate the 50th Anniversary of the Silliman University National Writers Workshop
Sands and Coral, 2011-2013
Silliman University, 2013




Handulantaw: Celebrating 50 Years of Culture and the Arts in Silliman
Tao Foundation and Silliman University Cultural Affairs Committee, 2013




Inday Goes About Her Day
Locsin Books, 2012




Beautiful Accidents: Stories
University of the Philippines Press, 2011




Heartbreak & Magic: Stories of Fantasy and Horror
Anvil, 2011




Old Movies and Other Stories
National Commission for Culture
and the Arts, 2006




FutureShock Prose: An Anthology of Young Writers and New Literatures
Sands and Coral, 2003
Nominated for Best Anthology
2004 National Book Awards


Follow the Spy




Recent Crumbs




Blogs I Read


© 2002-2018
IAN ROSALES CASOCOT
Tuesday, January 17, 2006
9:13 PM | In Between, and Straight to Your Heart
I watched Duncan Tucker's transsexual dramedy
TransAmerica
, starring the formidable Felicity Huffman and the incandescently beautiful Kevin Zegers, a few weeks ago -- and found it a heartwarming road trip with a gender twist. (The offical website can be found
here
.)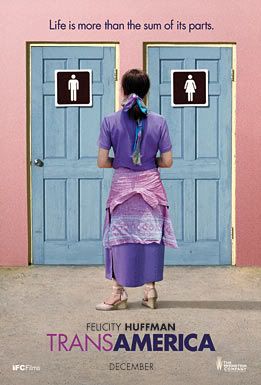 I remember telling Mark, "Felicity has
got to be
nominated for this role." And now, she has just won the
Golden Globe Best Dramatic Actress award
for her role as a man getting transformed into a woman. A role like this usually gets the Oscar nod (note Linda Hunt's Oscar-winning role in Peter Weir's
The Year of Living Dangerously
-- where she convincingly plays a
male
reporter, and note the gender surprise pulled off by the Oscar-nominated Jaye Davidson in Neil Jordan's
The Crying Game
).
I watched the movie again with Mark tonight, after witnessing Felicity Huffman's coup at the Golden Globes where she memorably said in her acceptance speech: "I know as actors our job is usually to shed our skins, but I think as people our job is to become who we really are, and so I would like to salute the men and women who brave ostracism, alienation and a life lived on the margins to become who they really are."
(Very nice, Mrs. William H. Macy.)
The movie is even funnier and more endearing the second time around. You
have
to watch it. Check your gender squimishness at the door, and watch it if you can.
[0] This is Where You Bite the Sandwich
---