Sunday, July 09, 2006
8:57 AM | Behind the Making of a King
From Visayan Daily Star
There are two worlds to every beauty pageant. There is the one the ordinary person sees as a spectacle parade. And there is the other one unseen by most, which is characterized by the usual camaraderie among participants forged by common experience
(travel, photo shoots, fittings, endless and almost unforgiving rehearsals...)
, but also characterized by not-so-subtle maneuverings and deep psychological warfare waged behind stage curtains and in the darkness at the edges of the limelight, the music of which is most often gay laughter. In other words, the side of pageant sans cosmetics --
the real deal
. This is, for the most part, a story of that other world, of how a pageant comes to be.
For the past few months -- three, to be exact -- I had gone undercover to understand the inner workings of one of the Philippines' favorite pastime. The Filipinos' fascination for pageants is well documented; I have, in fact, written at length about the history of that fascination in previous posts. Truth to tell, the pageant bug that bit my curiosity came when I was first invited last summer to judge the biggest female pageant in Negros Occidental, the Lin-ay sang Negros. Since then, perhaps dazzled by the costumes, the studied graces, and the stage lights of the whole spectacle from up close, I had been hounded by these questions:
What for all these? What exactly do we find in pageants that arouse so much curiosity, and even debate? What makes events like this tick?
In
Hari ng Negros
, which is how the Ginoong Canlaon title has evolved to be called, I got an ample opportunity to do my journalistic snooping in the name of investigating popular culture, tagging along every weekend with a friend who had been officially selected as a candidate to the four-year old male pageant.
The target was a worthy one to study. There has always been a dearth of "respectable" male pageants in the country, given the more popular appeal of women in pageants vying to be queens, and the common perception that male versions were veritable cesspools of a wayward morality. Hari ng Negros proved to be the irresistible exception to the rule, or so the hype said.
In the past few years, however, the Hari ng Negros pageant -- which started in 2003 through the initiative of the tourism council of Canlaon City -- has quietly become the most prestigious male pageant of its kind in the Visayas, regularly fielding top bets from various towns and cities in both sides of Negros Island. From a small crop of contestant in the first year, it has grown this year to a bevy of 24 candidates all competing, with the determination of jaguars, for the Hari title, making the pageant one of the biggest in the region.
There is no doubt that the prestige of this particular pageant has been increasing year to year, and at the same time attracting more and more visitors into coming to Canlaon City -- that faraway city in the sky -- to watch it. This may be because previous winners of the title have gone on to successes in film, business, and modeling: past winners include local top model Paul Brett Orozco, businessman Emmanuel Labirua, and screen actor Reiven Bulado who parlayed his win to receive a plum role in Cesar Montano's award-winning film
Panaghoy sa Suba
. It has attracted luminaries as well. This year, the panel of judges comprised of famous names in film, tourism, and the international fashion field, such as fashion designer Patis Tesoro, high society don Ado Escudero of Villa Escudero, Brussels International Film Festival director Robert Malengreau, FashionTV Asia producer Rebecca Piket, international supermodel Laury Prudent, and DOT International Tourism Director Ting de los Reyes. On paper, and in press releases, Hari ng Negros sounds very much like a big deal. My mission was to dig to the depths, observe the entire process, and come up with conclusions as to why pageants hold sway over our baser interests.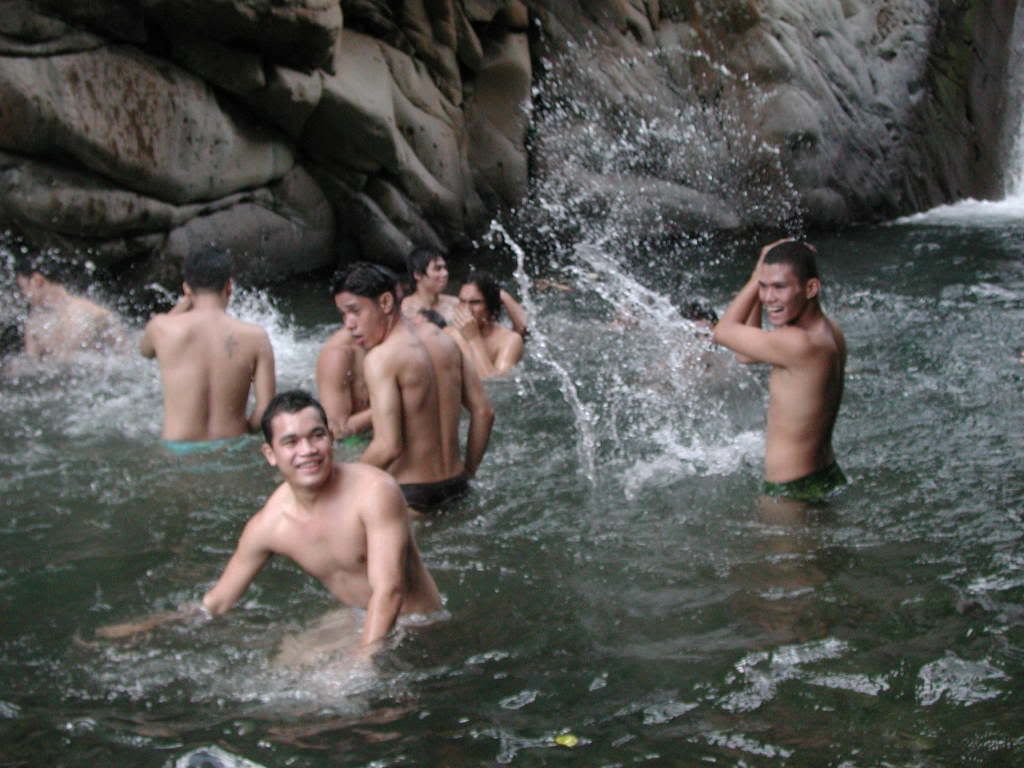 The water is cold during the first photo shoot of the pageant season, this time in Canlaon's largely undiscovered Padudusan Falls.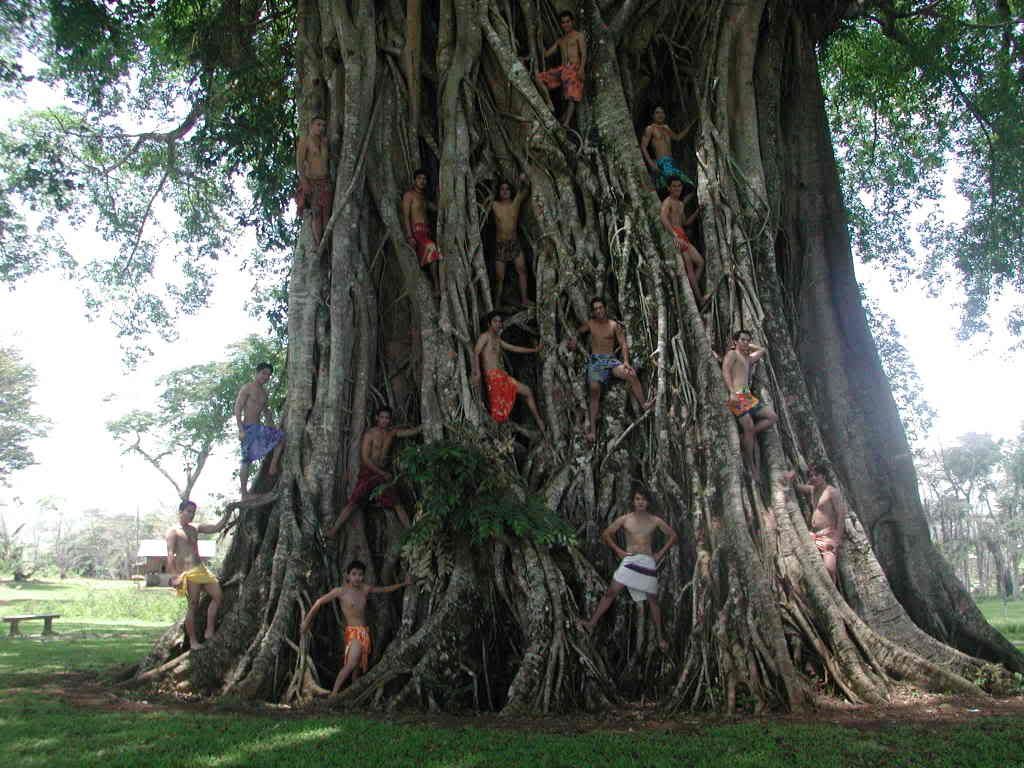 Climbing the trunk of one of the country's oldest trees, in Canlaon.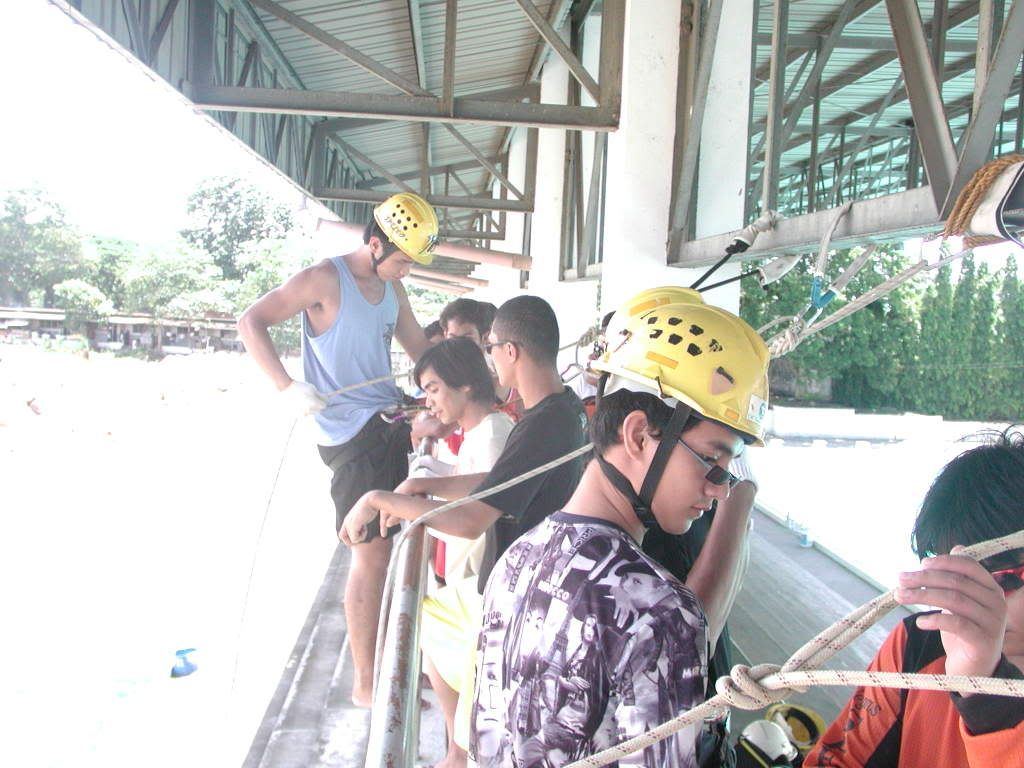 The candidates learn how to do rappelling in preparation for their (cancelled) Mabinay cave trip.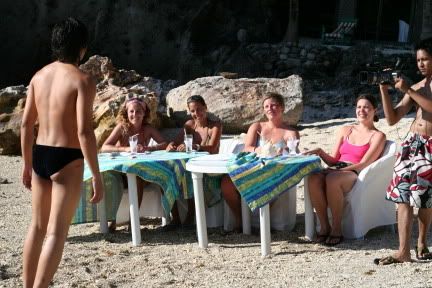 Foreign Apo Island tourists judge the candidates for an impromptu Mr. Apo Island contest during the candidates' photoshoot in the island. Mr. Valladolid emerged the winner.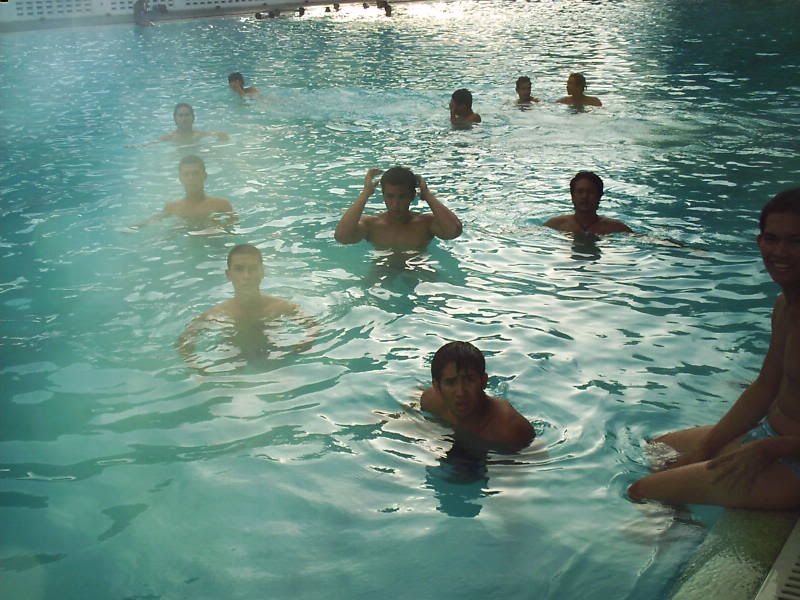 The candidates frolic in the swimming pool after their Dumaguete photo shoot...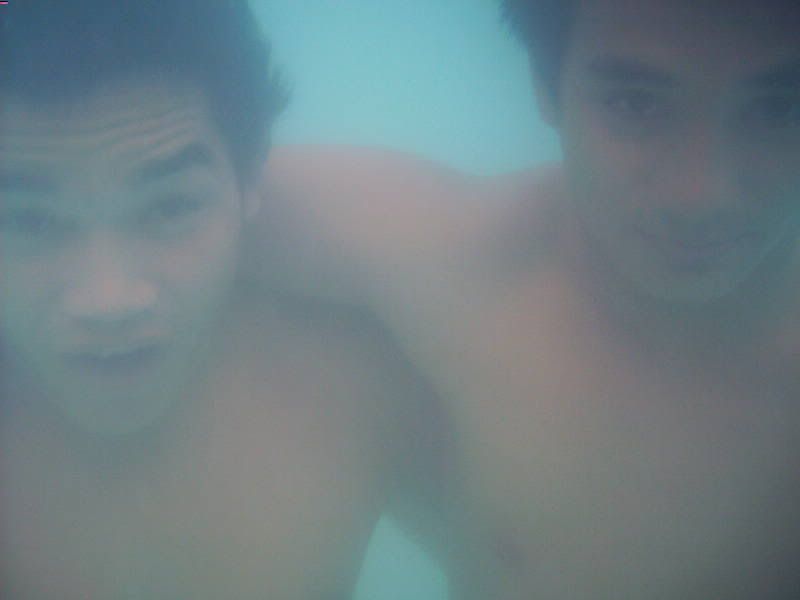 ... and make faces under water (sometimes more...).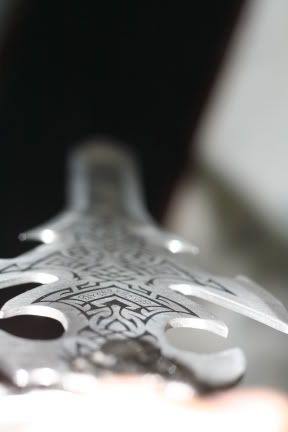 The Hari ng Negros sword prepares for the next holder. It is a secret belief that candidates who touch the sword before the pageant fail to make it to the winners' list. Candidates who touch the sashes, however, gets that particular sash's placement. Jimalalud touches the Hari ng Negros winner sash, and Dumaguete the 1st runner-up sash...somehow sealing their wins.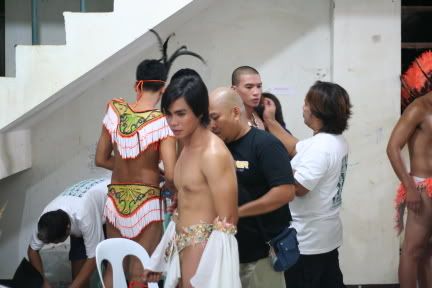 Preparations backstage are hectic as the seconds count down...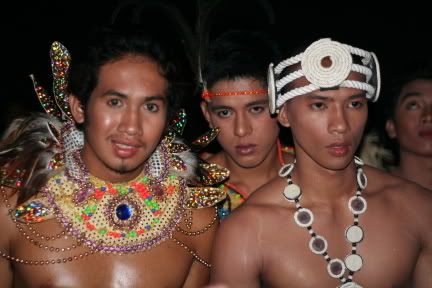 Candidates from Pontevedra, Kabankalan, and La Carlota before the show. Rivalry between the two Negros provinces culminated in the pre-pageant "showdown" of sorts between La Carlota, Occidental's biggest bet, and Jimalalud.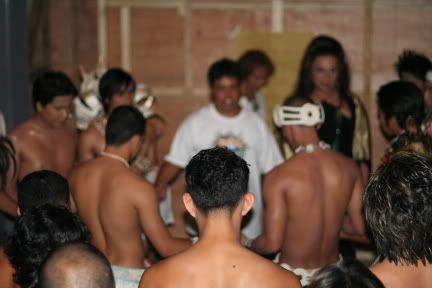 Producer Michael Ocampo leads everybody in prayer before the start of the pageant.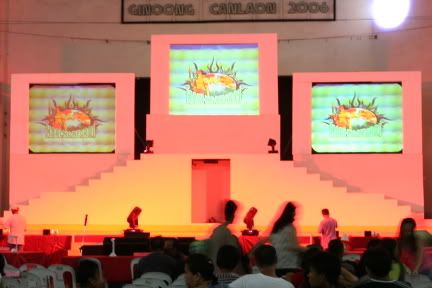 The Canlaon City Cultural Complex dressed up for Hari ng Negros night. The venue becomes jampacked as the night progresses.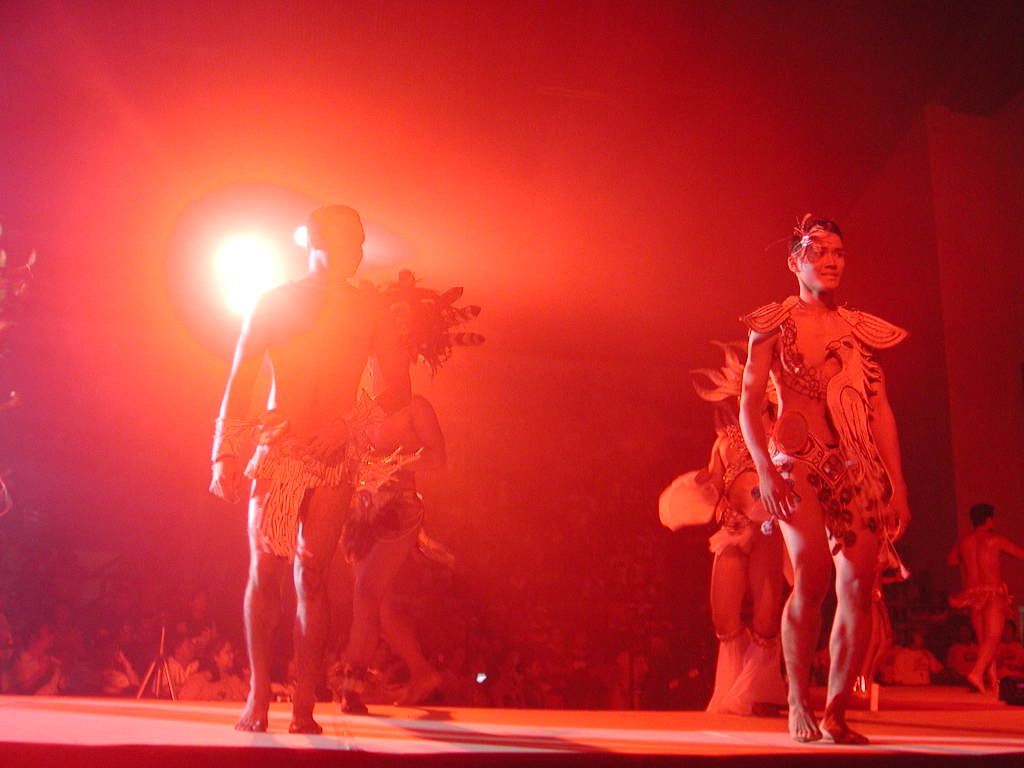 Marie Longa of Manjuyod and Mark Prestin of Tanjay in the spotlight during the Tribal Wear Competition.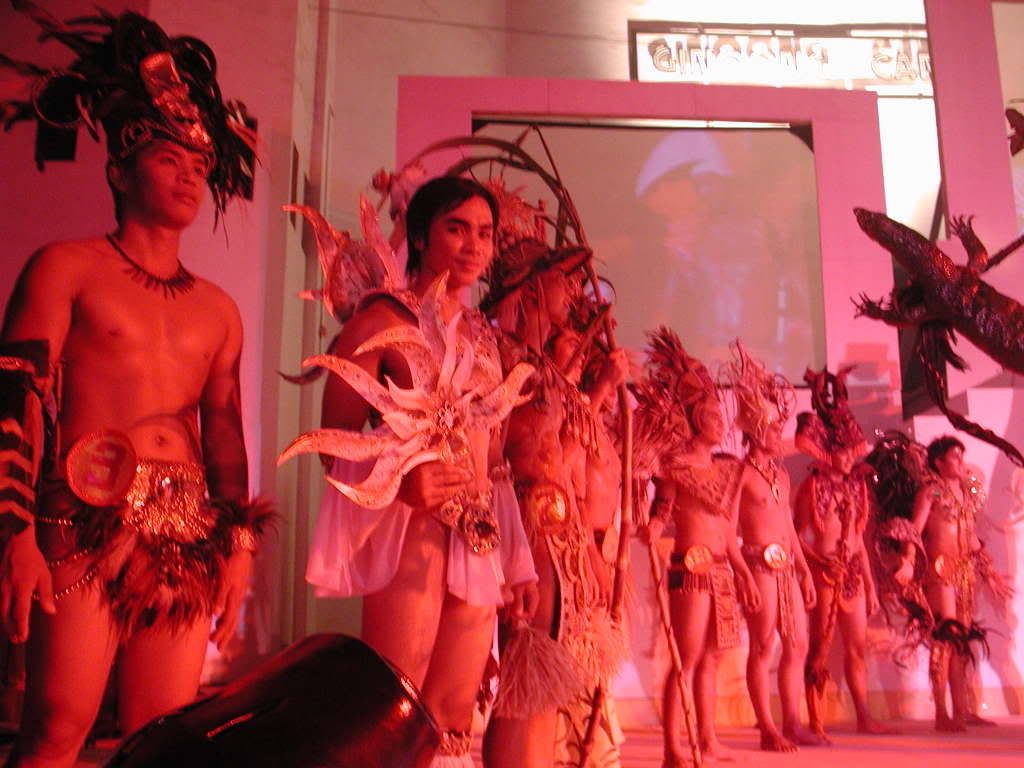 Lining up for the Tribal Wear Competition.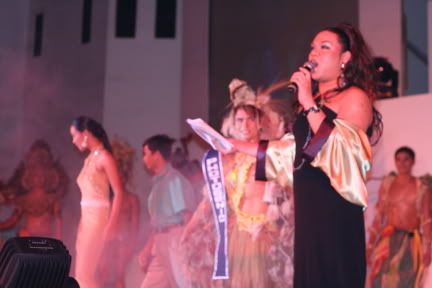 Cebu's Jude Bacalso almost steals the show as the night's vivacious host. Comedienne Pokwang gave a hearty intermission, easily trumping Pinoy Big Brother's Cass Ponti who proved a terrible entertainer.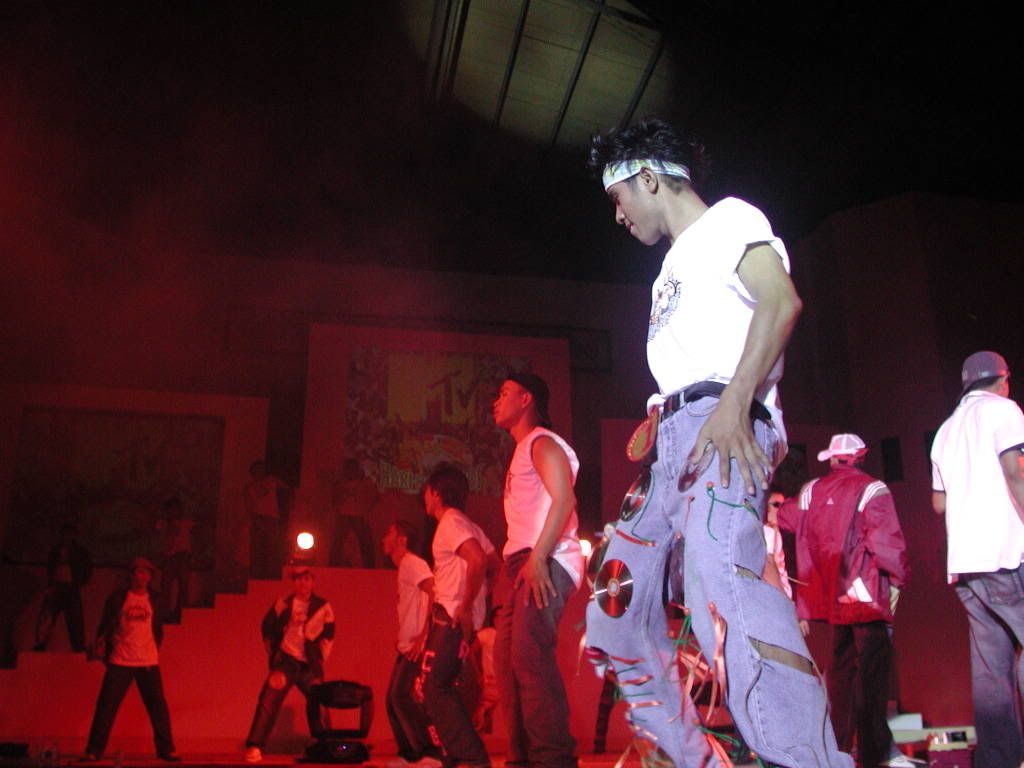 The candidates swing to a hip-hop beat in the Streetwear Competition and MTV Showdown.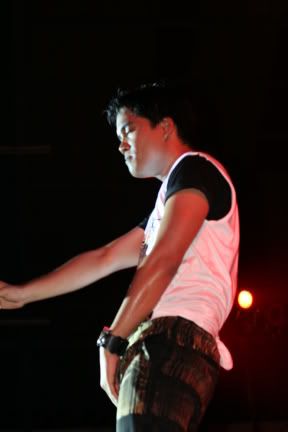 Mark Xander Fabillar of Jimalalud shows how stylish moves should be in the Streetwear Competition, romping off with the special award later in the show.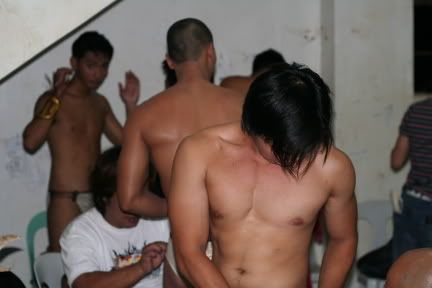 Getting into the swimwear backstage can involve some pageant "tricks"... Tissue paper, anyone?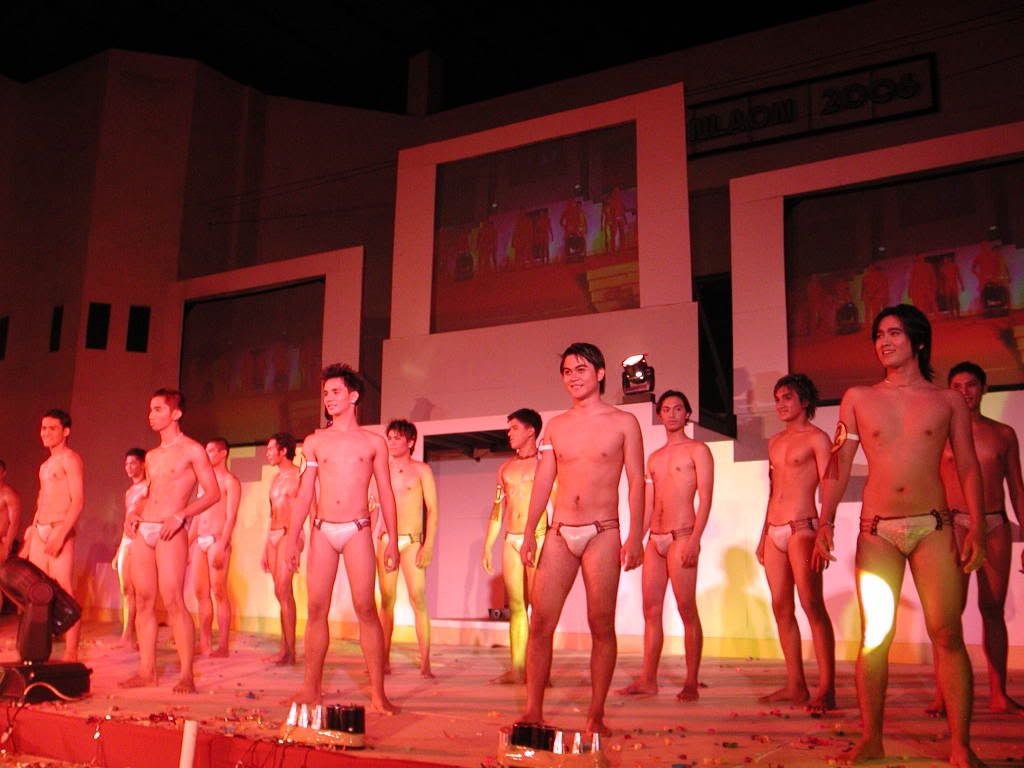 The candidates in their swimwear.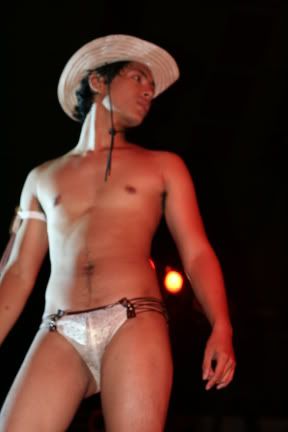 Leviger Laxina of Dumaguete City shows off his winning poses for the Swimwear Competition.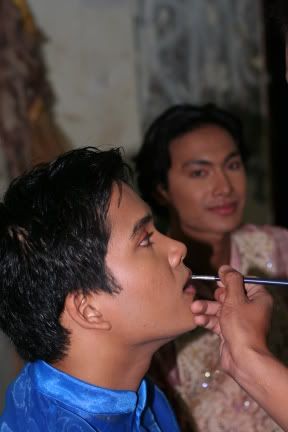 Mark Xander Fabillar gets made up by coach Erica Barraquias before the Formal Wear portion.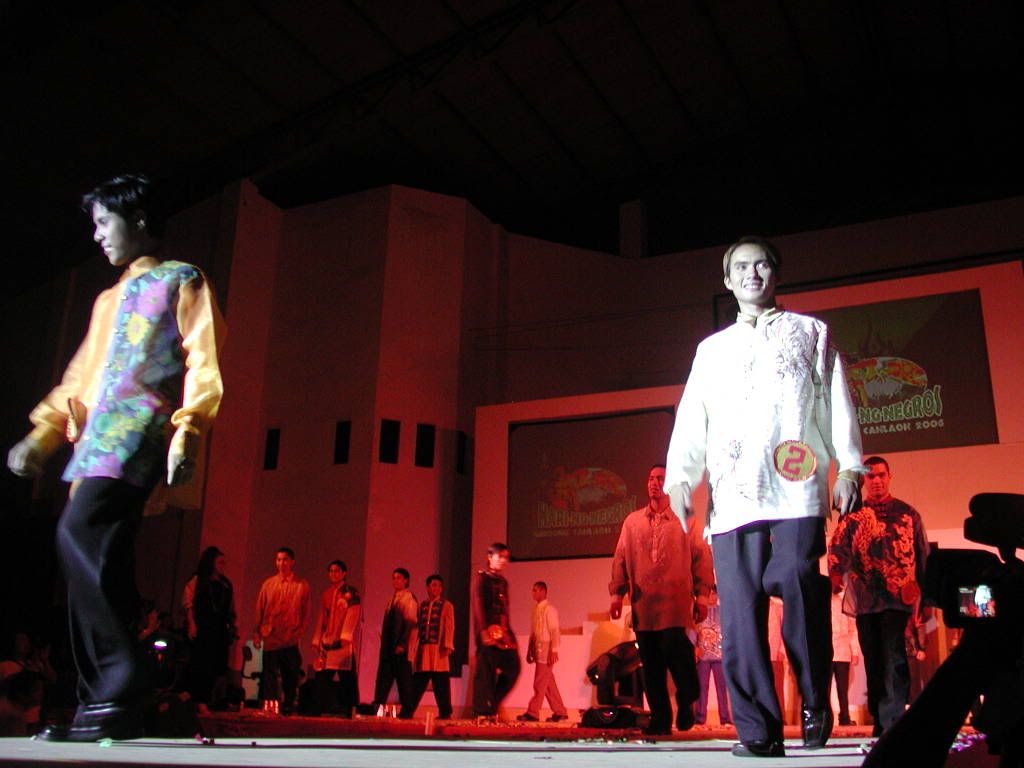 The Formal Wear Competition begins...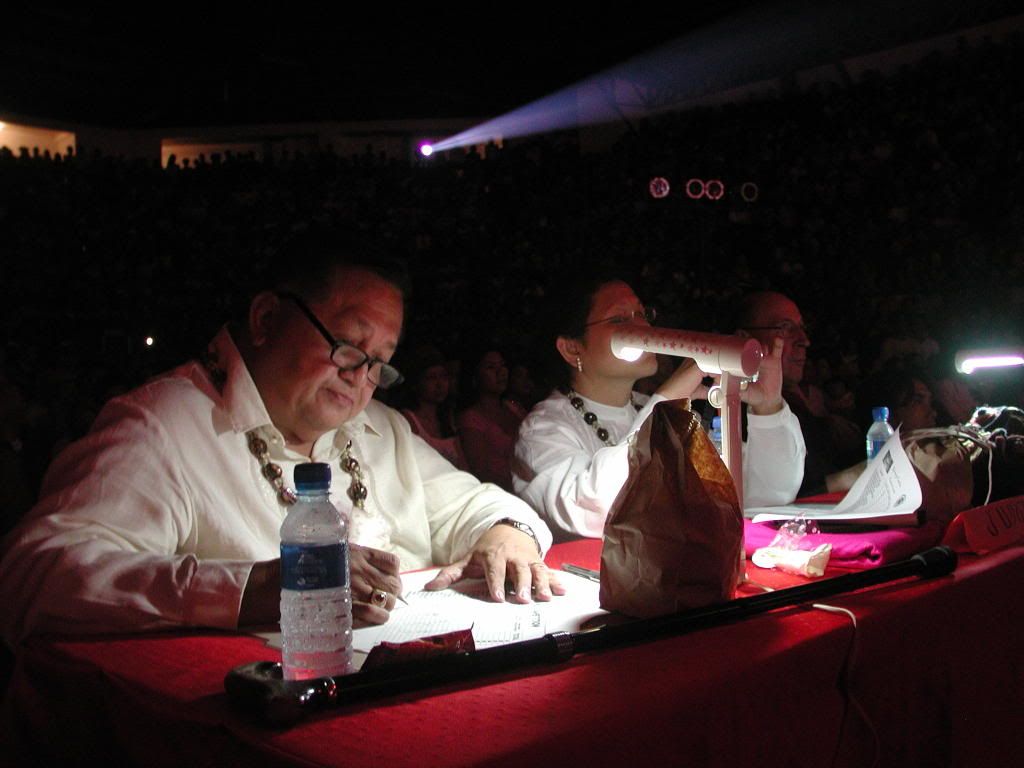 Board of Judges members Ado Escudero, Ting de los Reyes, and Patis Tesoro gets busy with their rankings...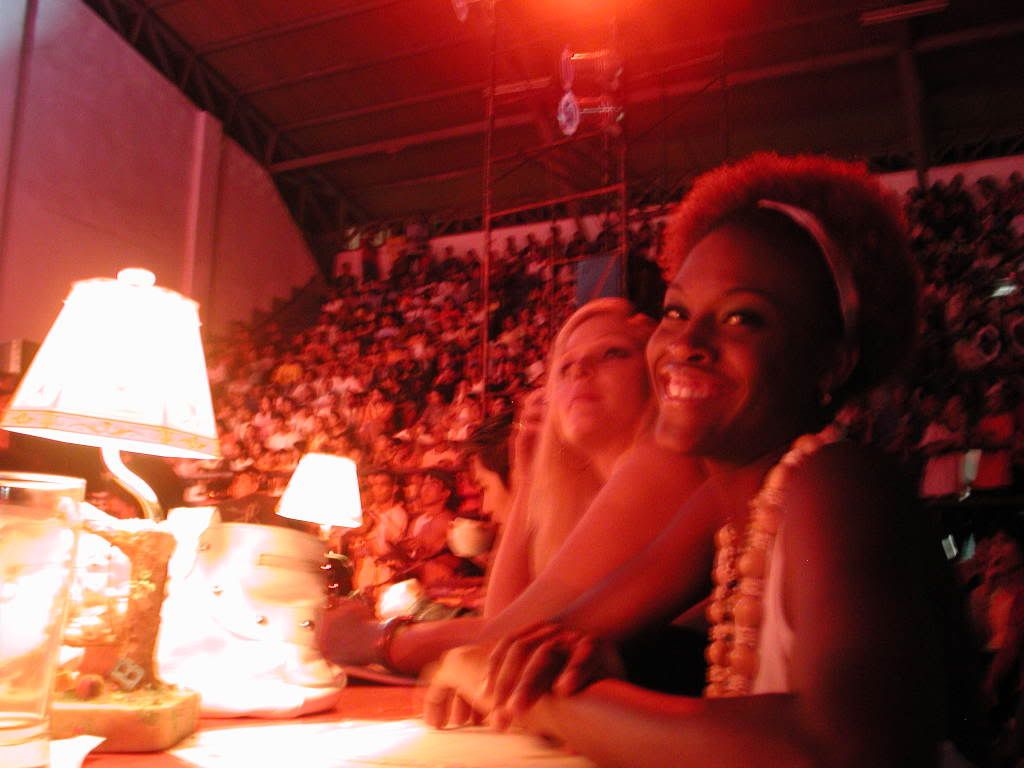 ... while fellow judges Rebecca Piket and Laury Prudent mug for the cameras.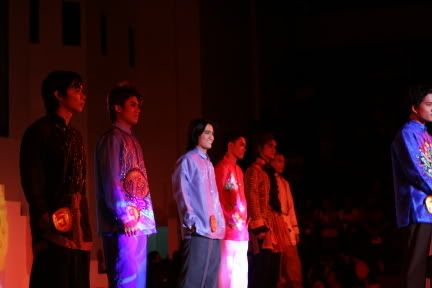 The Top Ten, with candidates from Dumaguete, Jimalalud, Bayawan, Canlaon, Escalante, Tanjay, Bacolod City, La Carlota, Cadiz, and Sagay. Jimalalud is the only municipality in the top ten. All semifinalists had to answer questions from the members of the Board of Judges.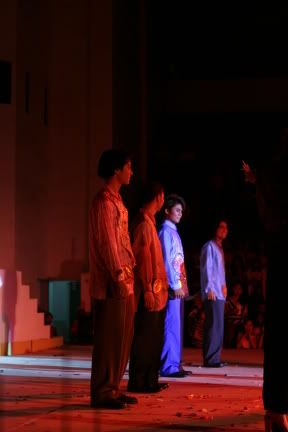 The Top Five with Jimalalud, Dumaguete, Bayawan, Canlaon, and Escalante. The finalists had to answer questions from their fellow finalists. Escalante asks Jimalalud how one can describe the color blue to a blind person, to which Mark Fabillar answers, "If I were to describe the color blue to a blind person, I would take his hand and make him feel ice because blue is a cool color, and this will give him an idea of what the color blue is." And the audience went wild.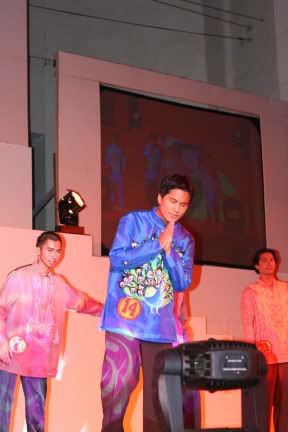 The Top Three with Jimalalud, Dumaguete, and Bayawan. The Occidental candidates get locked out again, continuing a Hari ng Negros "tradition." A spectator later observes, "Some of the Occidental candidates mistook the pageant for a body-building contest." In the Interview portion, the more locquacious Oriental bets easily steal the show.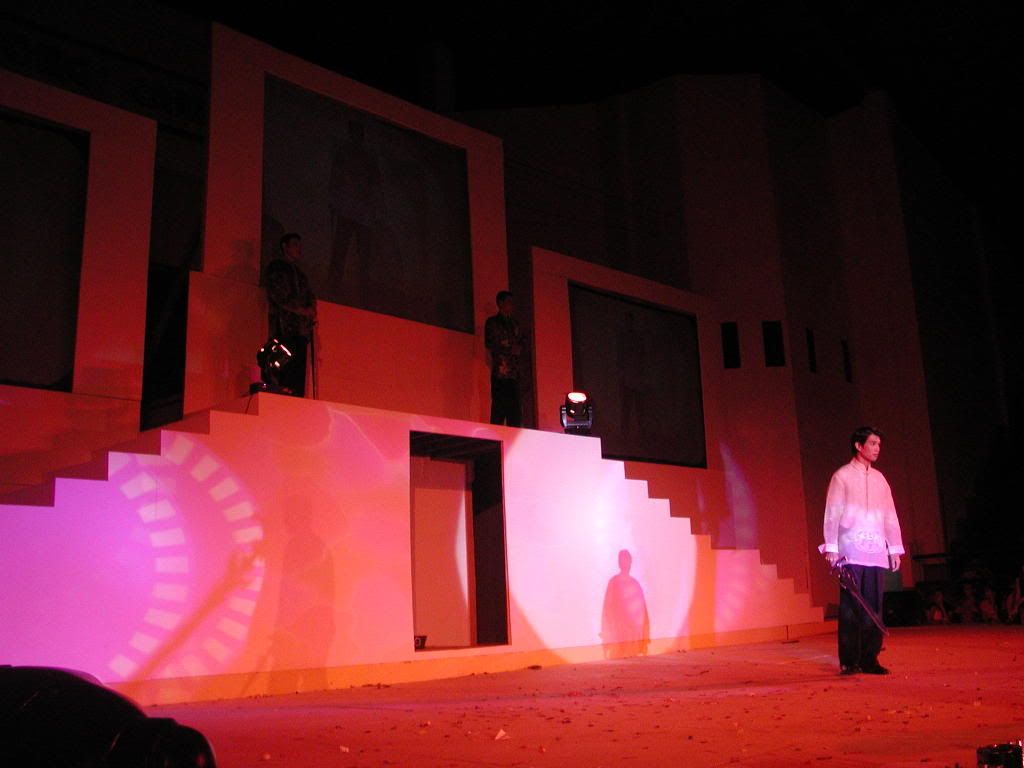 Hari ng Negros 2005 Paul Brett Orozco does his final walk. Paul and Jimalalud's Mark Fabillar, strangely, happen to be very good friends. Both are St. Paul University graduates, from a school known to frown on beauty pageants.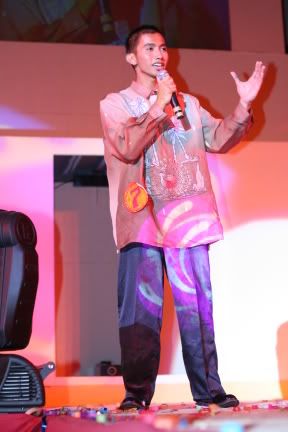 JM Contreras of Bayawan gives his answer to the Final Question, "What is a man's relevance in today's modern times?" He becomes Second Runner-up. His fumbling answer, taken too long, sealed his fate despite his good physique.

Leviger Laxina gives his answer to the Final Question, and becomes First Runner-up. He talked about "courage" being the essence of any man.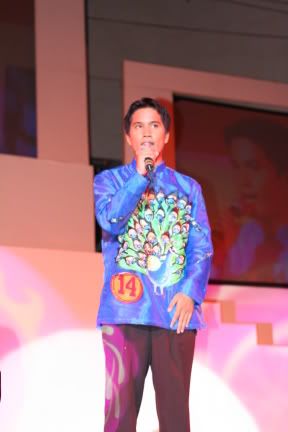 Mark Fabillar gives his answer to the Final Question, and becomes the new Hari ng Negros. His answer was: "A man's relevance is his substance... what he has to say and what he has between his ears. An intelligent man is a relevant man. More intelligent men means more progress for a country. This is the relevanc of a man."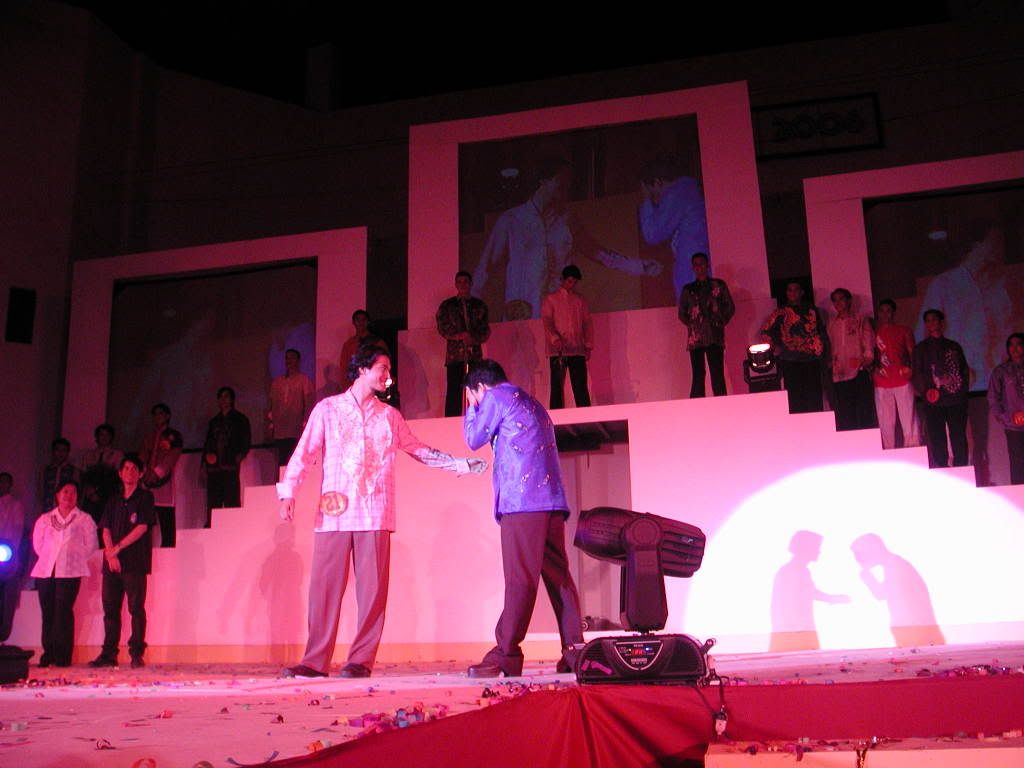 The final moment before the ultimate announcement...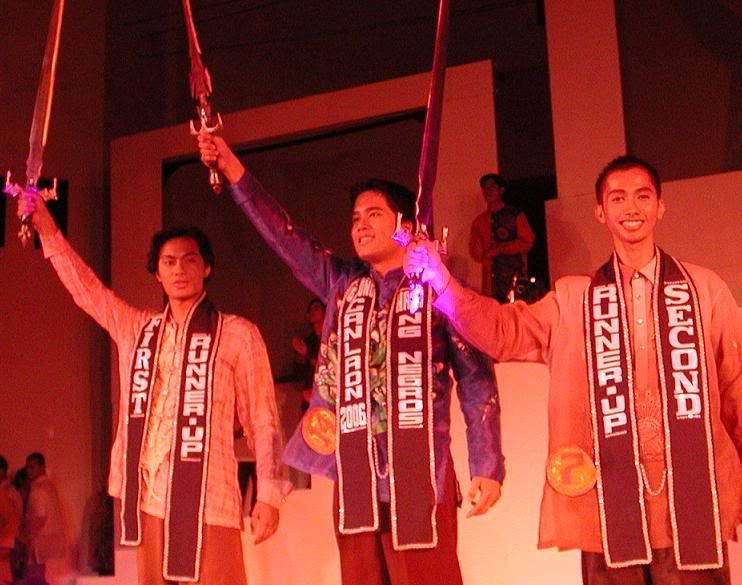 The new Hari ng Negros with his court.

Suffice it to say that pageants are so much a part of our national psyche that there are those among us who make a living out of it, something they do that can only be described in terms of the passionate, or maybe even madness. Pageants, in a sense, are the gathered stories of people who come together to produce a show about beauty, and ostensibly of intellect. And like all enterprises, there are tricks of the trade, and there are secrets, and there are shenanigans, and there are stories of hopes and stories of betrayal. Pageants are the ultimate dramatic stage show, with many easily observable actors playing their parts.
Take, for example, Hari producer
Michael Ocampo
who almost single-handedly handles the entire pageant organization, having taken it from its small origins to the present show which approximates a major production. When Mr. Ocampo first came to notice in Negros Oriental as a student in Silliman University far away from his Filipino-American roots, he proved immediately controversial, and decidedly took the 1996 Miss Silliman Pageant as its Organizational Chairman down the route of a Miss Universe-like renaissance, at once antagonizing many while drawing admiration from others. That controversial air -- but also that can-do spirit -- he has since translated to doing tourism functions as a member of the Negros Oriental Provincial Tourism Council, which is how he first landed the gig of handling Ginoong Canlaon. He reconceived the pageant born in 2003 into a showcase of tribal history, taking note of Negrense mythology, and proceeding to make it a promotional vehicle of Negrense tourism, mandating that each candidate be a representative of a Negros town or city and its homegrown festival. Hari ng Negros is his story.
Take, as well, pageant coach
Erica Barraquias
who, as your typical gay "manager," takes ubiquitous pageants like these as a chance to peddle her considerable talents in make-up and in conceptualizing the elements needed in the various competitions for the pageant, from formal wear to festival costume. Besides her encyclopedic knowledge of rouge, blush, lipstick, pencil, and gel, it is the job of coaches like her to find funding for her candidate, to act as
yaya
and mother and guidance counselor, to budget the miniscule allowance for fare and what-not, to be there when Superglue is needed to make tangkag ears look smaller, to spray aerosol against buttock skin so that her wards' swimwear do not crawl to knots, to paint the outlines of a six-pack with body make-up when a ward does not exactly sport a toned physique. Hari ng Negros, too, is her story.
And take
Mark Xander Fabillar
, the eventual winner of this year's pageant, who represented his father's hometown of Jimalalud and its Himbabalud Festival. He was first approached by various scouts to join the pageant in 2005, but turned the invitation down to finish his studies and to embark on his first job, which took him to Cebu. Having resigned after six months, the offer came again, and while he was still hesitant, he attended the second screening for potential candidates at the Canlaon City Pension House where, together with other hopefuls, he was grilled with questions ranging from issues of morality to anecdotes of local history. One hapless candidate to represent the town of Murcia mistakenly called joining Hari ng Negros the equivalent of joining a Bikini Open -- which led to a long tirade from Mr. Ocampo about the Negrense heritage at stake with winning the title, invoking Kalantiao and Kan-laon and a swirl of local mythology that had given backbone, and relevance, to the pageant. Soon, in the sprint for the ultimate selection night, Mr. Fabillar too would have his doubts, would have trouble dealing with some dark talk -- but ultimately persevering to become the fourth Oriental Negrense to hold the Sword of Negros as the new Hari, locking out the Occidental candidates for the fourth year in a row.
From all those days and nights carousing with coaches and candidates in Canlaon City, I have learned the value of appreciating the too quiet nights of the mountain city, with only the wail of bad singers singing eternal favorites in a karaoke bar not so far away from where we were billeted -- in a single room with beds strewn all over the floor, approximating a shipwreck. I have learned to take into control my complaints over sardines for meals, and painful truck rides to mountaintops in search of waterfalls to hold photo shoots. I have learned to accept the fact that when people referred to candidates, they would call out the place names they represented instead. There was no Mark Fabillar, for example, there was only "Jimalalud," and there was no Chris Chiong, only "Bacolod," and they answered to those names from day one to last.
I have also learned that in the long run, despite the backbreaking three months of shoots and rehearsals and complaints and what-not, what would ultimately matter is the final show itself. And for that, Hari ng Negros 2006 did not disappoint: it was an exercise of classy restraint, courtesy of the splendid choreography of Melloy, and an exercise of good pacing, even with the epic length of four hours. In the end, Hari ng Negros is
really
just a good show complete with fireworks.
But I have also learned that all pageants have a certain conceit to convince themselves most of all that everything is beyond skin deep. Some fashion themselves as benefactors for the environment, others as social charities. For Ginoong Canlaon, it is the chance to sell an island, its culture and history. Tourism, in other words -- and every year, every tourism officer in both sides of Negros Island fight it out to get the proud title of Hari ng Negros. Next year, it would pretty much be the same.
Congratulations to Mr. Jimalalud for winning the sword!
Labels: pageants
[0] This is Where You Bite the Sandwich
---