This is the blog of Ian Rosales Casocot. Filipino writer. Sometime academic. Former backpacker. Twink bait. Hamster lover.
Bibliography
Wednesday, March 14, 2007
6:49 PM | The Folly of Tim Yap
What a schmuck.
But we always knew that.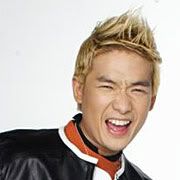 Bloggers
who think
and
who have souls
(
here
and
here
and everywhere) are taking note of
Tim Yap
's
feckless comments
about the devil-may-care party-going mindset of his (and unfortunately also my) generation:
There is this mind-set, which I think is so passe, that says: 'The country is in shambles and the country is having a hard time and you are out there partying.'

But this generation is guiltless when it comes to that.
It's enough to just give up, and
curb any hope for this country
.
There's another word for the guiltless in an orgy of evil, Tim: a sociopath. Which suits you: you are
sosyal
and you are pathological. But if it's any consolation to everybody else, here's one poem by
Amado Bajarias
which I liked very much, and which was published in the pages of
Philippines Free Press
...
Bring Me the Head of Tim Yap Superstar Columnist!




By Amado Bajarias



infecting the feckless
world
with their mi-droga tu-droga
faux naif venom
Manolo Blahnik et Prada et Miu-Mui
as Weltanschaung chi-chi

these post-Weltschmerz,
post-kitsch, post-irony,
post-cynicism, post-posturing,
post-superficiality, post-hype
post-hubris, post-epater les bourgeois
Nosferatu kindred
with their Roppongi pallor
cultivated in the ciggie-smoke
miasma
of buy-this-and-buy-that
blather

I need to see them tortured, squealing
like abattoir pigs

My God Marcos was right
to ban them society pages
with their pasty-white
vampiric
flash-bulb denizens
sassing
each another
fawning fake-smiles for photo ops
in the Grand Guignol style

I need to see them
faute de mieux disembowelled
slowly
on a rotating spit

Marcos was right to shut them down
a pity he stopped short
of giving them a coup de grace
to their oh-so-chic
beaucoup heads
I do renounce Tim Yap and his ilk. He does not speak for me.
Labels: celebrity, economics, issues, life, poetry
[0] This is Where You Bite the Sandwich
---