Tuesday, March 13, 2007
2:57 PM | Life in a Blur, and a Literary Magazine
Busy, busy, busy.
It's the final week of school, and I'm spending it trying to tie up loose ends and beating thousands of deadlines. And yet, and yet... I'm exuding an aura of calm. I have no idea why. But it must be the coffee, the new diet, the relaxing music blaring out of my CD player, the Happiness Project I have, and the inner inspiration I've wrested a week ago straight out of thin air.
But I'll be blogging still, because I can't help it.
In the meantime, here is a glimpse of the literary magazine I just laid out for my former students who are part of the staff of
The Weekly Sillimanian
, many of whom are LitCritters Dumaguete members.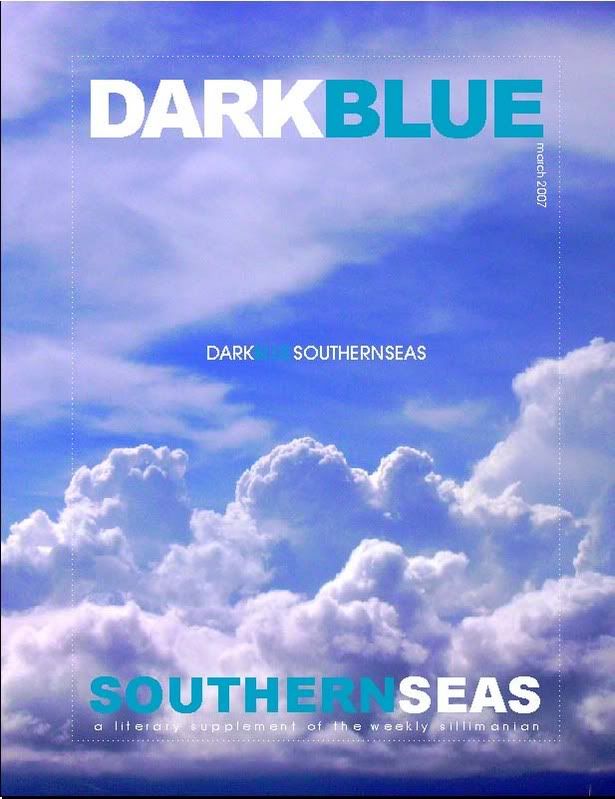 You might even say that this magazine, which we named
Dark Blue Southern Seas
, is kind of a LitCritters project. The literary supplement is coming out in a week or so, and we may be able to distribute PDF copies online (if the staff grants that idea). It contains some juvenile stories, essays, and poems, nothing hardcore -- but I'm proud of this effort by my students. It may be the first (or second?) step to recovery, writing-wise, in Silliman University.
And why
Dark Blue Southern Seas
? Well, it's the next (appropriate) line in the "Silliman Song," isn't it? For those who know, they will certainly get the point, which is so tongue-in-cheek it's priceless.
Hehe.
[0] This is Where You Bite the Sandwich
---