Thursday, March 08, 2007
9:58 AM | Memories of Being Under the Rainbow
When you're a rabid cineast who has the gift of knowing the title of any movie from watching just one brief shot (
even
of movies I have not watched before), not being able to remember the title of a film you once watched (and still remembered) when you were a kid is the equivalent of a memory rash. My brother Rocky and his then college girlfriend (now wife) Efeb used to take me with them every time they watched a movie. I'm not sure why (because if I were part of a dating couple, I'd
never
bring my bratty baby brother with me -- I want romantic aloneness with my significant other
no
!). But they did take me out a lot, and we watched so many things. This one movie I remembered intensely because it was very colorful, very zany, and I remembered a lot of little people (dwarves) in it.
For years, I could not remember the title. It ate at me.
Today, I am reading
a CNN article on Carrie Fisher
, and there's a sidebar story about
the bad films she made in her interesting career
. She mentions a movie, "Under the Rainbow." Something clicked.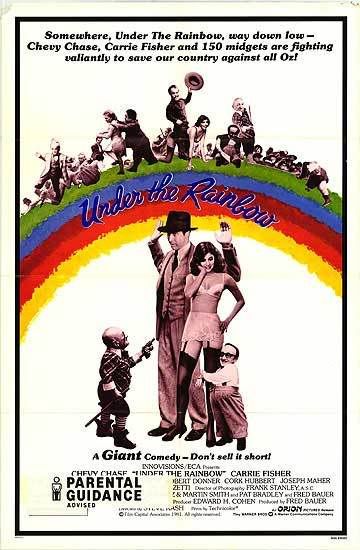 This
is
the movie of my childhood
. That it is considered one of the worst movies ever made gives me a chuckle, because I remember
really
liking this movie. It stuck to my memories like a barnacle. I remember scenes from this movie the way I don't with real life.
This just goes to show that something does get lost in our evolution from carefree child to demanding adult critic. I've learned two things:
(1)
that it takes childlike abandon to appreciate some things, which can never happen when one is constricted by too much adult jadedness and formalism; and
(2)
many people today like bad movies or books (e.g., Dan Brown's
The Da Vinci Code
) and stay away from good ones (
Half Nelson
) because their level of comprehension is stuck at that of a six-year-old.
Take your pick.
[0] This is Where You Bite the Sandwich
---