This is the blog of Ian Rosales Casocot. Filipino writer. Sometime academic. Former backpacker. Twink bait. Hamster lover.
Interested in What I Create?
Bibliography


The Boy The Girl
The Rat The Rabbit
and the Last Magic Days
Chapbook, 2018




Republic of Carnage
Three Horror Stories
For the Way We Live Now
Chapbook, 2018




Bamboo Girls:
Stories and Poems
From a Forgotten Life
Ateneo de Naga University Press, 2018




Don't Tell Anyone:
Literary Smut
With Shakira Andrea Sison
Pride Press / Anvil Publishing, 2017




Cupful of Anger,
Bottle Full of Smoke:
The Stories of
Jose V. Montebon Jr.
Silliman Writers Series, 2017




First Sight of Snow
and Other Stories
Encounters Chapbook Series
Et Al Books, 2014




Celebration: An Anthology to Commemorate the 50th Anniversary of the Silliman University National Writers Workshop
Sands and Coral, 2011-2013
Silliman University, 2013




Handulantaw: Celebrating 50 Years of Culture and the Arts in Silliman
Tao Foundation and Silliman University Cultural Affairs Committee, 2013




Inday Goes About Her Day
Locsin Books, 2012




Beautiful Accidents: Stories
University of the Philippines Press, 2011




Heartbreak & Magic: Stories of Fantasy and Horror
Anvil, 2011




Old Movies and Other Stories
National Commission for Culture
and the Arts, 2006




FutureShock Prose: An Anthology of Young Writers and New Literatures
Sands and Coral, 2003
Nominated for Best Anthology
2004 National Book Awards


Follow the Spy




Recent Crumbs




Blogs I Read


© 2002-2020
IAN ROSALES CASOCOT
Monday, March 05, 2007
10:28 PM | LitCritters Dumaguete No. 5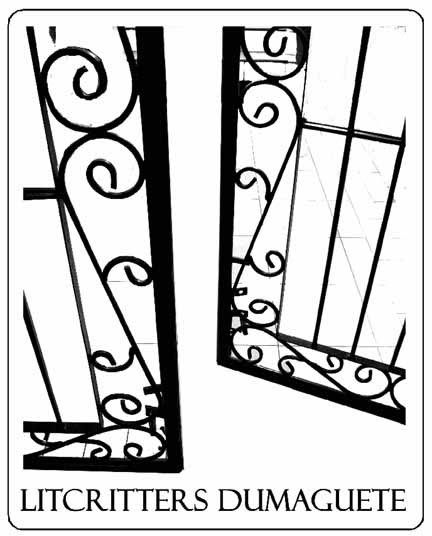 And yes, that's our logo above. Soon, we will have LitCritters t-shirts and LitCritters bookmarks (and maybe even LitCritters mugs!) -- that's how excitable my bunch has become. We also have a new member, Fredjordan Carnice, a creative writing major in Silliman University who will be replacing Marianne Tapales who's off to Tokyo, Japan next week for a scholarship.
Have fun in Mitaka, Marianne!
Next week:
The God Equation
by Michael Co
The Dead
by James Joyce
The Flyers of Gy
by Ursula K. Le Guin
Lucky Ducks
by Lorrie Moore
This week:
Stella for Star
by Yvette Natalie Tan
The Music Child
by Alfred Yuson
The Rememberer
by Aimee Bender
The Brief History of the Dead
by Kevin Brockmeier
Last week:
The Axolotl Colony
by Jaime An Lim
Higher Orders
by John Bengan
Faith, Love, Time, and Dr. Lazaro
by Gregorio Brillantes
What I Love, or Will Remember Most About High School
by Vicente Groyon III
Fifth week:
The Necklace
by Guy de Maupassant
L'Aquilone du Estrellas
by Dean Francis Alfar
Good Country People
by Flannery O'Connor
The Beginnings of Grief
by Adam Haslett
Fourth week:
LitCritters Originals
Third week:
How Rosang Taba Won a Race
by Dean Francis Alfar
Xilef
by Augie Rivera
Menggay's Magical Chicken
by Nikki Go-Alfar
Am I Blue?
by Bruce Coville
The Dancers of Malumbay
by Raissa Claire Rivera
The Giving Tree
by Shel Silverstein
Second week:
The Girls in Their Summer Dresses
by Irwin Shaw
The Secret Life of Walter Mitty
by James Thurber
The Lottery
by Shirley Jackson
Manananggal
by Irene Sarmiento
First week:
The Book of Sand
by Jorge Luis Borges
We Won't Cry Over This
by Socorro Villanueva
A Rose for Emily
by William Faulkner
Labels: LitCritters
[0] This is Where You Bite the Sandwich
---