This is the blog of Ian Rosales Casocot. Filipino writer. Sometime academic. Former backpacker. Twink bait. Hamster lover.
Bibliography
Monday, March 05, 2007
10:28 PM | LitCritters Dumaguete No. 5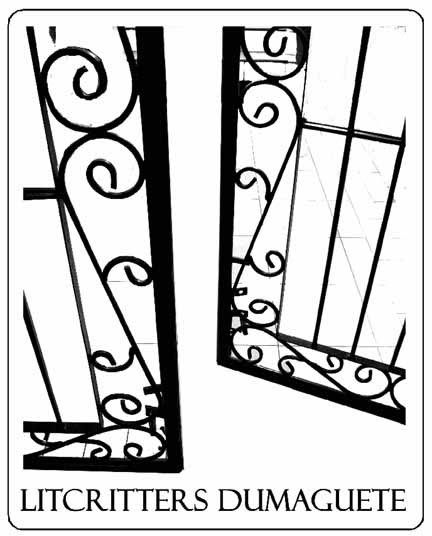 And yes, that's our logo above. Soon, we will have LitCritters t-shirts and LitCritters bookmarks (and maybe even LitCritters mugs!) -- that's how excitable my bunch has become. We also have a new member, Fredjordan Carnice, a creative writing major in Silliman University who will be replacing Marianne Tapales who's off to Tokyo, Japan next week for a scholarship.
Have fun in Mitaka, Marianne!
Next week:
The God Equation
by Michael Co
The Dead
by James Joyce
The Flyers of Gy
by Ursula K. Le Guin
Lucky Ducks
by Lorrie Moore
This week:
Stella for Star
by Yvette Natalie Tan
The Music Child
by Alfred Yuson
The Rememberer
by Aimee Bender
The Brief History of the Dead
by Kevin Brockmeier
Last week:
The Axolotl Colony
by Jaime An Lim
Higher Orders
by John Bengan
Faith, Love, Time, and Dr. Lazaro
by Gregorio Brillantes
What I Love, or Will Remember Most About High School
by Vicente Groyon III
Fifth week:
The Necklace
by Guy de Maupassant
L'Aquilone du Estrellas
by Dean Francis Alfar
Good Country People
by Flannery O'Connor
The Beginnings of Grief
by Adam Haslett
Fourth week:
LitCritters Originals
Third week:
How Rosang Taba Won a Race
by Dean Francis Alfar
Xilef
by Augie Rivera
Menggay's Magical Chicken
by Nikki Go-Alfar
Am I Blue?
by Bruce Coville
The Dancers of Malumbay
by Raissa Claire Rivera
The Giving Tree
by Shel Silverstein
Second week:
The Girls in Their Summer Dresses
by Irwin Shaw
The Secret Life of Walter Mitty
by James Thurber
The Lottery
by Shirley Jackson
Manananggal
by Irene Sarmiento
First week:
The Book of Sand
by Jorge Luis Borges
We Won't Cry Over This
by Socorro Villanueva
A Rose for Emily
by William Faulkner
Labels: LitCritters
[0] This is Where You Bite the Sandwich
---