This is the blog of Ian Rosales Casocot. Filipino writer. Sometime academic. Former backpacker. Twink bait. Hamster lover.
Bibliography
Friday, March 02, 2007
One of my Siberian hamsters is dying before my eyes...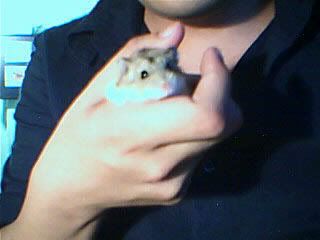 Its front is all coated by some kind of wetness, and the poor pet is sluggish but still struggles to go around its cage, or trying to get water from the dripper.
It's heartbreaking.
I am crying right now, because God knows how much I love this guy. I don't know what's wrong with it. Is it wet-tail? Is it some other kind of bacterial infection? What do I do? And how do you stop crying?
UPDATE:
Sush died tonight, sometime around midnight. He was the sweetest baby.
Mark
and I will miss him terribly.
Labels: pets
[0] This is Where You Bite the Sandwich
---