This is the blog of Ian Rosales Casocot. Filipino writer. Sometime academic. Former backpacker. Twink bait. Hamster lover.
Interested in What I Create?
Bibliography


The Boy The Girl
The Rat The Rabbit
and the Last Magic Days
Chapbook, 2018




Republic of Carnage
Three Horror Stories
For the Way We Live Now
Chapbook, 2018




Bamboo Girls:
Stories and Poems
From a Forgotten Life
Ateneo de Naga University Press, 2018




Don't Tell Anyone:
Literary Smut
With Shakira Andrea Sison
Pride Press / Anvil Publishing, 2017




Cupful of Anger,
Bottle Full of Smoke:
The Stories of
Jose V. Montebon Jr.
Silliman Writers Series, 2017




First Sight of Snow
and Other Stories
Encounters Chapbook Series
Et Al Books, 2014




Celebration: An Anthology to Commemorate the 50th Anniversary of the Silliman University National Writers Workshop
Sands and Coral, 2011-2013
Silliman University, 2013




Handulantaw: Celebrating 50 Years of Culture and the Arts in Silliman
Tao Foundation and Silliman University Cultural Affairs Committee, 2013




Inday Goes About Her Day
Locsin Books, 2012




Beautiful Accidents: Stories
University of the Philippines Press, 2011




Heartbreak & Magic: Stories of Fantasy and Horror
Anvil, 2011




Old Movies and Other Stories
National Commission for Culture
and the Arts, 2006




FutureShock Prose: An Anthology of Young Writers and New Literatures
Sands and Coral, 2003
Nominated for Best Anthology
2004 National Book Awards


Follow the Spy




Recent Crumbs




Blogs I Read


© 2002-2021
IAN ROSALES CASOCOT
Saturday, March 10, 2007
2:07 AM | Premiere Bows Out
The things I loved growing up seem to be disappearing one by one. Early this week, it was Tower Records going down bankruptcy road. Now,
Premiere Magazine
will release its last print issue this April, and will migrate to the Internet as an online magazine. (It's not exactly dead then, but still...) I remember picking up my first
Premiere
copy in high school. I was in the line with my mother to pay for groceries in FortuneMart, this ancient grocery store in Dumaguete. A magazine with Sean Connery and Wesley Snipes on the cover somehow caught my attention, and I was hooked. I loved its huge size, to approximate "the size of a cinema screen" supposedly. Then it shrinked to regular size for the company to save money, but I kept buying. I was a budding cinephile, and this was my bible. I would go to Cebu every other month to get my copies, with savings I culled from my weekly allowance. I used to clip the glossy movie ads from its pages and paste them in my "poster scrapbook."
(Yes, I was a movie nerd. Still am.)
Then there was
Libby Gelman-Wexler
. The screenwriter
Paul Rudnick
(
Addams Family Values, In & Out, The Stepford Wives
, and
Jeffrey
) in real life, "she" was a Jewish princess socialite whose famous and award-winning film criticism in
Premiere
was biting, always funny, and tipped with Manolo Blahniks.
Perfect.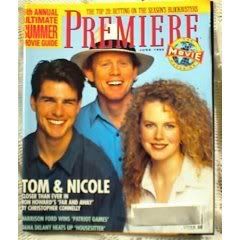 But all that is gone now.
[via
oscarwatch
]
Labels: film, journalism, life, magazines, memories
[0] This is Where You Bite the Sandwich
---