This is the blog of Ian Rosales Casocot. Filipino writer. Sometime academic. Former backpacker. Twink bait. Hamster lover.
Interested in What I Create?
Bibliography


The Boy The Girl
The Rat The Rabbit
and the Last Magic Days
Chapbook, 2018




Republic of Carnage
Three Horror Stories
For the Way We Live Now
Chapbook, 2018




Bamboo Girls:
Stories and Poems
From a Forgotten Life
Ateneo de Naga University Press, 2018




Don't Tell Anyone:
Literary Smut
With Shakira Andrea Sison
Pride Press / Anvil Publishing, 2017




Cupful of Anger,
Bottle Full of Smoke:
The Stories of
Jose V. Montebon Jr.
Silliman Writers Series, 2017




First Sight of Snow
and Other Stories
Encounters Chapbook Series
Et Al Books, 2014




Celebration: An Anthology to Commemorate the 50th Anniversary of the Silliman University National Writers Workshop
Sands and Coral, 2011-2013
Silliman University, 2013




Handulantaw: Celebrating 50 Years of Culture and the Arts in Silliman
Tao Foundation and Silliman University Cultural Affairs Committee, 2013




Inday Goes About Her Day
Locsin Books, 2012




Beautiful Accidents: Stories
University of the Philippines Press, 2011




Heartbreak & Magic: Stories of Fantasy and Horror
Anvil, 2011




Old Movies and Other Stories
National Commission for Culture
and the Arts, 2006




FutureShock Prose: An Anthology of Young Writers and New Literatures
Sands and Coral, 2003
Nominated for Best Anthology
2004 National Book Awards


Follow the Spy




Recent Crumbs




Blogs I Read


© 2002-2020
IAN ROSALES CASOCOT
Sunday, April 08, 2007
12:36 AM | A Glimpse of Holy Week and the Mananambals of Siquijor
The three-day trek across the hills and dust roads of Siquijor -- on foot and on motorcycles under the heat of the April sun -- chasing after shamans can be both heady and exhausting. Coming back from it all, I spent the entire morning in Dumaguete sleeping off the bottled up tiredness and the excess of adrenaline and excitement. Later in tbe afternoon, it was off to Sans Rival for a little bit of civilized cake, and to Lee Cimbali for coffee, and to the new Jo's By the Sea in Sibulan for dinner of chicken. It was as if I wanted to immerse myself so quickly into my city ways.
But I can't quite forget Siquijor, and its magic, and its even more magical people so easily. This is a glimpse of the story in my head...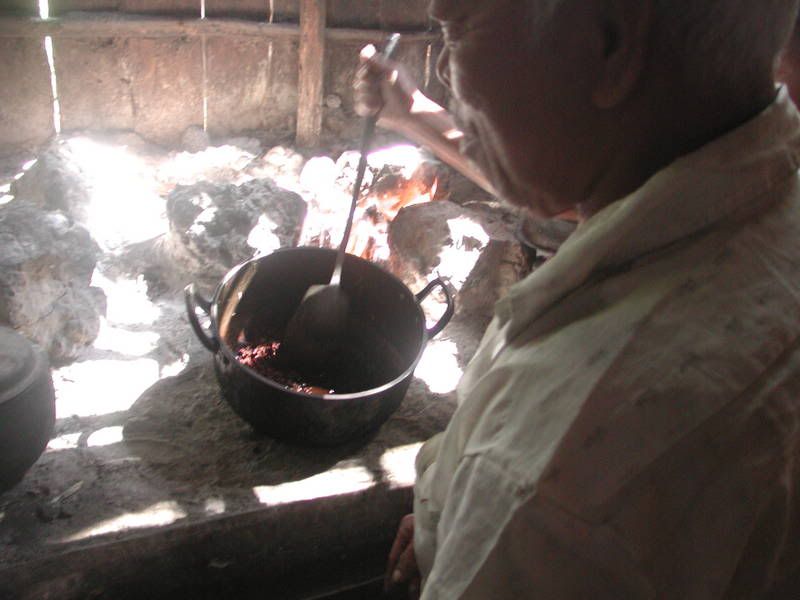 This is the

mananambal

from Barangay San Antonio, in Sitio Buac-Bato, Juan Ponce Dako, preparing the

lana

for the

inadlip

he will be preparing from the

pangalap

of seven Fridays...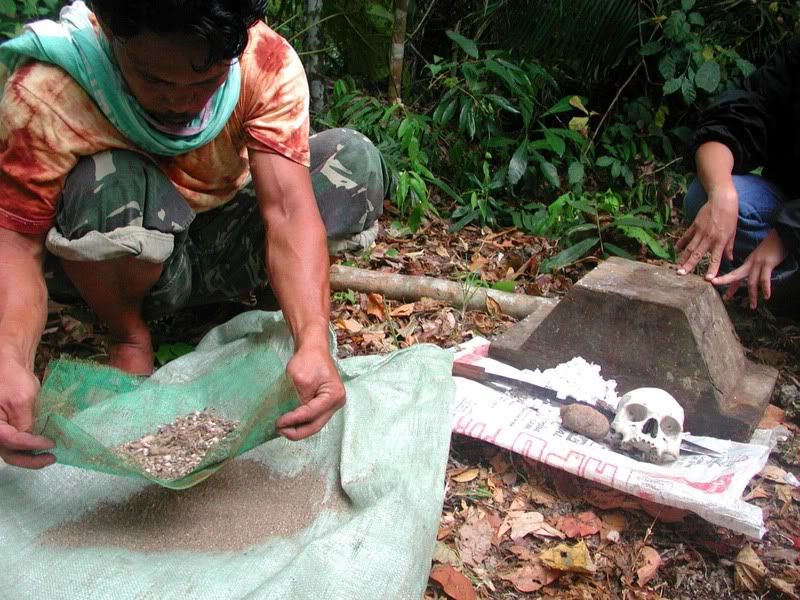 This is apprentice

mananambal

Manong Noel chopping the forbidden ingredients for the

inagdaut

, or the hex potion, which includes chipped human bones which he has gathered from the old cemetery back in Siquijor town...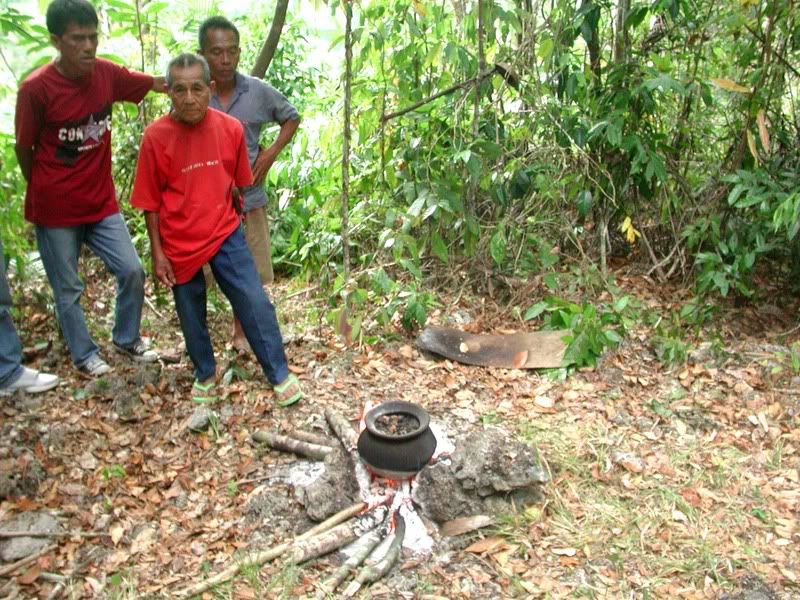 This is the small black pot of ingredients for the hex potion burnt to charcoal in the middle of the San Antonio jungle, ready for the

masa

.
But what I really want to write about is the brightness of these people, how beautiful and funny they are, how hospitable, colorful, and engaging. There's Manang Juling, for example, who engages us in banter while talking about how she once healed a young man of impotence on the eve of his wedding. There's Lola Lauriana who can divine the future and the spot of lost things, but plafully insists that people come to see her because she is the most beautiful
mananambal
around. (She's 88 years old.) There's Lolo Indoy whose quiet ways and unassuming manner almost makes him the poster boy for Siquijor shamanism -- and indeed he is. (
GQ
Cover Boy for the mananambal set?
You bet.
)
The thing is, so many negative things have been written (or blown up into
bad horror movies starring Assunta de Rossi
) about this beautiful island -- all of which have created the crudest perspectives and the weirdest superstitions which are largely untrue. That seems to be my challenge now as I begin the stories I will be submitting to
Men's Health
and
Marie Clare
and
Inquirer
: to dig deeper than the awful tabloid stories, and show the humanity of it all.
To be continued...
Labels: media, mysticism, photography, travel
[0] This is Where You Bite the Sandwich
---