This is the blog of Ian Rosales Casocot. Filipino writer. Sometime academic. Former backpacker. Twink bait. Hamster lover.
Interested in What I Create?
Bibliography


The Boy The Girl
The Rat The Rabbit
and the Last Magic Days
Chapbook, 2018




Republic of Carnage
Three Horror Stories
For the Way We Live Now
Chapbook, 2018




Bamboo Girls:
Stories and Poems
From a Forgotten Life
Ateneo de Naga University Press, 2018




Don't Tell Anyone:
Literary Smut
With Shakira Andrea Sison
Pride Press / Anvil Publishing, 2017




Cupful of Anger,
Bottle Full of Smoke:
The Stories of
Jose V. Montebon Jr.
Silliman Writers Series, 2017




First Sight of Snow
and Other Stories
Encounters Chapbook Series
Et Al Books, 2014




Celebration: An Anthology to Commemorate the 50th Anniversary of the Silliman University National Writers Workshop
Sands and Coral, 2011-2013
Silliman University, 2013




Handulantaw: Celebrating 50 Years of Culture and the Arts in Silliman
Tao Foundation and Silliman University Cultural Affairs Committee, 2013




Inday Goes About Her Day
Locsin Books, 2012




Beautiful Accidents: Stories
University of the Philippines Press, 2011




Heartbreak & Magic: Stories of Fantasy and Horror
Anvil, 2011




Old Movies and Other Stories
National Commission for Culture
and the Arts, 2006




FutureShock Prose: An Anthology of Young Writers and New Literatures
Sands and Coral, 2003
Nominated for Best Anthology
2004 National Book Awards


Follow the Spy




Recent Crumbs




Blogs I Read


© 2002-2020
IAN ROSALES CASOCOT
Monday, April 02, 2007
12:05 AM | Food Books for the Hot Days
Hey, look.
Sunday Inquirer Magazine
has given out its
annual hot list of recommended readings for the summer
, and
Cecilia Manguerra Brainard
and
Marily Ysip Orosa
's
A la Carte
is one of them. Here's the capsule review from staff writer
Pennie Azarcon-dela Cruz
:
You'll need two vital ingredients before you start devouring this book: a full stomach and a comfortable seat some distance away from a working kitchen and a food court. Because definitely, a hungry reader will be torn between finishing the sumptuous stories and rushing off to try out the recipes offered as appetizer at the start of each chapter. The tasty morsels leave you convinced that food is more than just repast; it is also the stuff of national pride, childhood memory, romance, regret, rivalry, and even bloody murder. This book is one thick bubbling stew that satisfies one's hunger and imagination while whetting the appetite for more. Best cuts: "Wok Man" by

Jose Dalisay, Jr.

; "Closopen" by

Janet Villa

, "No Salt" by

Nadine Sarreal

, "Pedro and the Chickens" by

Ian Rosales Casocot

, "Kitchen Secrets" by

Shirlie Mae Choe

, and "Does It Matter What the Dead Think?" by

Erwin Cabucos

.
I say,
yay
.
While I was doing the rest of my Sunday reading of newspapers,
this interview
in the Lifestyle section of
Philippine Daily Inquirer
with Cendrillon owner
Amy Besa
(who co-owns the famous New York restaurant with chef
Romy Dorotan
) caught my eye. I've read about Cendrillon before, when
New York Times
food critic Frank Bruni gave it
a terrific review
("... it's daring, different and a sure remedy for the malady, too widespread these days, of dining déjà vu. That has to matter, and that gives food lovers a real investment in the survival of this unconventional place") in 2005.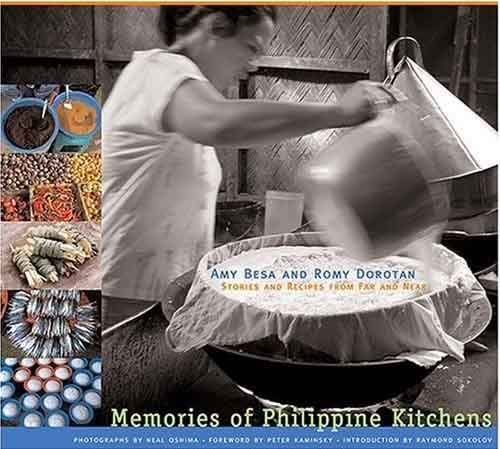 It trumpets, first of all, their new cookbook,
Memories of Philippine Kitchens
, which may be the first significant book on Philippine cuisine published by a major American publisher. (The book -- which features food photography by
Neal Oshima
-- has been picked by B
arnes & Noble
as its book of the month.) Over all, however, it's a wonderful interview with the Playtime staff, which basically covers the growing popularity and critical acceptance of Filipino cuisine in mainstream America, and a lot of hunger-causing discussion of local food. An excerpt:
Is pig's blood readily available in the US? Even in the East Coast?


Yes.



How about entrails?


When we do

dinuguan

we don't use entrails. We use pork meat. It's very difficult to clean entrails; you need to remove the smell.



How do you serve it in your restaurant to make it a bit more palatable?


It's in a bowl. People love it.

With

puto

?
We can't make

puto

. (Laughter) It is the most difficult thing in the whole world to do, believe me. Try it! You know when you get a good

puto

, appreciate it.

There are different kinds! There are so many kinds. There's the white, there's the ube, the pandan, the putong pulo, then there's Biñan, the big one. But then, you know, they put cheese. (Looks queasy then laughs)

What makes

puto

difficult?


Puto

is really a mixture of ground rice and cooked rice that you ferment, right? The secret is in the fermentation. You have like a

lavadura

and you mix it and you let it rise. Some people put a little yeast and some put baking powder.

Steaming is just the most difficult thing in the world. You have to steam it for the right [length of] time. If you lift that cover before [it is cooked] forget it!
I'm already hungry.
Labels: books, food, philippine literature
[0] This is Where You Bite the Sandwich
---