This is the blog of Ian Rosales Casocot. Filipino writer. Sometime academic. Former backpacker. Twink bait. Hamster lover.
Interested in What I Create?
Bibliography


The Boy The Girl
The Rat The Rabbit
and the Last Magic Days
Chapbook, 2018




Republic of Carnage
Three Horror Stories
For the Way We Live Now
Chapbook, 2018




Bamboo Girls:
Stories and Poems
From a Forgotten Life
Ateneo de Naga University Press, 2018




Don't Tell Anyone:
Literary Smut
With Shakira Andrea Sison
Pride Press / Anvil Publishing, 2017




Cupful of Anger,
Bottle Full of Smoke:
The Stories of
Jose V. Montebon Jr.
Silliman Writers Series, 2017




First Sight of Snow
and Other Stories
Encounters Chapbook Series
Et Al Books, 2014




Celebration: An Anthology to Commemorate the 50th Anniversary of the Silliman University National Writers Workshop
Sands and Coral, 2011-2013
Silliman University, 2013




Handulantaw: Celebrating 50 Years of Culture and the Arts in Silliman
Tao Foundation and Silliman University Cultural Affairs Committee, 2013




Inday Goes About Her Day
Locsin Books, 2012




Beautiful Accidents: Stories
University of the Philippines Press, 2011




Heartbreak & Magic: Stories of Fantasy and Horror
Anvil, 2011




Old Movies and Other Stories
National Commission for Culture
and the Arts, 2006




FutureShock Prose: An Anthology of Young Writers and New Literatures
Sands and Coral, 2003
Nominated for Best Anthology
2004 National Book Awards


Follow the Spy




Recent Crumbs




Blogs I Read


© 2002-2020
IAN ROSALES CASOCOT
Wednesday, July 18, 2007
7:42 AM | The First Cultural Season of 2007-2008 for Silliman University
This has been keeping me both busy --
and sane
-- for the past four months, although I nearly bailed out from the effort because of the paralyzing bout of depression I plunged into last June. Good thing Ma'am Susan Vista-Suarez (my second mother!) and my friends were there to get me out of the dragon's mouth, just in time for me to buckle down, settle to work, and produce the posters, banners, etc. for the year's slate of cultural shows.
This is my second year as a member of Silliman University's Cultural Affairs Committee, my function mostly in the aesthetic and literary side of marketing. This year, though, I have to admit the new bunch of committee members is more gung-ho, more fun -- and more ambitious than usual. We all gel like there's no tomorrow, and we are all united by our common goal to give culture in Dumaguete City a kick in the ass. The mantra we've adopted for the year goes: "Silliman University Cultural Affairs Committee invites you to a cultural renaissance in Dumaguete City..." That's me being cheeky
as usual
.
Finally, this year, CAC has come out with a brochure (something people has been demanding for, like forever), complete with the whole line-up of coming shows. (That has never happened before, having a complete line-up that is. The whole operation used to be a hit-and-hopefully-it-will-stick affair, with the CAC approving and staging shows only as they come and go...) We also have a new
website
, a new project plan... and a grand launching last Monday night.
Here's our invitation for last Monday's soiree...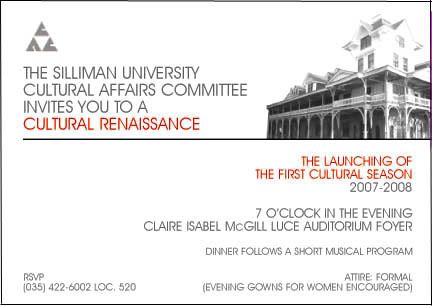 It was a night borne out of our collective
mugna-mugna
. We were saying last summer, "Why don't we invite all the society people of Negros Oriental, tell them to dress up to the nines -- in gowns! and suits! -- and ask them to become sponsors for the coming shows?" Which was a considerable thing to ask because long gone were the days when Oriental Negrense society would gather together in their Parisian high couture, for a party, or for a cultural gathering. (Oriental Negros used to be the locus of southern Philippine society, complete with our local girls making their debutante's ball in such hallowed spaces as St. James Court in London. But most -- like the famed Isabel Preysler of Madrid, who's really from Bais -- have gone abroad, and the rest are old and graying...)
But they did come, many of them, all dressed to the hilt, and under the starless skies in the foyer of the Claire Isabel McGill Luce Auditorium, they wined and dined. And for them, we presented the first six shows of the season...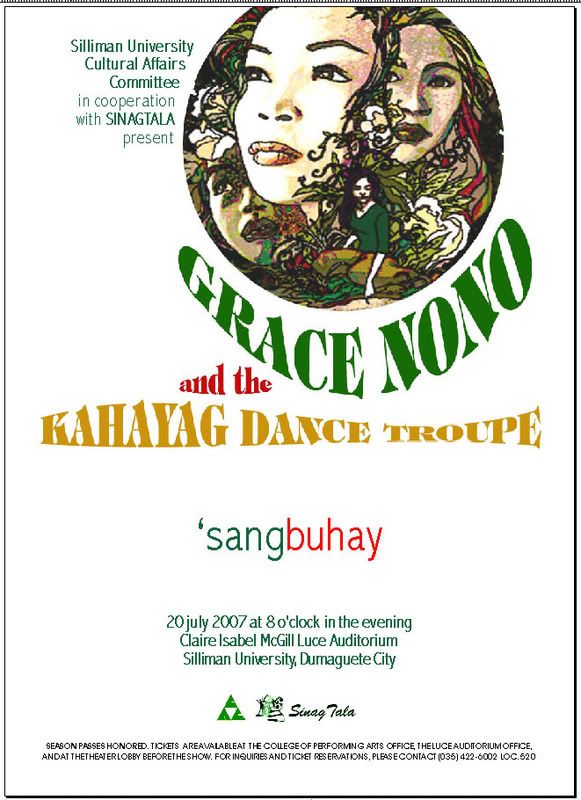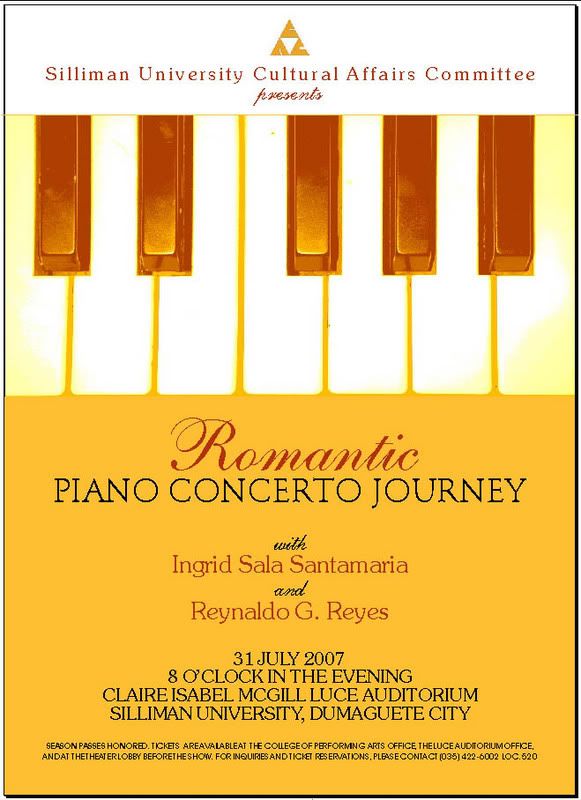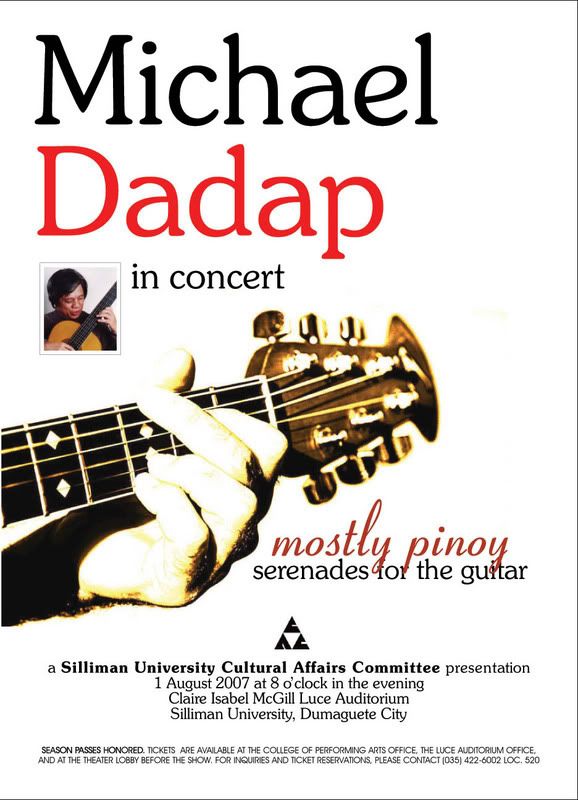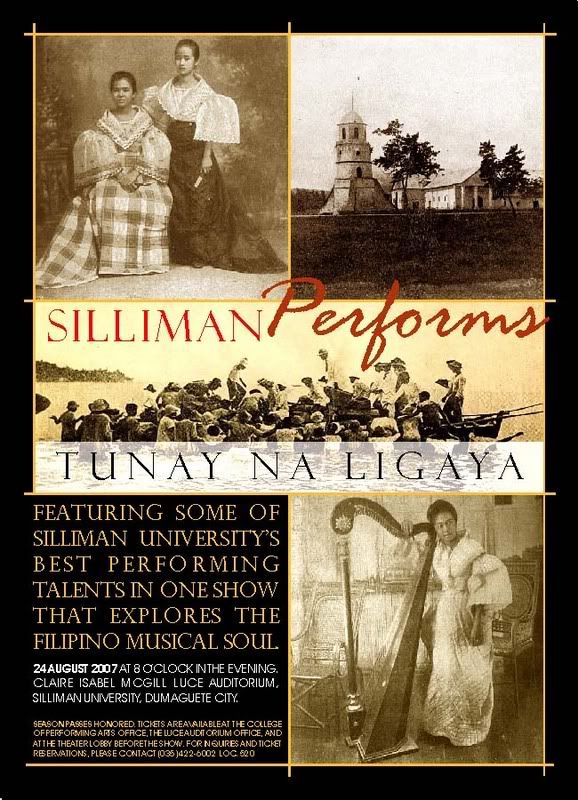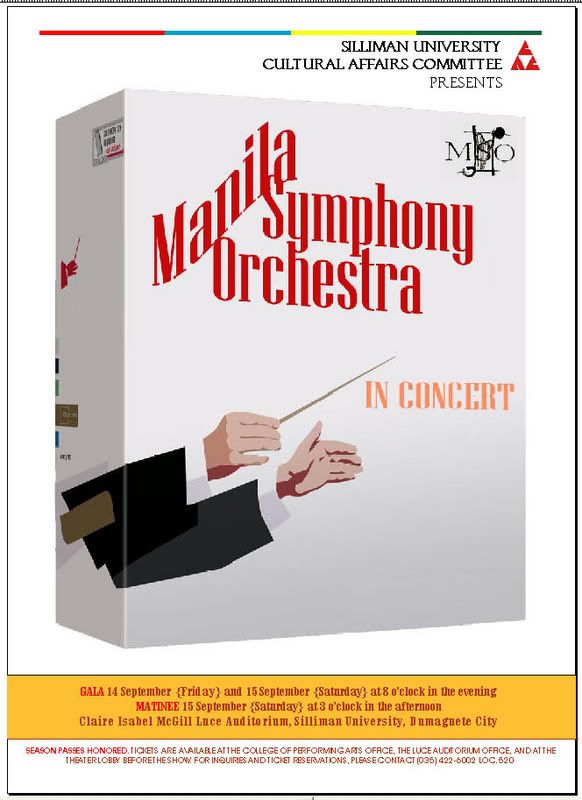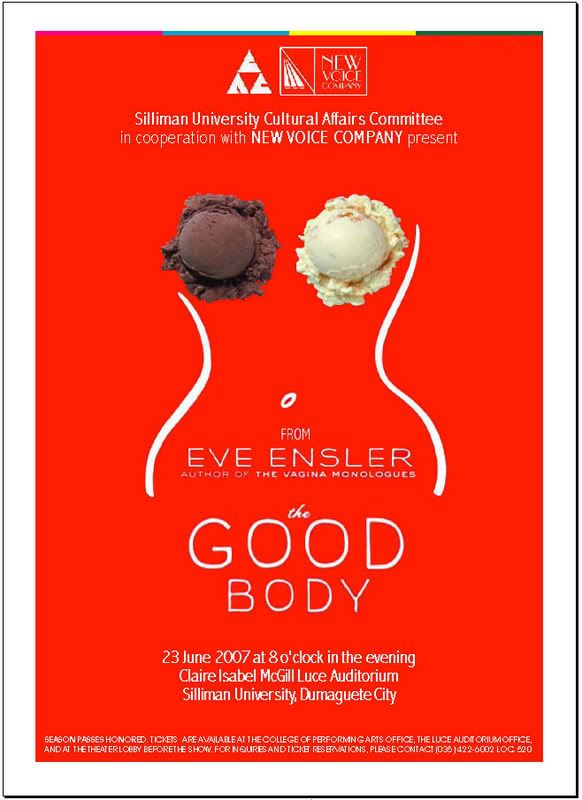 And the rest, including Tanghalang Pilipino's Geegee at Waterina and Welcome to Intelstar, will be coming in the second season.
Reserve your tickets. There are only about a hundred seats left for the entire season.
Labels: art and culture, dumaguete, negros, silliman
[0] This is Where You Bite the Sandwich
---