Sunday, December 02, 2007
9:47 PM | Books! Books! New Books!
A slew of new books should be slaking our Filipiniana thirst in the coming days, among them...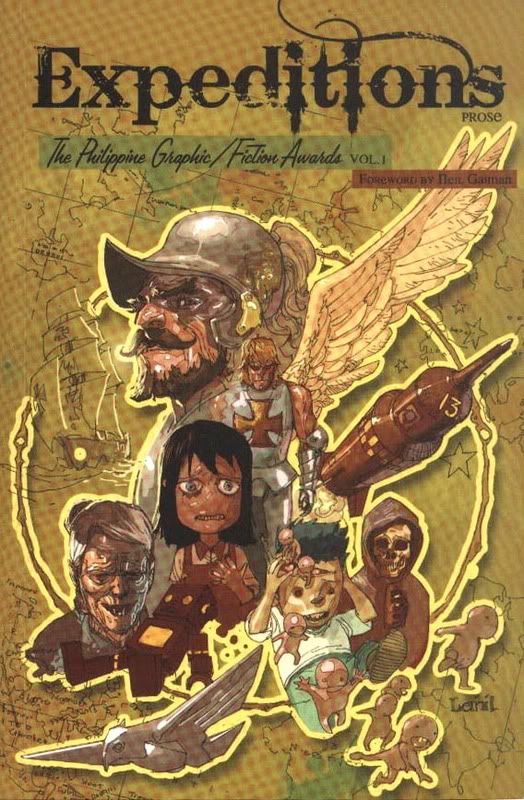 The all-new
Ladlad 3: An Anthology of Philippine Gay Writing
(Anvil), edited by Danton Remoto and J. Neil C. Garcia, which may or may not include my children's story "The Different Rabbit." (You read that right. A
gay
children's story, about a strange wabbit,
hehehe
.) Danton asked me for that story some months back, and I heard the editing of the whole book took some time. The launch was yesterday,
December 1
, at Bestseller's Bookstore at Robinson's Galleria, in Ortigas, Pasig City.
See pictures of the launch
here
.
[
UPDATE:
It turns out that,
yes
, my story is indeed in it. The book also includes contributions from other writers such as Alex Gregorio, Honorio Bartolome de Dios, Ino Manalo, Michael Francis Andrada, R. Zamora Linmark, Paul del Rosario, Rolando Tolentino, Eugene Evasco, L. Lacambra Ypil, and many others.
This is curious.
I remember feeling awed and overwhelmed as a teenager when I got my copy of the first
Ladlad
. Those stories, essays, dramatic pieces, and poems that reflected the vast gamut of Filipino gay life seemed to reflect my own greatest personal hopes and fears. It was a book that changed my life ... and now I'm part of it.
Thanks, Neil and Danton!
]
The second book (to the right) is the
Expeditions
book featuring the winners of the First Philippine Graphic/Fiction Awards, which includes my story "A Strange Map of Time." Neil Gaiman writes the Foreword. The launch was last
November 25
. Buy the complete set from Fully-Booked in Bonifacio High Street in Serendra, and you will get one copy signed by Mr. Gaiman himself.
The third book is
Children of the Ever-Changing Moon: Essays by Young Moro Writers
(Anvil), edited by blogging buddy
Teng Mangansakan II
. It was launched last
November 29
at National Bookstore in Davao City. This is a groundbreaking book from a people whose literature is mostly ignored by the common Filipino. According to the Anvil website, "this anthology presents new voices that offer a glimpse into the life of a people whose opinion, history, and circumstance have somehow been stifled, giving them an important, distinct place in our national imagination." Contributors include Ayesah Abubakar, Pearlsha Abubakar, Sarah Matalam-Alvarez, Mucha-Shim Quiling Arquiza, Nefertari Al-Raschid-Arsad, Allyson Banga-an, Ayesha Merdeka Alonto-Datu Ramos, Sittie Jamairah Disomimba, Samira Ali Gutoc, Sitti Djalia Turabin-Hataman, Loren Hallilah Lao, Zainudin Malang, Gutierrez Mangansakan II, Farida D. Mending, Gonaranao B. Musor, and Sahara Alia Jauhali Silongan.
The fourth book is Lara Saguisag's
Children of Two Seasons: Poems for Young People
(Anvil). Lara is a well-known children's author, and this collection of poems for young children is a step forward in the ever-vibrant world of Philippine children's literature.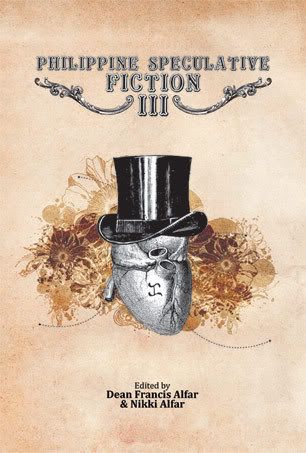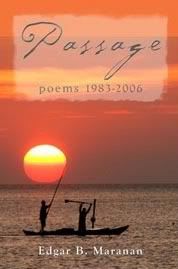 The fifth book is the third volume of the
Philippine Speculative Fiction Anthology
series (Kestrel), edited by Dean Francis Alfar and Nikki Alfar. This includes my horror story, "The Flicker," and the speculative fiction of Apol Lejano-Massebieau, FH Batacan, Dominique Cimafranca, Sarge Lacuesta, Raymond G. Falgui, Mia Tijam, Andrew Drilon, Marianne Villanueva, Joseph F. Nacino, MRR Arcega, Joanna Paula L. Cailas, Luis Joaquin Katigbak, Yvette Natalie U. Tan, Alexander Marcos Osias, Rodello Santos, Elyss G. Punsalan, Timothy James M. Dimacali, Charles Tan, Alfred A. Yuson, and Marguerite Alcazaren de Leon. The launch will be on
December 8
at 4 PM at Fully Booked Bonifacio High Street, at the basement theater.
The sixth book is Edgar Maranan's third book of poetry,
Passage: Poems 1983-2006
. It will have its Manila launch at the Conspiracy Garden Cafe, Visayas Avenue, Quezon City, on Tuesday,
December 4
, at 7 pm.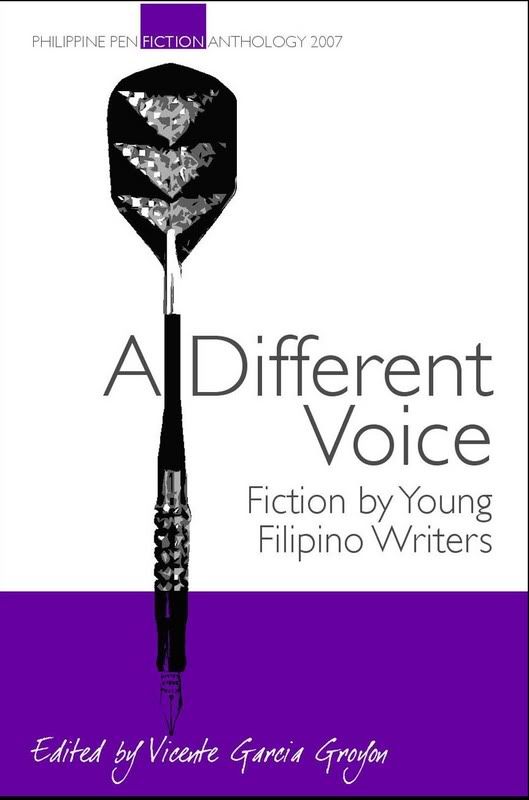 The seventh book is the newest fiction anthology from PEN Philippines. The last one was in 1962, and was edited by Francisco Arcellana, who introduced to the world the head-spinning fiction of Erwin E. Castillo, Wilfrido Nolledo, Wilfredo Sanchez, Cesar Ruiz Aquino, Alfred A, Yuson, and Jose Ayala. This latest one,
A Different Voice: Fiction by Young Filipino Writers
, is edited by Vicente Garcia Groyon III, and contains my story "The Last Days of Magic," as well as the stories of Dennis Andrew Aguinaldo, Douglas Candano, U Eliserio, Maria LM Fres-Felix, Pocholo Goitia, Ava Vivian Gonzales, Carljoe Javier, Kit Kwe, Sarge Lacuesta, Gabby Lee, Paolo Enrico Melendez, Timothy Montes, Des Parawan, Bj Patiño, Francis Paolo Quina, Anna Felicia Sanchez, Jonathan Jimena Siason, Lakambini Sitoy, and Joshua Lim So. The launch will be on
December 8
, 6 PM, at Barbara's Garden in Intramuros.
That's a lot of book launches in the coming days. And I seem to have contributed to most of them.
Whoa.
I usually don't keep track of which anthologies I've contributed to, but if this list is any indication, I had a good literary run this year. Thanks to LitCritters!
Yey.
Labels: books, philippine literature, writers
[0] This is Where You Bite the Sandwich
---