This is the blog of Ian Rosales Casocot. Filipino writer. Sometime academic. Former backpacker. Twink bait. Hamster lover.
Interested in What I Create?
Bibliography


The Boy The Girl
The Rat The Rabbit
and the Last Magic Days
Chapbook, 2018




Republic of Carnage
Three Horror Stories
For the Way We Live Now
Chapbook, 2018




Bamboo Girls:
Stories and Poems
From a Forgotten Life
Ateneo de Naga University Press, 2018




Don't Tell Anyone:
Literary Smut
With Shakira Andrea Sison
Pride Press / Anvil Publishing, 2017




Cupful of Anger,
Bottle Full of Smoke:
The Stories of
Jose V. Montebon Jr.
Silliman Writers Series, 2017




First Sight of Snow
and Other Stories
Encounters Chapbook Series
Et Al Books, 2014




Celebration: An Anthology to Commemorate the 50th Anniversary of the Silliman University National Writers Workshop
Sands and Coral, 2011-2013
Silliman University, 2013




Handulantaw: Celebrating 50 Years of Culture and the Arts in Silliman
Tao Foundation and Silliman University Cultural Affairs Committee, 2013




Inday Goes About Her Day
Locsin Books, 2012




Beautiful Accidents: Stories
University of the Philippines Press, 2011




Heartbreak & Magic: Stories of Fantasy and Horror
Anvil, 2011




Old Movies and Other Stories
National Commission for Culture
and the Arts, 2006




FutureShock Prose: An Anthology of Young Writers and New Literatures
Sands and Coral, 2003
Nominated for Best Anthology
2004 National Book Awards


Follow the Spy




Recent Crumbs




Blogs I Read


© 2002-2018
IAN ROSALES CASOCOT
Thursday, May 22, 2008
11:03 AM | There is Justice in the AI World! (And Some Grumbling Against Pinoy Idol)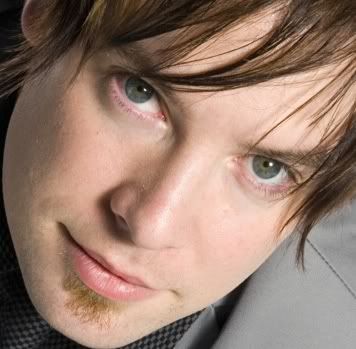 Totally did not expect this. The Word Nerd (Simon's term) won by 12 million votes!
Naiyak ako
when I saw
the video
-- first time an
AI
finale moved me. I liked Cook's story: you go accompany your brother for much-needed moral support to audition for the world's biggest talent show, and then you end up winning the title yourself. Nice. This story felt warmer than the story of an ambitious father pushing a very young son to fulfill his own unrealized ambitions. But I hated the final showdown last night. I must admit the little guy really went for the win with a wonderful set of songs last night, but still it was all predictable fluff. It was a performance that was guaranteed easy-listening, but like all simple sugars, it's not really good for your health. I must also admit that David Cook kinda held back -- but he did go to the hospital for hypertension and anxiety earlier (so like me), and wouldn't you go anxious when the judges practically try to slaughter you because they so obviously want Mickey Mouse to win? The judges tried so hard to hand
American Idol
victory to David Archuleta. It got me so incensed. But take this reality, Randy, Paula, and Simon!
David Cook wins

American Idol

over Gaspy!
Oh, my God! I so love being
proved wrong
this time. Gaspy can finally go home and finish puberty. I can almost imagine Gaspy saying demurely, "That was not
pretty
at all. Daddy! I want to go home." Take that,
Archtards
!
.
.
.

Whew.
Now that I've taken the bile out of my system, I'd like to wish everybody
World Peace
.
Thus ends this season. But like what
The Coffee Goddess declares in her blog
, "I promise, I will never watch
American Idol
. No more. Nada.
Ayoko na
. Enough said."
Ako rin. Ayoko na. Parang
it's something to outgrow
na
.
[thanks to
jun
and
mich
for the heads-up]
P.S.
There is a reason why I'm more excited about
American Idol
than
Pinoy Idol
currently showing in GMA. It's not colonial mentality, silly. But watching
Pinoy Idol
is like watching a Frankensteinish hybrid of
Wish Ko Lang
+
Wowowee
+
Ang Bagong Kampeon
.
Vince de Jesus calls it a shameless romanticizing of poverty in what

should

be a singing show.
I agree. I remember this singing contest in ABS-CBN from a few years back,
Search for a Star in a Million
. That horrible, horrible singer from Bohol, Jerome Sala, won the title hands down with his woeful tale: in one crucial episode, he broke down in tears admitting he only had one pair of underwear to wear. (And by the way, what's with the
Mau Marcelo snub
, GMA?
Kapuso daw
, heartless
pala
.)
[via
gibbs cadiz
]
Labels: contests, music, television
[0] This is Where You Bite the Sandwich
---