This is the blog of Ian Rosales Casocot. Filipino writer. Sometime academic. Former backpacker. Twink bait. Hamster lover.
Bibliography
Wednesday, March 04, 2009
10:15 AM | Child Violinist Kristine Clair Uchi Galano Plays the Luce Auditorium This Friday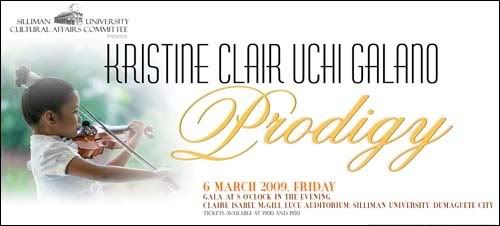 Seven-year old Filipino child prodigy
Kristine Clair Uchi Galano
drew rave reviews after delivering a flawless performance at the Sheraton Utama Hotel in Bandar Seri Begawan, Brunei Darussalam last 19 October 2008. Performing in her fourth solo recital, the young violinist played a repertoire of classical music, Malay, Korean, modern and contemporary favourites to the delight of her audience that included members of the diplomatic corps and the expatriate community. She will be bringing her unique talent to Dumaguete City on
6 March 2009
.
TICKETS AVAILABLE AT THE LUCE AUDITORIUM OFFICE AT P100 and P150.
Labels: art and culture, dumaguete, music, negros, silliman
[0] This is Where You Bite the Sandwich
---