Sunday, May 24, 2009
4:27 PM | Have a Good Trip, Ernie
By Susan Lara
Last week in Dumaguete, Ernie Yee and I were on our way to have lunch with writing fellows Joy Rodriguez, Bea Nakpil, Gabe Millado, and NCCA's Sol Corong, when we bumped into one of Ernie's former students, now himself a lawyer. Ernie introduced me the way he always introduced me to his colleagues and friends: "my best friend."
As for me, I always introduced him to my friends as "my sister"--that's a few notches above "best friend." We were so close that Dad Ed Tiempo, who called him "Son," and who couldn't bear to think of Ernie growing old alone and lonely ("like Albert Faurot") had hoped that we would "you know... be together... you both have excellent genes, it would be a waste not to pass them on." We both found it hilarious, but even Ernie, famous for his guffaws, could only smile and say, "what are you saying, Dad? She's my sister!"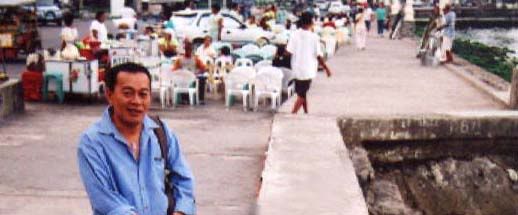 But Dad could be incorrigible. One day he kept harping on the subject so that Ernie, just to stop him, said, "All right Dad, IF I ever marry, it will be Susan Lara and no one else." And just as Dad was breaking into a smile of triumph and satisfaction, Ernie turned to me and said, "So how about it, Sue? Good music, good conversation, good food--and no sex!"
It is hard to believe that barely a week after we said goodbye, he is gone. I'm going to miss that brand of humor, and his generous laughter. In fact, he was generous with everything he had--time, energy, talent, yes, even money--in everything he did, as writer, as pianist, as panelist in the National Writers Workshop (and for several years, as Workshop coordinator), as lawyer, as RTC clerk of court, as friend.
Mom Edith depended on Ernie not only for her legal affairs but also for her financial and personal affairs. It is a measure of how important he was to Mom that after we recovered from the shock over his death, our next concern was Mom, expressed in many different ways: "Paano na si Mom?" "How is Mom taking it?" "Hope Mom is okay." Butch Macansantos said "I fear for Mom." But it was Krip who said it best: "Oh, poor Mom!"
When Dad died, Ernie was the first among Dumaguete writers to rush to Mom's side. When I called up Mom to see how she was holding up, she said, "Ernie is right here. He is shining Dad's shoes." There was nothing he considered unworthy of his attention, if it was for Mom and Dad, and the Workshop, and the other people he cared about.
Yesterday, Grace Monte de Ramos sent a text message from Dumaguete: "Juaniyo said he hopes someone is shining Ernie's shoes now, the way he shined Dad's." That just about broke my heart, because I would've wanted to do that for him. It was the very least I could do for someone who gave joy to so many through his writing and his music. Because even though he stopped playing the piano a few years ago because of his arthritic fingers, he continued to provide music through his poetry.
And we'll keep hearing that music over and over, for as long as we live.
Have a good trip, Ernie. We shalll light and ease your way home with prayers.
Labels: obituary, philippine literature, writers
[0] This is Where You Bite the Sandwich
---